This website contains affiliate links. If you shop through the links used on this website, I may earn commissions.
This Green Goddess Chili Shrimp Salad is a delicious, healthy and filling dish. It's also very versatile! You can serve it as an appetizer or a main course dish. And if you want to add some more protein to your salad, just increase the number of shrimp per person and voila – lunch for tomorrow is done!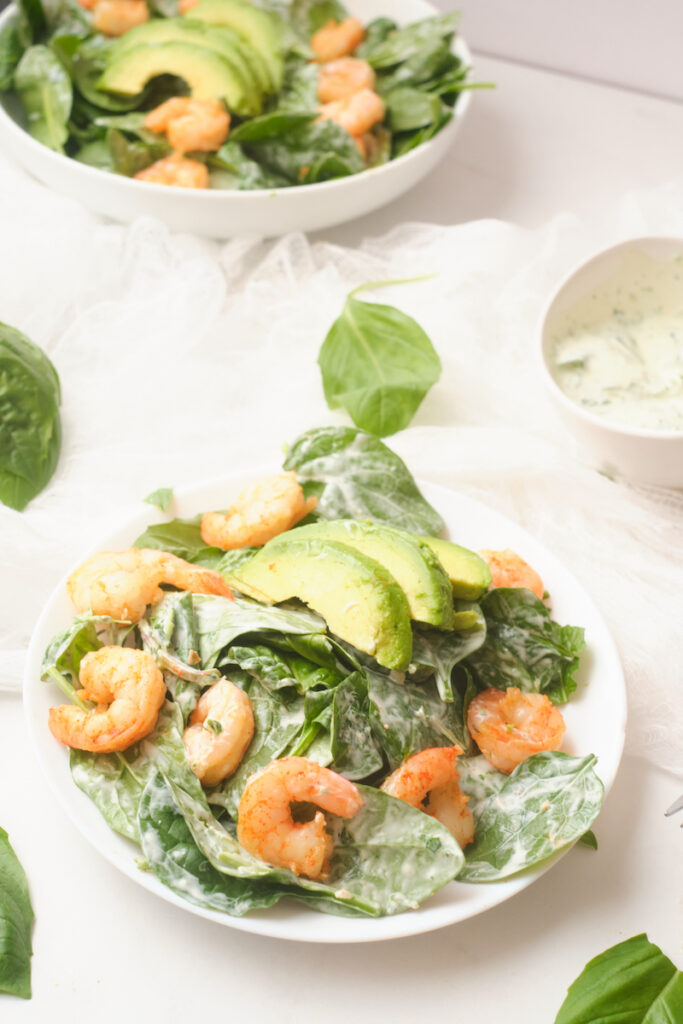 __
All hail salad, am I right? Is there any other dish out there with so many variations? Seriously, you can switch up your greens, your protein, your dressing, and veggies and your treats for what seems like an infinite number of combinations.
This versatility is one of the things I love so much about salad. It's one of those things if, done right, never gets old, because you're always adding tweaks to create variety and new levels of flavor and deliciousness.
And while it's easy enough to get in a salad rut, I'm here to encourage you to do something a bit new and different … and still healthy.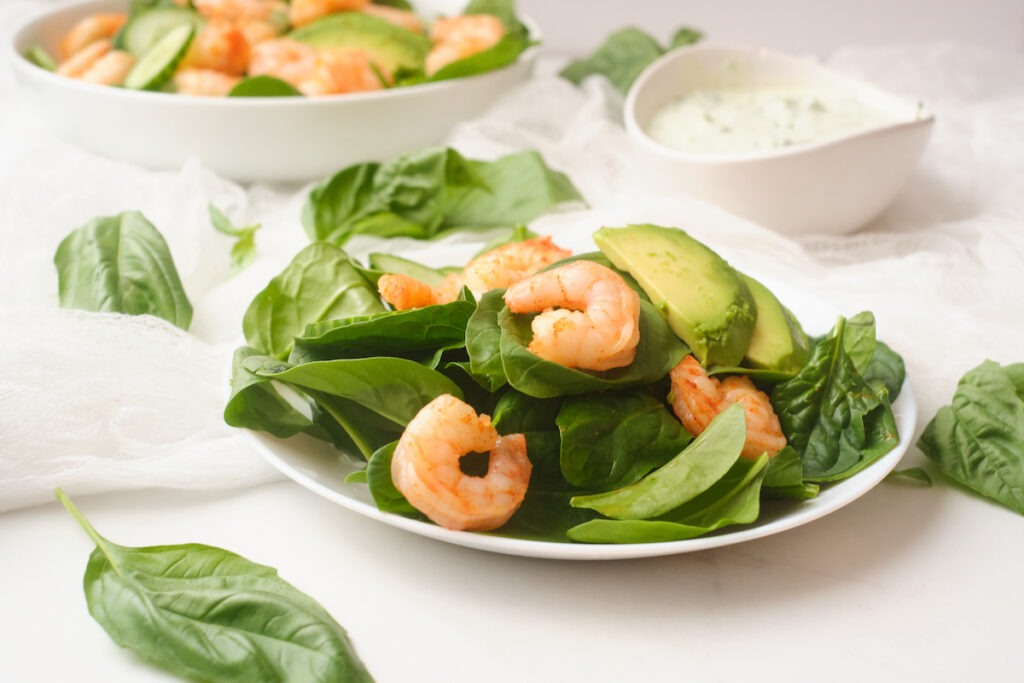 This Chilli Shrimp Salad is Healthy and Delicious
It's tempting to think that salad can't be delicious and comforting, but hear me out: it can be.
And I'm not talking about junk food salad – you know, the kind that's slathered in mayonnaise based dressings.
To me, healthy means loaded with delicious flavors that give my body energy, and don't leave me regretting my choices.
And this salad fits the bill, for sure.
Why You'll Love this Chilli Shrimp Salad with Green Goddess Dressing
This salad is super easy to make, and is packed with flavor and healthy veggies, greens, and protein.
I also highly recommend making your own Green Goddess dressing, since it's fairly easy and makes all the difference. Plus, you can pack it with basil and other delicious herb pairings, which — yum!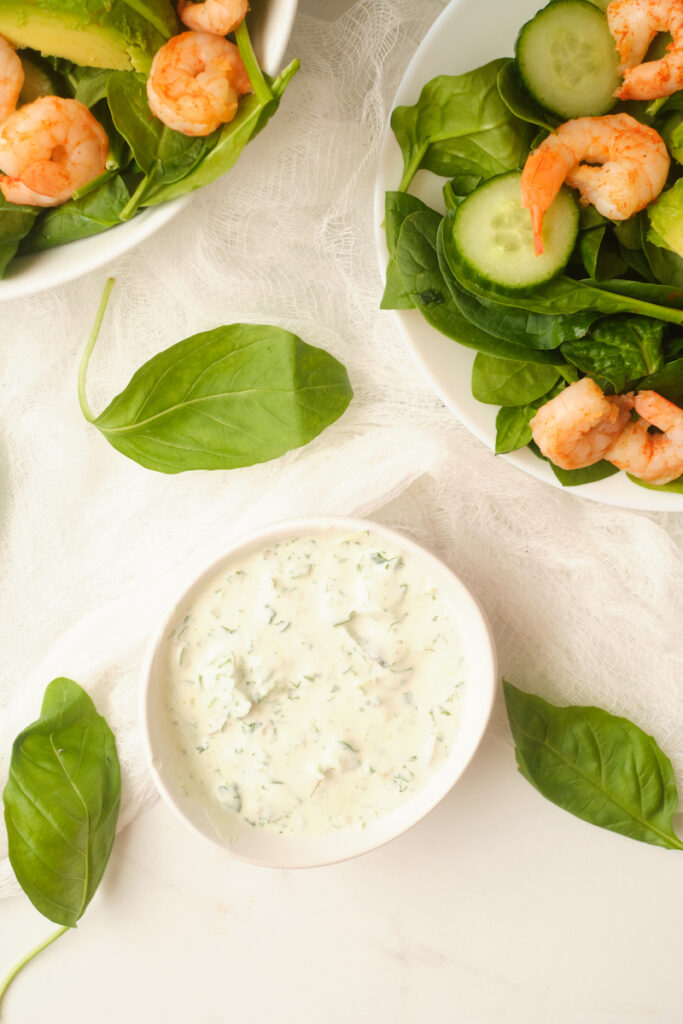 Green Goodess dressing is one of my favorites, and it's such a unique taste and packed full of amazing herbs and ingredients. Plus, it's versatile and you can adjust the herbs for the salad you use it on.
| | |
| --- | --- |
| | Prep Time: 5 mins |
| | Cook Time: 5 mins |
| | Total Time: 10 mins |
| | Yield: 2 |
For the Salad
1/2 pound bag of medium-sized frozen shrimp (only use fresh if you live where it's caught and can get it right after being caught – otherwise use frozen as that will actually be the freshest!)
1 large avocado
1/2 cucumber, washed and skin on or off according to your preference
4 cups spinach, washed
2 tablespoons olive oil
1 teaspoon chili powder
Freshly ground black pepper to taste
2 tablespoons homemade Green Goddess Dressing (see below)
For the Basil Green Goddess Dressing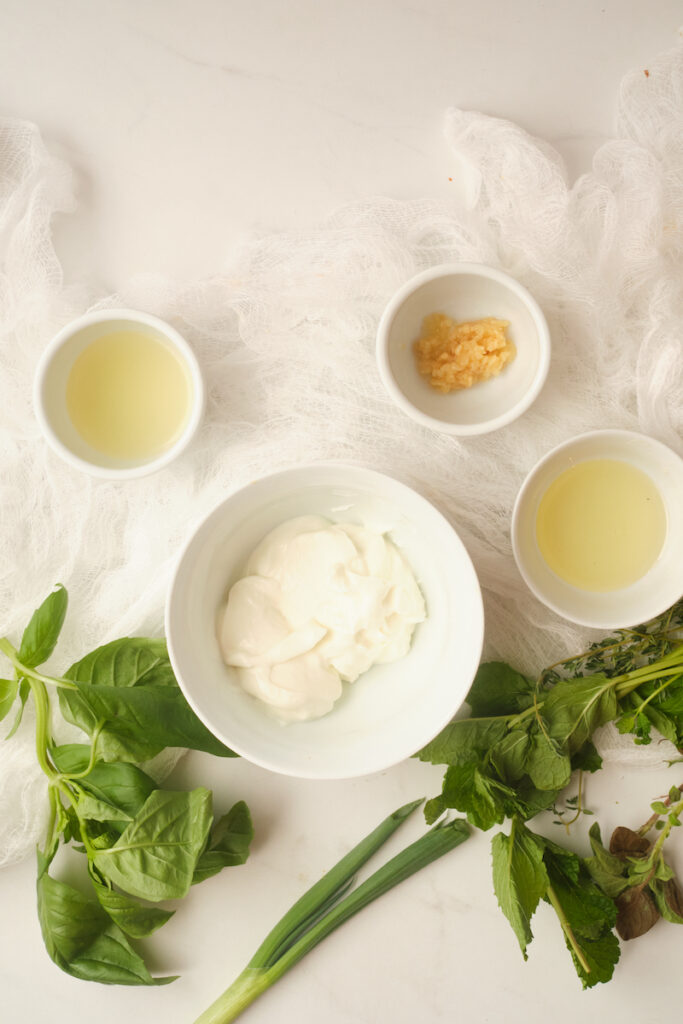 1 cup plain Greek yogurt
1 cup of fresh basil leaves
1/2 cup of other herbs to taste – parsley, mint and tarragon makes a great combo
1 to 2 garlic cloves, peeled and roughly chopped
1 lemon, juiced (about 2 tablespoons)
2 tablespoons finely chopped green onions
1/2 teaspoon kosher salt or sea salt
1/2 teaspoon fresh ground black pepper
1 to 2 tablespoons olive oil(optional) 1 teaspoon anchovy paste
Instructions
Remove frozen shrimp from package and place in a colander in the sink. Run cold water over the shrimp, tossing frequently, until they're soft and bendable, and look translucent (about 5 minutes). Pat dry with paper towel.
In a medium skilled, heat olive oil over medium heat. Once the oil is hot (it should sizzle when water hits the pan), add the shrimp. Cook until they're cooked almost all the way through, about 2 minutes each side.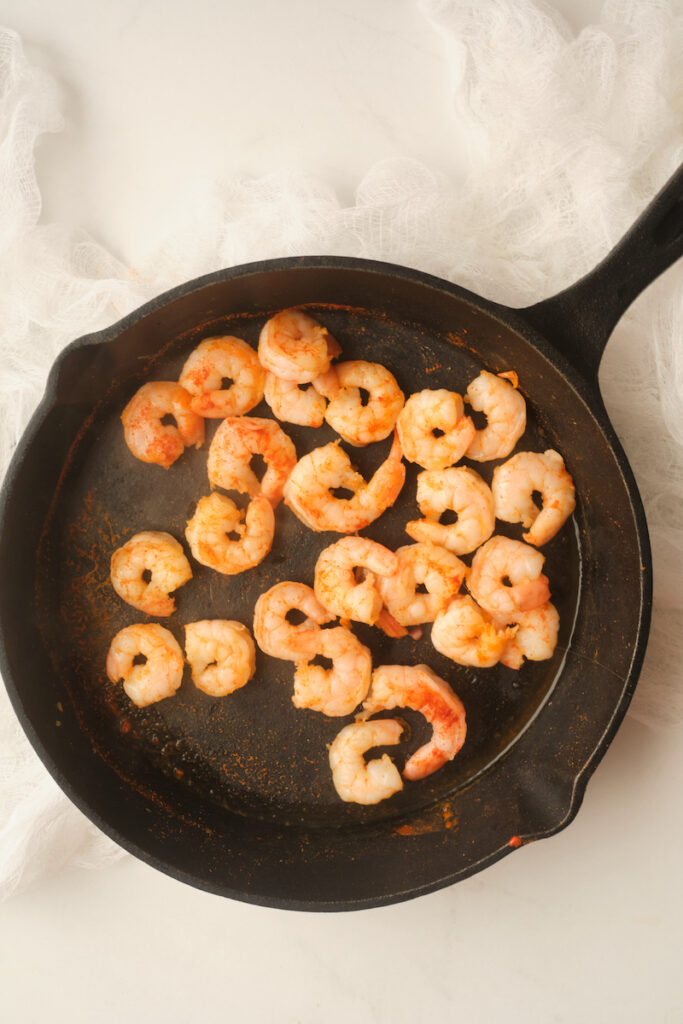 Sprinkle the chili powder and black pepper over the shrimp in the pan, cooking another 2 minutes or so and turning/agitating the shrimp frequently. Remove from heat and set aside.
Divide washed and dried spinach evenly between two bowls or plates.
Peel and slice cucumber and avocado, and divide evenly across the two salad plates or bowls.
To make the dressing, put all the ingredients except the olive oil in a food processor or blender, and pulse/blend until smooth. Then slowly drizzle the olive oil in and blend until you get the perfect creamy consistency.
Top each salad with 1 tablespoon Green Goddess dressing and toss lightly, then top with half the shrimp on each.
Enjoy!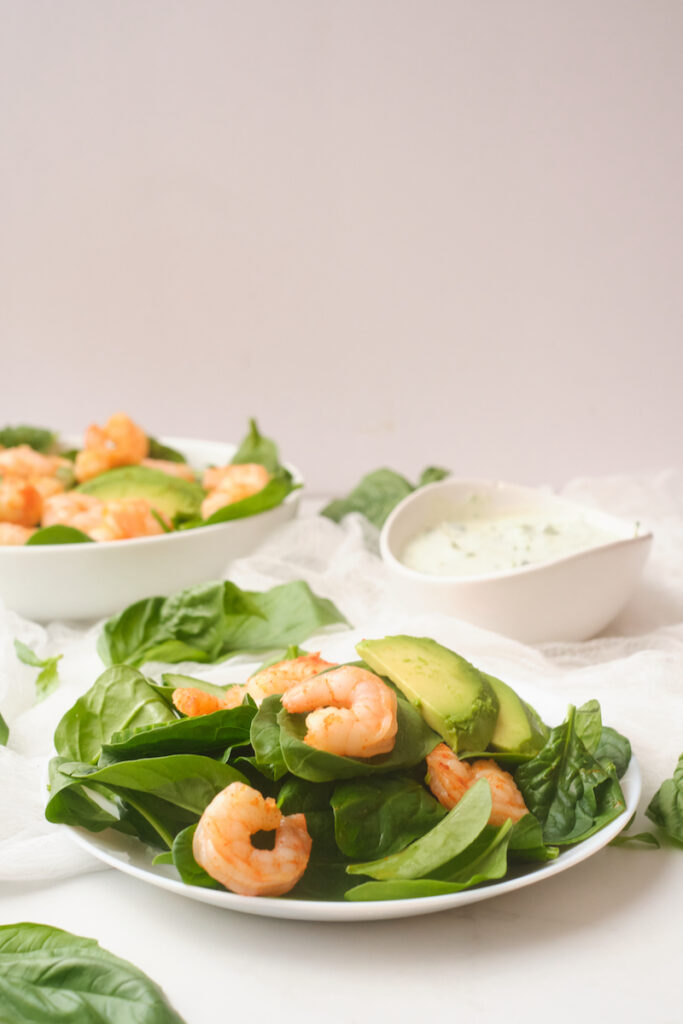 (This article was originally published on January 19, 2021 and was last updated on July 21, 2022)