As an Amazon Associate I earn from qualifying purchases. This website also participates in other affiliate programs and may earn commissions if you shop through the links used on this website. 
(This article was originally published on January 16, 2021 and was last updated on July 21, 2022)
A stir fry is one of those quick, easy to make dishes that everyone should know how to make. Minimal prep time, and super versatile (just swap out the veg or meat based on what you have or feel like), it's perfect for weeknight dinners.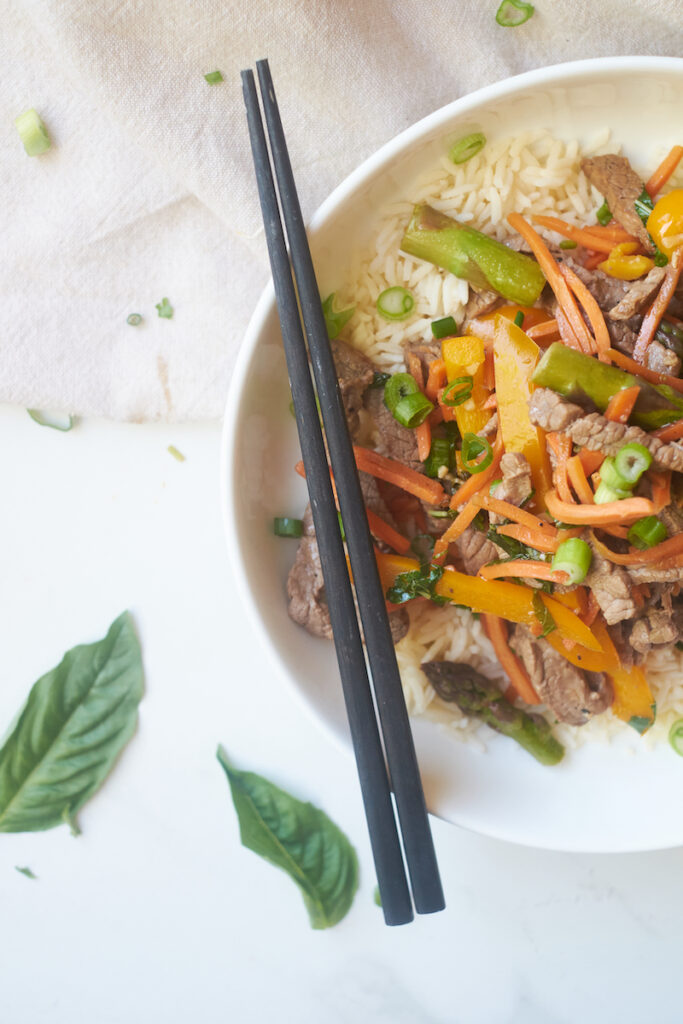 This recipe features honey ginger beef, sweet basil, and a ton of fresh veggies that work well with the basil and beef. It's perfect for those "there aren't enough hours in the day" kind of days, when you feel like you're feeling catchup but also want some veggies, and don't want to do takeout (again).
I made this one with asparagus, carrots, orange bell pepper, and green onions, for the veg. But you could swap in broccoli, or Asian greens like bok choi, and it'd be equally delicious.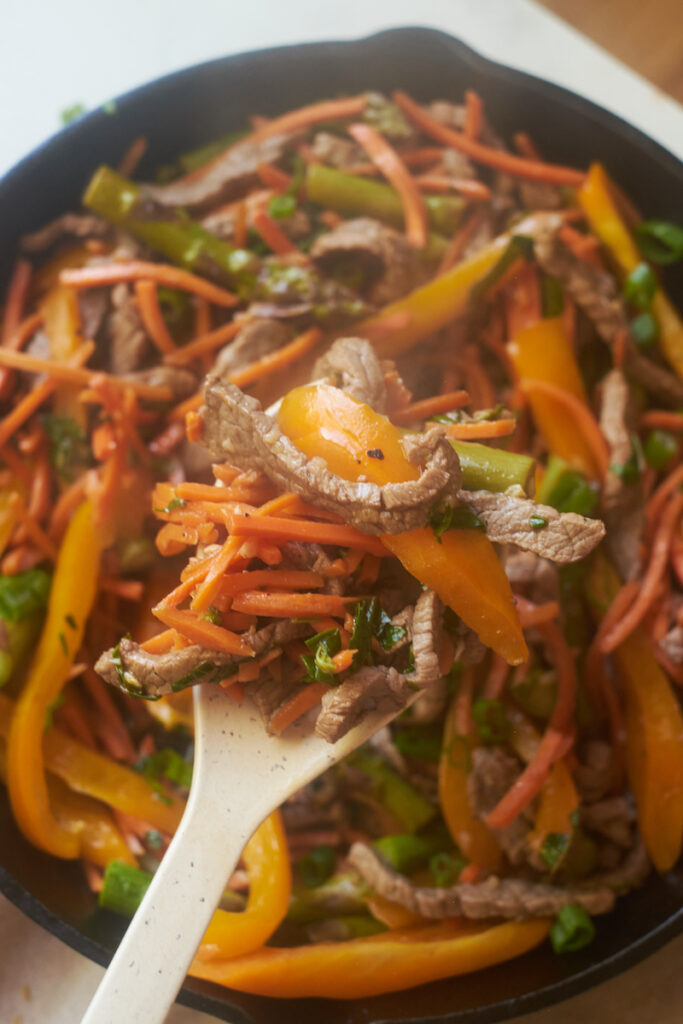 The sauce is super easy to make from scratch. It uses soy sauce, honey, rice wine vinegar, garlic, and ginger….
The best part about this sauce, besides being easy to make? It uses the staples we usually have in our fridge and pantry. I didn't have to run to the store to whip up this sauce, which is a serious plus on a busy weeknight.
Fresh, flavorful, and super simple – hard to beat, right?
I recommend cooking this stir fry on high heat. That lets you sear the meat, while also keeping the juices in and ensuring it's not overcooked.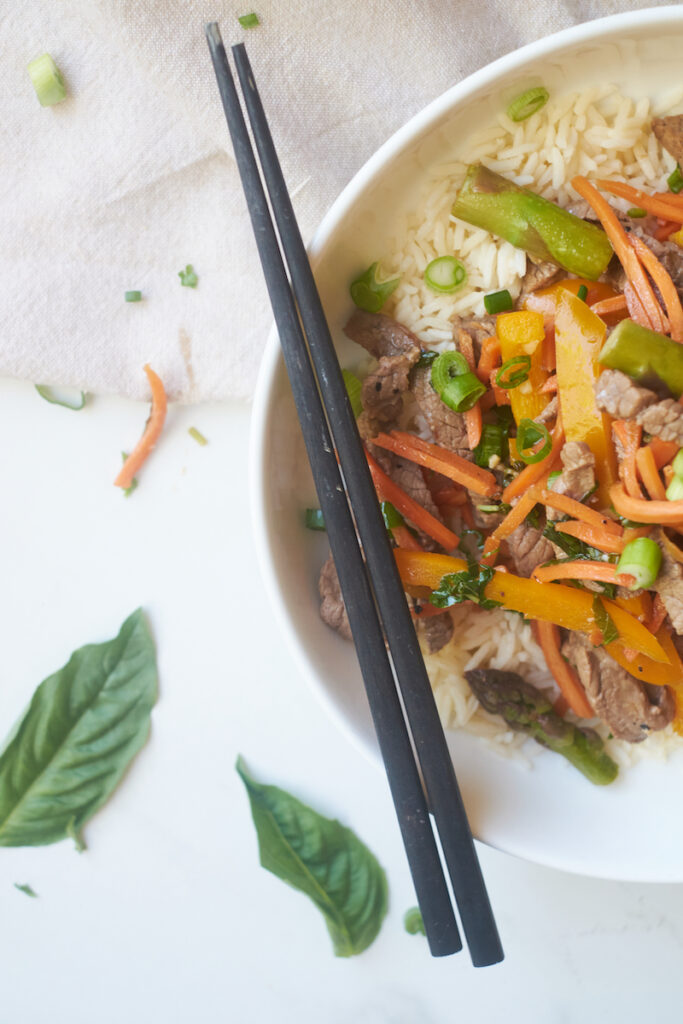 | | |
| --- | --- |
| | Prep Time: 15 mins |
| | Cook Time: 15 mins |
| | Total Time: 30 mins |
| | Yield: 3-4 |
Ingredients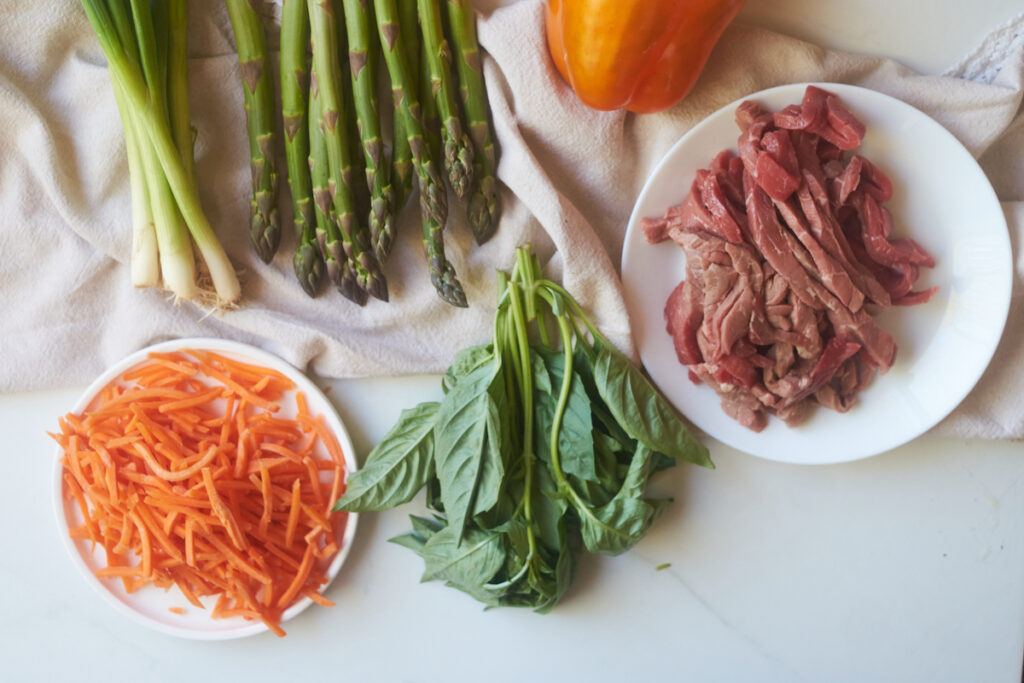 1½ cups uncooked rice (I used Jasmine, but brown would work too)
2 tablespoons sesame oil
1 pound stir fry beefs strips, such as flank steak
3 green onions, washed and chopped/sliced
Veggies – I used chopped asparagus, julienned carrots, and 1/2 an orange bell pepper
1 big bunch of sweet basil (about 3 stems with plenty leaves coming off of each), leaves ribboned.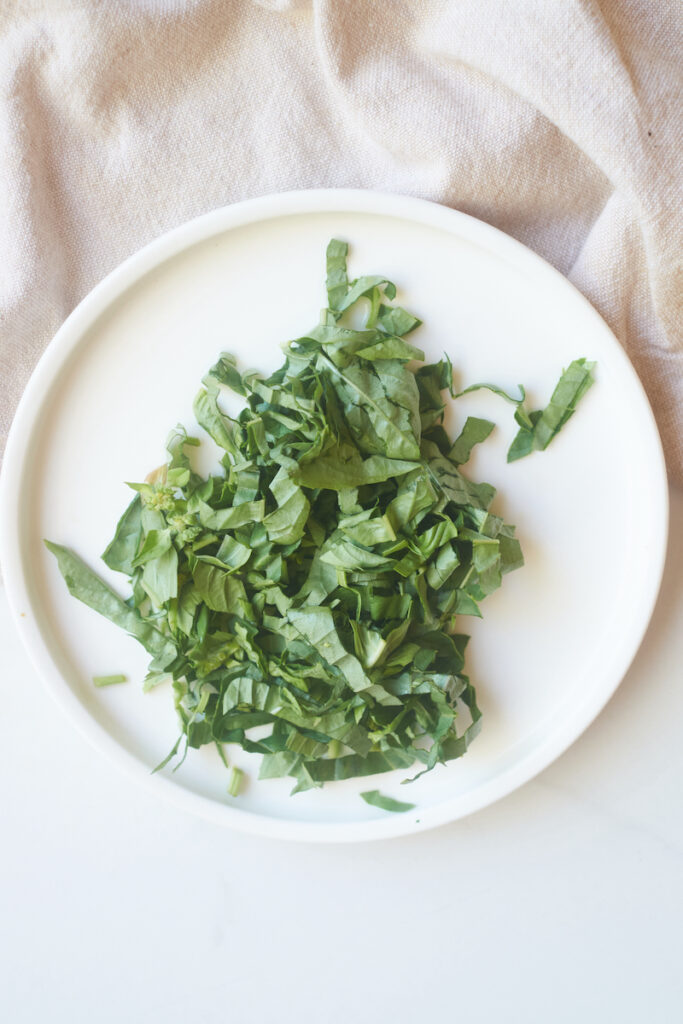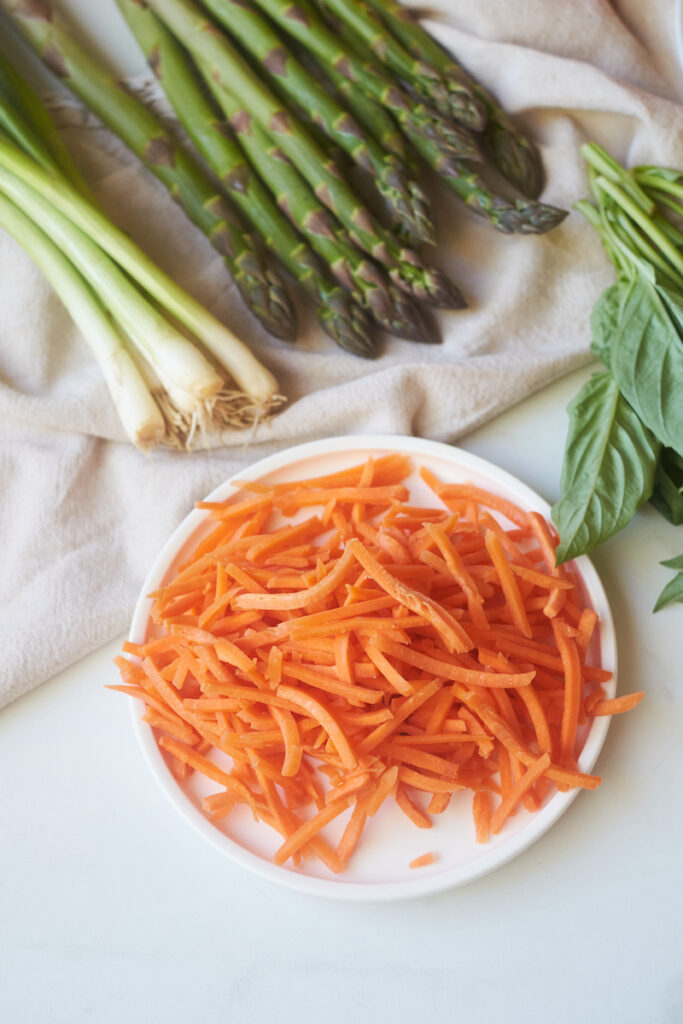 For the Sauce
3 cloves garlic, minced
About 2 tablespoons of freshly minced ginger
2 tablespoons honey
½ cup soy sauce
¼ cup water
¼ cup rice wine vinegar
¼ cup olive oil
Instructions
Cook the rice according to package directions.
Put all the sauce ingredients in a blender or food processor, and purée until smooth. Set aside.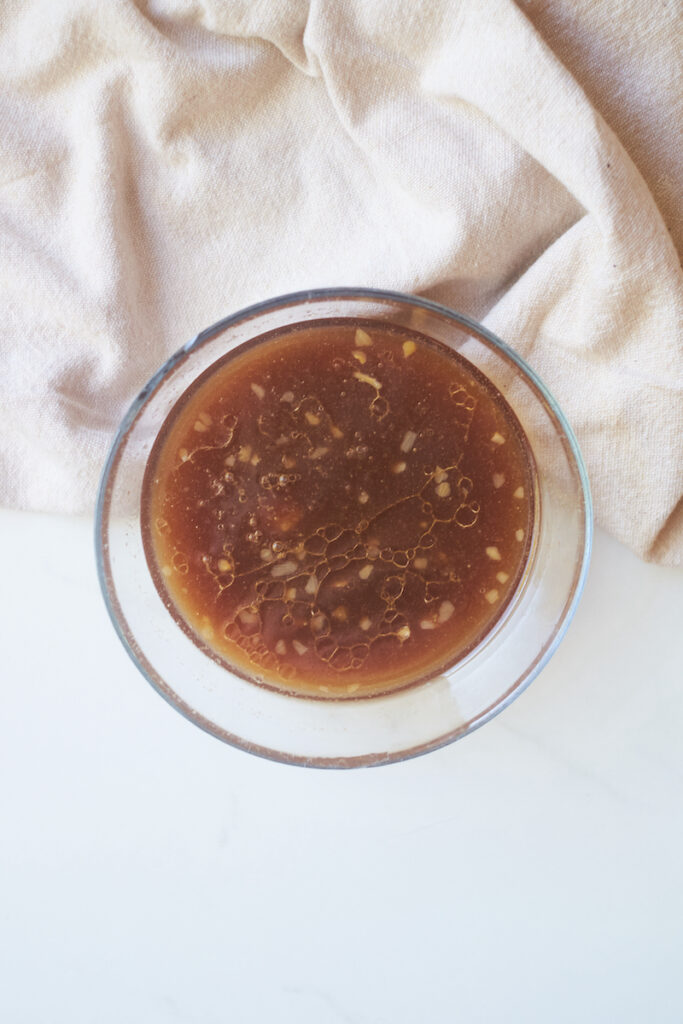 Slice beef into stir-fry sized strips.
Heat sesame oil in a large, nonstick skillet over medium-high heat. Once the oil is hot (it will start to dance in the pan), add the beef and sear for 1 to 2 minutes.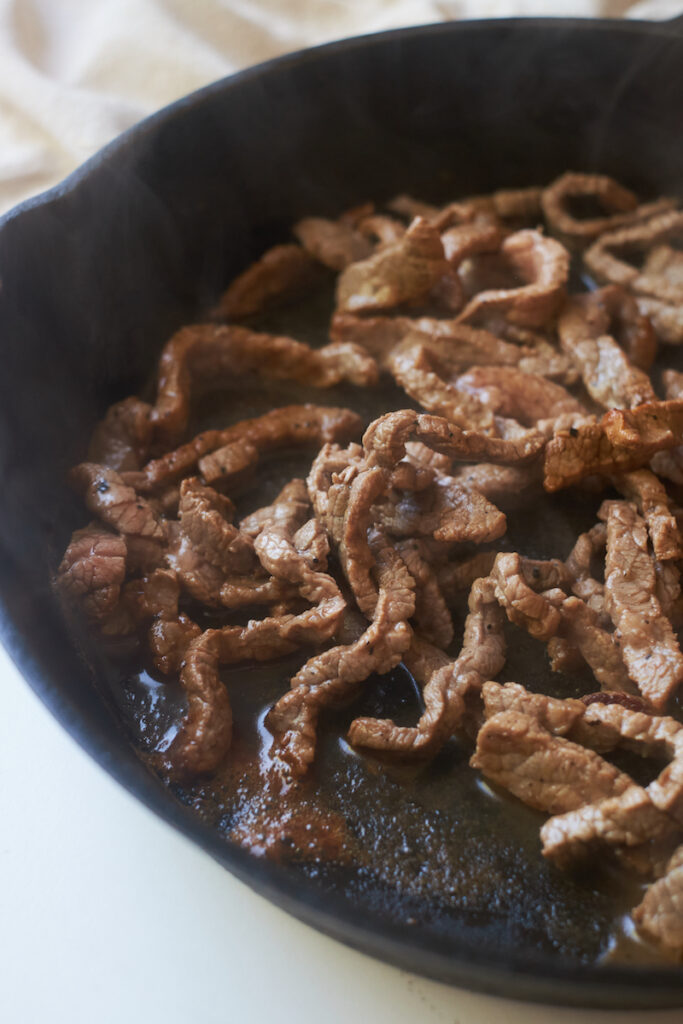 Add in 1/4 of stir fry sauce, and continue to cook the beef strips until they're cooked to your preference (I tend to err on the side of undercooking slightly, as we like medium to medium-rare beef, and it's really easy to overcook it!).
With a slotted spoon or tongs, remove the cooked beef strips and set aside on a paper towel lined plate. Drain away excess sauce.
Return the pan to medium heat and add veggies in order of how long they'll take to cook. For the veggies above, I cooked the carrots and asparagus the longest, followed by the bell peppers. Add in 1/4 cup to 1/2 cup of the stirfry sauce as you cook the veggies, and cook until they're tender.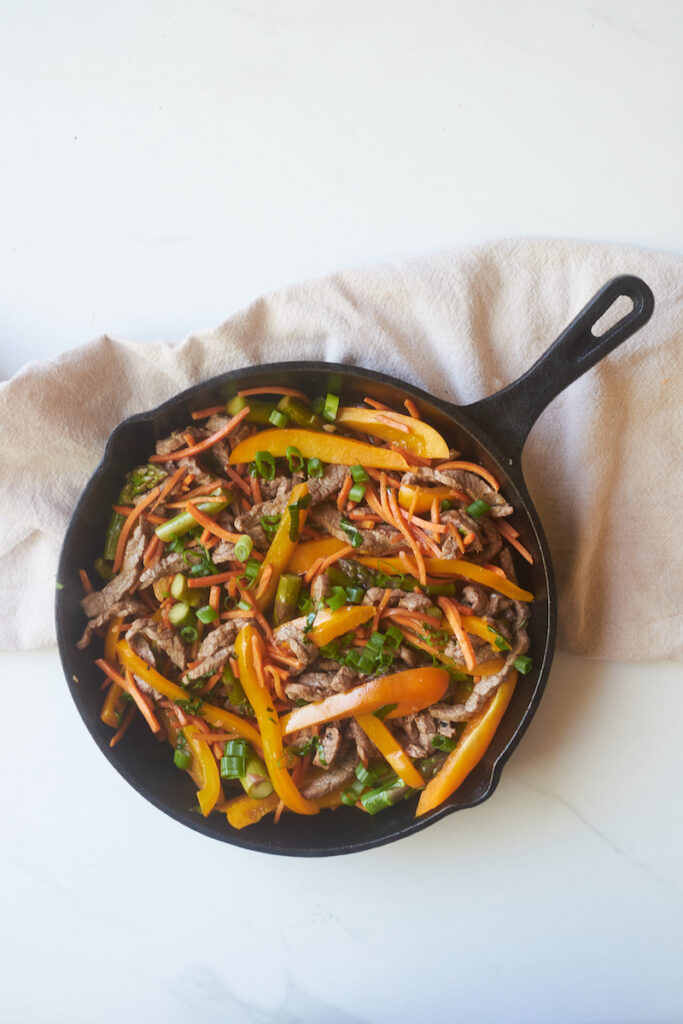 Toss in the basil, and stir it in until it is lightly wilted.
Add the cooked beef back to the pan for 30 second to 1 minute, stirring to coat with sauce and mix.
Divide rice among plates/bowls and serve the stir fry on top, garnishing with a sprinkle of green onions on top.