As an Amazon Associate I earn from qualifying purchases. This website also participates in other affiliate programs and may earn commissions if you shop through the links used on this website. 
(This article was originally published on August 8, 2022 and was last updated on August 8, 2022)
This lemon basil simple syrup is such an easy way to zhuzh up a huge range of recipes. Adding it to a cocktail, mocktail or other drink is an obvious use, but you can also drizzle it over baked fruit or cakes for an amazing, dessert, add it to pancakes instead of maple syrup, stir it into your morning oatmeal or overnight oats for an added injection of sweetness – there's a huge variety of possibilities!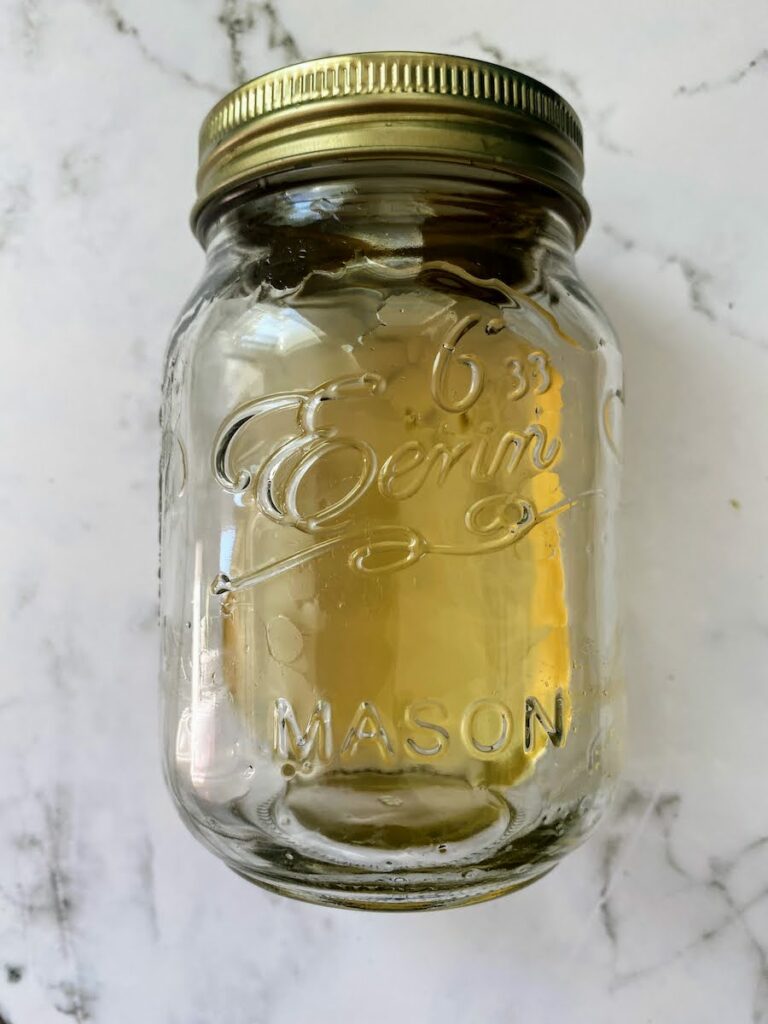 Lemon Basil Simple Syrup (with Fresh Basil Leaves)
In my quest to make the perfect basil cocktail, I've been experimenting lately with both basil infused simple syrups and basil infused vodka and gin.
I originally made this lemon basil syrup to go with a Basil Blueberry Vodka Lemonade cocktail, but I've since come to love a spoonful with sparkling water, too and a handful of fresh berries, a fresh squeeze of lemon, and a sprig of fresh basil as a garnish, too. It's super refreshing!
The best part? This recipe is super simple, and takes almost no effort at all. Huzzah!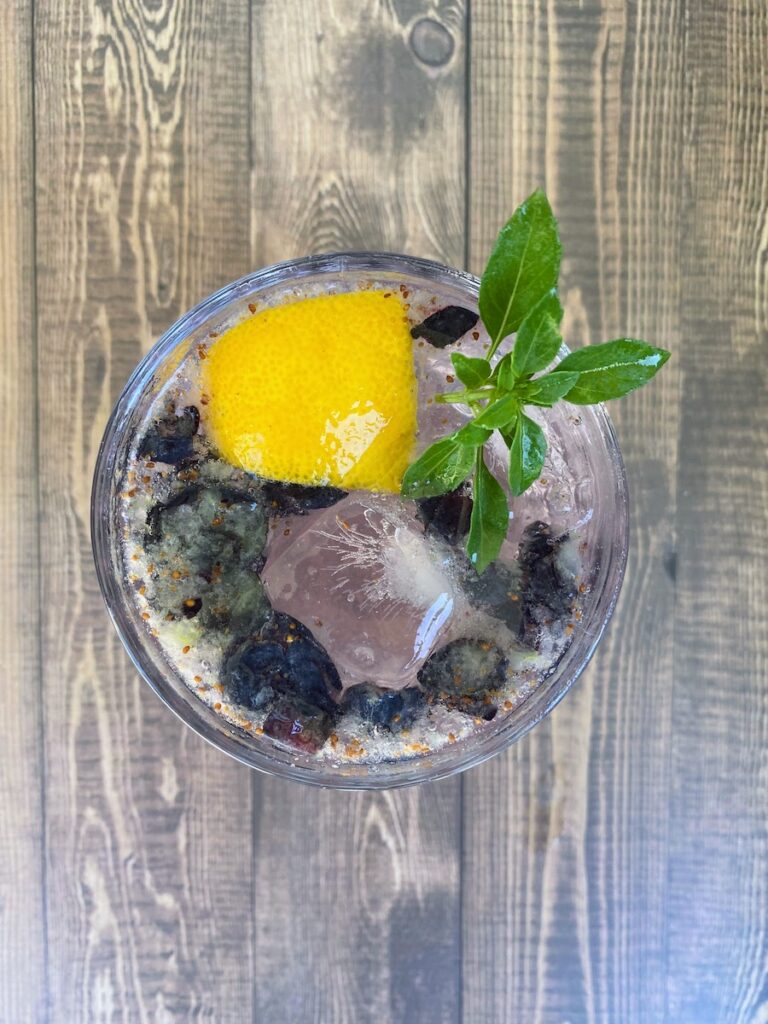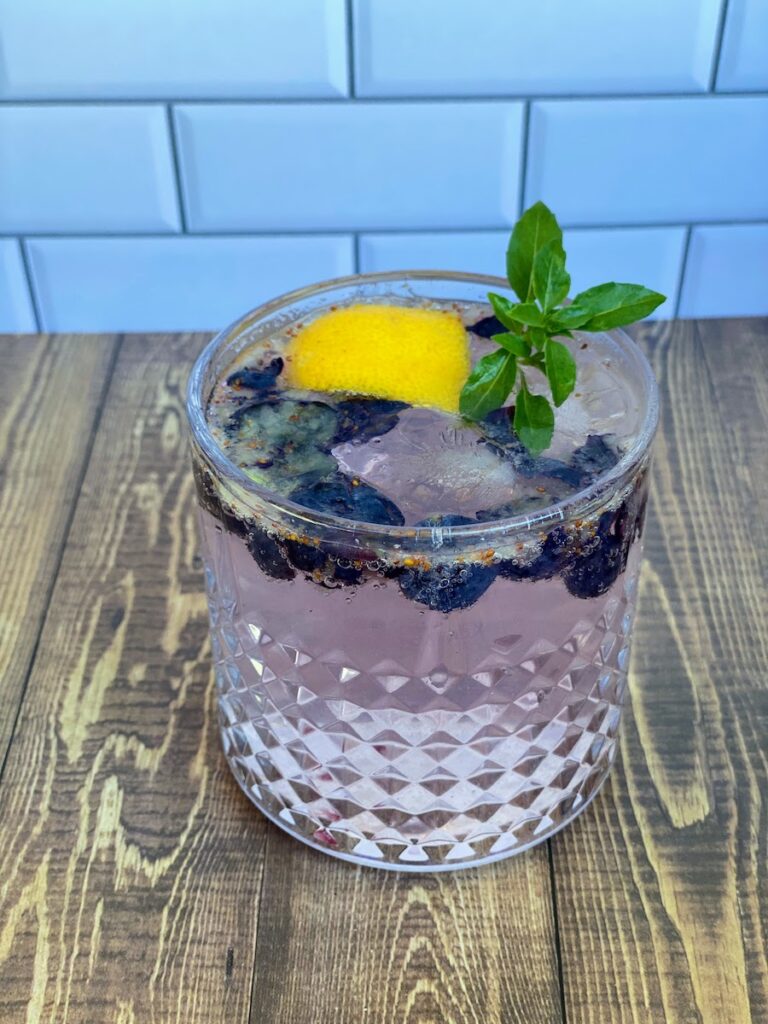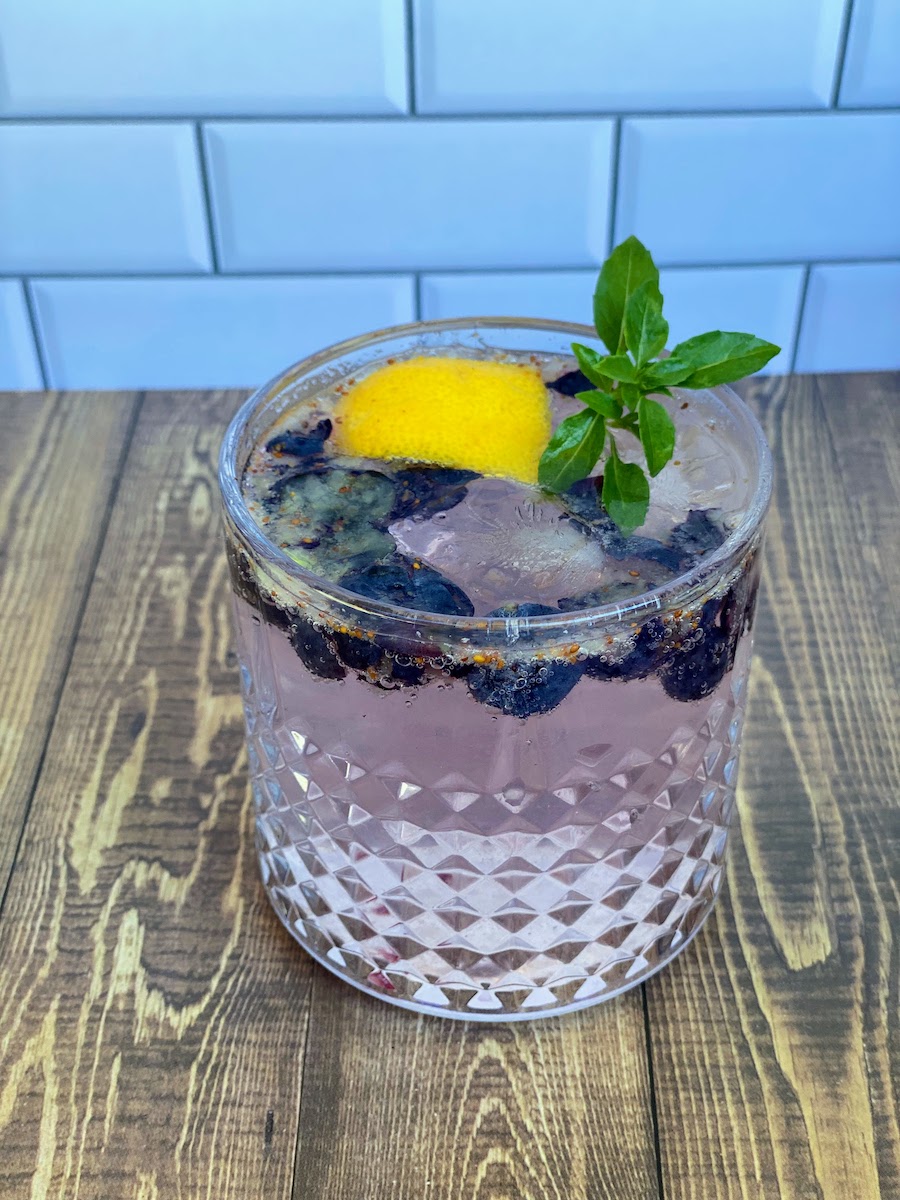 What You'll Need to Make this Lemon Basil Syrup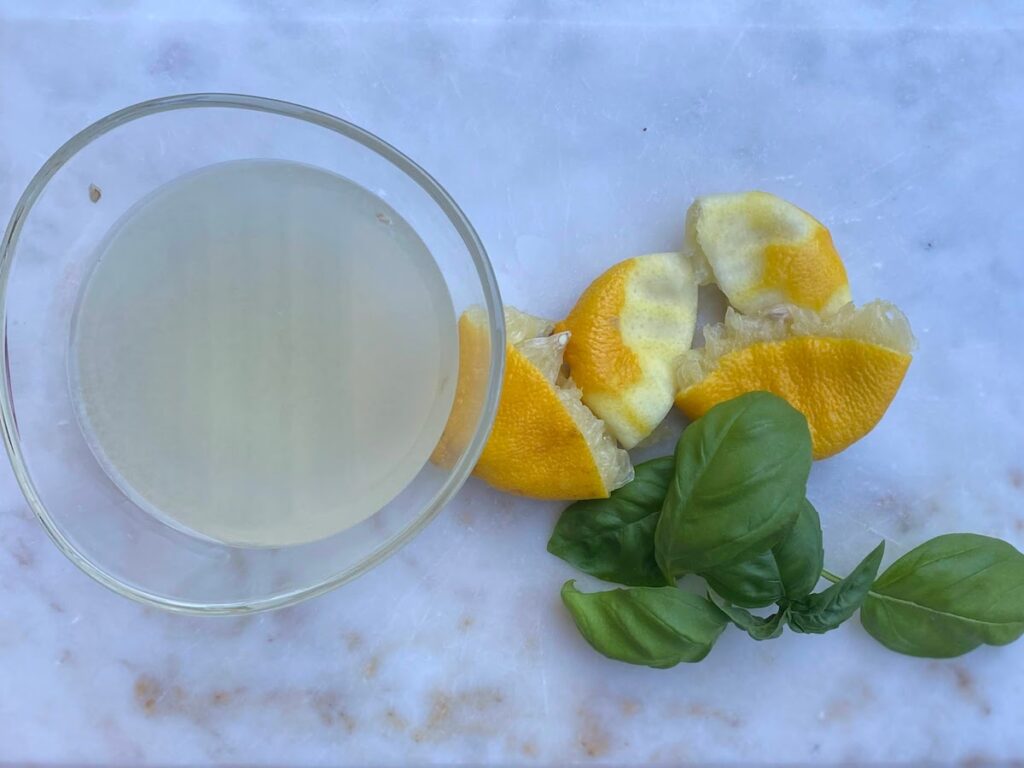 Simple syrup is basically sugar syrup, made of basic white granulated sugar and some form of liquid (often water, but in this case we used water and lemon juice).
Basic, unflavored simple syrup is just a matter of mixing water and sugar in equal proportions, bringing it to a boil, and then letting it simmer on low heat for 10 to 15 minutes, before allowing to cool.
Simple syrup is indeed super simple!
For this lemon basil version of simple syrup, we need to add in some flavorings: lemon (fresh lemon juice and some lemon peel) and basil (a big bunch of fresh sweet basil leaves).
A Note About Proportions and Ratios When Making Basil Lemon Simple Syrup
I made this batch of lemon basil syrup for my personal consumption, and since I'm only confident in it keeping about a week to 10 days in the fridge, I didn't want to make too much. (Note: unflavored simple syrup generally lasts longer than flavored or infused simple syrup!).
Using 1/2 cup of sugar to 1/2 cup of liquid, this recipe yielded just over a 1/3 cup of the simple syrup for me, or roughly 6 tablespoons. Since I just use this to flavor my drinks (sparkling water, homemade mocktails, and homemade craft basil cocktails), I also don't need exact measurements!
However, if you want to make a larger batch, you can, you'll just need to keep the 1:1 sugar to liquid ratio, and eyeball the flavorings.
Yield: 1/3 Cup
Easy Lemon Basil Simple Syrup
This sweet and zestly lemon basil syrup goes beautifully in cocktails or mocktails, and is extremely easy to make.
Additional Time
20 minutes
Ingredients
1/2 white granulated sugar
Zest (peeled) from one small lemon
1/4 cup to 1/3 cup freshly squeezed lemon juice (about 2 to 3 small lemons)
1/4 cup water
About 15 to 20 large basil leaves, plus an additional few leaves for garnish
Instructions
Wash and pat dry lemons. Using a vegetable peeler, peel the zest from one lemon.

Add 1/4 cup white granulated sugar to a small saucepan, and toss in the lemon peels on top of the sugar.

Cut lemons in half and squeeze the lemon halves until you have roughly 1/2 to 1/3 cup lemon juice. Top up with a bit of water, so you have 1/2 cup liquid total. Add to saucepan.

Harvest a large handful of basil leaves - roughly 15 to 20 large leaves, and wash to thoroughly clean. Throw the basil leaves in with the sugar, lemon, and water mixture. Give everything a quick good stir.

Bring the mixture to a boil on the stovetop, stir, and then reduce to low to simmer.

Let mixture simmer for about 10 minutes. The basil leaves will wilt and the mixture will turn a greenish tinge, reducing slightly. After 10 minutes, remove from heat and let cool for at least 20 minutes.

Using a fine mesh sieve and funnel, stain the mixture into a heatproof container, such as a mason jar or metal container.

Add the finished syrup to iced tea, use it to flavor water or cocktails, drizzle over pancakes, etc.
Notes
Store in an airtight container in the refrigerator for a week to 10 days.
Nutrition Information:
Yield:
6
Serving Size:
1
Amount Per Serving:
Calories:

9
Total Fat:

0g
Saturated Fat:

0g
Trans Fat:

0g
Unsaturated Fat:

0g
Cholesterol:

0mg
Sodium:

5mg
Carbohydrates:

3g
Fiber:

1g
Sugar:

1g
Protein:

0g
Nutrient information is just an estimate, autogenerated and not reviewed or confirmed by this website or the author. Nutrient data may not be accurate. If you have a medically restrictive diet, specific nutrient or calorie needs or restrictions, please consider this information a best guess only.