As an Amazon Associate I earn from qualifying purchases. This website also participates in other affiliate programs and may earn commissions if you shop through the links used on this website. 
(This article was originally published on July 29, 2022 and was last updated on August 19, 2022)
To me, nothing says summer like a huge batch of homemade pesto, made with fresh basil leaves harvested from the garden. I love pesto, and how darn easy it is to make and add a delicious burst of summer fresh flavor in so many dishes.
Unfortunately, many people can't enjoy a traditional basil pesto, because….nuts.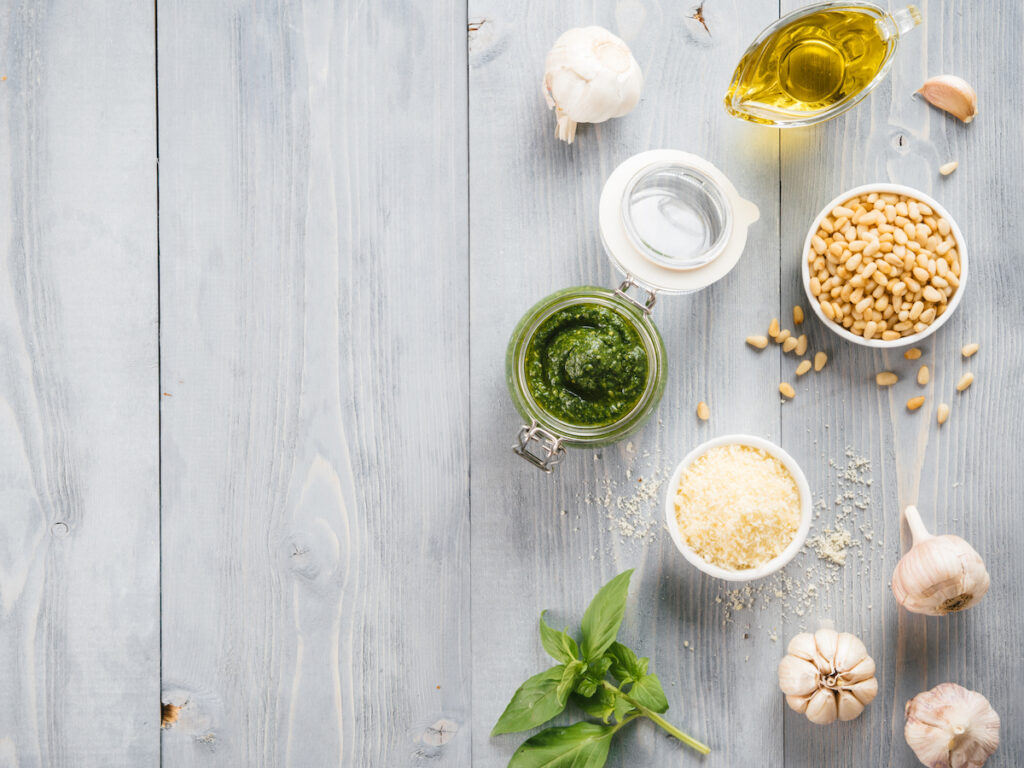 Is Pesto Safe for People with Nut Allergies? Is Pesto Tree-Nut-Free?
Traditional Genovese pesto sauce contains pine nuts (pignolias) which means pesto may not be safe for people with nut allergies.
While there's some controversy about whether pine nuts are tree nuts or seeds, many reputable government organizations consider pine nuts as priority allergens in the tree nut category.
And anyone with nut allergies knows…you can't mess around with a nut allergy.
If you have a nut allergy yourself, are cooking for someone with a nut allergy, or want to avoid nuts for other reasons, you can still enjoy pesto pasta, pesto chicken, and other recipes calling for pesto, so long as you opt for nut free pesto.
What is Nut Free Pesto Made of?
Traditional Italian pesto contains fresh basil, extra virgin olive oil, cheese (Parmigiano-Reggiano and/or Pecorino Romano), garlic, salt, and pine nuts.
However, pesto can easily be made by substituting pine nuts for other nuts, or making a nut free basil pesto.
In the Provence region of France, pistou is a popular and nut free version of classic fresh basil pesto. Similar to Genovese pesto, it's made with fresh basil, garlic, salt, and extra virgin olive oil, with the option of adding cheese (Mimolette instead of parmesan cheese and Pecorino Romano).
What Can you Use to Replace Nuts in Pesto?
One of the beautiful things about pesto is its such a simple recipe to make, there's a ton of room for creativity.
If you want to go beyond a French Pistou (where you simply skip the pine nuts to make it nut free), you can add in seeds, swap ingredients, and get creative with just a few substitutions.
The nut free basil pesto recipes I've collected below use a variety of ingredients to replace nuts in pesto:
Pumpkin seeds
Sunflower seeds
More greens (spinach, broccoli, leafy greens, arugula, kale)
White beans
Chickpeas
11 Nut Free Pesto Recipes
Pesto is a firm favorite for so many of us, and with good reason. It has a wonderful depth of flavor and versatility, that works just as well as a pasta sauce and a sandwich, with fish, meat, poultry, and vegetables. Even though many people opt for storebought pesto, it's actually pretty easy to make using the basil from your garden, and is a wonderful summertime staple that freezes well for the winter months. However, there is one issue that some people have with pesto, and that is it usually contains nuts (classic basil contains pine nuts). If you'd prefer a nut free pesto recipe for whatever reason, I've gathered this collection of 11 nut free basil pesto recipes to help. Go ahead and find a favorite!