As an Amazon Associate I earn from qualifying purchases. This website also participates in other affiliate programs and may earn commissions if you shop through the links used on this website. 
(This article was originally published on January 18, 2021 and was last updated on July 21, 2022)
When summer hits, it's time to get creative with ice cream recipes. And while I love this ice cream for summer, I have to say: it's also good year round. The raspberry and dark chocolate flavor combo is a classic, and is seriously delicious no matter the weather outside, and the hint of basil adds a certain sweet spiciness that's hard not to love. By making it with coconut milk and vegan chocolate chips, this recipe is vegan, too!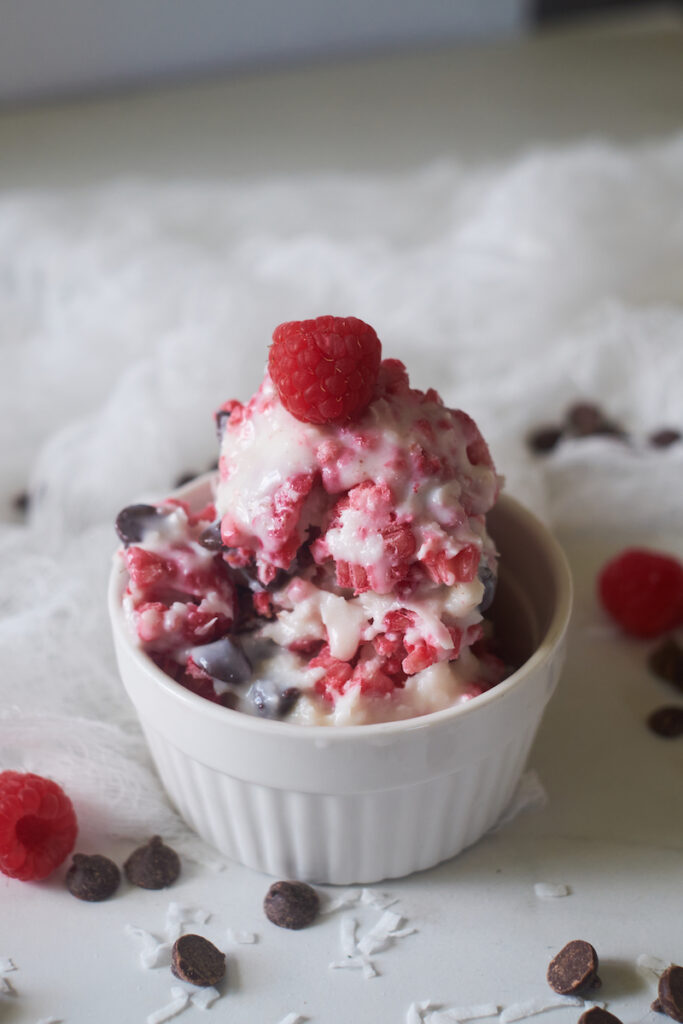 Why I Love this Coconut Ice Cream with Raspberry Dark Chocolate and Basil
This raspberry and dark chocolate with basil coconut ice cream checks so many boxes for me.
It's creamy, tart, and sweet, all at once. Plus, who can complain about raspberry and coconut together? It's a dream team flavor combo! When you add in the dark chocolate decadence, and a fresh hint of basil, it's hard to beat.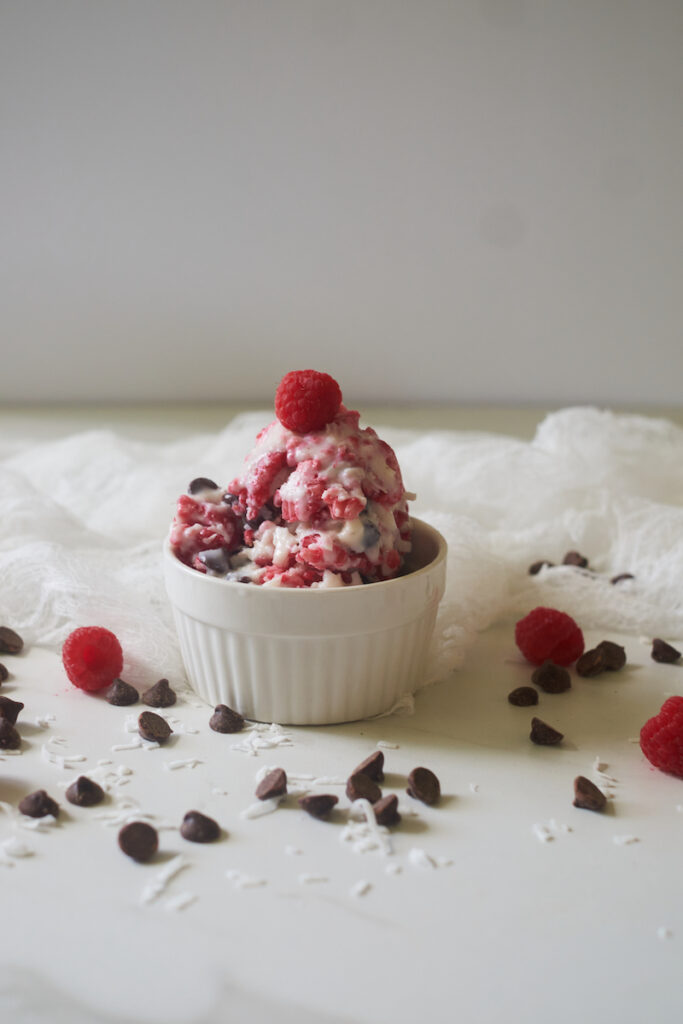 If you want something that's fruity and tart, but also sweet, but also creamy and rich? This is your ice cream.
Even better? It's quick to make!
Bye Bye Smoothies, Hello Coconut Ice Cream
I love smoothies, but sometimes I want something a bit more decadent and treat-like.
That's where this coconut ice cream recipe comes in. It's like a smoothie, but with chocolate and extra creaminess.
But it's still got a ton of goodness in it. And by using vegan chocolate, this recipe is both dairy free and vegan.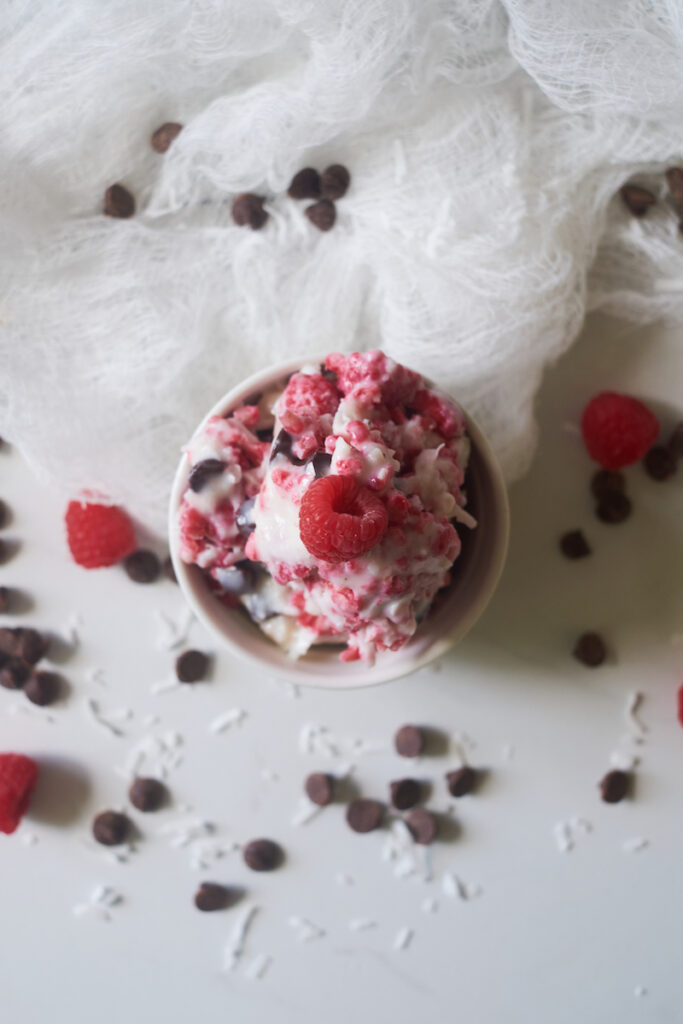 Use Up Those Raspberries & Basil
You can make this year round with frozen raspberries, or use fresh if you have a ton on hand.
Personally, I like to gather a ton of raspberries when they're in season and then freeze them, and this is one of my favorite recipes to use them up from my freezer throughout the year.
And of course, this is a great way to use up some of your basil!
Choose Your Ice Cream Consistency
When making coconut ice cream in an ice cream maker, you can make either soft ice cream (similar to soft serve) or a firmer version. It just depends on how much you freeze it.
If you want a softer ice cream, eat it right away after churning. However if you want something firmer, transfer it from your ice cream maker to a container, and then freeze that for a little bit.
| | |
| --- | --- |
| | Prep Time: 2 mins |
| | Cook Time: 30 mins |
| | Total Time: 32 mins |
| | Yield: 4 |
Ingredients
2 (13.66 oz) cans full fat Thai coconut milk
1 cup granulated organic sugar
1 teaspoon pure vanilla extract
½ cup dark chocolate chips or chocolate chunks (use vegan chocolate chips if you'd like)
½ cup coconut flakes (unsweetened)
1 1/2 cups fresh or frozen raspberries
1 cup packed chopped fresh basil
Instructions
In a blender, combine coconut milk, sugar, and vanilla, and blend for about 30 to 45 seconds until combined.
Transfer the contents of the blender to an ice cream maker, and use according to your ice cream maker's instructions.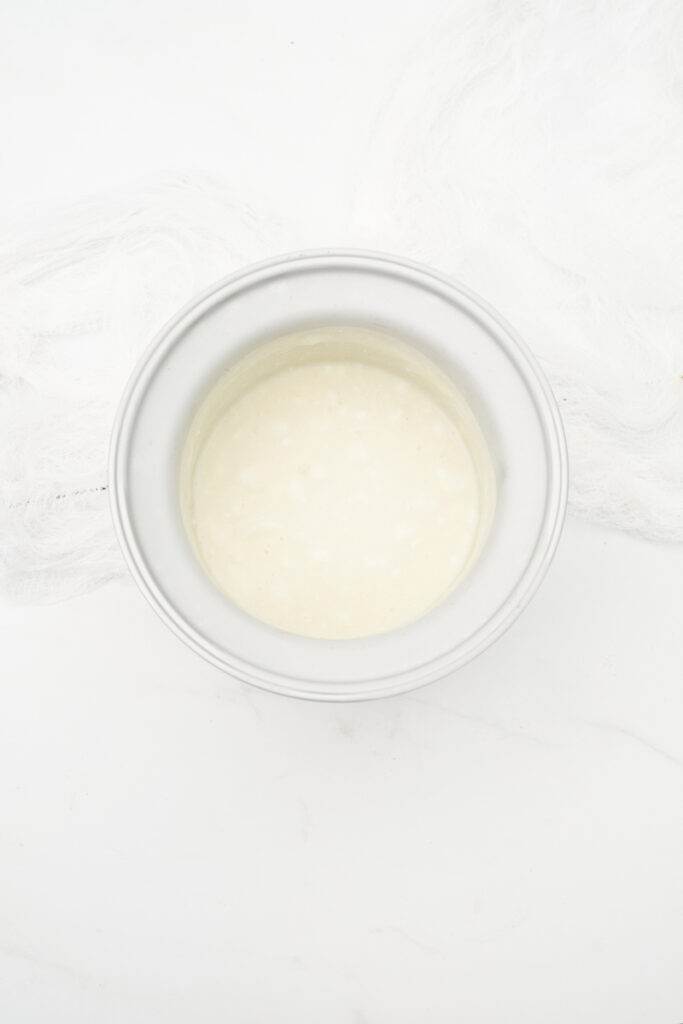 Once the churning is almost done, but in the last few minutes, slowly add and churn in the chocolate, raspberries, basil, and coconut.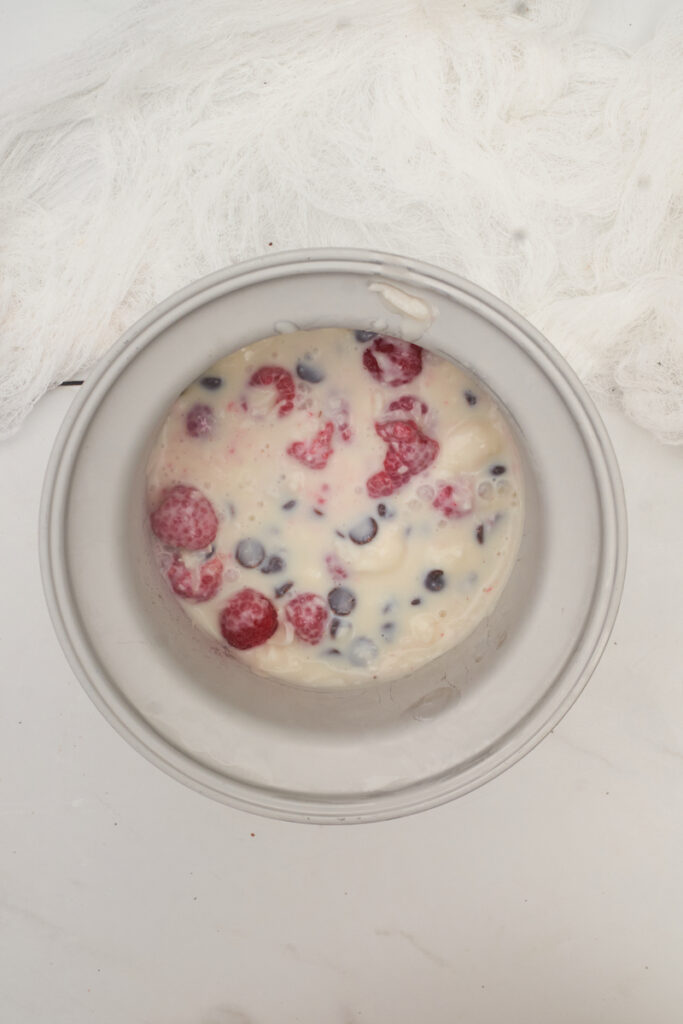 Transfer to a container and freeze a bit longer for a harder and scoopable ice cream, or enjoy immediately for more soft-serve consistency.