This website contains affiliate links. If you shop through the links used on this website, I may earn commissions.
This Sicilian-inspired chicken basil soup with veggies and pasta is a delicious and easy to make dish that will leave you feeling satisfied. Inspired by all the yellows, oranges and golds you'll find in the autumn, it's a stick to your bones soup that's easy to prepare.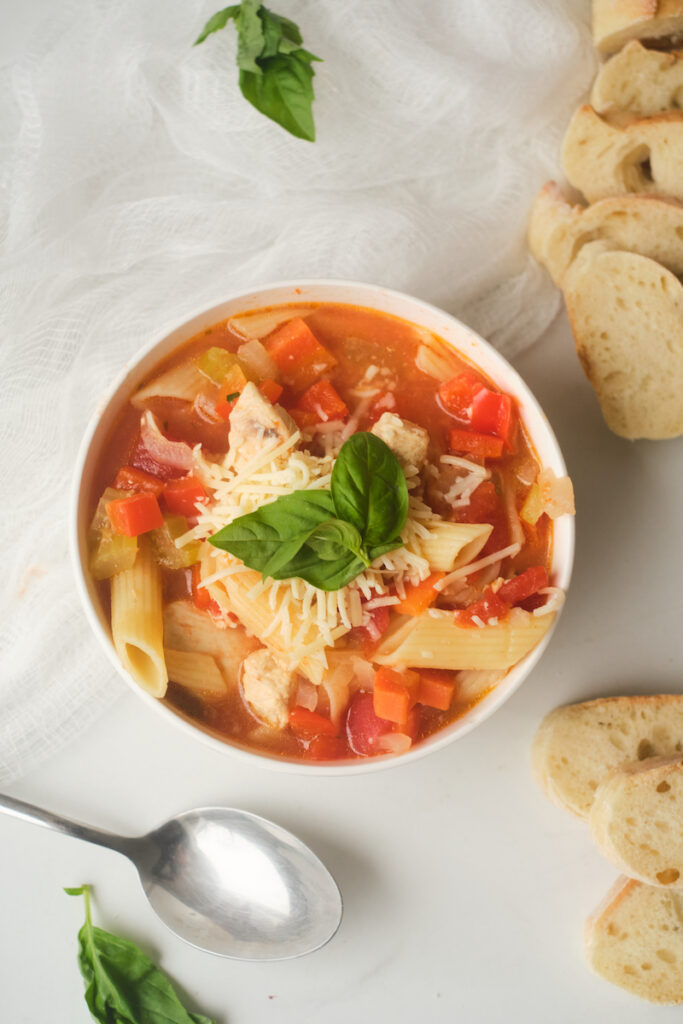 We've been fortunate to travel a fair amount around Italy, and even lived temporarily in Ferrara for a month, housesitting for a friend of a friend at one point.
Like almost anyone who has the chance to go to Italy, we love the food, and enjoy trying to recreate what we ate on our trips when we get back home.
However, in all of our Italy travels, we've never made it south of Rome.
Sicily has been on our bucket list for years now, but somehow we've just never made it.
And while making this chicken basil soup isn't quite the same as a trip to Italy, it is inspired by a traditional Sicilian chicken soup with pasta.
Perfect Day
If you are looking for the perfect thing to cook up on a chilly winter day (or any time of year), then this Sicilian chicken soup is just what your taste buds have been waiting for.
The best part? It only takes an hour from start to finish, with a lot of idle time (prep is only 15 minutes), so there's no need to worry about slaving over the stove all night long!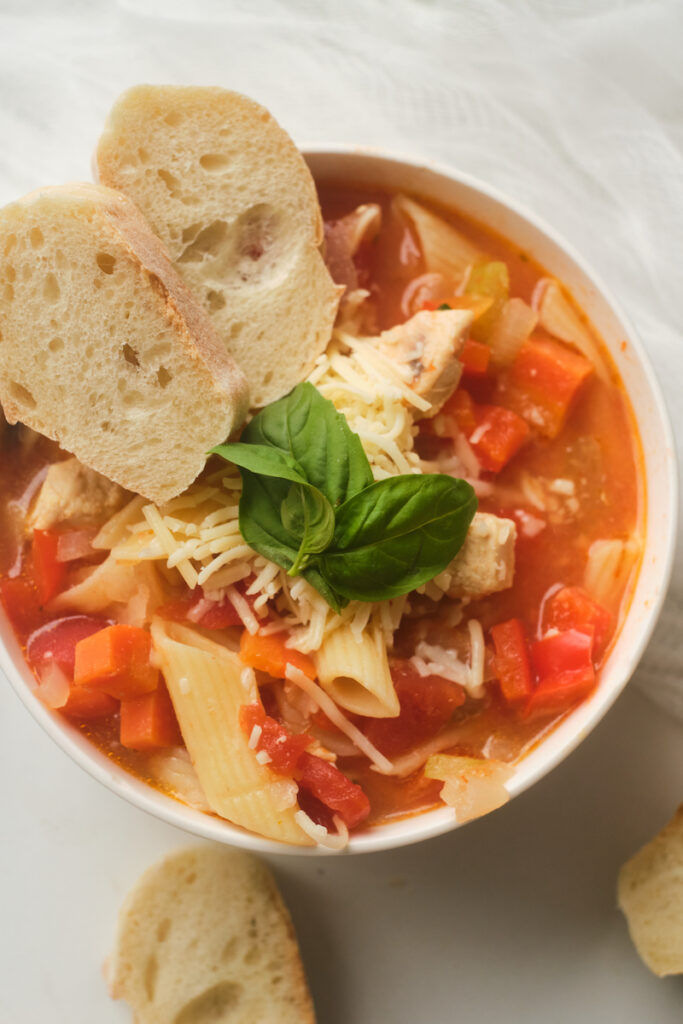 Fall Weather Calls for Soup!
To me, the first soup of the year goes hand in hand with changing of the leaves on the trees outside my house.
Autumn is such a cozy, quiet time of year, and if I had to assign a mood to autumn, it'd be cozy nostalgia, wrapped up in a sweater with a warm drink and a hot bowl of soup.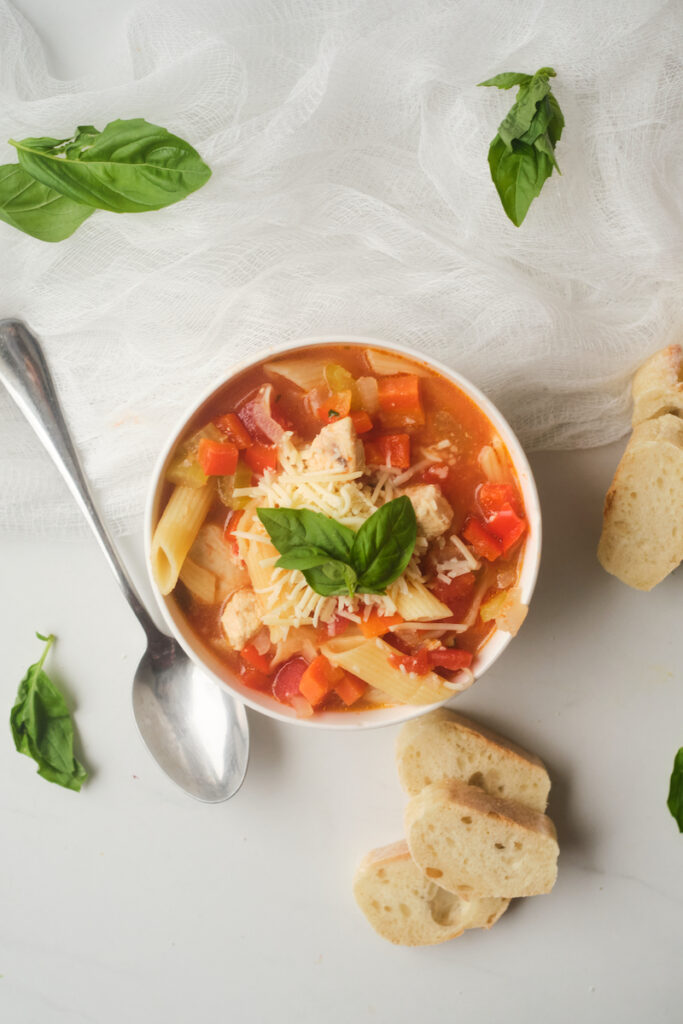 I love walking in the autumn sunsets, flowers, and leaves, and find them even more enjoyable with crisp wind on my face.
As you can tell, I'm a bit obsessed with autumn…and the soup that comes along with it!
This Simple Sicilian Chicken Soup is Perfect for Cooler Days
This soup is a delight, as it's a sensation for your taste buds (so tasty – tomatoes and basil and cheese, oh my!) and your eyes (so colorful!)
I often use ditalini pasta, which is a classic Italian soup pasta. But this time I didn't have any, so I swapped for penne. You could also use rotini or macaroni, too.
| | |
| --- | --- |
| | Prep Time: 15 mins |
| | Cook Time: 50 mins |
| | Total Time: 1 hour 5 mins |
| | Yield: 4-6 |
Ingredients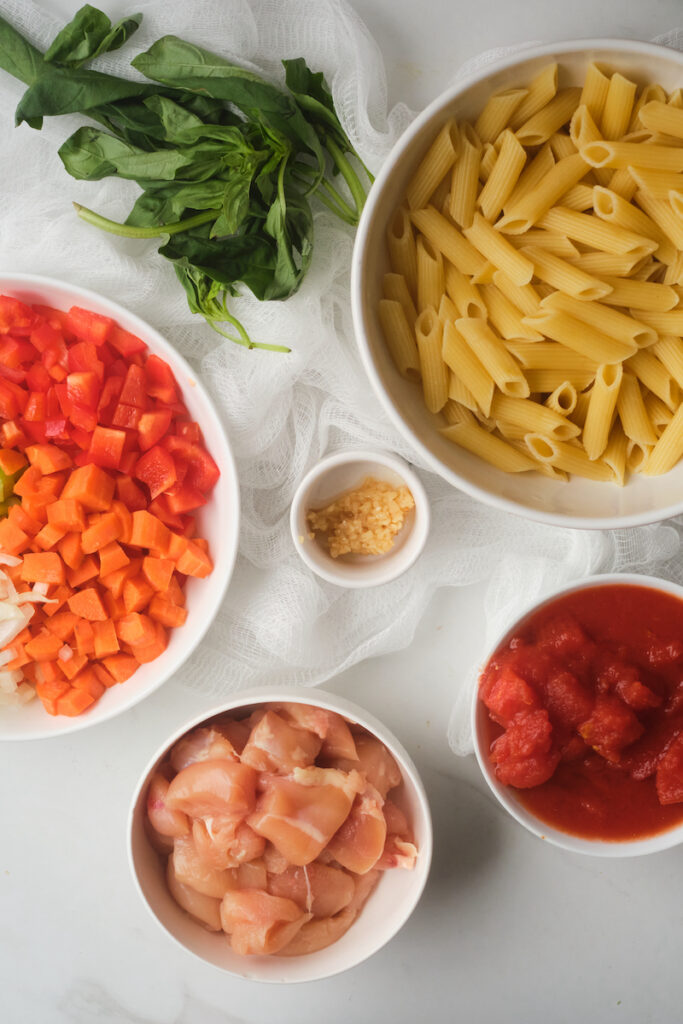 1/2 pound pasta (ditalini, penne, macaroni or rotini)
3 large chicken breasts, chopped in small cubes
Olive oil (about 2 to 3 tablespoons)
1 medium yellow or white onion, washed and diced
Several cloves of garlic, peeled and diced (about 1 tablespoon diced)
1 cup celery, washed and diced
1 cup carrots, peeled, washed and diced
2 cups red bell peppers, washed and diced
1 can (14.5 ounces) diced tomatoes
Cold water to cover (will vary slightly on pot size and shape)
½ cup fresh parsley or basil, washed and peeled from the stem
Kosher salt and freshly ground black pepper to taste
Freshly grated Parmesan cheese, for topping
Crusty bread for serving
Instructions
In a medium pot, boil water and cook the pasta according to the directions on the box, until the noodles are al dente. Drain, rinse, and set aside.
While the pasta cooks, prepare the rest of the ingredients.
Cube chicken breasts into even, small cubes.
In a large Dutch oven or heavy, deep pot, heat olive oil over medium to high heat, and then add and cook the chicken cubes for about 10 minutes, stirring frequently until the chicken cubes are white on the outside.
Add the onion, garlic, bell pepper, and carrots, and cook for around 5 minutes, until slightly soft.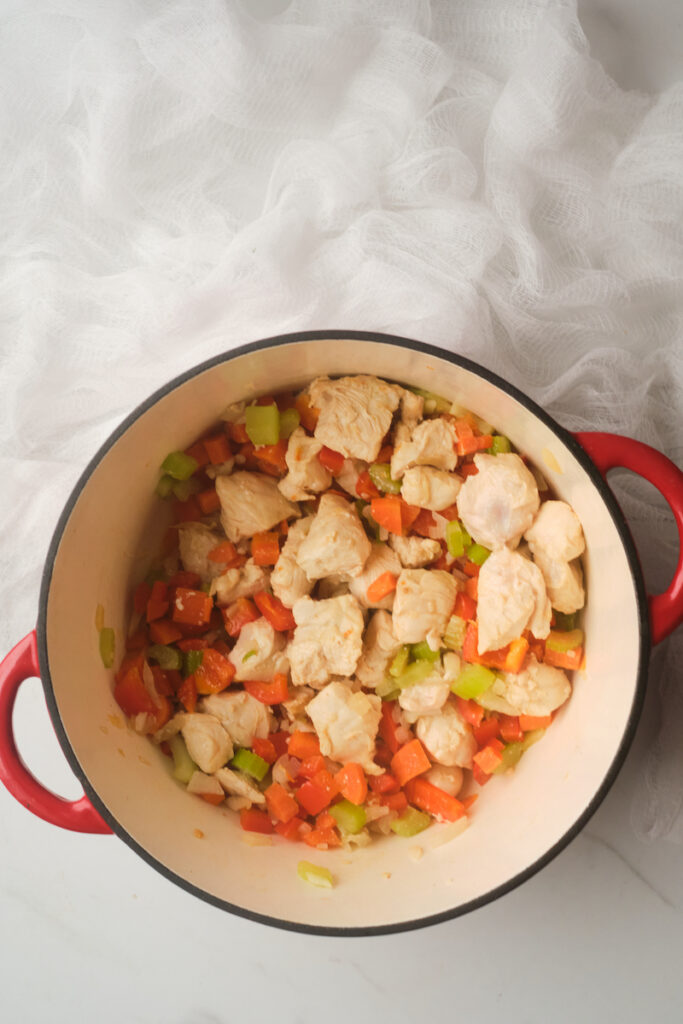 Stir in the celery, basil or parsley, salt and pepper, and entire can of tomatoes (diced tomatoes and all the juice). Add in cold water to cover the contents of the pot by about 1 inch.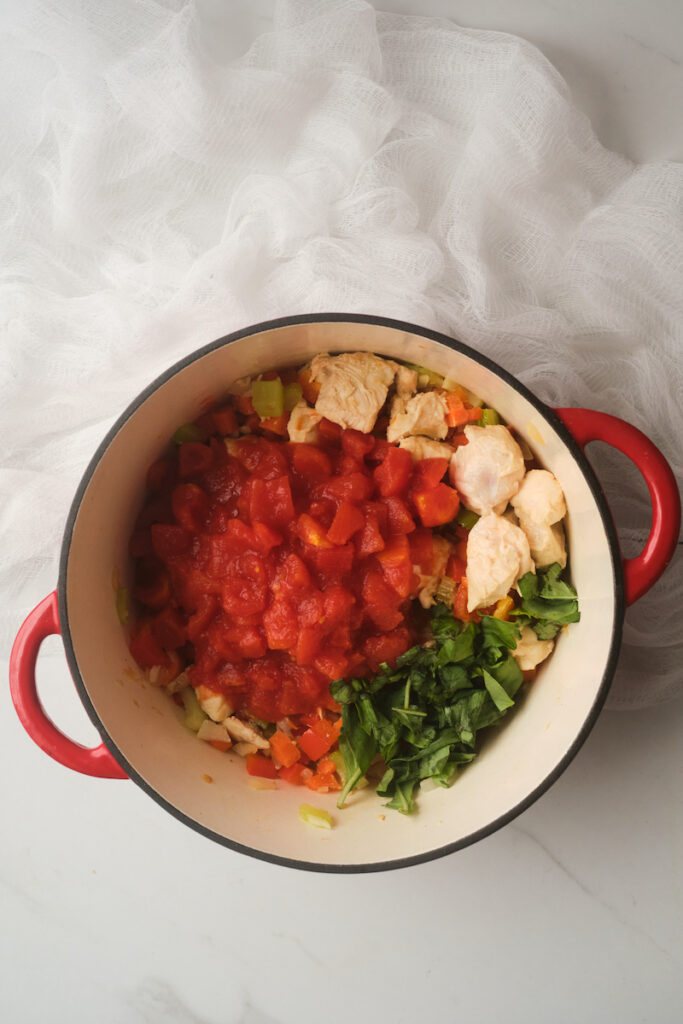 Bring to a boil and then reduce heat to medium low. Simmer uncovered for about 30 minutes.
In the last 10 minutes of cooking, add the cooked pasta into the pot.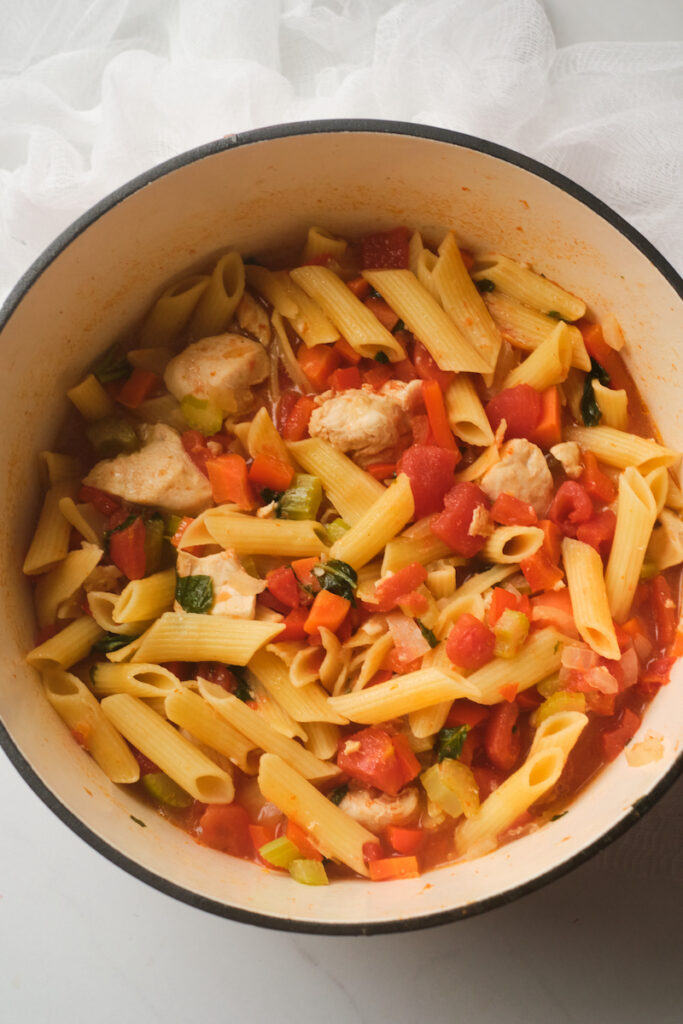 Top with fresh basil or parsley leaves and freshly grated parmesan cheese, and serve with some crusty bread.
Enjoy!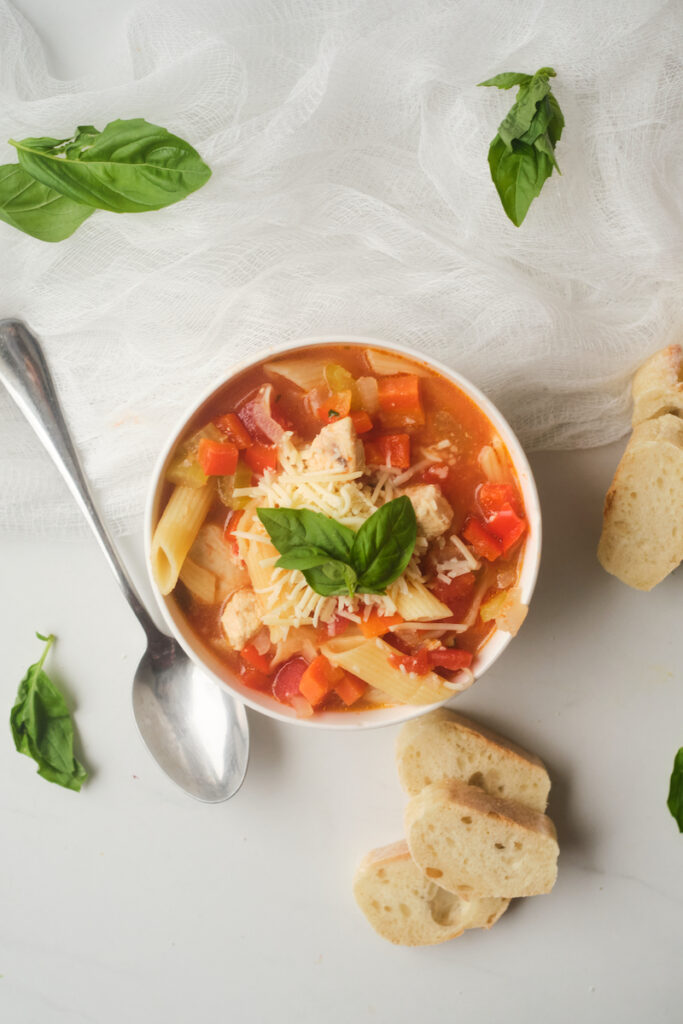 (This article was originally published on January 19, 2021 and was last updated on July 21, 2022)