This website contains affiliate links. If you shop through the links used on this website, I may earn commissions.
This creamy avocado hummus is packed with the sweet, herby flavor of basil, making an instant hit for hosting! Even better? This basil avocado hummus recipe is super easy to make! If you're ready for a herby twist on this hummus meets guacamole dip, keep reading for this delicious avocado hummus recipe.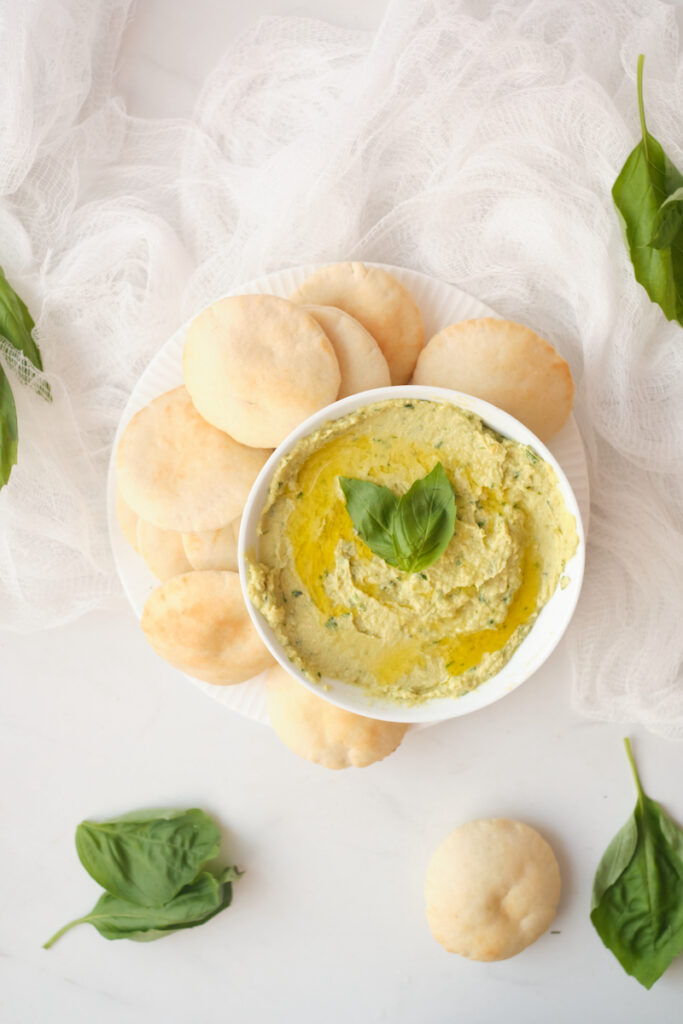 Homemade hummus is one of those instant hits whenever we're hosting family and friends at our place. Whether it's playing board games or watching a big game, the hummus and pita always goes quickly. Seriously, people adore hummus.
Even better, you can make this avocado hummus quickly. With just a bit of planning, chopping, and mixing, it's one of those crowd pleasing recipes where the food processor does most of the work! Just scoop it out of the food processor after blending, and you'll have ready to serve avocado hummus with minimal effort.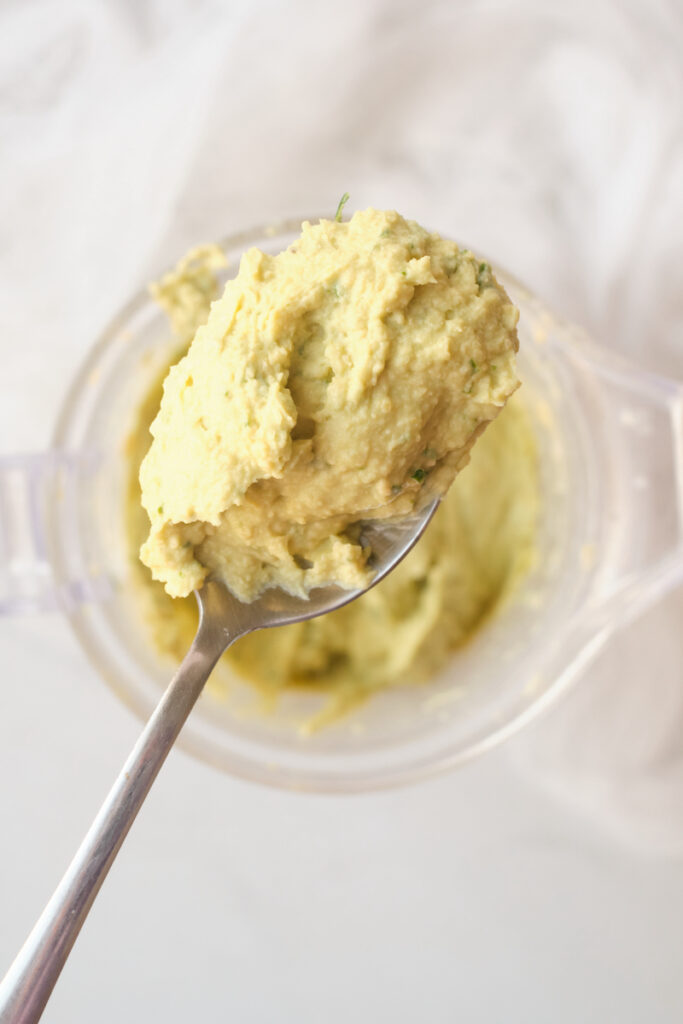 I consider this great news any day of the week, but especially when entertaining, when you might have other things on your mind. Let's be honest – I love hummus both for the taste and the ease of making it!
This Avocado Hummus is Like Guacamole and Hummus Had a Baby…With a Herby Twist
This avocado hummus dip is a spin on a more traditional hummus dip, and it's amazing.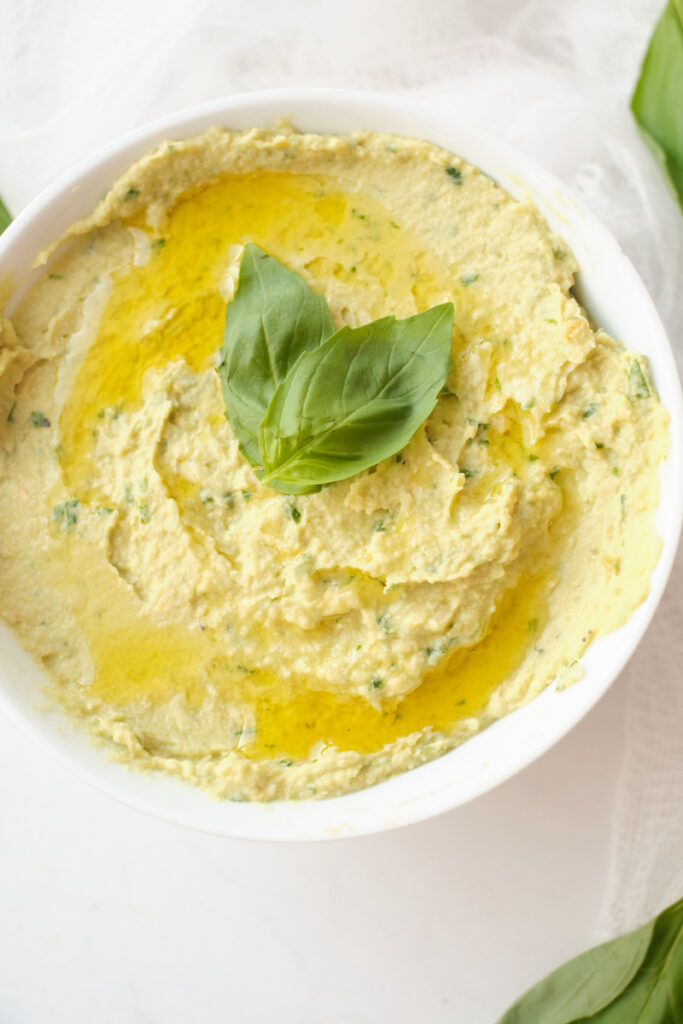 The avocado adds some extra creaminess, and cuts through the slightly grainy texture of your more traditional hummus. The avocado is also balanced out by the nuttiness of the tahini (sesame seed paste), which you don't get with a basil guacamole.
The basil adds a nice sweetness, lending an unexpected flavor combo that works, and cuts through the creaminess and oiliness of the avocado hummus in the best possible way.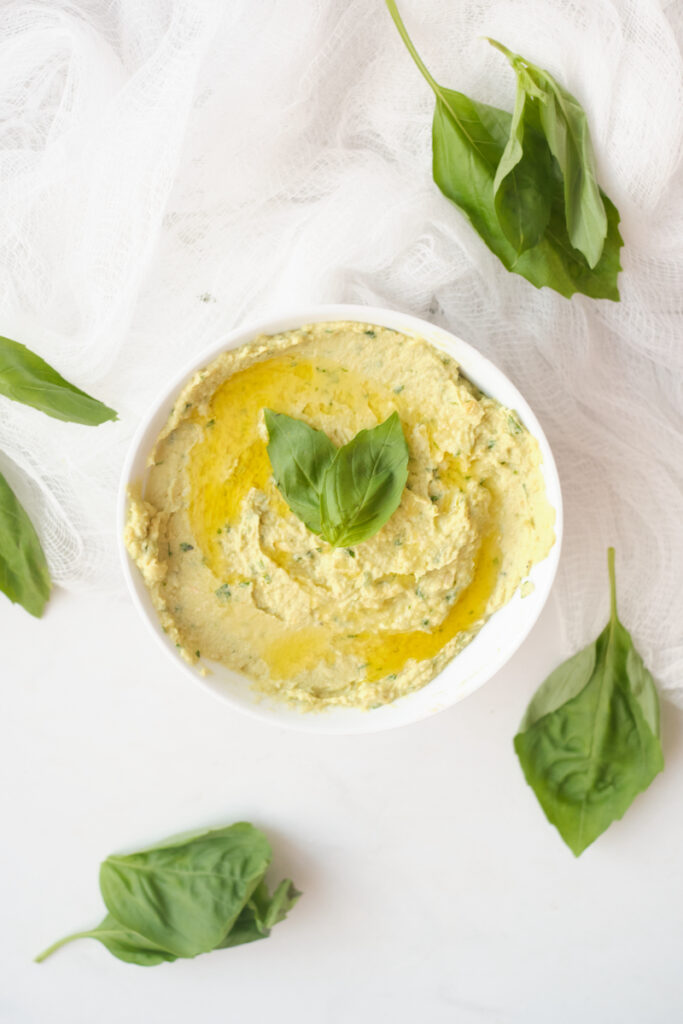 In my opinion, one of the biggest challenges in making a perfect hummus is ensuring the perfect balance of flavors between the chickpeas, lemon and garlic.
Not only does this recipe have a great balance, but the addition of avocado and basil makes it a bit more forgiving in case you do get the ratios wrong.
Hot Tip: Always Use Healthy, Fresh Basil
If you're lucky to have a beautiful crop of basil in your garden or growing indoors on your windowsill, this is the perfect recipe to use some up!
However, whenever cooking with basil, you want to make sure you're using healthy, undamaged leaves.
Before adding basil to this recipe, inspect the leaves and discard any basil that is turning brown or black, and any leaves with holes in them or are visibly wilting.
This recipe is also best suited to mature, healthy basil plants, so if you're growing from seed or propagating from cuttings wait about 4 to 6 weeks before using those leaves for cooking to get the best flavor. Watering the plants the night before harvesting or pruning a few leaves off will maximize flavor.
If you have a basil plant that's flowering, you could use basil flower infused olive oil in this recipe for an extra layer of complex flavors, and through a few basil flowers on top for serving.
How to Make Avocado Hummus with Basil
One of the best things about this healthy dip is just how easy it is to make! Use canned chickpeas instead of dry to keep things super fast and easy.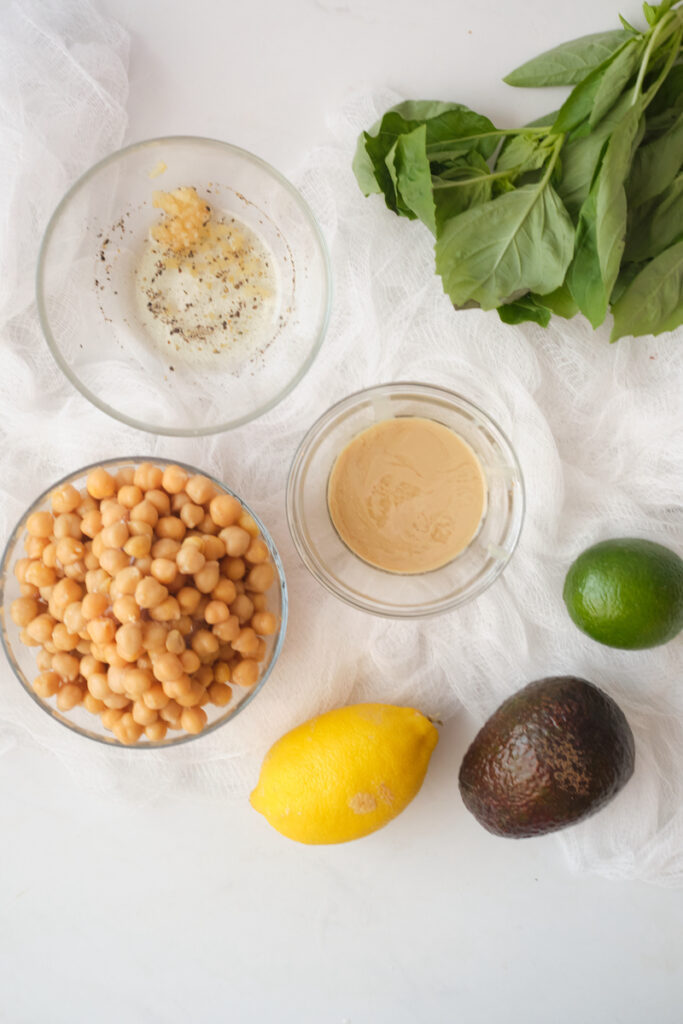 Ingredients
1 cup cooked and drained garbanzo beans / chick peas (to keep it easy, use canned chickpeas rinse well, and then cook for 10 min on the stove top)
3 tablespoons tahini
1 to 2 ripe avocados, skin and pit removed (use 1 large or 2 small, depending on what you have)
1 cup fresh basil, chopped
½ lime, juiced
½ lemon, juiced
1 tablespoon garlic, minced
¼ cup extra virgin olive oil
½ teaspoon sea salt
¼ teaspoon black pepper
Pita chips or pita bread for serving
Tools
Food processor
Step-by-Step Instructions to Make Avocado Hummus with Basil
Combine all the ingredients in a food processor that's been fitted with a blade. Pulse mixture until it's blended and smooth. You can add a bit more extra virgin olive oil if needed to fine tune the texture.
Transfer to a dip bowl, and top with a sprinkle of fresh basil leaves and swirl of olive oil.
Serve with pita chips, fresh pita bread triangles, or tortilla chips.
Store leftovers in an airtight container, and use plastic wrap to cover it if not serving immediately.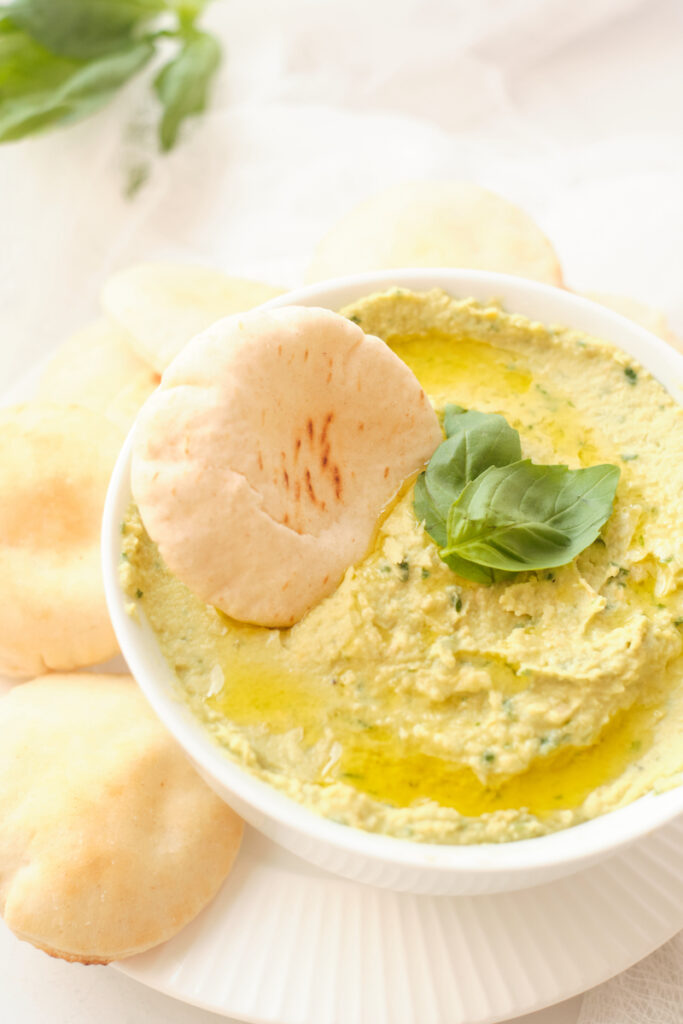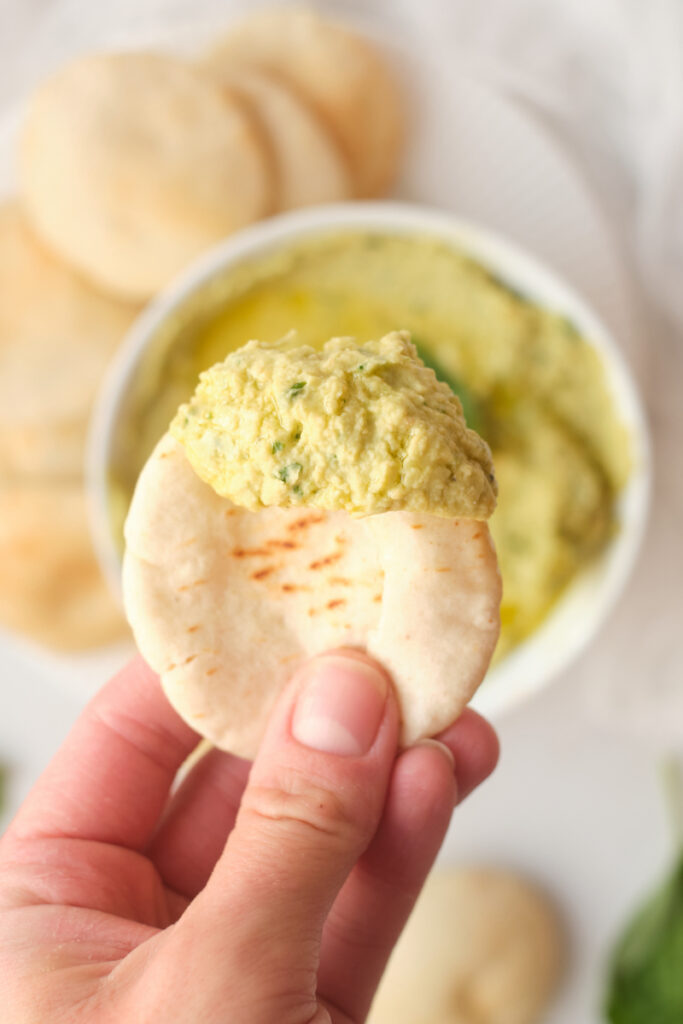 (This article was originally published on January 16, 2021 and was last updated on July 21, 2022)