As an Amazon Associate I earn from qualifying purchases. This website also participates in other affiliate programs and may earn commissions if you shop through the links used on this website. 
(This article was originally published on September 27, 2022 and was last updated on September 27, 2022)
Fresh basil is one of the world's most beloved herbs. You'll find it on pizzas, in pesto and other pasta sauces, and in curries worldwide.
While most of us would love an ongoing supply of fresh basil from our garden year round, basil is a perennial plant that's not suited to growing over the winter.
This leaves home gardeners with a choice: bring your basil plant inside over the winter, let it go to flower, or harvest it all and try to preserve it. When it comes time to preserve basil, you have 2 choices: dry fresh basil, or freeze it.
This article covers how to dry basil at home, going over step-by-step instructions for 3 common methods for drying basil:
How to Dry Fresh Basil in the Microwave
How to Dry Basil in Air Fryer
Drying Basil Leaves in the Oven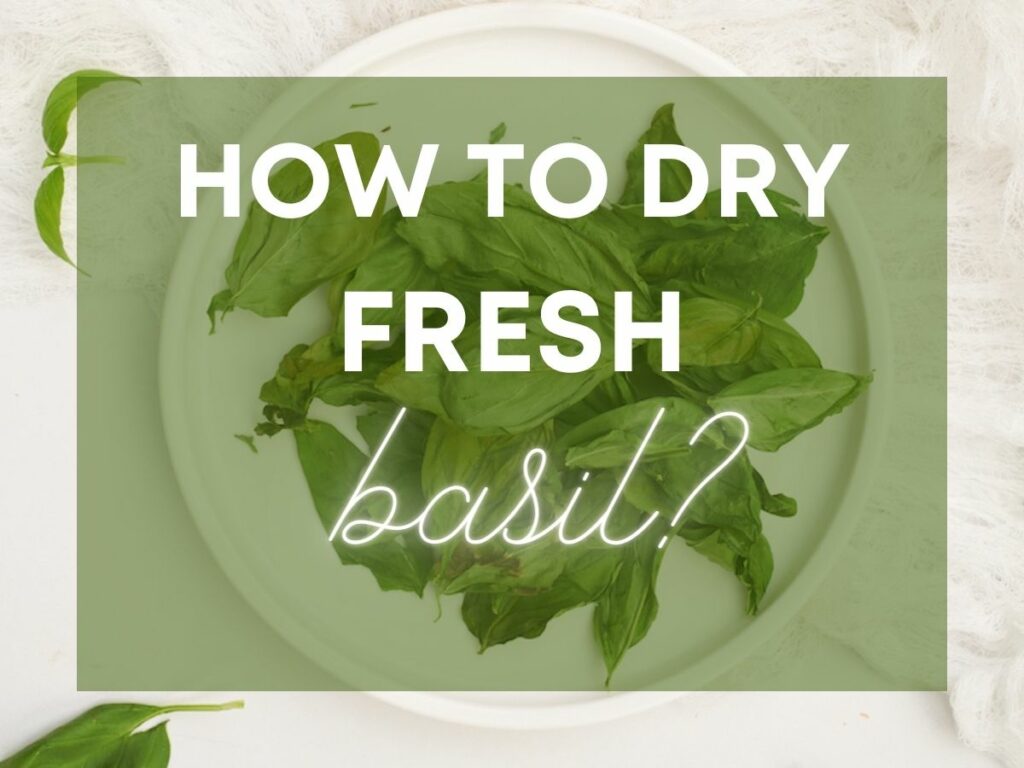 How to Dry Out Basil Leaves: Tips for Getting Started
Drying basil at home is relatively easy, and drying fresh basil from your garden or kitchen counter will give you far superior results than buying dried basil from the supermarket. Freshly dried basil is still wonderfully fragrant – unlike grocery store dried basil, which may have been sitting on the shelf for months before you take it home.
That said, it's worth following a few best practices when drying fresh basil. Taking a bit of time to follow these guidelines will give you better results, with the basil flavor and fragrance staying truer to the freshly harvested plant.
Use the Best Leaves for Your Own Dried Basil
Start by choosing healthy, vibrant looking leaves that are free from signs of stress or disease.
This means selecting leaves with a vibrant green color that aren't drooping or wilting, and no signs of black spots, brown edges or middle bits, white patches or fuzz, or yellowing.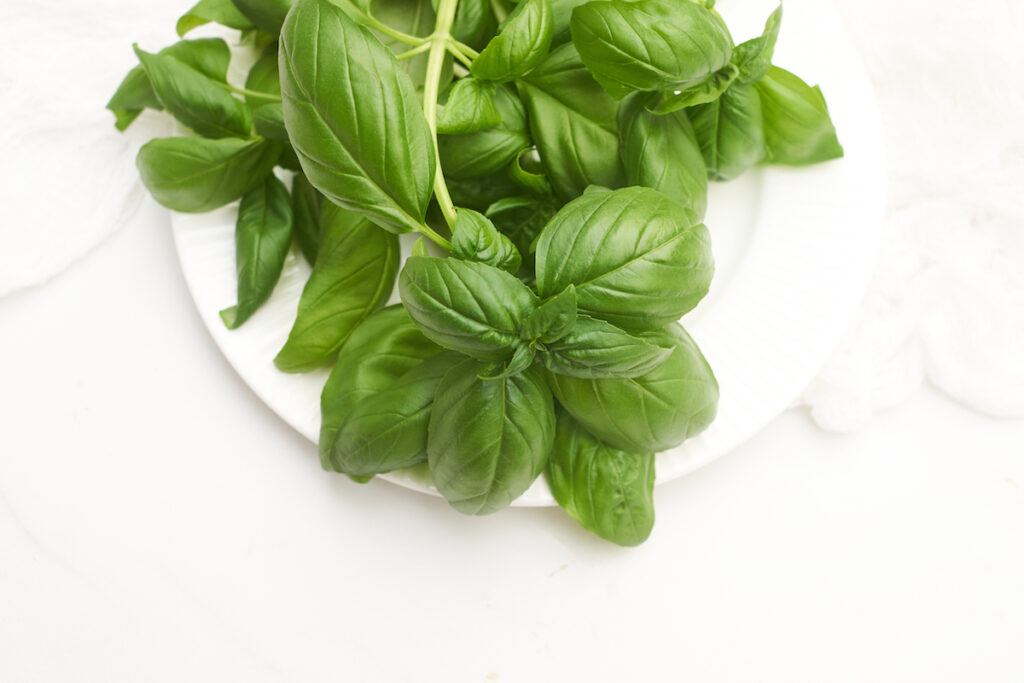 Harvest, and Remove Stems
Harvest or prune basil from the top of the plant down, and remove the leaves from the stems. While the tender, young basil stems are edible, they will effect drying time, and are best removed. If a few nubs of thin stem are left over, don't worry too much about it. However, any thick or woody stems should definitely be removed.
Wash Basil, and Dry As Best You Can
Gently wash the leaves, taking care to give them a thorough wash without bruising them.
Next, you want to get them completely dry – or as close as you can.
A salad spinner works great for this step, but you can also pat dry with a paper towel or lint free cloth.
Store Whole Leaves After Drying
Once dry, the leaves crumble easily. However, for the best flavor retention and fragrance, it's best to store dried basil as whole leaves, not crumbled up or as crushed dried basil, like you'd buy in the store.
When you're ready to use it, you can crumble the dried basil with your fingers or use a mortar and pestle.
How to Dry Basil
This article will cover 3 different ways to dry basil, including in the microwave, in an air fryer, and in your oven.
How to Dry Basil in the Microwave
A super quick, low effort way to dry fresh basil leaves easily. Drying basil in the microwave only takes a few minutes at most, and gets surprisingly great results.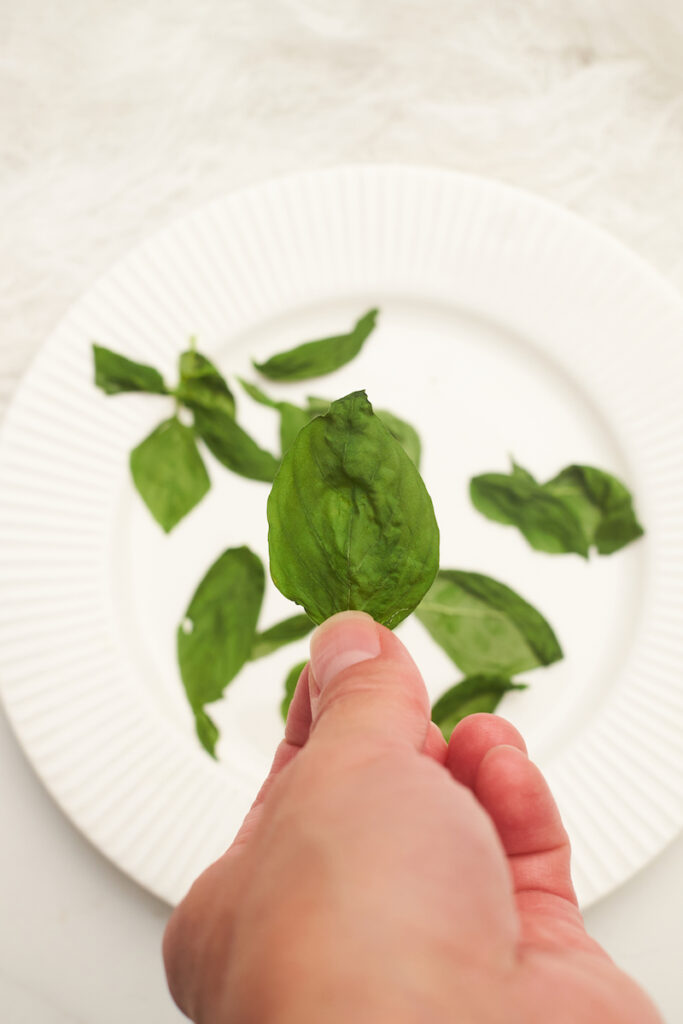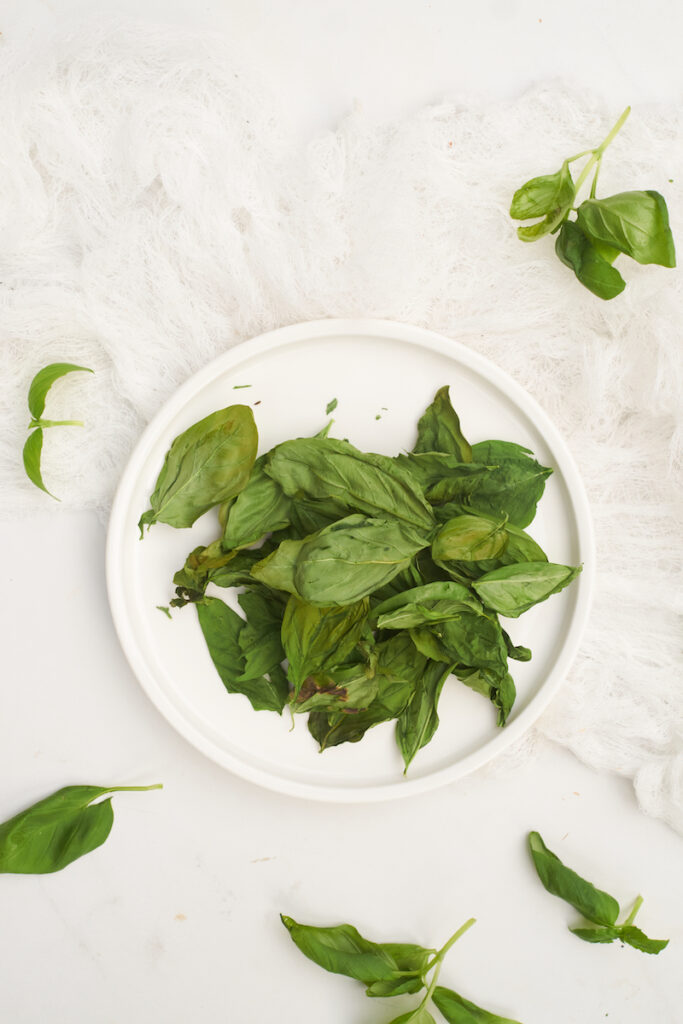 Most methods suggest you layer a single layer of basil sandwiched between two paper towels for this drying method. However, in my experience you don't need the paper towel, and can simply put basil leaves in a single layer on a plate if you're only drying a bit of basil at a time.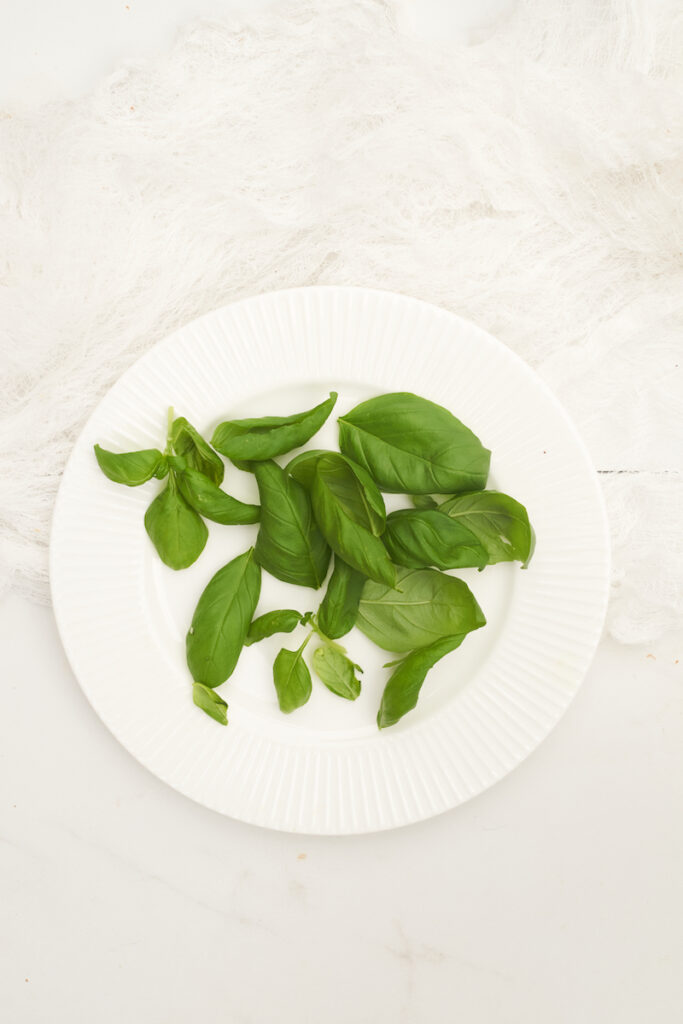 Place in microwave and microwave on medium for 30 seconds. Don't microwave for longer than 30 seconds at a time, as the basil dries out pretty quickly, and you'll want to check it.
Remove from the microwave and let it cool for 30 seconds before checking. It will probably look "half dried" at this point – it's starting to dry out, but you can see there's still some moisture in the leaves as in the photo below.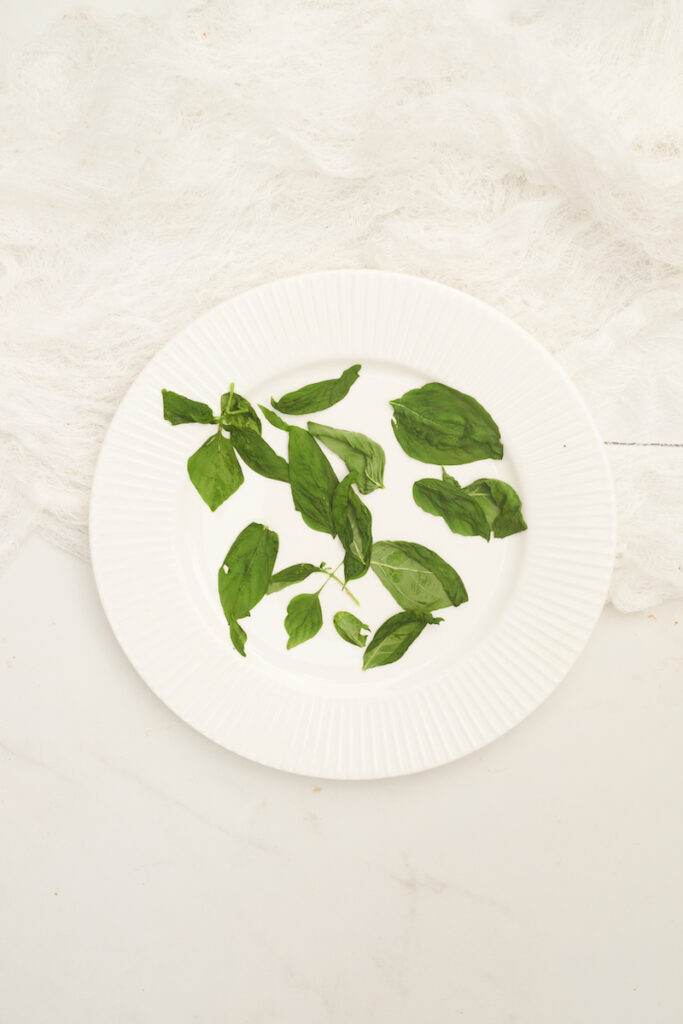 Return to the microwave for 30 seconds, and continue the process of microwaving and checking until all leaves are completely dry and brittle. If they're drying at an uneven rate, remove leaves that have dried.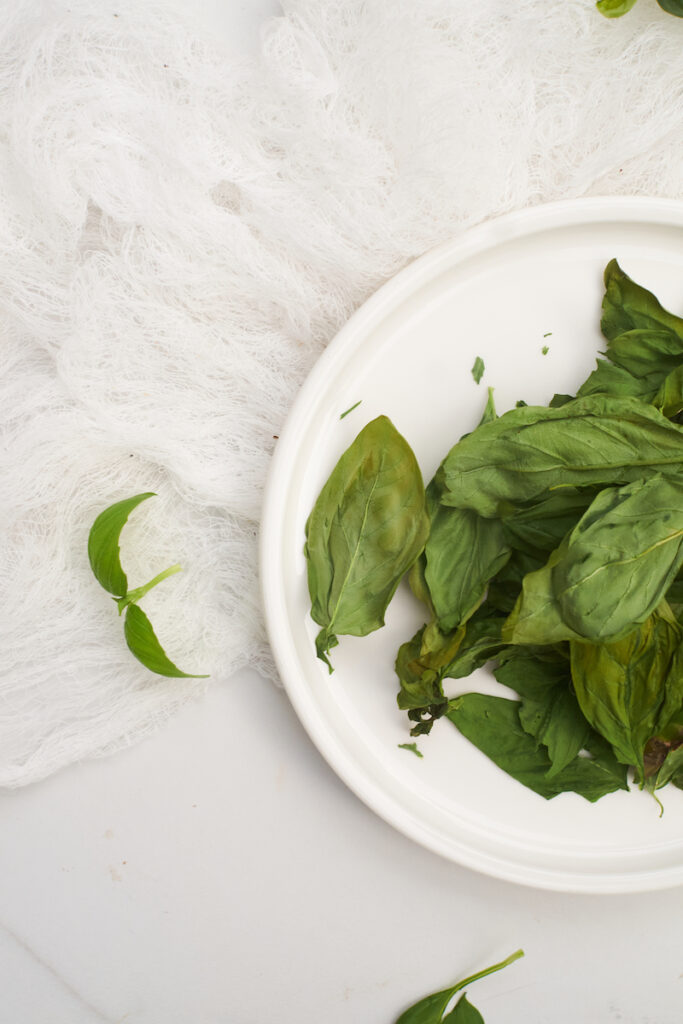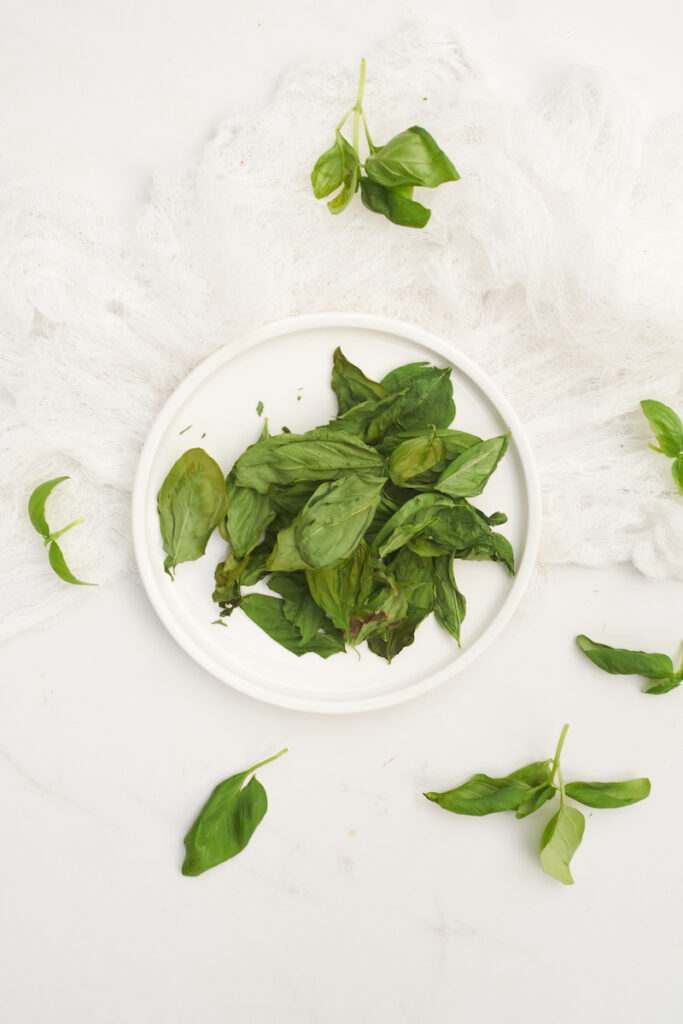 With my microwave, it takes about 3 rounds of 30 second increments to dry out a small batch of basil leaves. Let the leaves cool down completely once dried, and then store whole leaves in an airtight container.
How to Dry Basil in Air Fryer
If you have access to an air fryer, drying basil in air fryer is another super easy, very quick method. As with the microwave method, you have to check the leaves once or twice, but it's very quick overall – about 3 minutes total!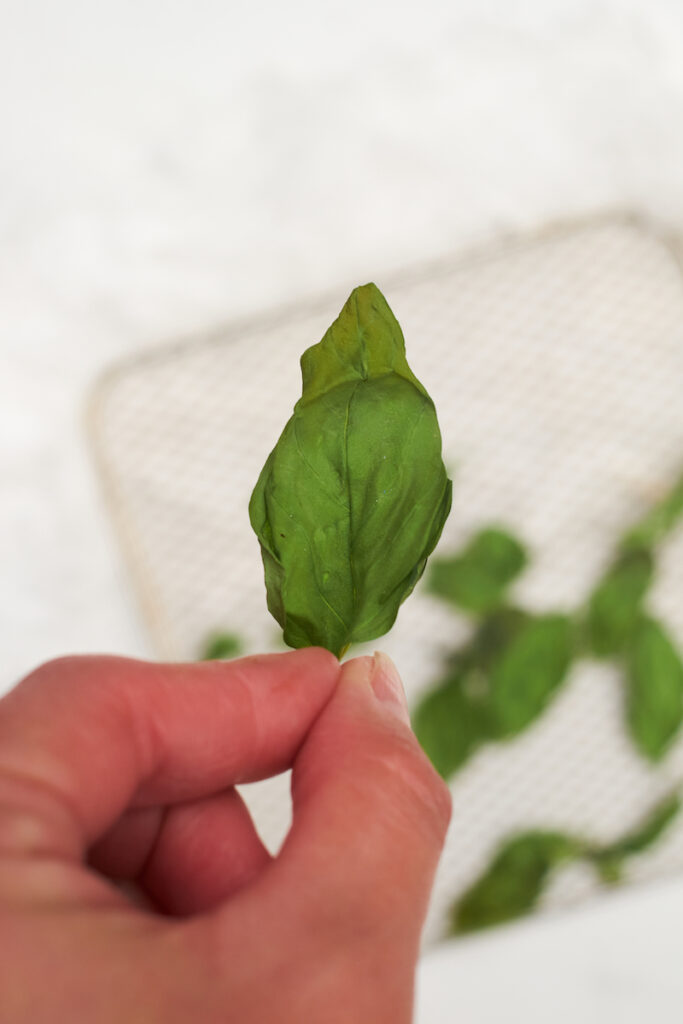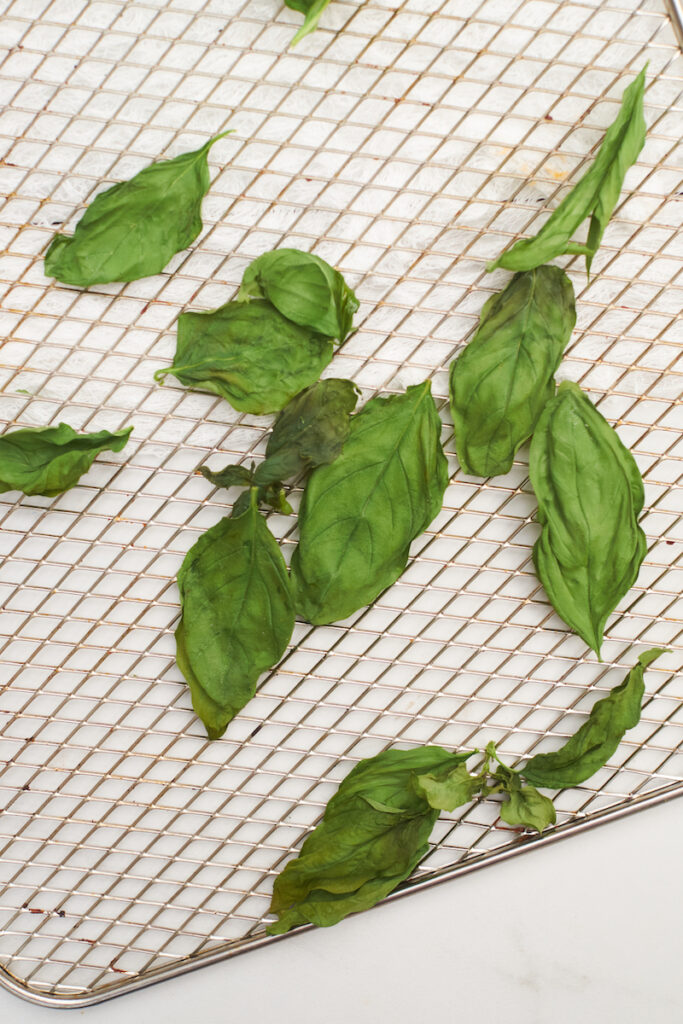 Preheat your air fryer to 360 degrees F.
As the air fryer pre-heats, arrange the basil leaves in a single layer on a clean air fryer basket/tray. In an ideal world, you'll use basil leaves that are roughly the same size, which will allow them to dry at roughly the same rate.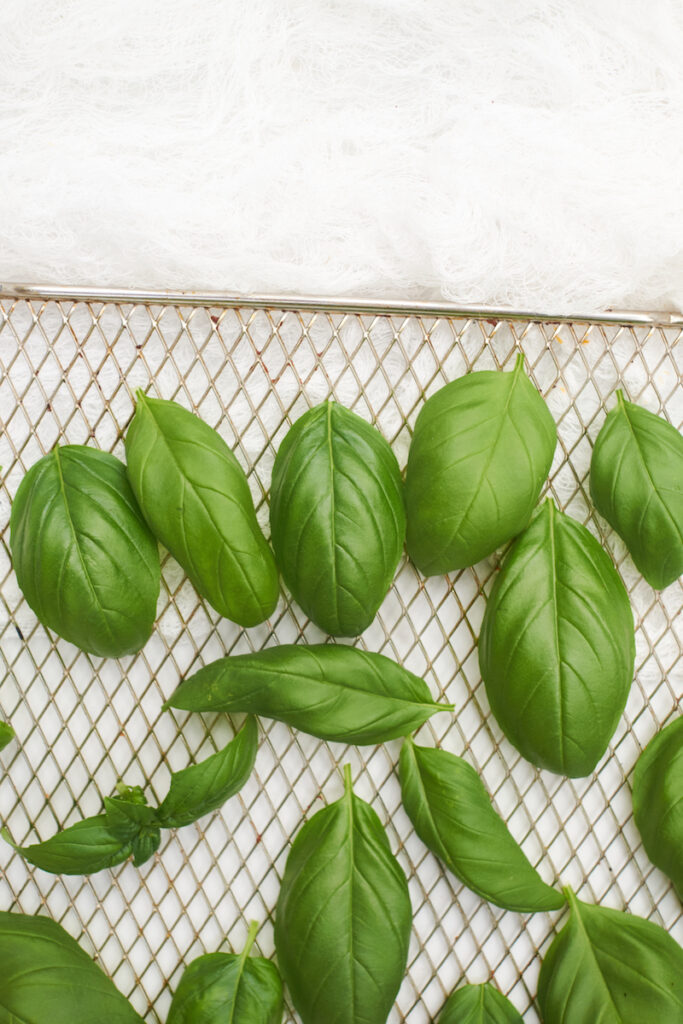 If your air fryer basket is oily from previous recipes, you'll want to give it a good wipe in advance to try to remove most of the oil.
Depending on your air fryer, you might need to "weight" the basil leaves down a bit so the air doesn't cause them to go flying while drying. A metal trivet would work, or perhaps an accessory that came with your air fryer. I haven't found this to be necessary with my air fryer, which is small toaster oven style, but it may be necessary with basket style air fryers.
Air fry for 1 minute, shake or agitate, making sure the leaves aren't stuck to the basket. Repeat twice for a total of 3 minutes air fry time.
Each time you open the air fryer to look, you'll notice the basil leaves are a bit more shrivelled with some discoloration, looking a bit crispier as you go, as you can see in the photos below.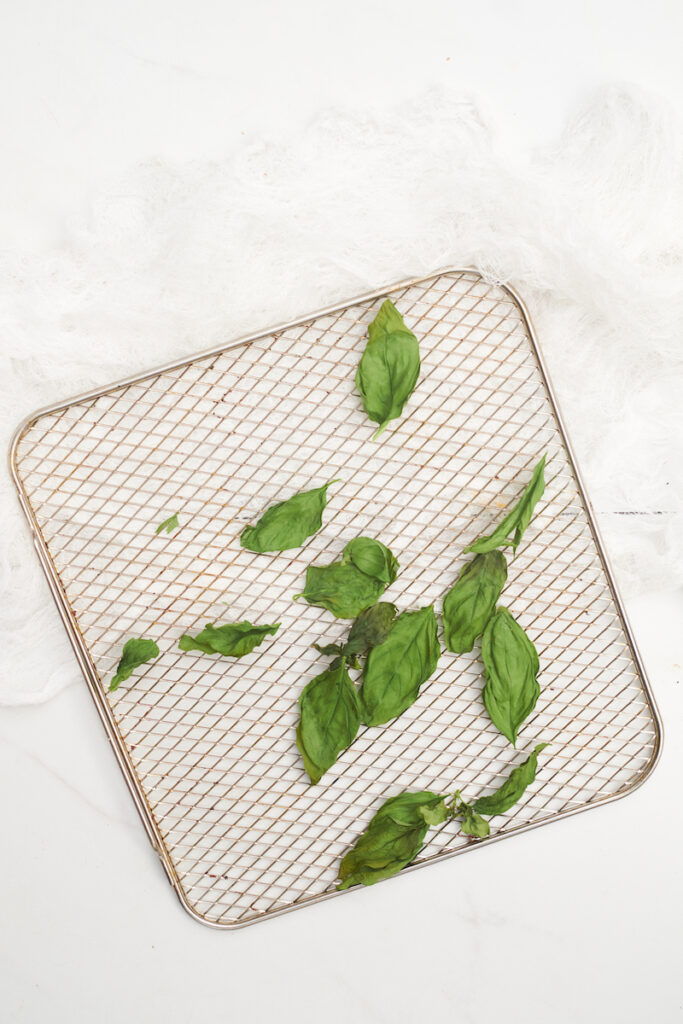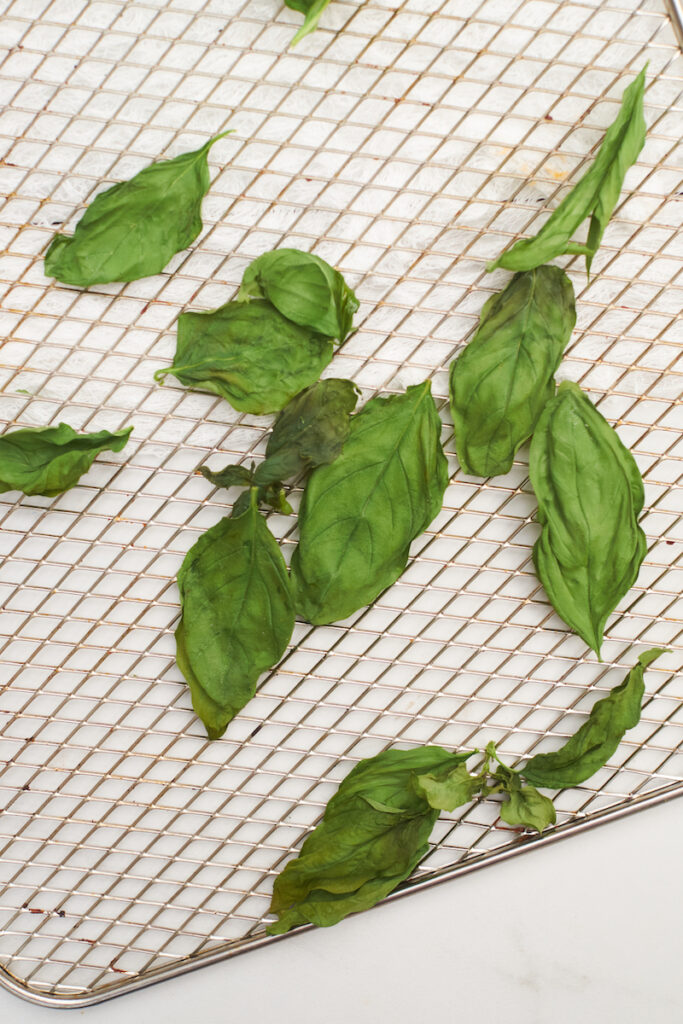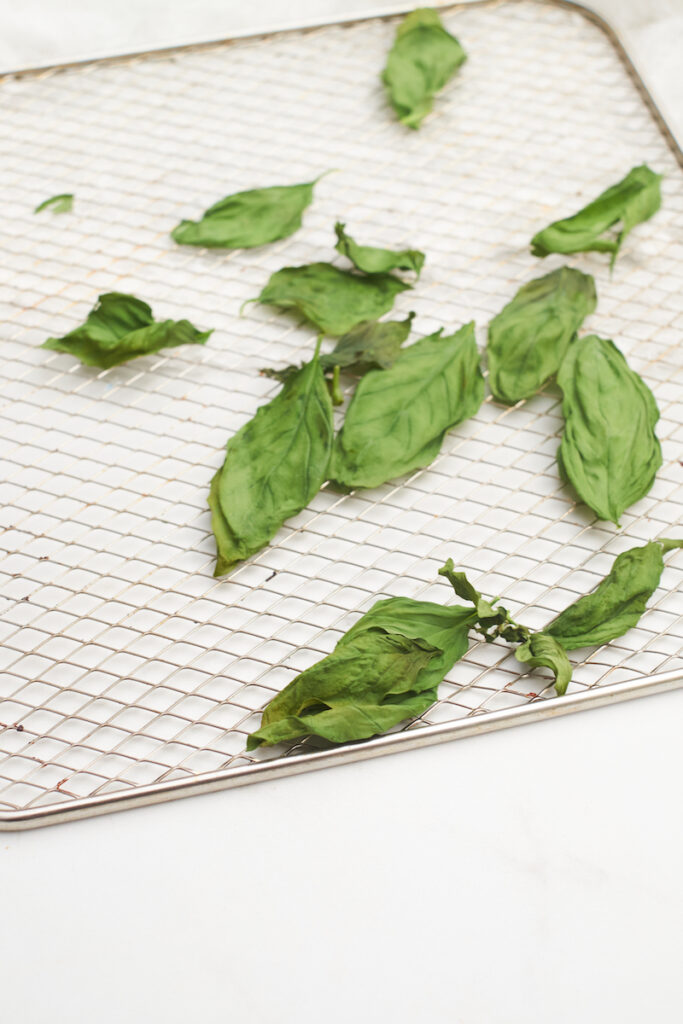 Transfer to a plate or baking try, and let the leaves cool completely before storing in an airtight container.
How to Dry Basil in the Oven
This method works if you don't have access to a microwave or air fryer, but it takes a lot longer, and involves a bit more work. If you're wondering how to dry basil leaves in the oven, keep reading!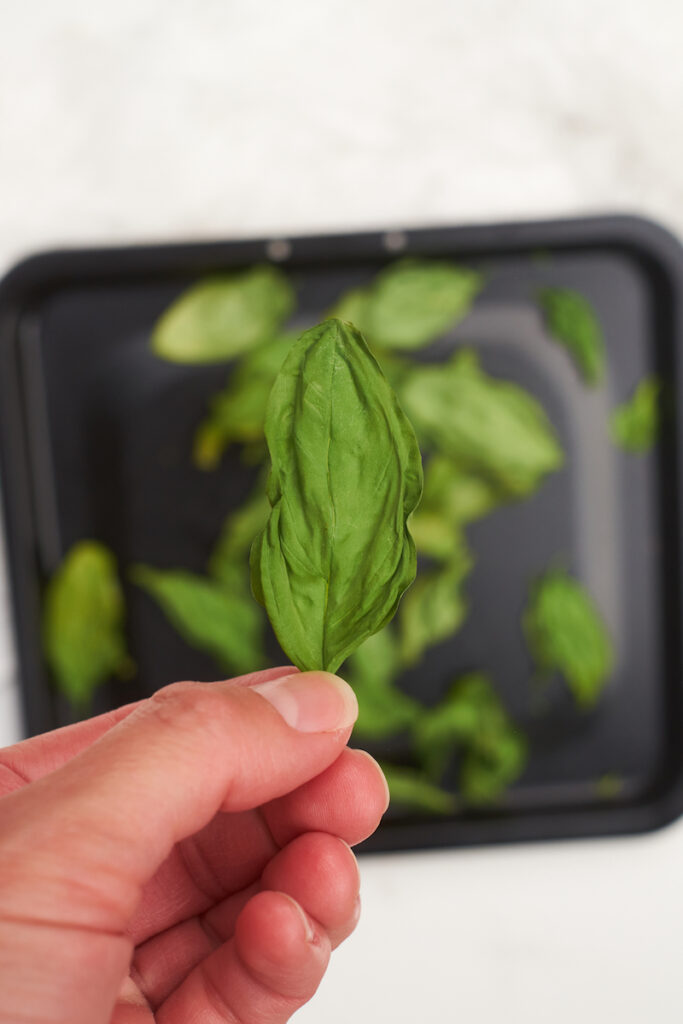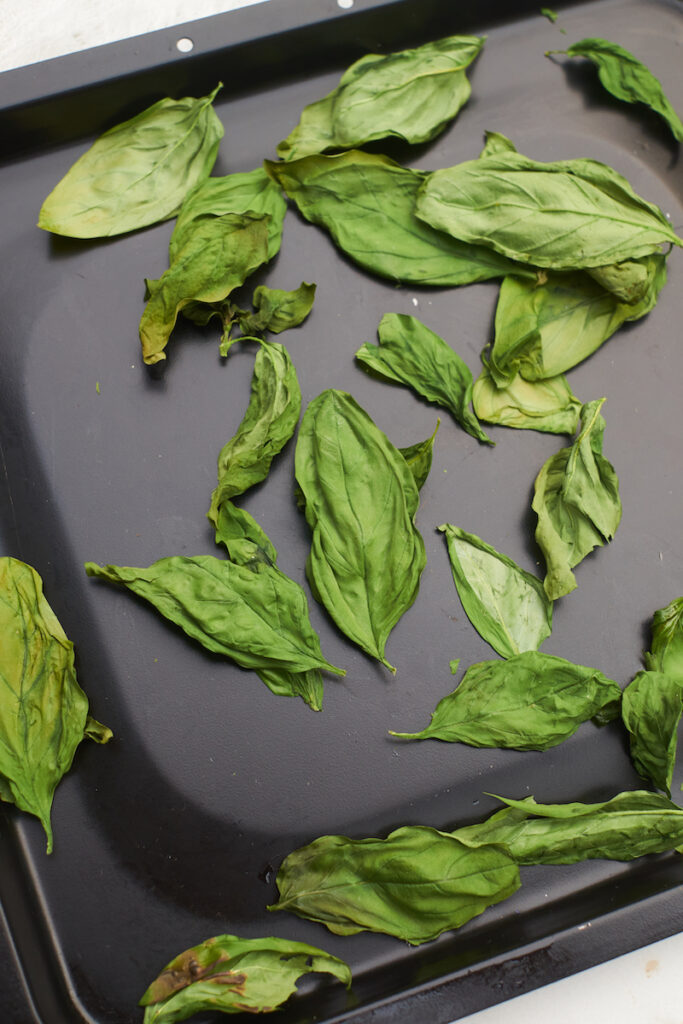 For this method, I recommend prepping your basil the night before. That means harvesting and washing, of course, but also laying the basil leaves out on a single layer of paper towel to dry overnight.
How Do You Dry Basil in the Oven?
The next day, when you're ready to start the drying process, preheat your oven to low, which is usually 170 to 180 degrees F on most ovens.
Spread the basil leaves out on in a single layer on a baking sheet, with no overlap between leaves.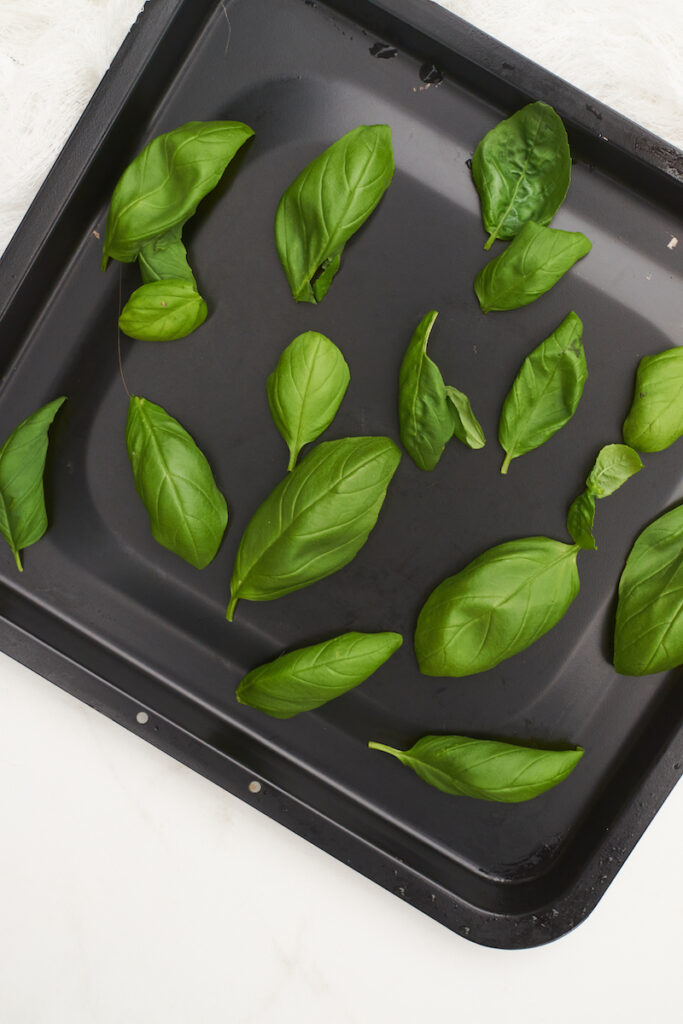 Bake for 45 to 55 minutes, and check the leaves. You can keep them baking for several hours until the leaves have dried completely.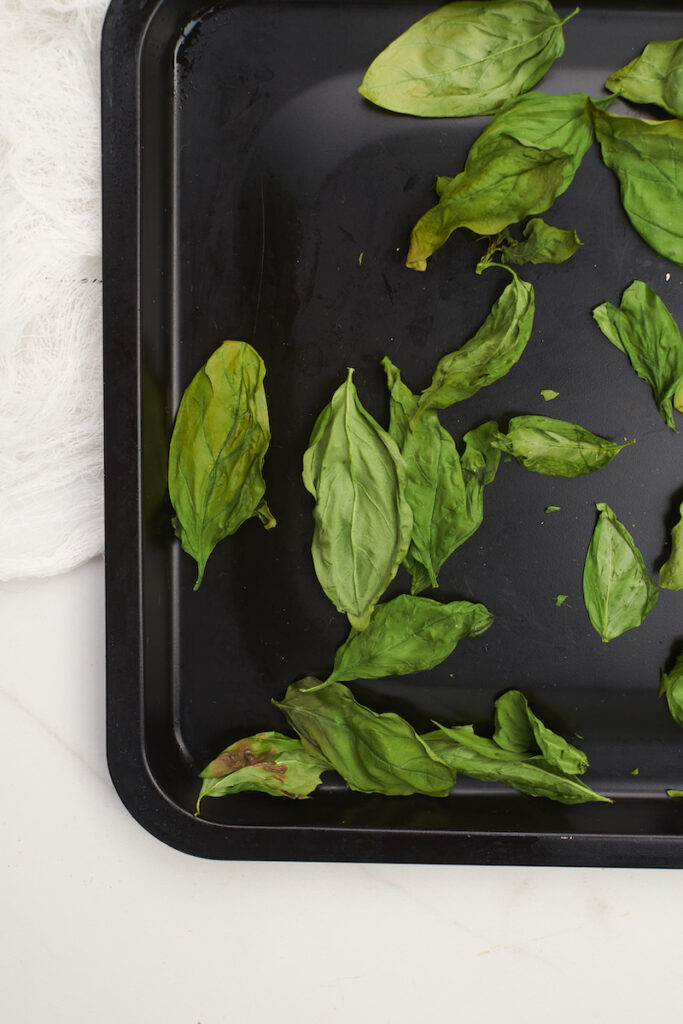 Remove them from oven and let cool before transferring to an airtight container to store.
How to Dry Fresh Basil? What's the Best Method?
The fastest way and best way to dry fresh basil is using either the air fryer or microwave methods. However, if you don't have either, you can dry basil in the oven quite easily – it just takes longer.