As an Amazon Associate I earn from qualifying purchases. This website also participates in other affiliate programs and may earn commissions if you shop through the links used on this website. 
(This article was originally published on August 19, 2022 and was last updated on August 19, 2022)
A traditional Pesto alla Genovese, made with lettuce leaf Tuscany basil leaves instead of Genovese basil. Transport yourself to the Tuscan countryside with this slightly milder, yet bountiful version of traditional basil pesto.
What is Tuscany Basil?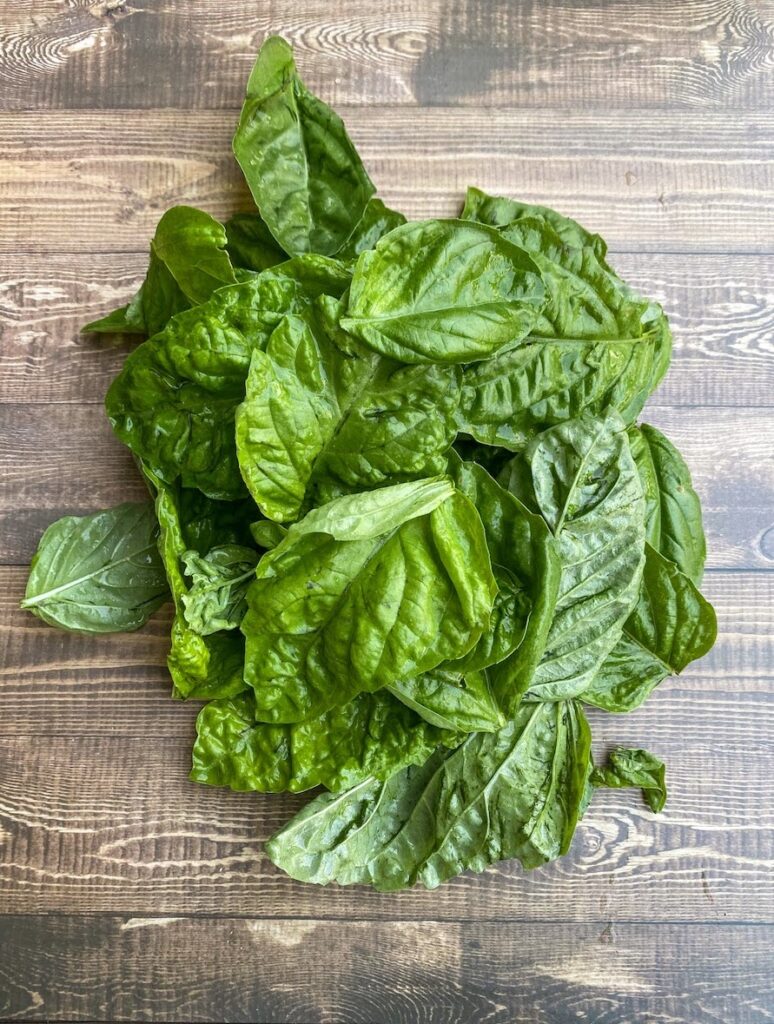 Tuscany basil is a type of lettuce leaf basil native to – you guessed it – the Tuscany region of Italy.
Like other lettuce leaf cultivars, Tuscany basil produces massive, bright green leaves that grow up to 5 or 6 inches long. The leaves, like lettuce, are crinkled, puckered and a bit ruffled in appearance.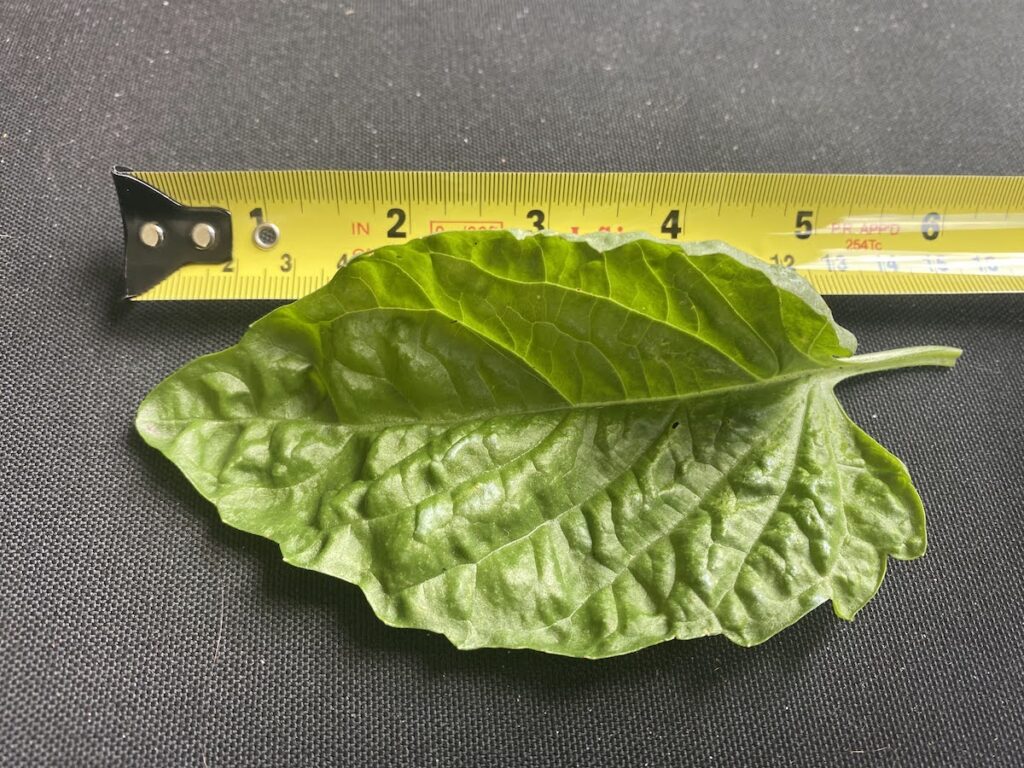 Because the leaves are so big, Tuscany basil is great as a replacement for lettuce in some recipes – in salads, on burgers, sandwiches and wraps, to make lettuce wrap recipes with, etc.
But it's also a delight as the basis of a homemade fresh basil pesto recipe.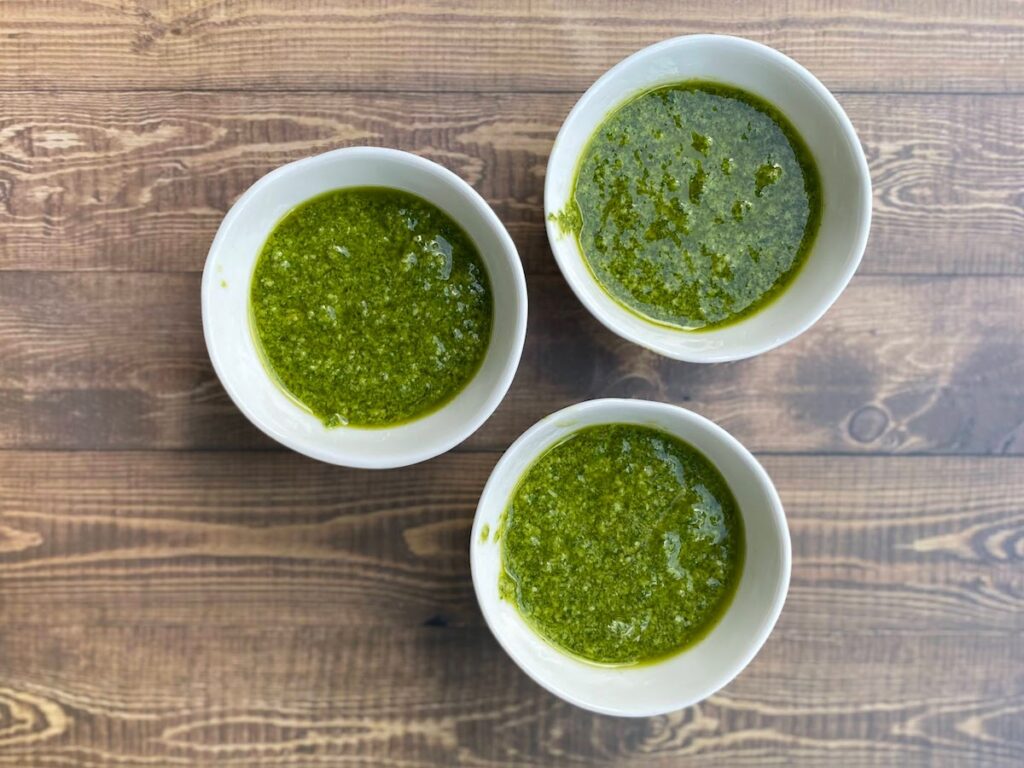 Tuscany basil is ever so slightly milder than sweet basil and Genovese basil, making Tuscany basil pesto a bit more chill, flavor wise. The large leaves also hold up fairly well to bruising, meaning you'll end up with a gorgeous bight green color for your pesto, rather than darker green, which sometimes happens when sweet basil or Genovese basil bruises during the process of making the pesto.
Finally, Tuscany basil is also a bountiful plant to grow (see the HUGE basil plant in the photo below) – if you decide to grow Tuscany basil in your garden or in a pot (I grow mine in a pot) be prepared for a massive basil harvest – perfect for making so much basil pesto with!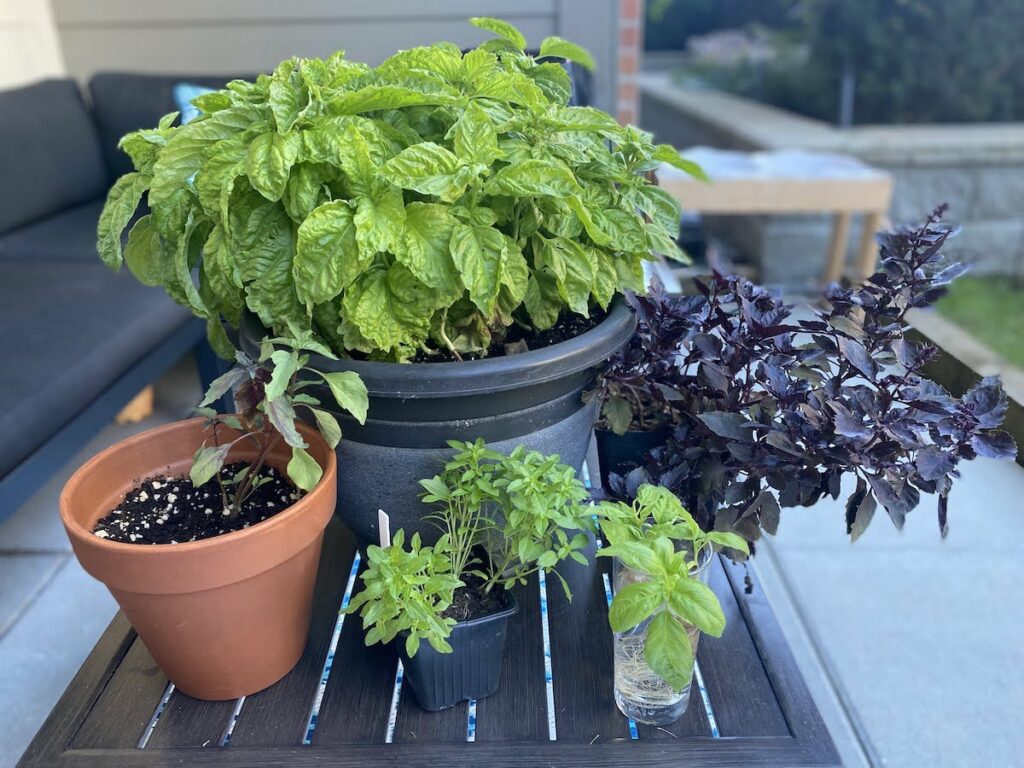 What is Tuscan Basil Pesto?
This Tuscany basil pesto recipe is more or less a classic pesto alla Genovese, but with lettuce leaf basil (in this case, Tuscany basil) instead of another type of basil, like sweet basil or Genovese basil which is typically used.
When talking about pesto, it's worth noting there's a lot of flexibility in terms of what makes up a pesto sauce.
According to David Rocco, in his book, David Rocco's Dolce Vita:
"All cooks have their own variation [of pesto sauce]. Although pesto requires just a basic list of ingredients, no two are the same because you can adjust to suit your taste….
No matter what the method, everyone agrees on these key ingredients: basil that's in season, fresh garlic, the best-quality pine nuts and extra-virgin olive oil."
And while a true pesto requires those basic ingredients, there's a ton of variation beyond that. For example, some nut-free pesto recipes use sunflower seeds, pine nuts can be substituted for almonds, walnuts or other nuts, and different people use different combos of cheese (or no cheese at all) for their own versions of pesto.
Ingredients for this Tuscan Basil Pesto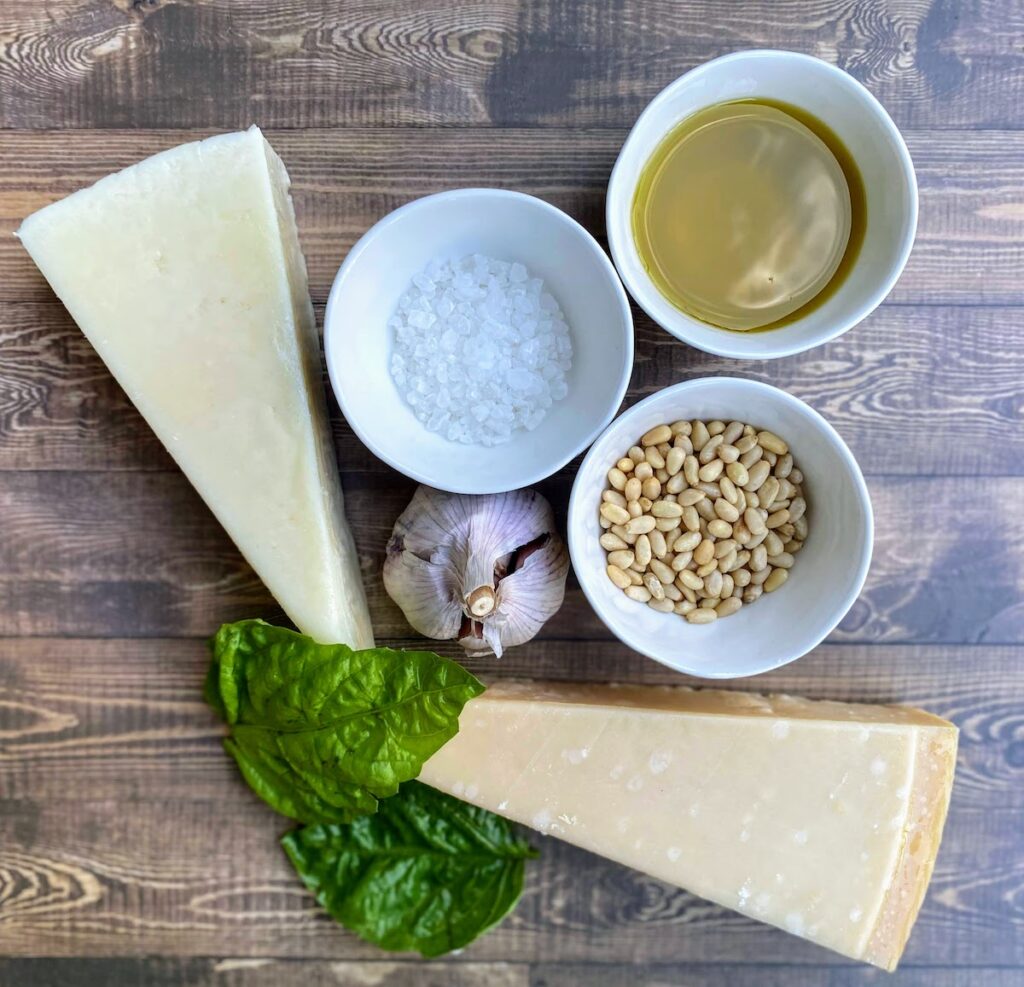 This is what I used for my big batch of Tuscan basil pesto using Lettuce Leaf Basil "Tuscany." I adjusted the ingredients as I went a bit, and you will probably want to do the same.
I grated the cheese first, as I wasn't sure how well my food processor would do at mixing it it and I don't have a kitchen scale to do it all by weight.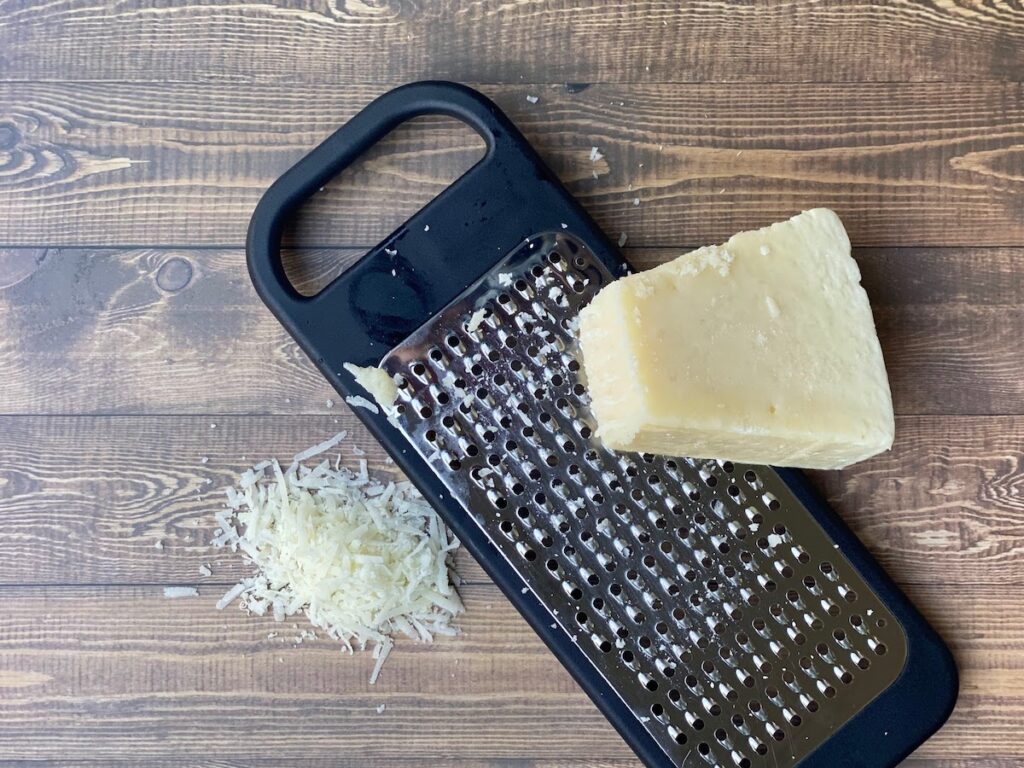 ~ 5 cups freshly harvested Tuscany basil leaves (tightly packed).
2/3 cup pecorino cheese
1 2/3 cup of high quality Parmigiano Reggiano (parmesan cheese)
1/3 cup pine nuts
1.5 cups to 2 cups extra virgin olive oil
Course salt to taste
How to Make this Tuscany Basil Pesto
Harvest Your Basil Leaves
Any great pesto starts with freshly harvested, in-season basil leaves. I like to harvest in the morning, and if I don't plan on making the recipe immediately, storing the basil leaves, stem down in a cup of water.
Since lettuce leaf basil leaves are so massive, you'd be hard pressed to store the entire harvest in water, so it's best to harvest leaves for this recipe when you're actually ready to make the pesto!
If you notice any basil flowers or whorls when harvesting, pinch them off and include them in your pesto if you want – they're edible, and slightly milder than the leaves.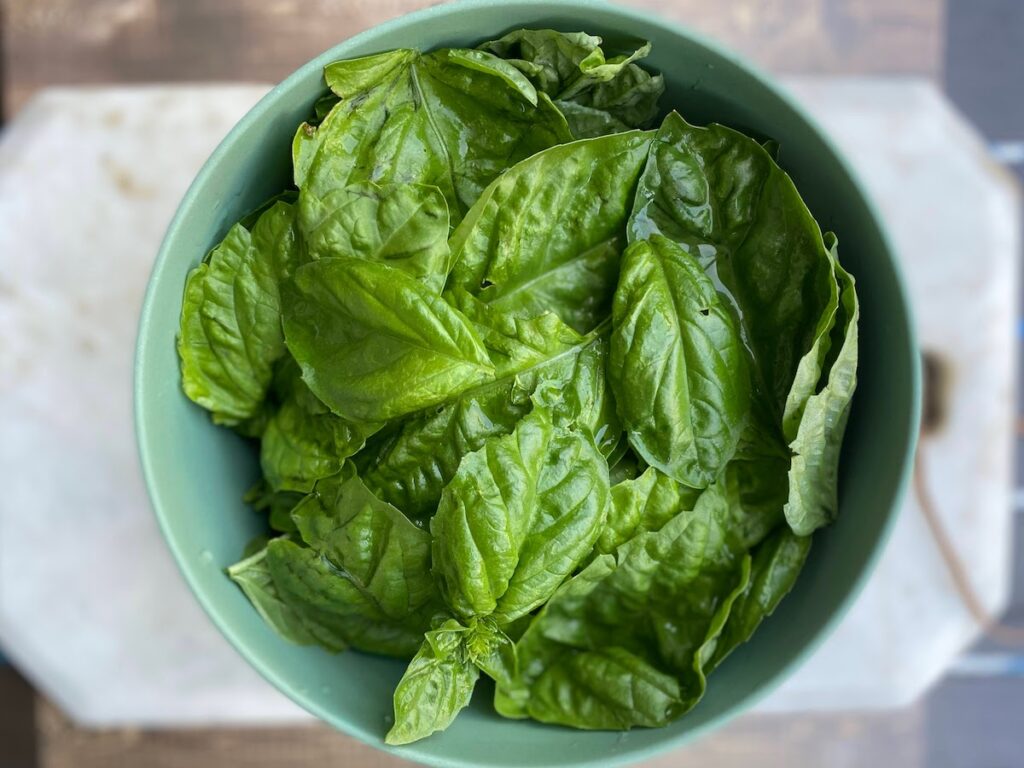 Sort, Trim, Wash and Dry the Basil Leaves
Before you get to making the actual pesto, you'll want to remove the stems from the leaves, and sort out any leaves that don't look healthy. Wilted or droopy basil, basil with brown spots, black spots, white spots, or yellowing, and basil leaves with lots of holes should be discarded.
Once stems are removed and you have only healthy leaves remaining, give them all a wash in room temperature water. Be gentle when handling the leaves to prevent bruising, and then let the leaves dry (you can use a salad spinner or just pat to dry with paper towel.)
Combine Ingredients in a Food Processor
I have a tiny food processor, so I have to add ingredients in batches.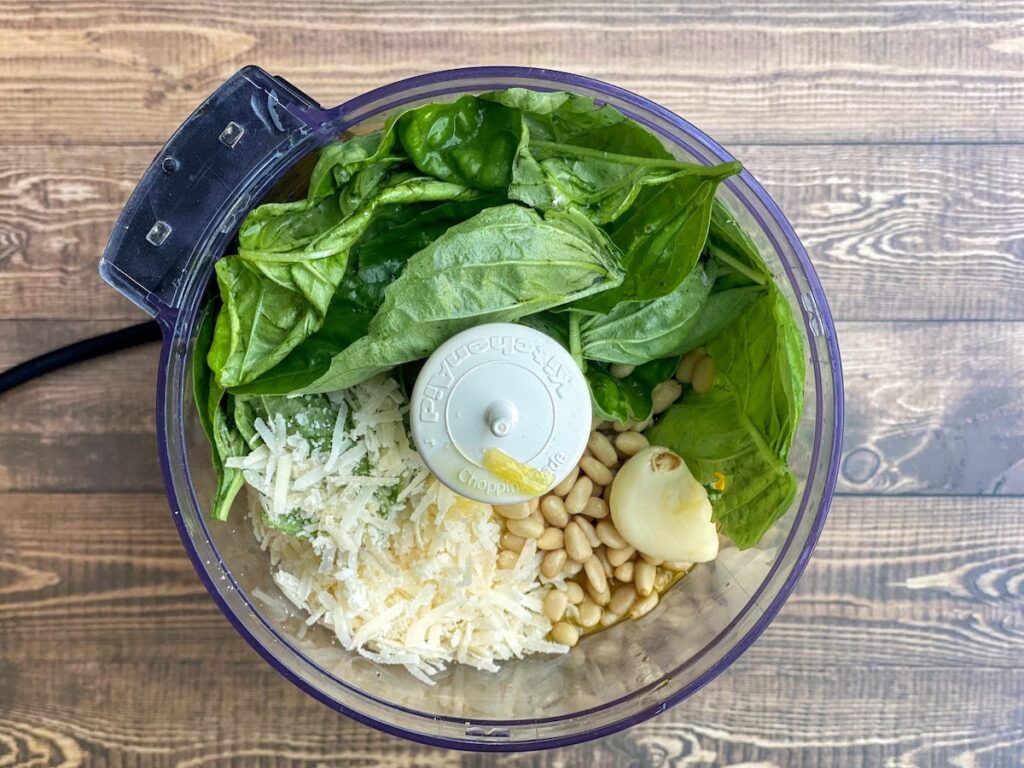 Just start adding, blending, adding, blending, and give little tastes as you go to adjust ingredients as needed.
I found I needed to add more olive oil this batch than I expected, as I had put a bit too much cheese in. It's easy to add more olive oil to get the taste just as you like it.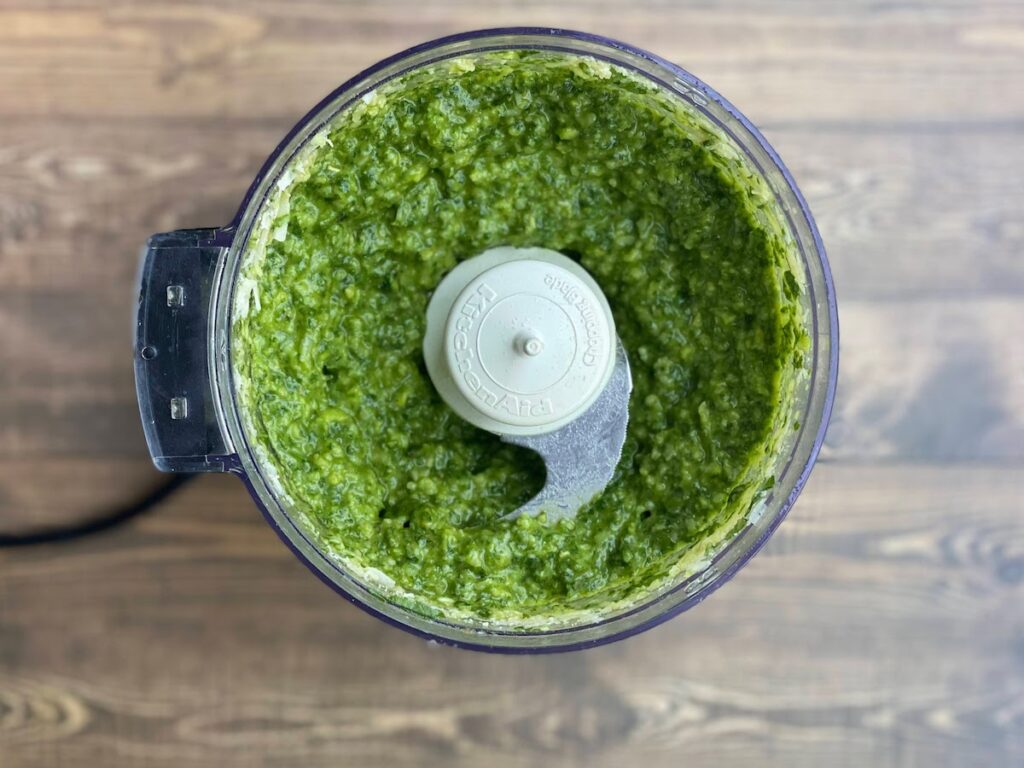 Use Your Pesto
This batch of pesto made about 3 cups worth, so I used some immediately over the next few days for a pesto chicken pasta and pesto eggs, and then froze the rest of it in an ice cube tray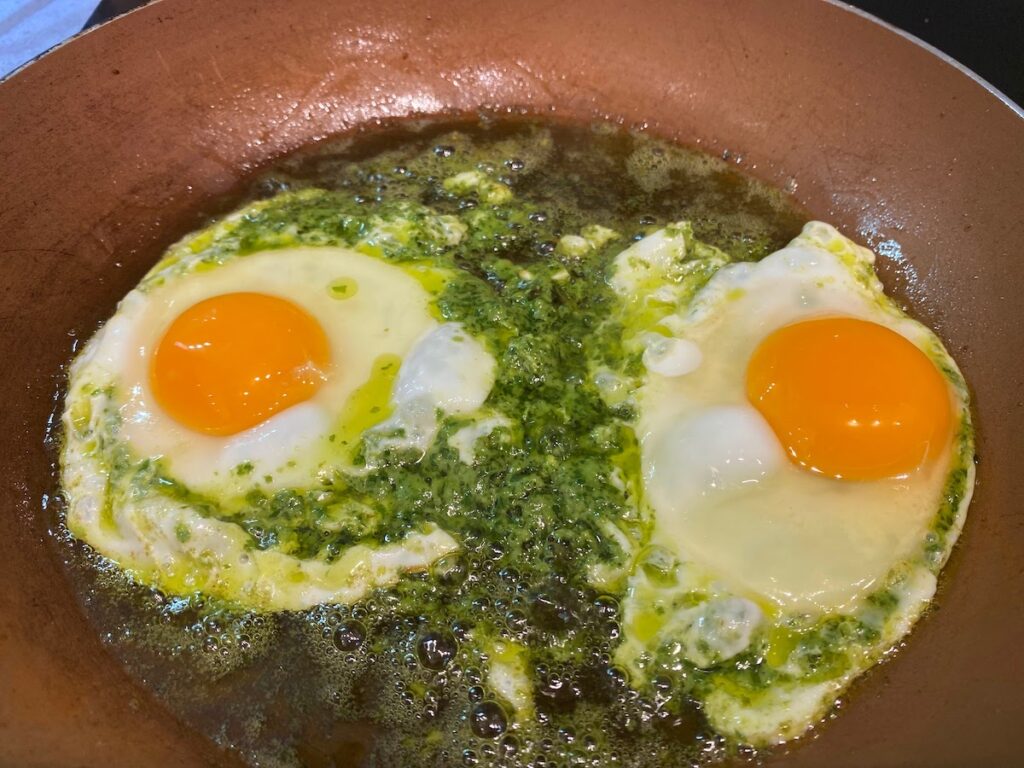 Freezing Your Pesto
Freezing pesto in ice cube trays is a great hack for it to last longer. Use ice cube trays with a silicone bottom (or entirely made of silicone) so you can pop them out easily.
Basically, divide the pesto you want to freeze evenly among a clean, dry ice cube tray, and pop it in the freezer for 24 to 48 hours until it's solidly frozen.
Then pop the cubes out and store them in a freezer bag until you're ready to use them. I have been using mine in pesto eggs – I basically pull one from the freezer and let it melt on low heat in a frying pan before adding eggs to cook either sunny side up or scrambled.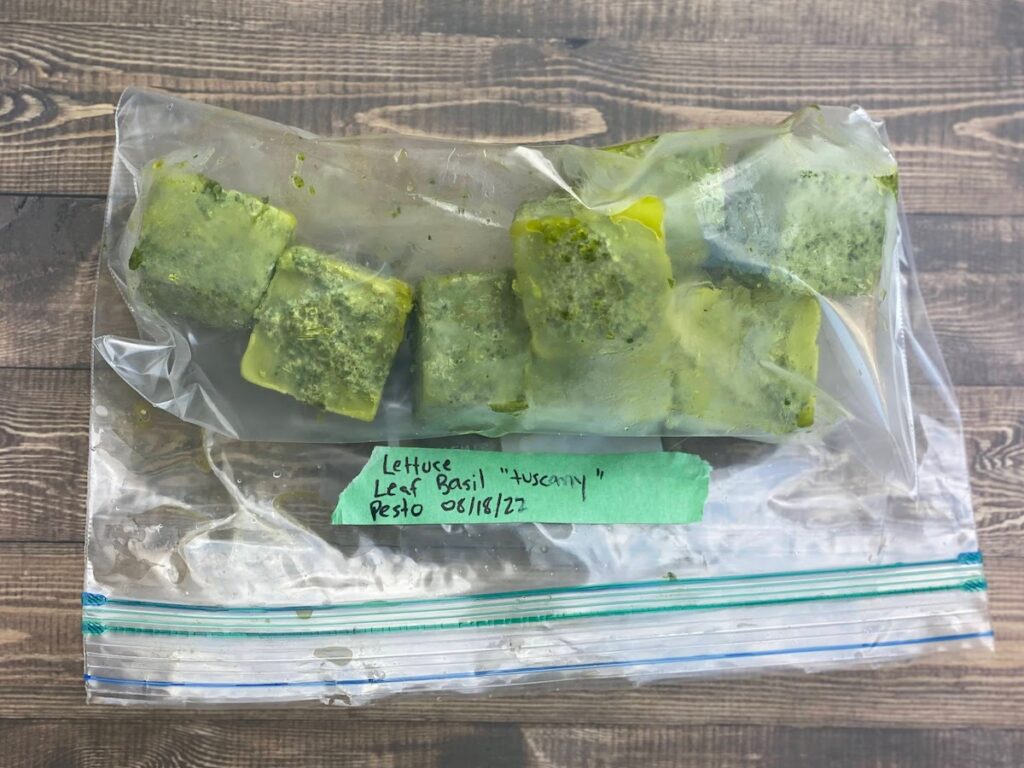 Final Thoughts on This Beautiful Tuscan Inspired Pesto
I hope you love this pesto recipe as much as I do!
Do you have a favorite pesto recipe? Have you have made pesto with Lettuce Leaf Tuscany basil? Share in the comments!