As an Amazon Associate I earn from qualifying purchases. This website also participates in other affiliate programs and may earn commissions if you shop through the links used on this website. 
(This article was originally published on January 17, 2021 and was last updated on July 21, 2022)
Packed with antioxidants and superfoods, this apple and basil matcha protein smoothie will power you with healthy fuel and a kick of caffeine.
Say good morning to this protein-packed smoothie with an added caffeine boost.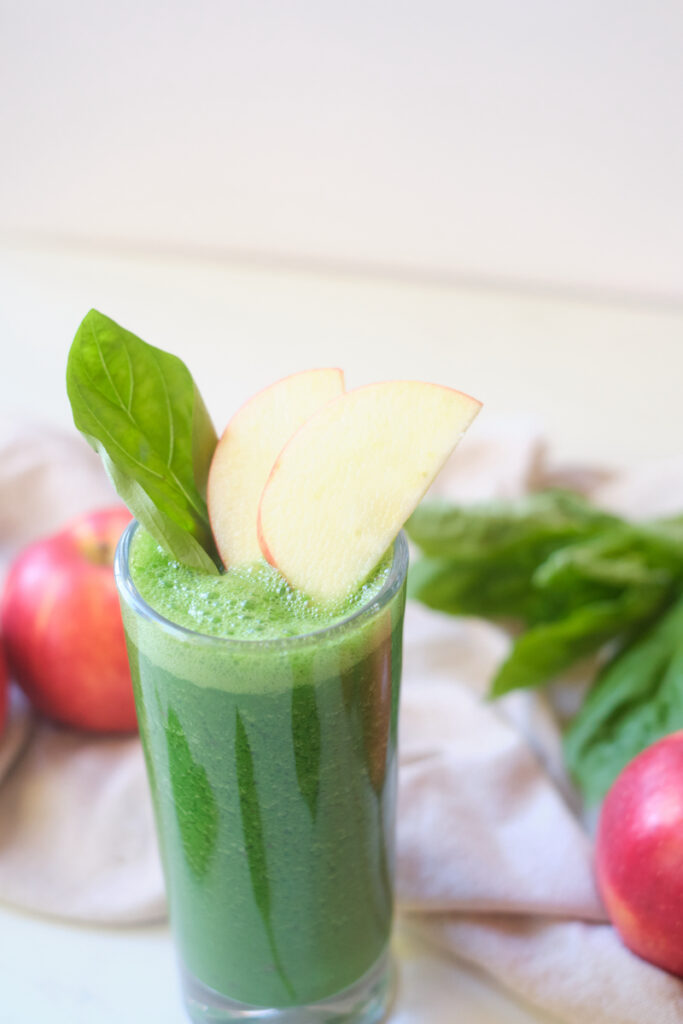 Matcha is a type of green tea powder that has been used for centuries in Japan. It's rich in antioxidants and can be found as both whole leaf or with the leaves ground into a fine powder.
Matcha is the perfect addition to any smoothie because it boosts your metabolism and increases focus.
And, just like basil, matcha is packed with antioxidants to support your health.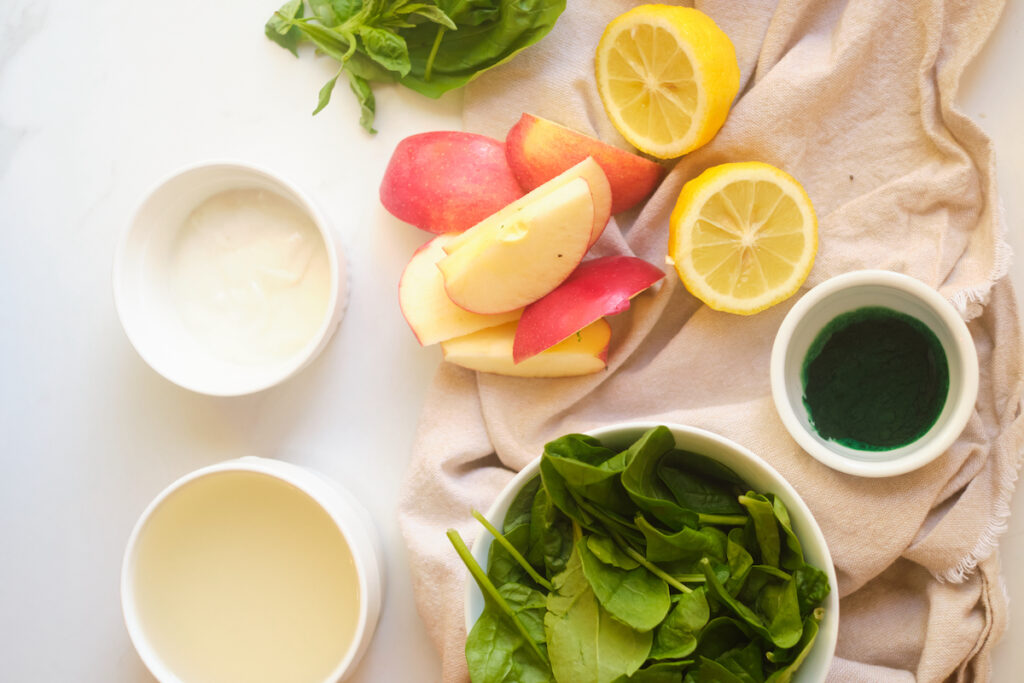 This matcha protein smoothie will leave you feeling refreshed and energetic.
A while back, I became a bit obsessed with Starbucks' Matcha Green Tea Latte.
I LOVE it, and figured if I loved the matcha, I might as well trying to make some matcha drinks at home.
Enter this matcha basil protein smoothie. It's packed with protein (yay), healthy superfoods (double yay), and basil (triple yay).
Plus, it's got the added caffeine boost of the matcha, which makes it a great choice in the morning, or during a mid-afternoon slump.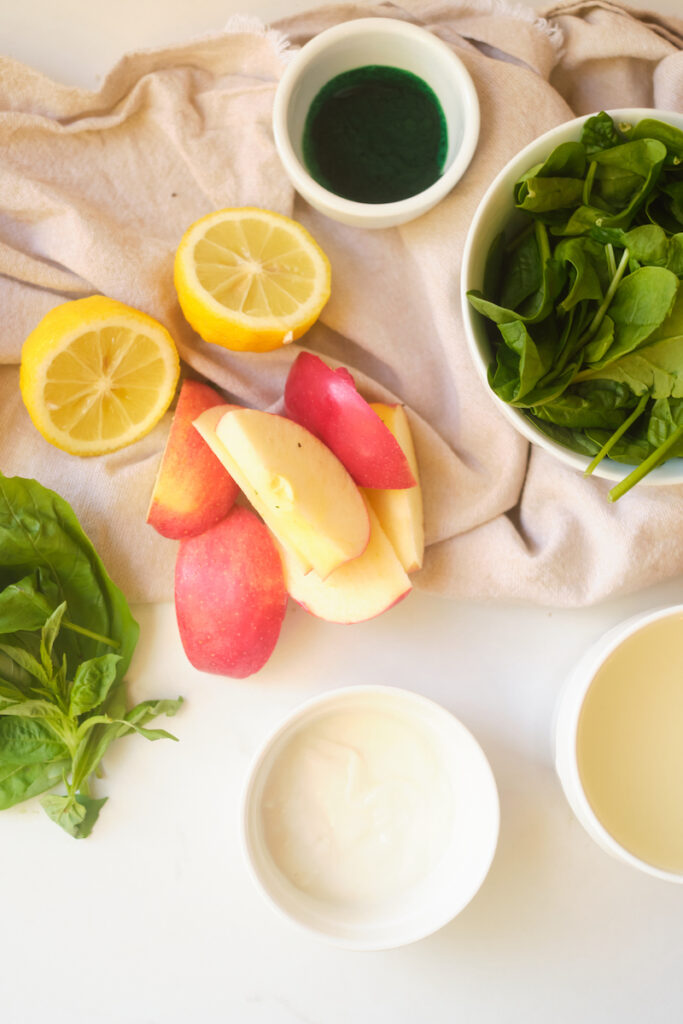 It's creamy, healthy goodness, and I think you're going to love it.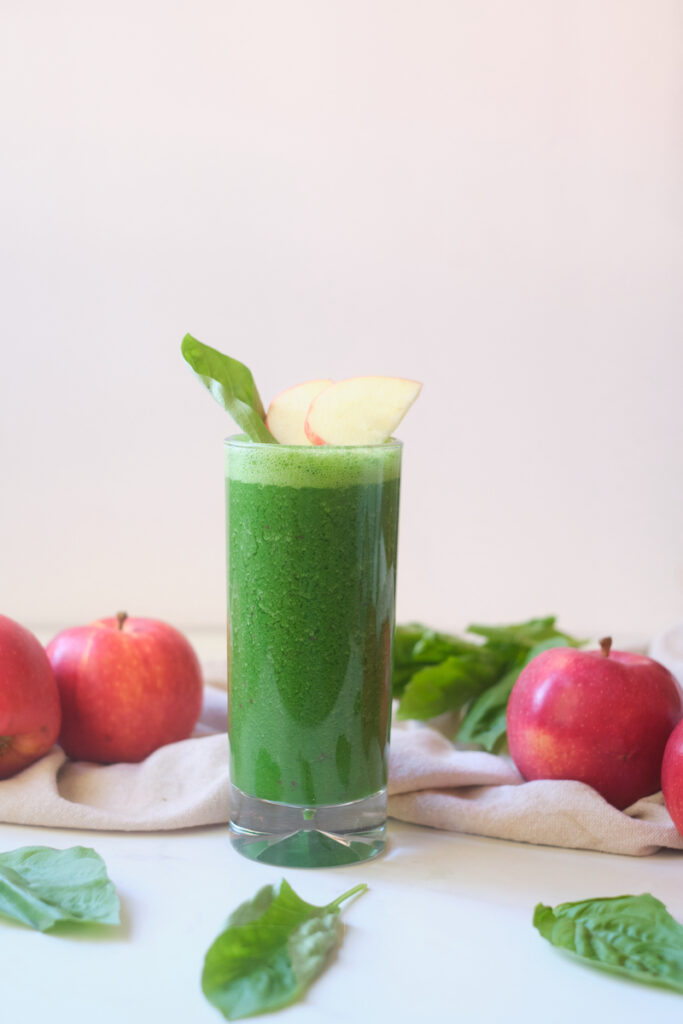 What's the Difference Between Matcha and Normal Green Tea
With "normal" green tea, you infuse the tea leaves in hot water, and drink the infusion after discarding the leaves.
With matcha, you are drinking the leaves!
The whole leaves are ground up into a fine powder, and that's what you consume – no discarding necessary.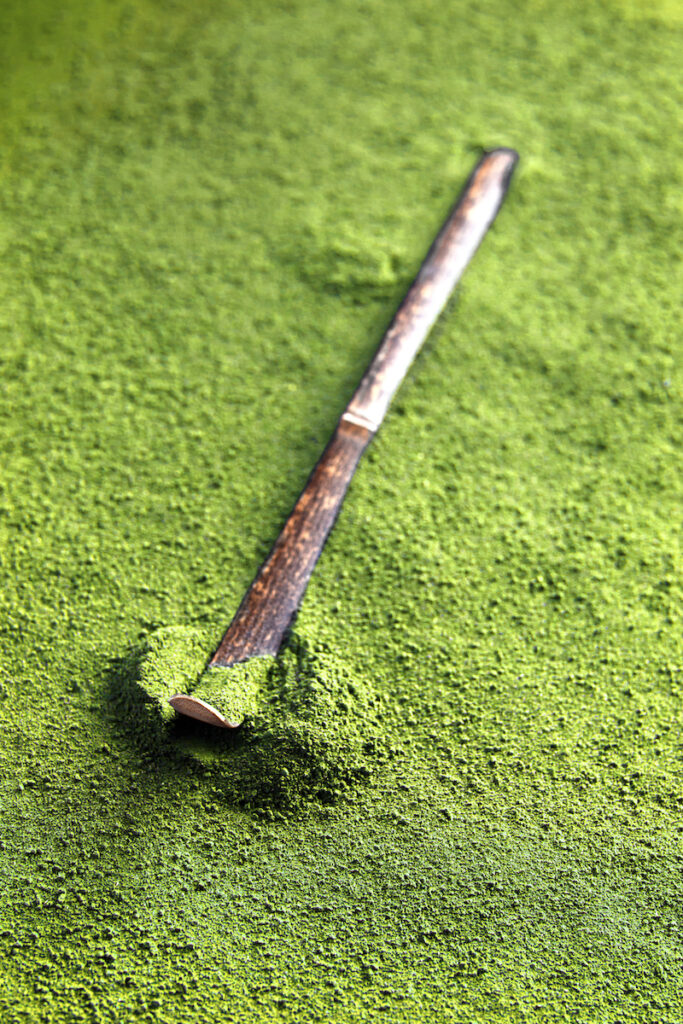 This results in a lot more caffeine compared to the "normal" tea method of infusion – up to three times as much.
Why Should I Add Matcha to my Life?
Matcha is a superfood, packed with excellent health benefits, including:
Antioxidants – Matcha's packed with them
Shown to decrease the risk of cardiovascular diseases and events, and diabetes
Metabolism boosting, and helps you burn fat
Why You'll Love this Apple Matcha Smoothie
To start with, this green matcha smoothie is ready in less than 10 minutes, making it a great option for busy mornings.
But it's also filled with healthy goodness, and a ton of greens!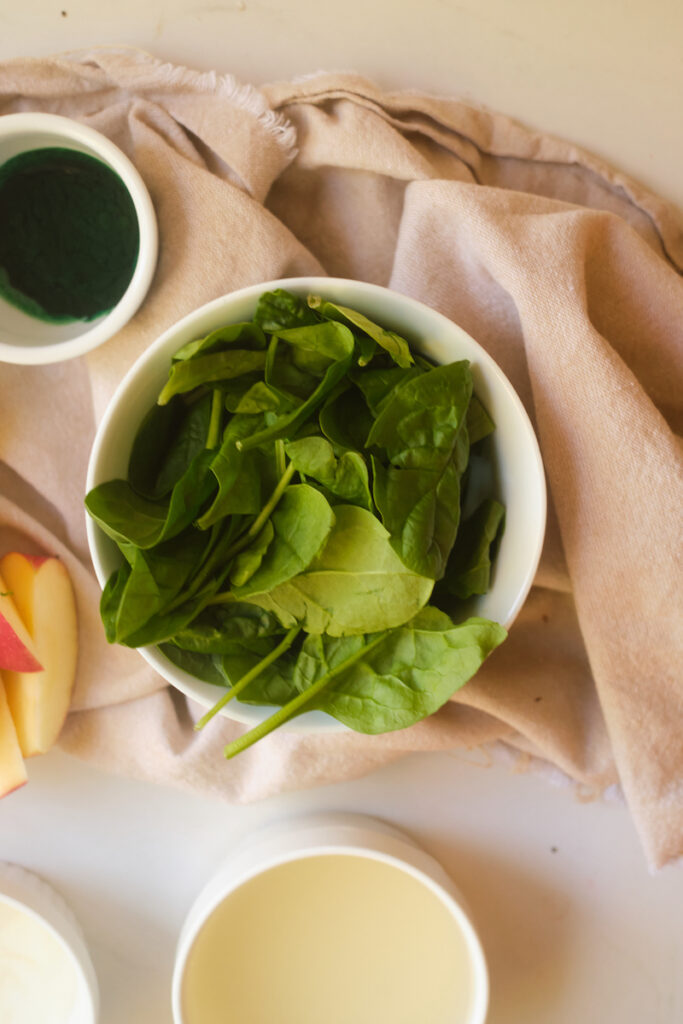 It's packed with protein, using both Greek yoghurt and protein powder
You get at least 2 servings of fruits and veggies in this smoothie from the spinach (or kale) and apples
Basil makes everything better, and the basil adds such a fresh twist to your typical green smoothie! Apple basil smoothies are delicious, and a great way to use up fresh basil from your garden or indoor herb garden.
How to Make this Apple Matcha Smoothie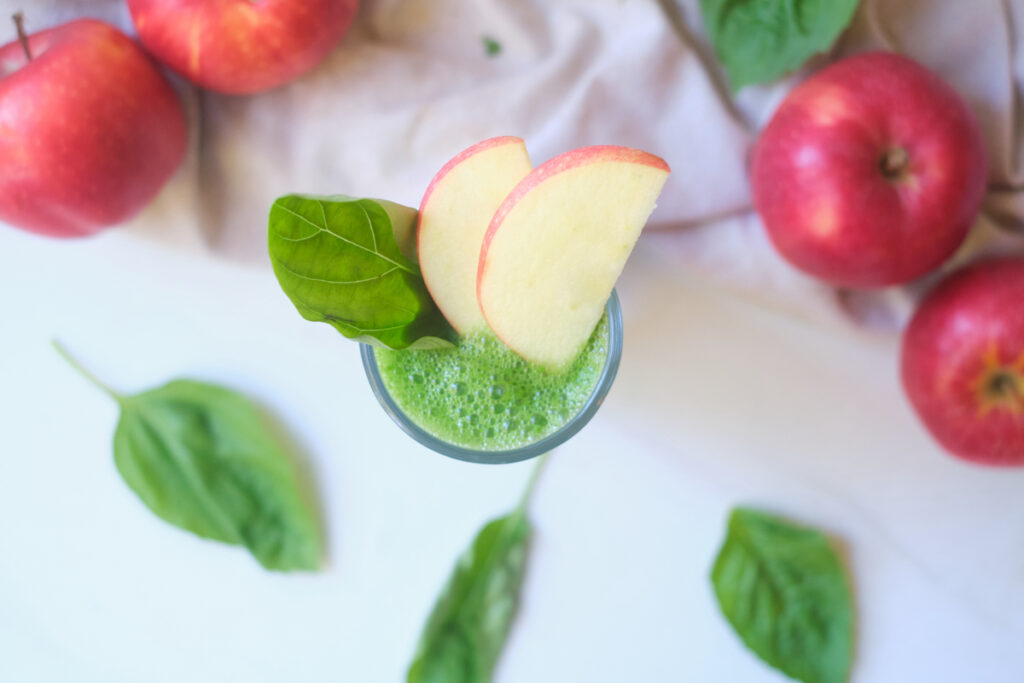 | | |
| --- | --- |
| | Prep Time: 5 mins |
| | Cook Time: 2 mins |
| | Total Time: 7 mins |
| | Yield: 1 smoothie |
Ingredients
1 apple, washed, cored and chopped
1/4 cup basil leaves, washed and tightly packed*
1 cup kale or spinach
Juice from 1 lemon or lime
1 to 2 cups coconut water
1 teaspoon matcha powder
2 tablespoons plain Greek yoghurt or kefir
1/2 scoop unflavored protein powder
handful of ice (optional)
*As always when using basil in recipes, only use healthy leaves that are free from holes, brown spots, black spots, and wilting. If you plan to use basil you've grown from seed, cuttings, or a mature plant in your garden, water it the night before you plan to harvest to maximize the flavor!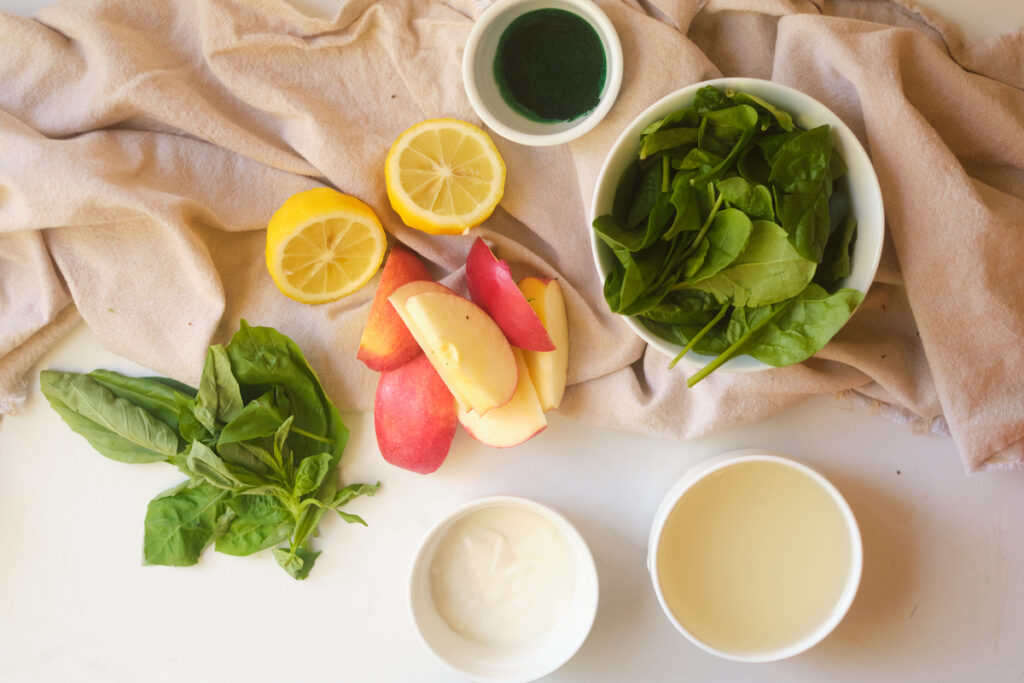 Instructions
Wash and chop all ingredients as indicated in the ingredients, and throw them into a blender. Start with 1 cup coconut water, and add more as needed to achieve the ideal consistency.
Blend until smooth.
Serve in a glass and enjoy! If you want to get really fancy (for a brunch or something), you could also throw basil flowers on top and serve as a smoothie bowl!