This website contains affiliate links. If you shop through the links used on this website, I may earn commissions.
While you're probably familiar with some of the most common basil pairings – basil and mozzarella, basil and tomatoes, and basil and Parmesan cheese, for example – basil goes well with foods that range far beyond the Italian-inspired pairings you might be familiar with.
If you've got an abundance of basil in your garden or your kitchen, and you're wondering what goes well with basil, check out our list below of what goes well with basil.
You might be surprised how well basil goes with a huge selection of food (and beverages)!
18 Vegetables that Go Well with Basil
Wondering what vegetables go with basil? Here are our top picks.
Basil and Broccoli
Fresh basil compliments broccoli's earthy, grassy flavor, and helps with broccoli's slight bitterness with its sweet spiciness.
Basil, broccoli and lemon juice or lime juice (or lemon basil or lime basil); or basil, Parmesan and pine nuts are two easy combos. Thai basil also goes well with broccoli, especially as a Thai Basil Chicken and Broccoli or as more of a Thai style stir fry.
Basil and Asparagus
Asparagus is one of those veggies whose taste can vary greatly, based on how you cook it. Generally speaking, however, asparagus and basil go well together.
Add in garlic, lemon juice or lemon zest, and parmesan cheese; combine asparagus, basil, tomatoes and either feta or mozzarella in a quiche or tart; add it into a stir fry with beef and basil, or make this asparagus and basil omelette!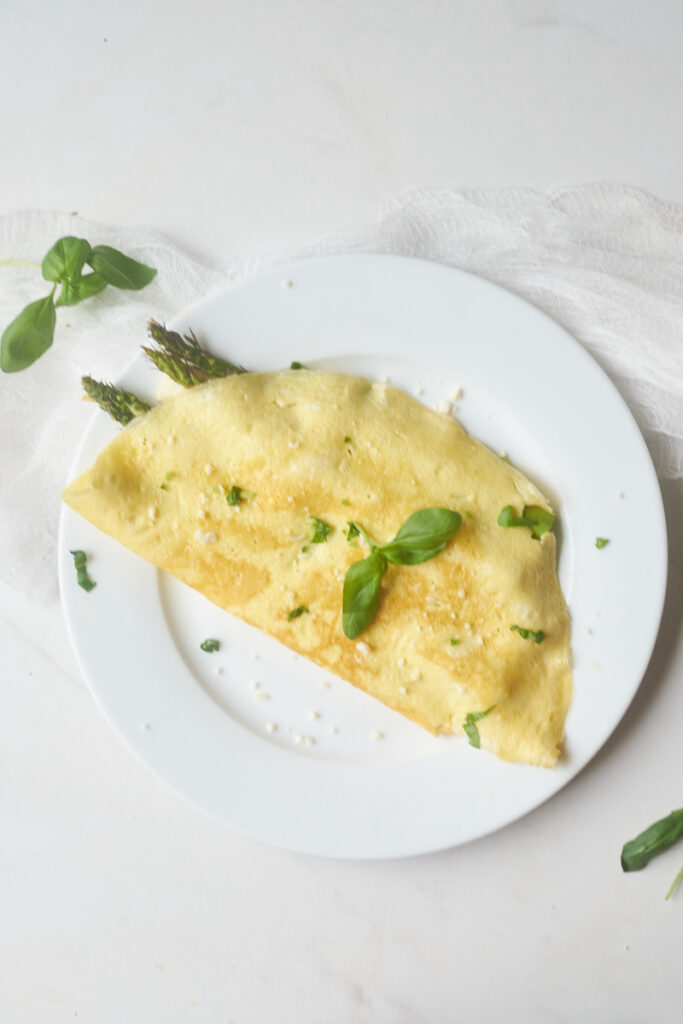 Lemon basil also pairs well with asparagus.
Basil and Spinach / Winter Greens
Basil spinach pesto is a popular twist on the classic pesto recipe, but basil and spinach can be combined in more than a homemade pesto twist!
Basil can add oomf to a spinach, strawberry and feta salad (purple basil or lettuce leaf basil works, in addition to sweet basil), and is nice with sautéed spinach, too. Try this asian salmon and spinach bowl, or combine basil and winter greens with this squash salad.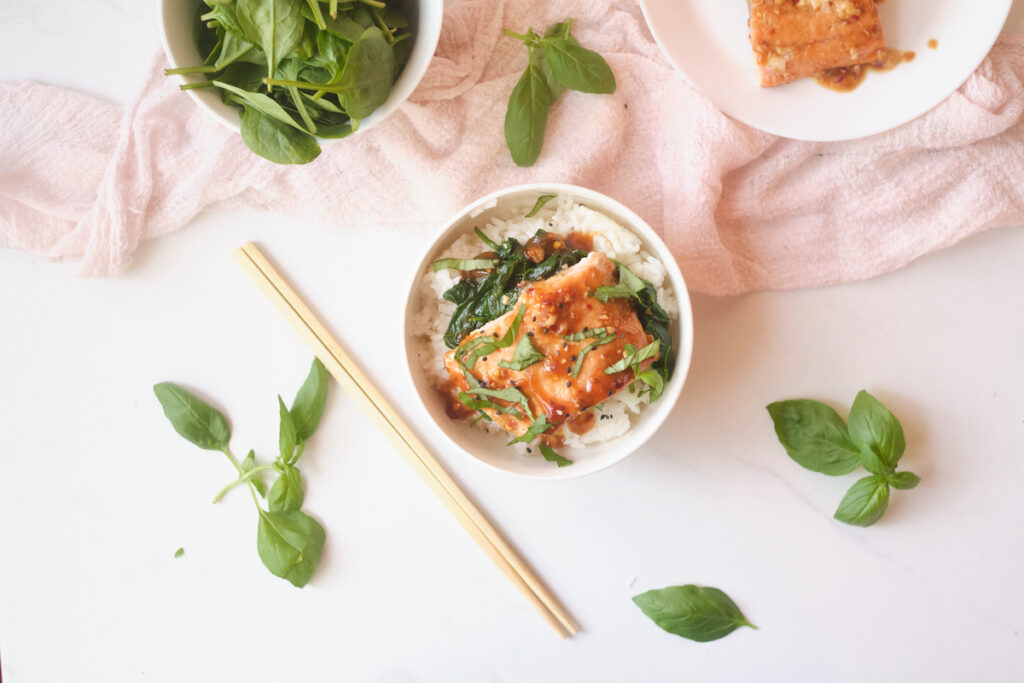 Basil and Tomatoes
One of the most famous basil pairings, basil and tomatoes go together in so many combos.
Take a handful of fresh basil leaves, add buffalo mozzarella cheese, fresh tomatoes, and balsamic vinegar, and you have a Caprese salad, or make a twist by using purple basil or red basil instead of sweet Genovese.
Chuck in a handful of basil to your homemade tomato sauces, and you've got the beginning of a fantastic pasta dish. Chop up some cherry tomatoes to toss on top of your pesto pasta. Enjoy a bowl of tomato basil soup or Italian pasta soup on a cool evening. Add sundried tomatoes and basil aioli to your burger. And then, of course, there's pizza.
In all honesty, it's tough to go wrong when pairing tomatoes and basil!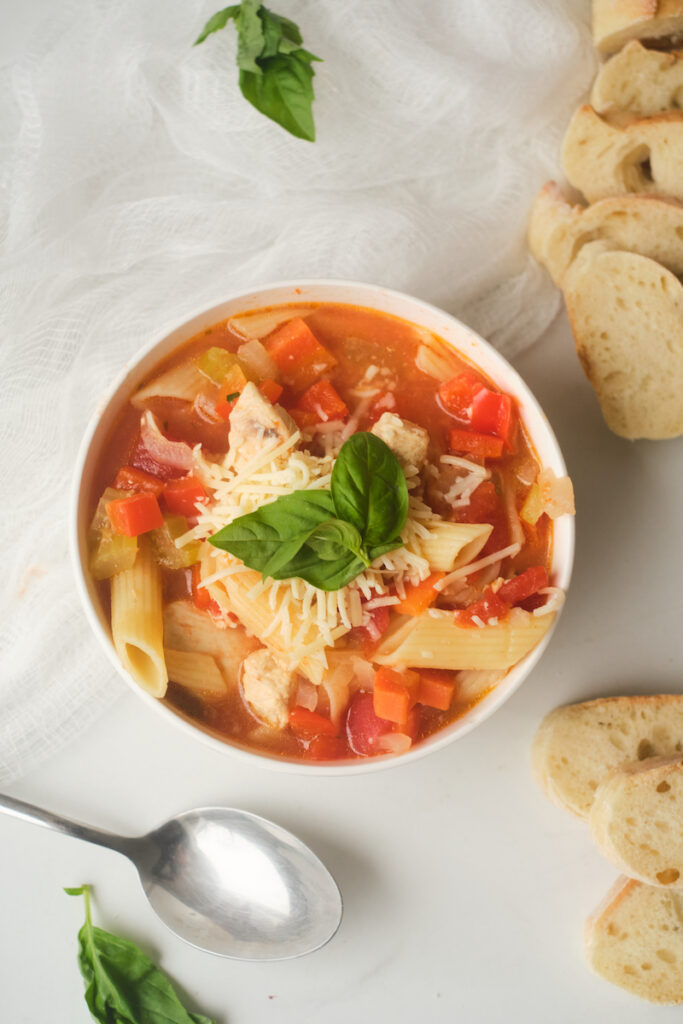 Basil and Zucchini or Summer Squash
Grilled zucchini and summer squash with basil is one of my all time favorite summer side dishes, and you can switch it up to use Thai basil or either lemon or lime basil if you have access, for a delicious anise or citrus flavor twist. It's also super simple to make with a bit of olive oil and a grill.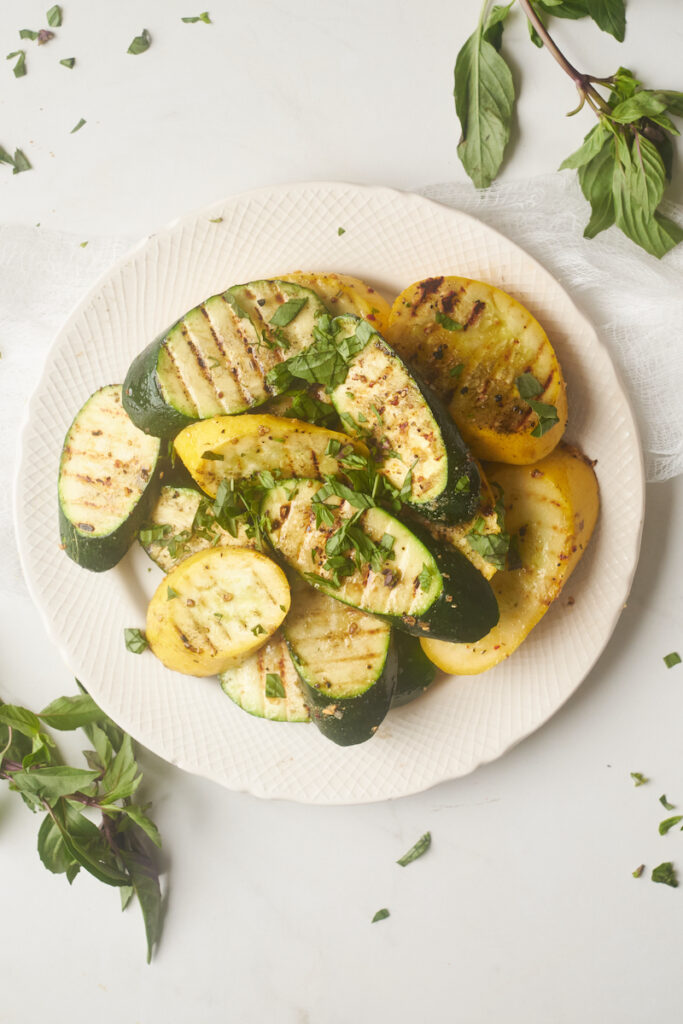 Basil and Aliums (Garlic, Onion, Shallots, Leeks, Chives, and Scallions)
Basil pairs well with the aliums, and are commonly used with garlic cloves (hello, pesto!) and onion.
However, leeks and basil are a great pairing as well, especially in sauces and soups, and basil with chives or scallions make fabulous dressings.
Basil and Eggplant
Basil and eggplant is a common combo in Asian-style dishes, including Thai cuisine and Chinese cuisine. Sweet and spicy eggplant with basil is a great bet, and you can use Thai basil or sweet. It also goes nicely with more Mediterranean-inspired recipes, such as grilled eggplant with garlic and fresh basil leaves.
Basil and Artichokes
Basil works really well with the mild taste of artichoke, and the olive oil they are both often paired with.
Basil artichoke dip or spread, basil and artichoke on pizza, or a basil-artichoke creamy pasta or risotto.
Basil and Green Beans
Basil with green beans is a common recipe pairing – often working in garlic and parmesan cheese, asiago, or lemon.
Lemon basil could be substituted here for sweet basil here if you're going for a citrusy vibe.
Basil and Mushrooms
Basil works really well with vegetables that have earthy flavors (hello eggplant and mushrooms).
Creamy garlic mushrooms with basil, balsamic vinegar mushrooms with basil, basil and mushroom pasta, roasted mushrooms with lemon and basil, or this Asian sesame salad with cremini mushrooms and basil – there are a ton of recipe combos that work well if you want to combine mushrooms with basil!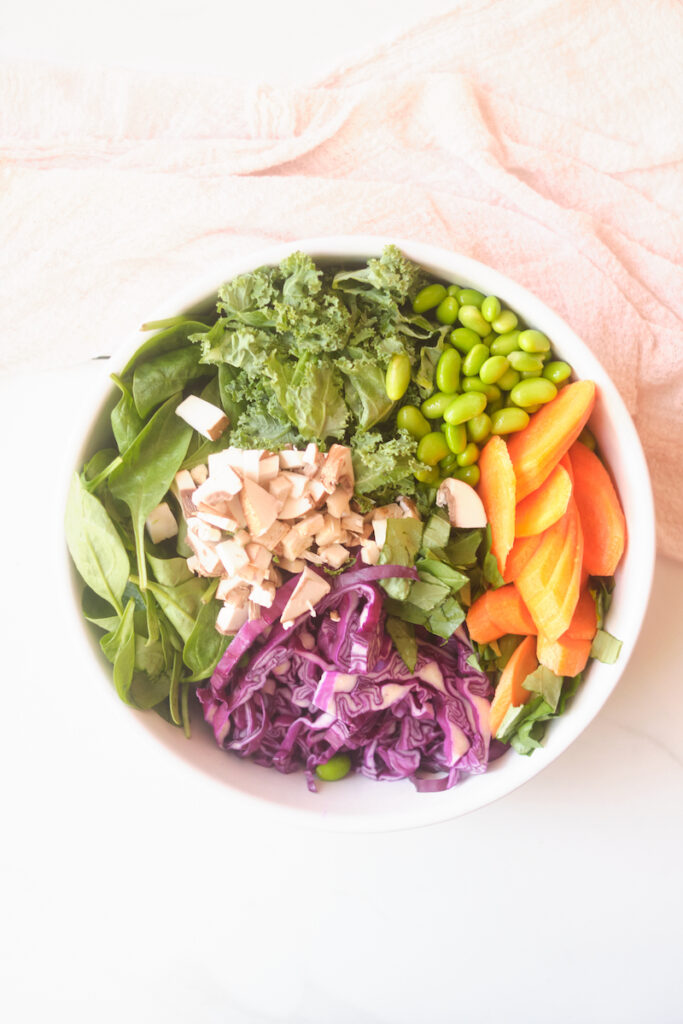 Basil and Carrot
Carrots with garlic and lemon are both fairly classic flavor combinations, and you can add sweet basil or lemon basil to zhuzh up either. Lemon basil or Thai basil also work well with carrots.
Basil and Salad Greens
Fresh basil works well with mixed salad greens, and offsets the sometimes bitter flavors you can find within.
A handful of fresh purple basil leaves are a lovely addition to salad greens – purple basil isn't the best for cooking, because it turns black, but it looks divine in a salad.
Lettuce leaf basil is also nice with salad greens, as are fresh lemon basil leaves, rough chopped or torn.
17 Fruit and Basil Pairings
Wondering which fruits go well with basil? Check out our ideas below.
Basil and Apricots, Peaches, and Nectarines
Stone fruits like peach and apricot are a perfect pairing with lemon basil…it's like they are soul mates. But if you don't have lemon basil in your garden or local market, peaches, apricots and nectarines go well with sweet basil, too.
To me, both fresh basil and peaches/apricots/nectarines epitomize the taste of summer, so it makes sense to try them together! When used in combination with peaches, basil brings out the sweetness of the fruit and gives the dish a fresh flavor. Try a basil peach salad if you're looking for ideas, or apricot basil salmon.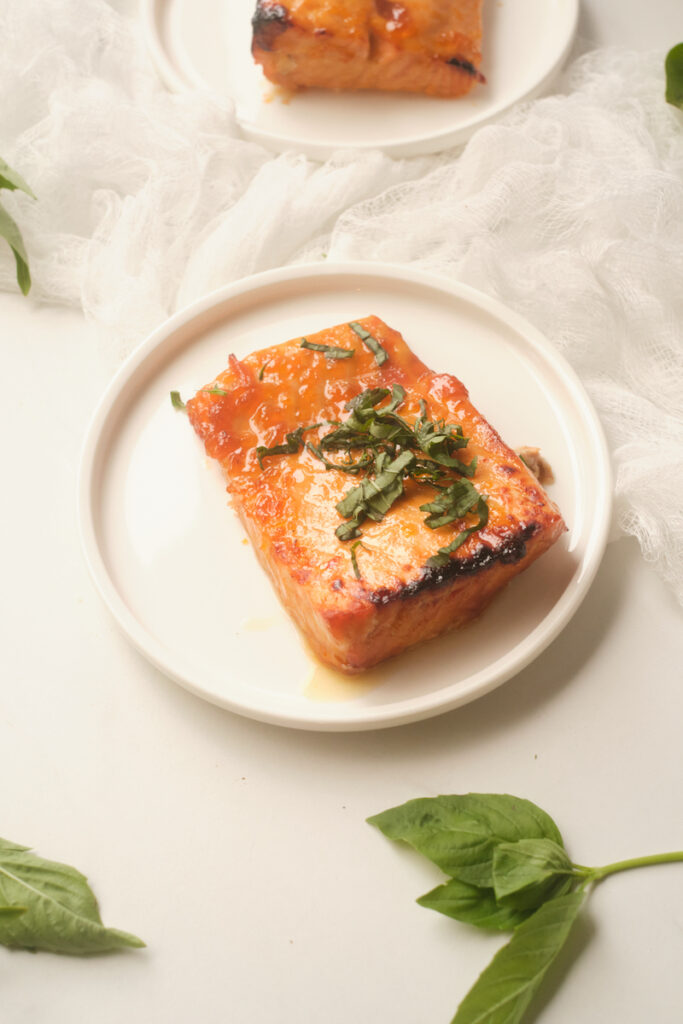 Basil and Berries (Blueberries, Raspberries, Strawberries, Blackberries)
Basil and berries are a delicious combination, especially when you manage to score perfectly ripe berries. The sweetness of the berries pairs perfectly with the herbal, slightly spicy flavor of the basil. This combination can be enjoyed in both sweet and savory dishes.
Try adding fresh berries to a salad with greens, rough chopped basil, and balsamic vinegar (a crumbled cheese like chevre or feta is a great addition, too). For sweeter indulgences, try these vegan coconut milk ice cream recipe featuring basil, berries, and dark chocolate; these coconut milk ice pops with berries and basil; or these lemon berry and basil pancakes.
Cinnamon basil also pairs well with lots of fruits, such as tossed into a mixed berry salad.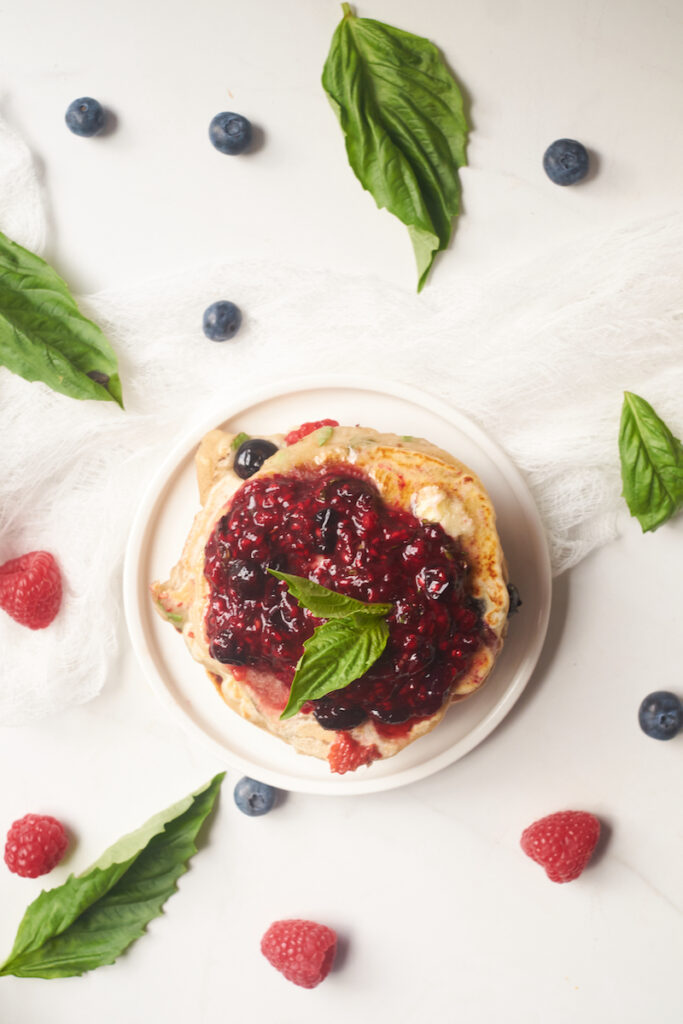 Basil and Avocado
Basil's sweet and slightly spicy flavor goes well with the creaminess of the avocado. Fresh basil and avocado can be paired in salads, sandwiches, pasta, pesto, a creamy spread, guac, dressing, or dipping sauce, or in a baked avocado egg with basil chiffonade on top.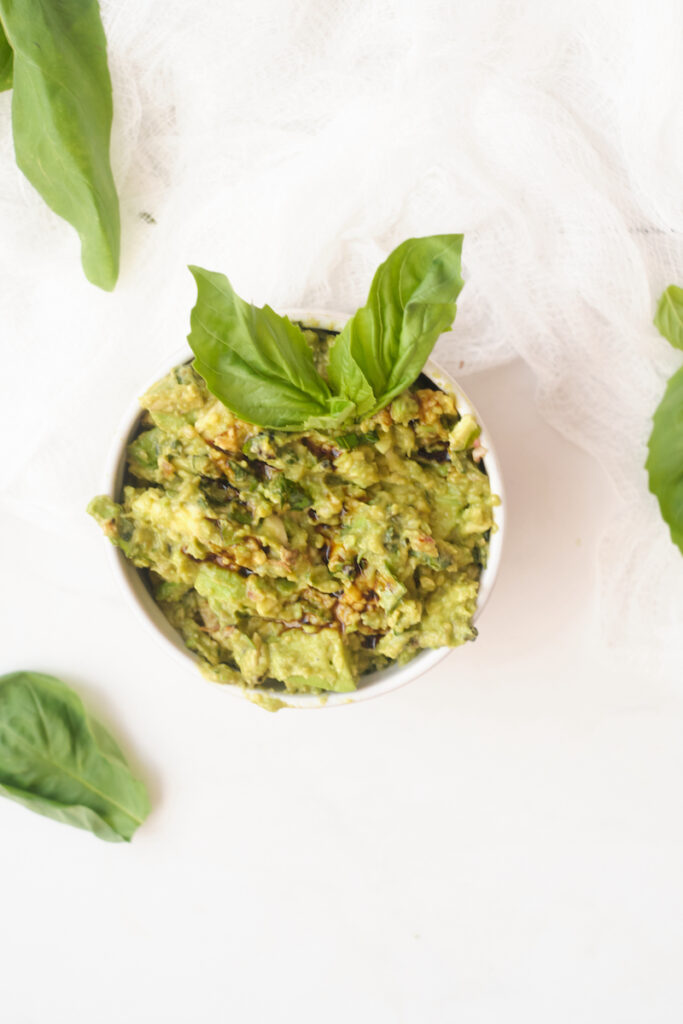 Basil and Citrus (Lemon, Lime, Oranges, Grapefruit)
When it comes to basil and citrus, most people think of lemon and basil. But oranges and lime also pair well with basil, creating a super flavorful and unique combination.
While some may balk at the idea of putting lime in basil-heavy dishes, the tart citrus flavor can be a good complement to the sweetness of basil. In fact, when used correctly, lime can enhance the flavor of basil instead of overwhelming it. Thai cuisine is a great example of a cuisine where lime and basil are both commonly used together, as are these sweet chilli salmon rice bowls.
Basil and orange and basil and grapefruit works great as a combination in drinks (infused water, adult libations) and with poultry and fish, like this grapefruit salmon.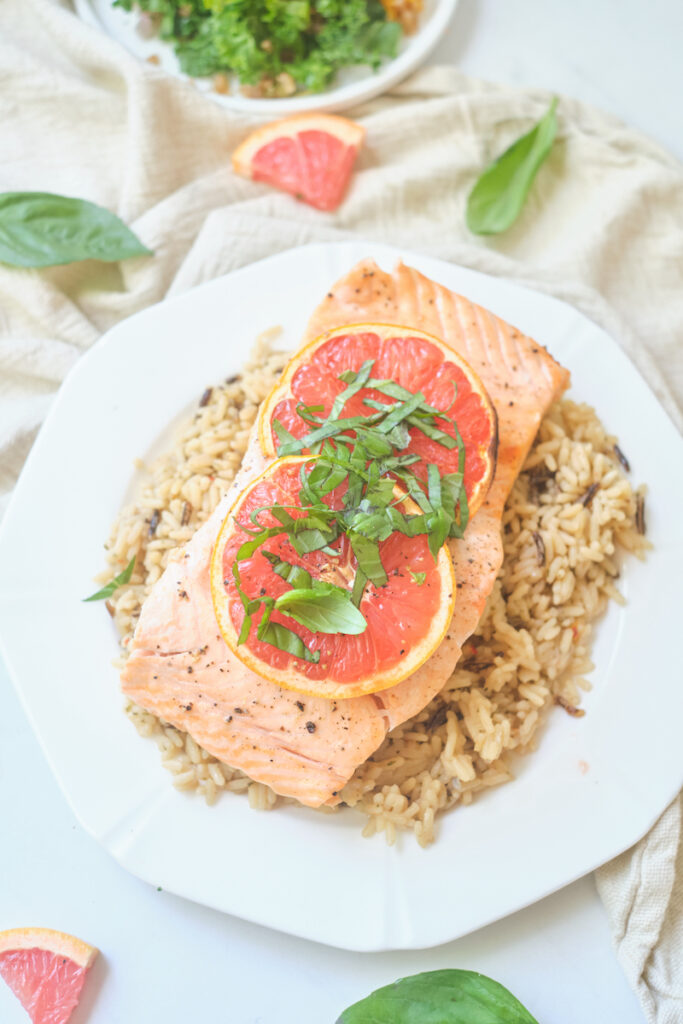 Basil and Pineapple
This unlikely duo may not be at the top of your list of favorite flavor combinations, but trust us when we say that it's worth giving a try.
A super quick way to give it a try is mix chopped pineapple with chopped fresh basil leaves and serve with grilled chicken or fish. Our pineapple basil fried rice is another pineapple basil recipe we love, as is this protein smoothie with basil and pineapple.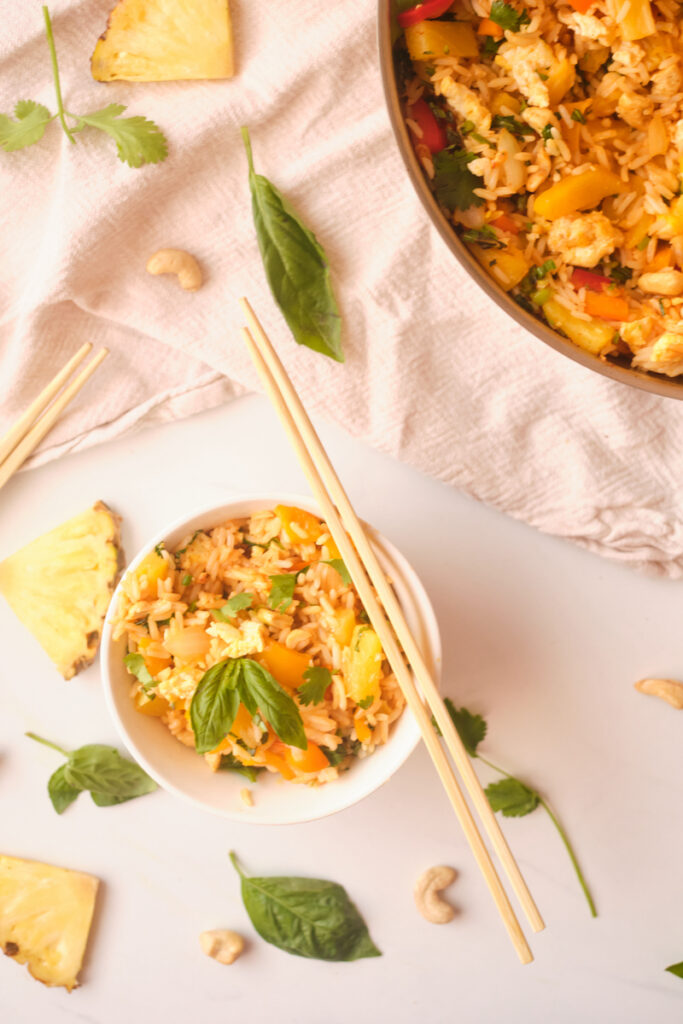 Basil and Mango
Basil and mango go well together, but they also look awesome together – the green of the basil contrasting with the bright yellow-orange of the mango.
If you are looking for a way to try these two flavors together, consider giving them a try in a dish like mango Thai curry. The combination of sweet and spicy flavors will leave you wanting more. You could also try them together in a smoothie!
Basil and Watermelon
Fresh basil is a good addition to dishes that include watermelon because the two flavors balance each other out. The sweetness of the watermelon mellows the strong flavor of the basil, and vice versa.
A basil, watermelon and feta salad is a summer favorite, as are basil watermelon coolers!
Basil and Melon
When it comes to pairing basil with other melons, opinions vary. Some say that the flavors complement each other perfectly, while others find the combination to be a bit strange.
Basil has strong, definitive flavors, and it can easily take over more subtle flavors like those found in melon. If you're looking to pair these two ingredients together, it's best to use a light hand when adding basil to the dish.
Another trick is to add in a third flavors – such as a cucumber, melon salad or melon and prosciutto with basil – to balance the flavors more evenly.
Basil and Coconut
Basil goes well with coconut because it pairs well with the sweetness of the coconut and the spiciness of the basil. Coconut milk is a good choice to use with basil because it has a strong flavor that will compliment the herb.
Basil and coconut (in particular coconut milk) are often paired together in southeast Asian dishes, with basil coconut curry being a classic example. Both flavors are unique, but somehow work, with the sweet creaminess of the coconut milk and the sweet spiciness of the fresh basil combining quite perfectly. However, coconut water lemonade with basil is also delicious!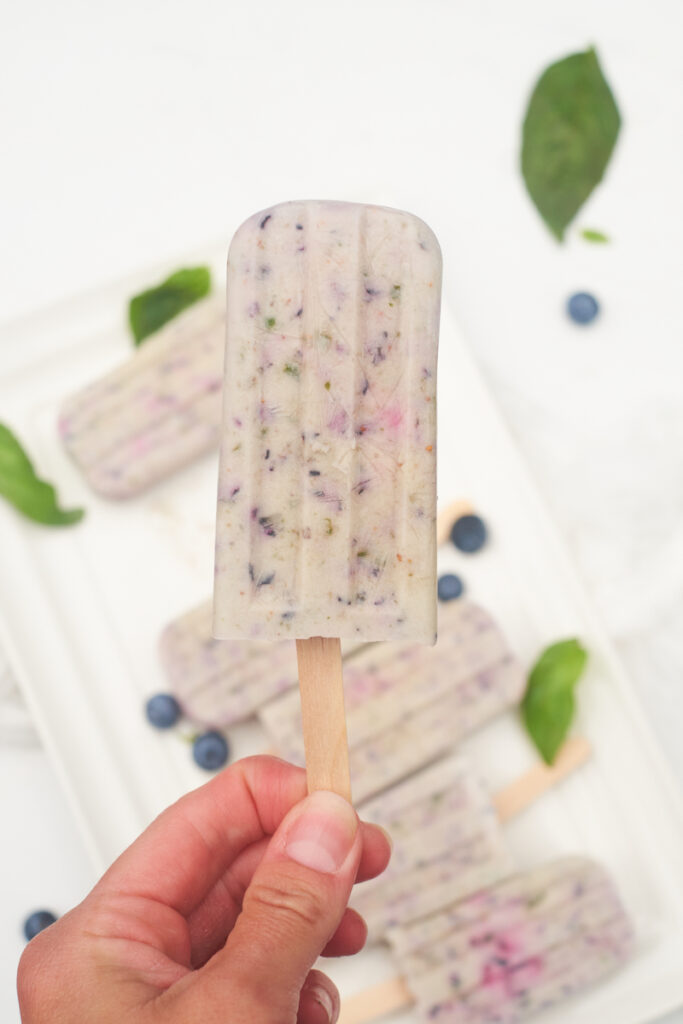 7 Basil Pairings with Other Herbs and Spices
Ready to harvest your own herb garden before dinner, and wondering what other herbs and spices go well with basil? Suggestions below.
Basil and Mint
Mint and basil are two herbs from the same family, and these herbal cousins complement each other perfectly.
Try mixing chopped basil and mint into a salad of greens and tomatoes. And for a main course, try topping grilled chicken or steak with a basil-mint chimichurri. Or make this gorgeous basil and mint yogurt dipping sauce for sweet potato fries.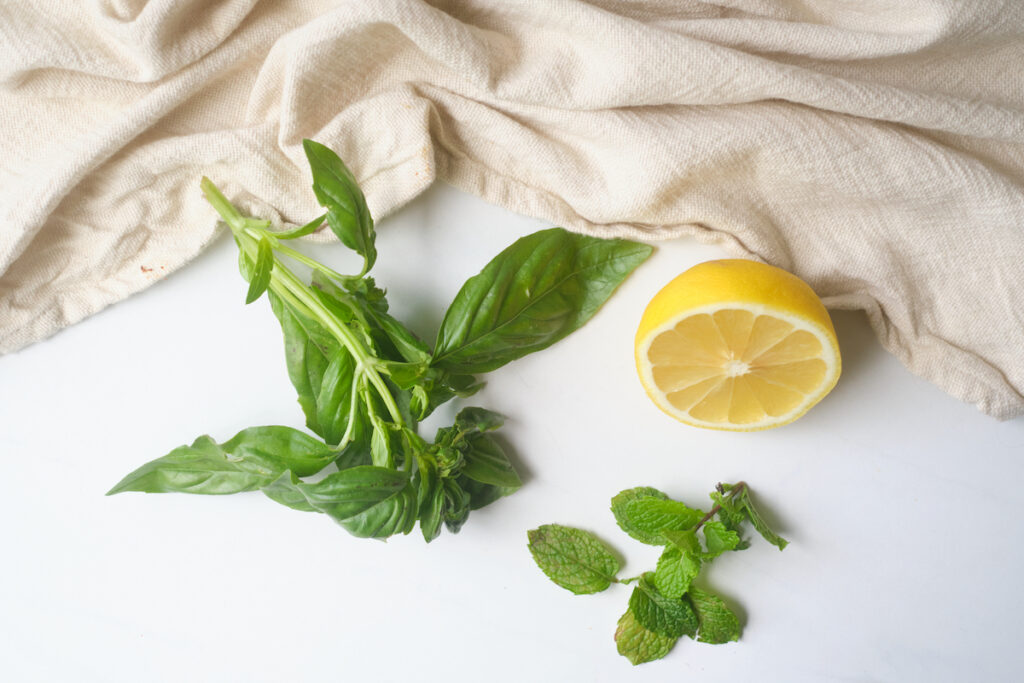 Basil and Cilantro (Coriander)
Cilantro and basil go together to create a unique flavor that is both savory and slightly spicy. That said, some people find the combination overpowering. If you're looking to try this herb duo for yourself, start by adding a small amount of cilantro to your dish and taste as you go. Hopefully you're surprised at how well the two herbs compliment each other.
These sweet chili salmon rice bowls combine basil and cilantro, as do these spicy sriracha shrimp noodles.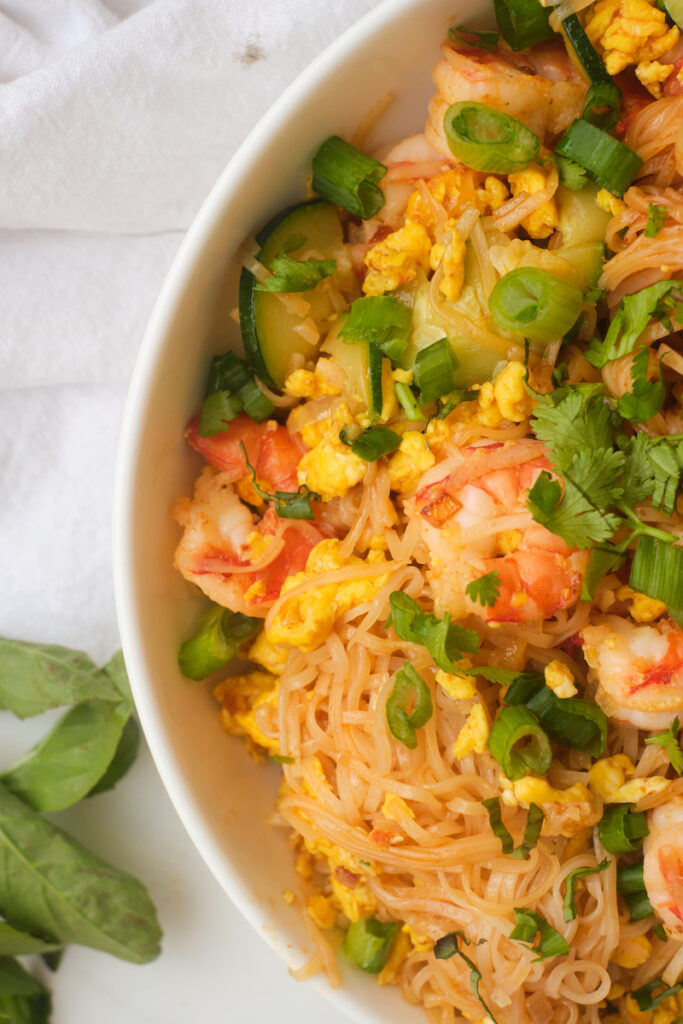 Basil and Oregano
Basil and oregano are the pizza combo we know and love. In fact, they're often paired in Italian cuisine, and many people believe oregano and basil are a perfect match! Super versatile pairing that can work in lots of dishes.
Basil and Lemon Balm
Basil pairs well with citrus, so it makes sense it also works well with lemon balm!
Lemon balm makes a fabulous addition to a homemade pesto sauce, and the two herbs can be combined to add a citrusy, herbal flavor to grilled meats or veggies.
Basil and Parsley
When it comes to culinary pairings, basil and parsley are two herbs that often get overlooked. But the two have a lot of complementary flavors that can make for some delicious dishes. Basil is bright, peppery, and slightly sweet, while parsley is earthy, fresh and slightly bitter. Together, they can create a well-rounded flavor profile in dishes like pasta, salad, dips, etc.
Add a bit of fresh chopped parsley to a classic pesto pasta, and you'll see what we're talking about!
Basil and Rosemary
Two classic Mediterranean herbs, the slight pine flavor of rosemary pairs nicely with basil in drinks, pesto, poultry, meats, and more. These two also make good companion plants!
Basil and Tarragon
Another summery herb, tarragon and basil seem to be a natural fit. Both of these herbs have a slightly sweet and licorice-like flavor that pairs well together. Basil also has a slight peppery kick that is complimented by the earthy flavor of tarragon.
Basil tarragon pesto, and basil tarragon chicken are two classic ways to use the combo, or you can combine tarragon and basil with a few other herbs (i.e. mint) to make a killer green goddess dressing!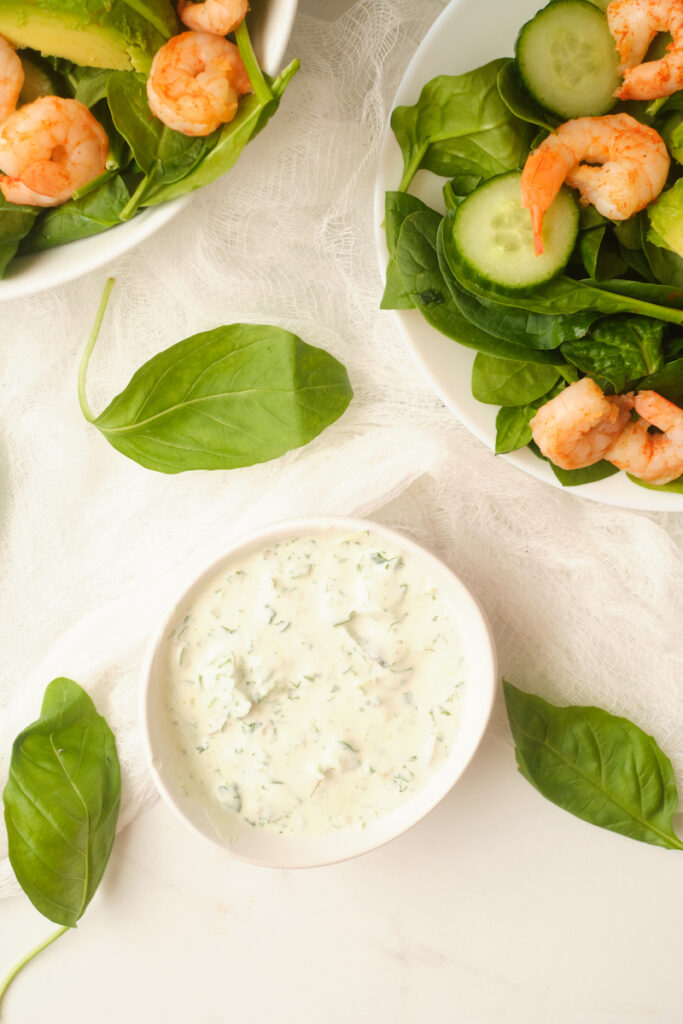 6 Cheeses that Go Well with Basil
Basil's strong flavor can be paired with many different types of cheese. Some our favorite basil and cheese pairings are below.
Brie and Basil
Basil and brie is a common pairing that works brilliantly.
The soft, creamy, and slightly nutty flavor of brie pairs with basil's strong, slightly sweet and clovey flavor. The two ingredients can be used in sandwiches, pastas, egg dishes, baked bries, salads, pasta dishes, and appetizers.
Add tomatoes for another classic pairing!
Goat Cheese and Basil
The sweetness of the basil is a perfect match for the tangy, fresh taste of goat cheese. A goats cheese log covered in rough chopped basil and thinly sliced cherry tomatoes is a surefire hit on a cheese board. Goats cheese and basil also pairs well in pasta dishes, salads, and veggie recipes.
Cheddar Cheese and Basil
When I'm really hungry, I'm not above eating a slice of cheddar, a slice of tomato, and a basil leaf. But seriously, this is such an easy and delicious combo, and it's not overly fussy or fancy. Cheddar melted over potatoes, and sprinkled with basil? Yes! Basil, cheddar and tomatoes with fresh bread? Please!
Feta and Basil
Feta's strong saltiness pairs well with the fresh, sweet and spiciness of basil. Try watermelon basil and feta salad, tomatoes with basil and feta, or pasta dishes with both!
Mozzarella and Basil
Probably the most famous cheese and basil combo, epitomized by the Caprese salad. If you can, go with fresh mozzarella cheese (the balls) rather than the supermarket blocks. It makes such a difference.
Parmesan Cheese and Basil
Okay maybe this is the most famous cheese and basil combo? Because, pesto sauce? In either case, it's another delicious pairing, and is a great choice over grilled veggies if you need something with a ton of flavor and not a lot of fuss.
10 Other Basil Pairings to Try
Olive Oil
Drizzle olive oil over grilled veggies and top with a basil chiffonade, or infuse your own to make a gorgeous basil oil.
Balsamic Vinegar
Maybe this is one of those "goes without saying it" flavor pairings, but we're going to say it anyway! Balsamic vinegar is easy, but balsamic glaze or reduction is a divine addition to lots of basil recipes.
Chocolate
Surprise! Basil is delicious with chocolate – in ice cream, cookies, or cake. When combined correctly, they can create a delicious and unique flavor profile that will surprise and delight your taste buds.
Nuts (Pine Nuts, Walnuts, Almonds, Pistachios, Peanuts)
Peruse the internet for interesting pesto recipes, and you're going to find thousands of variations which switch up the nuts used. Generally speaking, basil works well with nuts, so don't be afraid to experiment in the nut category!
Gin
Basil and gin are both quite herbaceous, making them great friends. The basil balances out gins with a lot juniper notes, and the two combine to give a clean and fresh flavor. Gin basil smashes are a popular way to combine the two, but you can also make a gimlet, gin and tonic, and other classic cocktails with this combo.
Tequila
Basil and tequila seem like an odd pairing, but they can actually make a delicious cocktail…hello, basil margaritas!
What Goes Well with Basil? Final Thoughts
These are really just some of the basil pairings you can try – hopefully you see that basil is a versatile herb and flavor, and you can afford to be a bit adventurous with your basil recipes!
(This article was originally published on July 21, 2022 and was last updated on July 26, 2022)