As an Amazon Associate I earn from qualifying purchases. This website also participates in other affiliate programs and may earn commissions if you shop through the links used on this website. 
(This article was originally published on June 9, 2019 and was last updated on July 21, 2022)
These Asian Salmon Spinach Rice Bowls are a quick and easy meal that will leave your stomach full, your taste buds happy, and your diet intact.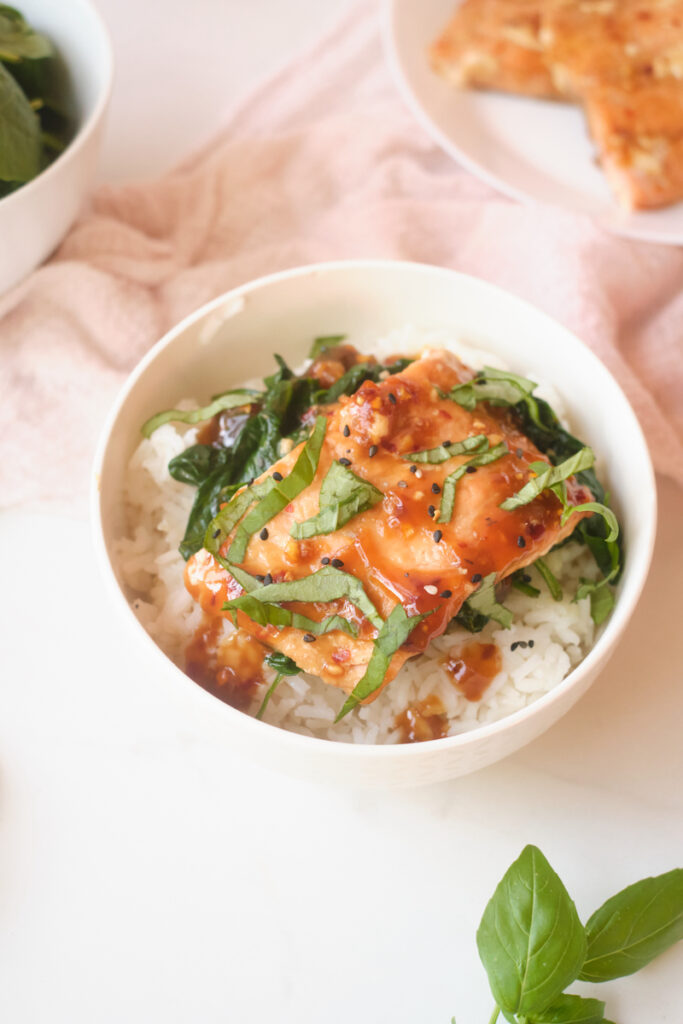 In my mind, it's one of those "change your life" recipes because it really is THAT good.
Fresh salmon topped with a lime-infused sweet and spicy sauce and sprinkled with black sesame seeds. YUM!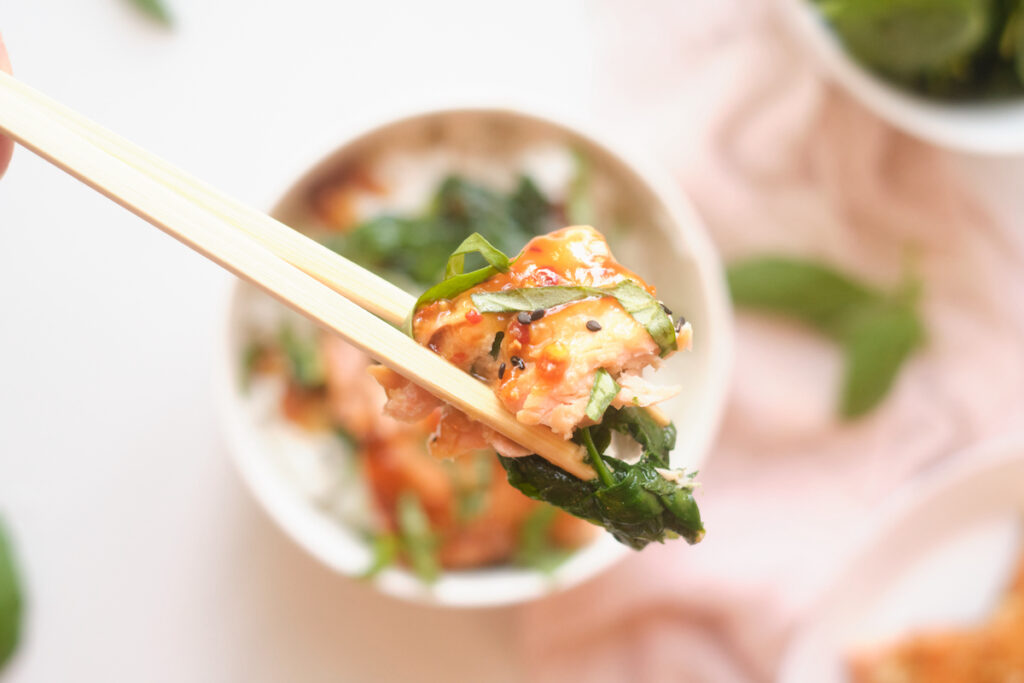 It's packed with flavor, and yet is pretty simple and fresh, still allowing the flavours of the salmon and basil to shine on through.
With salmon, you get a ton of protein, Vitamin A, and healthy fats, which are great for you brain and your heart.
Plus, we all know spinach is a nutritional powerhouse!
The essential oils in basil are inflammation fighters. To maximize flavor and concentration of basil's essential oils, I recommend watering your basil plant the evening before you harvest so the leaves aren't wilted, and then harvesting your basil early in the morning, before the heat of the day sets in. Remember, you need to need to prune and harvest basil regularly to maximize yield, trimming of yellow leaves or leaves with holes in them at the same time, and getting rid of diseased leaves, such as leaves that are turning black.
This recipe is also really easy – just follow the recipe, and it will blow your mind.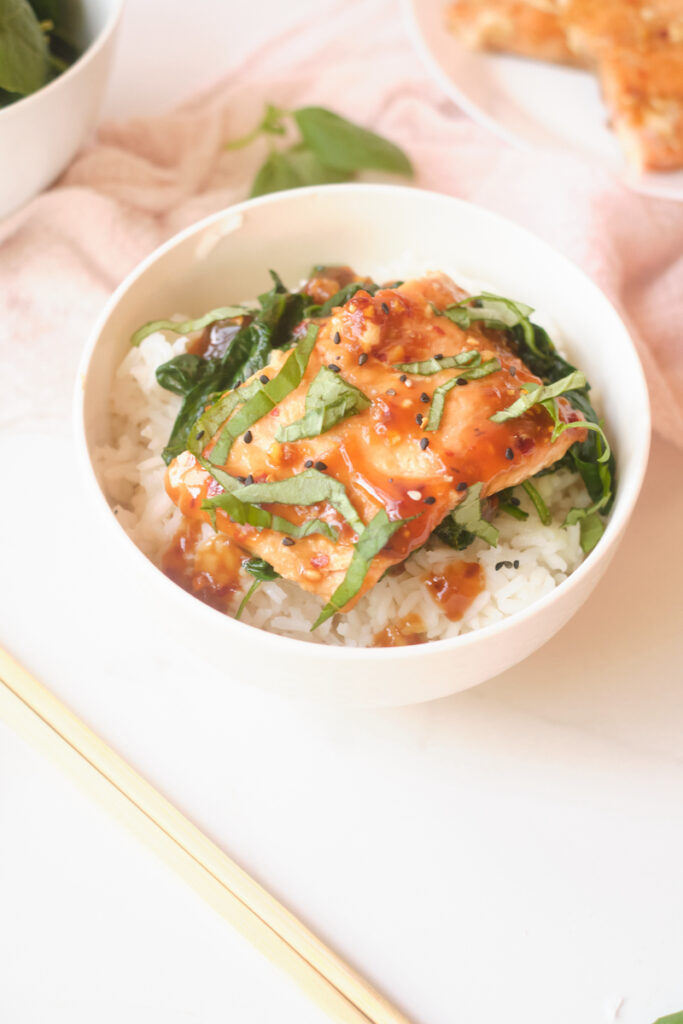 Asian Salmon and Spinach Rice Bowls
| | |
| --- | --- |
| | Prep Time: 10 mins |
| | Cook Time: 30 mins |
| | Total Time: 40 mins |
| | Yield: 4 |
Ingredients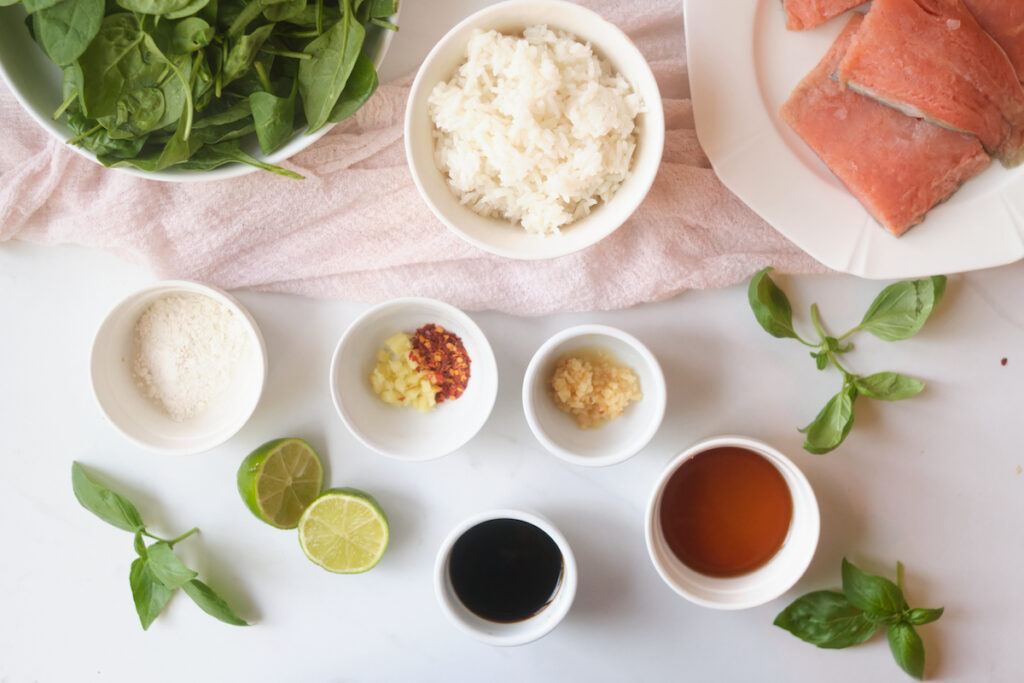 1 pound salmon, cut into 4 fillets
2 cups jasmine rice
4 tablespoons soy sauce
4 tablespoons pure maple syrup
juice from one lime (about 2 tablespoons if using concentrate)
1 to 2 cloves garlic, minced
About 1/2 tablespoon freshly minced ginger
1.5 teaspoons cornstarch
~1 pound fresh spinach leaves
1 big handful of fresh sweet basil (about 10 grams, if you buy in a box from the store, or about 3 stems of basil with two or 3 nodes each, if you pick from your garden). If you have some basil flowers, you can throw those in, too.
Olive oil
1/2 teaspoon red pepper flakes
1–2 tablespoons black sesame seeds
Instructions
Preheat oven to 400°.
Cook rice as directed according to your preferred method (i.e. rice cooker, stovetop, etc)
In a small saucepan, sauté minced garlic, ginger, and pepper flakes in olive oil until golden and fragrant, a few minutes
Add maple syrup, lime juice and soy sauce to the garlic, ginger and pepper flake mixture, and cook on medium high until it starts to bubble.
In a small bowl, combine cornstarch with 1.5 teaspoons water until mixed, and stir into the sauce. Reduce heat and cook until the sauce thickens.
Place salmon fillets on foil lined baking pan. Top each fillet with 1 teaspoon of sauce. Bake 12 minutes or until cooked thoroughly.
As salmon bakes, sauté the spinach in olive oil over medium heat until it's wilted.
Divide rice and spinach equally between bowls, and top with the salmon fillets (remove skin before plating).
Drizzle remaining sauce over each bowl and sprinkle with black sesame seeds.