As an Amazon Associate I earn from qualifying purchases. This website also participates in other affiliate programs and may earn commissions if you shop through the links used on this website. 
(This article was originally published on January 19, 2020 and was last updated on July 21, 2022)
This recipe for a farro butternut squash salad with kale and aromatic herbs (hello, mint and basil!) will be perfect for your next meal or potluck dish.
Fall is a beautiful time of year. The leaves are changing colors and the weather is starting to cool down. It's time to cozy up under a blanket, and get ready to enjoy some hearty fall food!
Yes, one thing that I love about this season is all the wonderful food!
And this farro butternut squash salad has a fantastic autumn vibe to it, with hearty textures and aromatic flavors.
It's also super easy to make!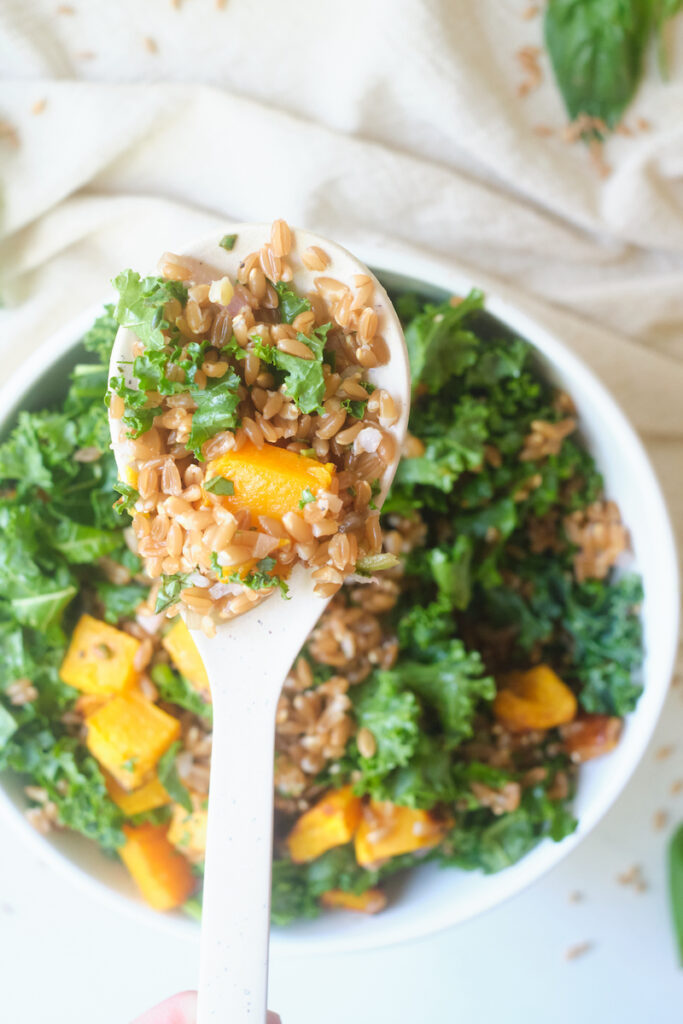 Hello, Farro!
I've long been a fan of quinoa, millet and other ancient grains. But for some reason, farro hasn't crossed my plate (literally). That is, until now.
Now that I've had it, I'm obsessed with Farro!
If you want to try Farro out, and up your grain game, this recipe is the perfect way to do it.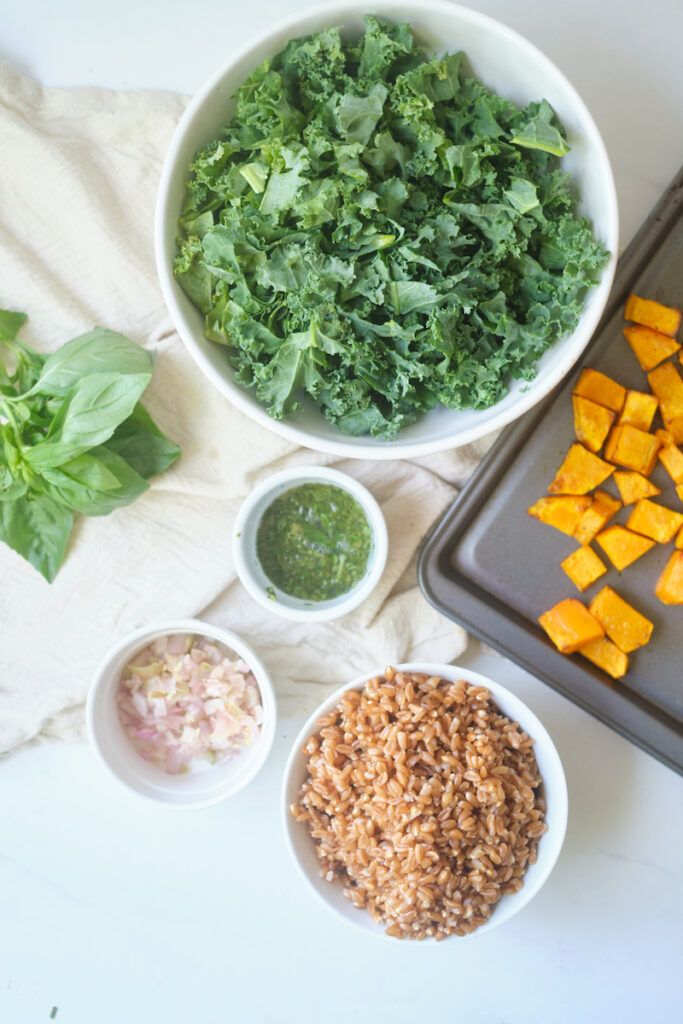 It's the perfect combo of zesty and nutty, and combines with hearty ingredients to give you a meal that feels like comfort food for autumn, but is super healthy, too.
The citrus in this recipe is critical in my opinion, because it serves as a counterbalance to kale's naturally bitter flavor, and really complements the flavors of the basil and the mint.
Basil and mint are amazing bedfellows, but as always when working with basil and other culinary herbs, you want to use fresh leaves with no holes, black spots or brown spots, and no wilting for maximum safety and flavor!
With basil specifically, I recommend watering the basil the night before pruning and harvesting to increase the aroma and flavors. If growing your own basil from seed or cuttings, you can also use microgreens, different varieties of basil, or even basil flowers to make this recipe even more creative and unique!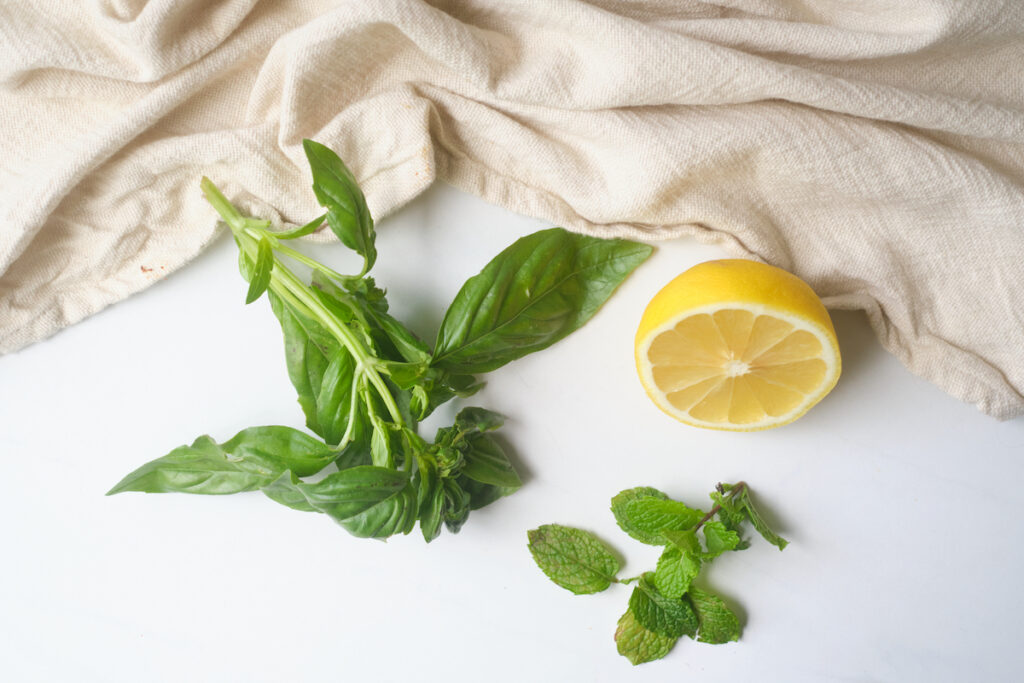 Then the farro and butternut squash work as a team too – nutty, earthy flavors that just work.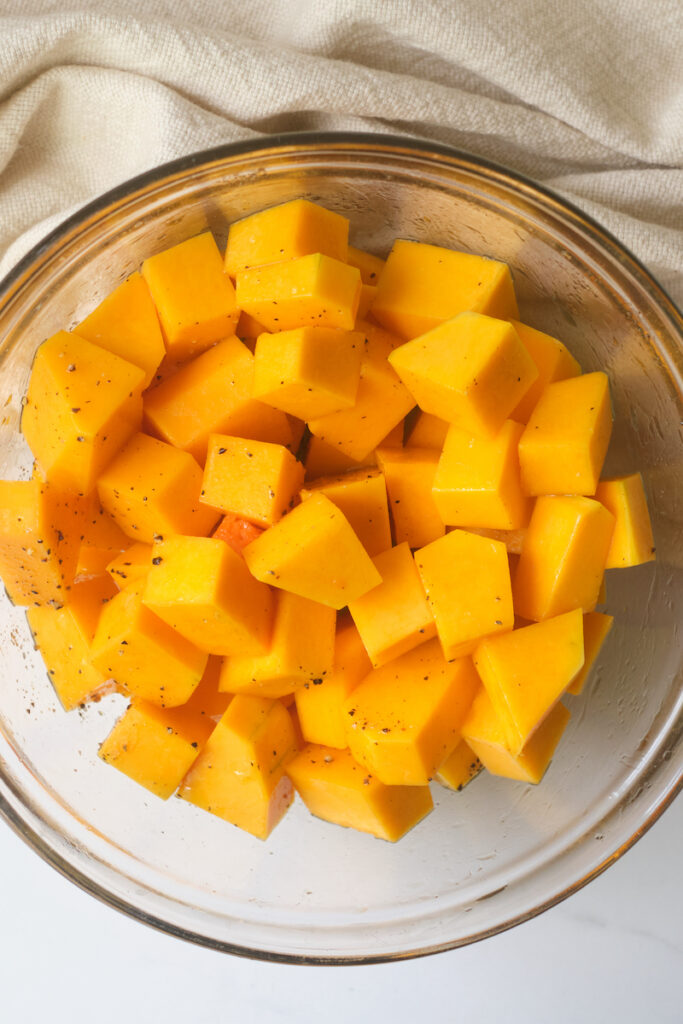 Another twist you might find in this recipe? Grapeseed oil.
I'm obsessed with it, and find it has a really clean taste, that doesn't overpower. I am seriously adding more grapeseed oil to my life! And definitely more to my salads.
If you're busy like me, you're constantly eating leftovers in the quest to have healthy meals when out of the house. This salad is awesome as a leftover option. And it's good for a few days.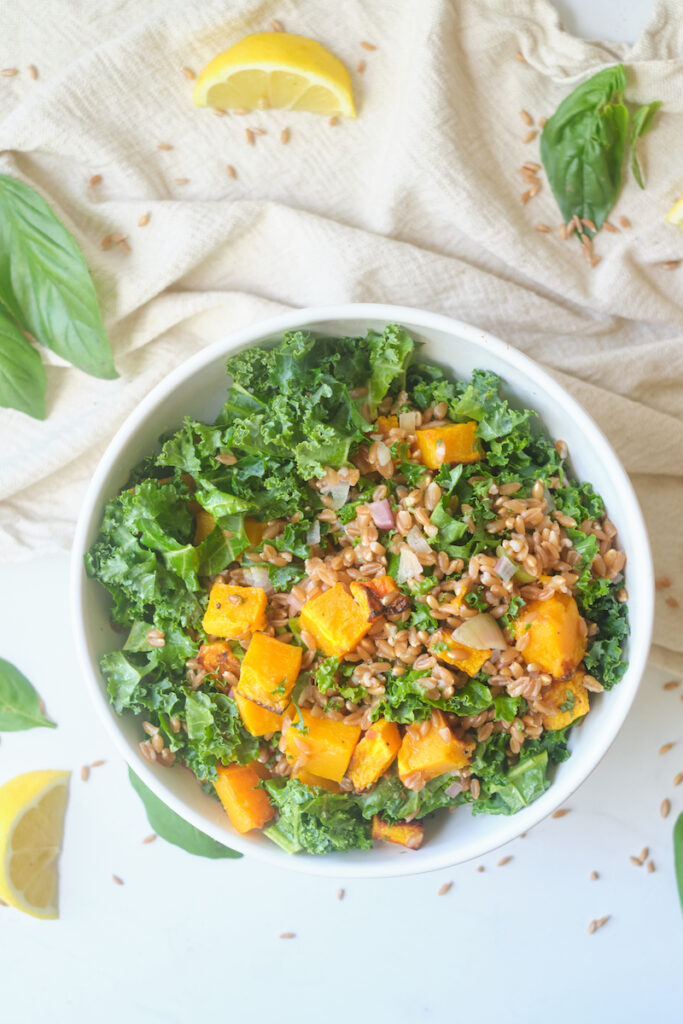 Ingredient Goodness
Farro is definitely one of the stars of this recipe. It's a low-gluten grain, and a type of hulled wheat. It's super hearty, making it a good grain choice in salads and soups.
What are the health benefits of Farro? It's a good source of fiber and protein, with less gluten than wheat or other grains. And it travels well – whether in leftovers for your lunchbox or on-the-go snack!
One tip you need to know is all about cooking Faro. You can't use the same amounts as when you cook rice, since it doesn't expand as much when cooking. Whereas with rice you might want to use 1 cup of uncooked grain for a meal of 3 to 4 people, with Farro you'd need to up that: 1.5 cups or so.
And then of course, kale. It's calcium-rich, and a good source of vitamin K. It also contains antioxidants that help protect your cells from free radicals and promotes healthy aging.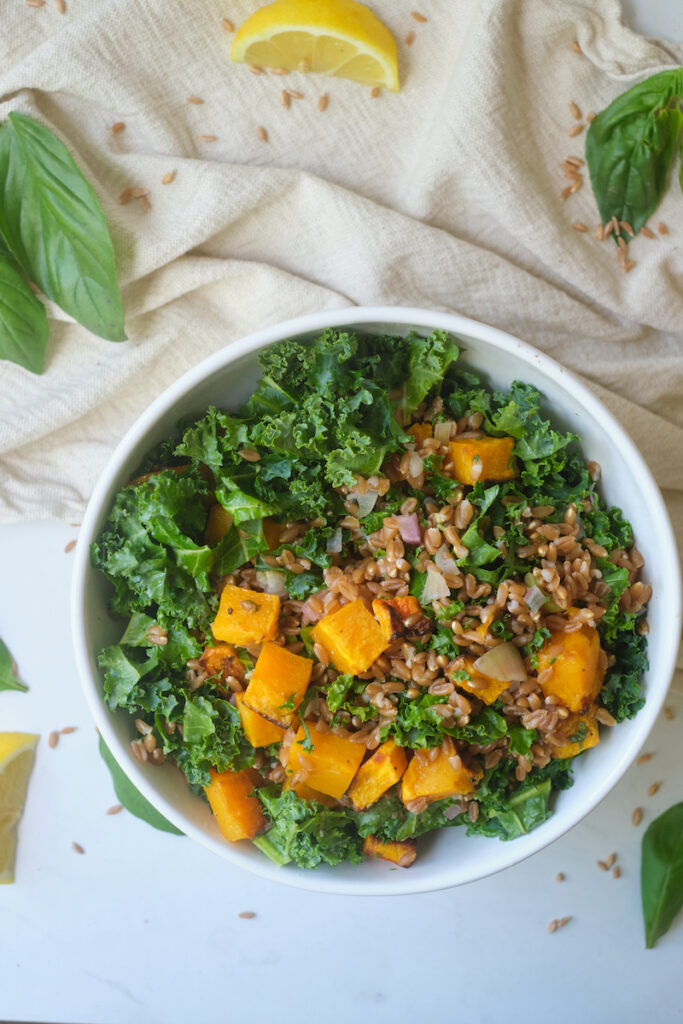 Finally, butternut squash is a healthy ingredient superstar, too. It's packed with fiber, Vitamin A and B-complex vitamins. While they can be a bit tough to work with, the step-by-step here is a big help.
| | |
| --- | --- |
| | Prep Time: 20 mins |
| | Cook Time: 45 mins |
| | Total Time: 1 hour 5 mins |
| | Yield: 4 |
Ingredients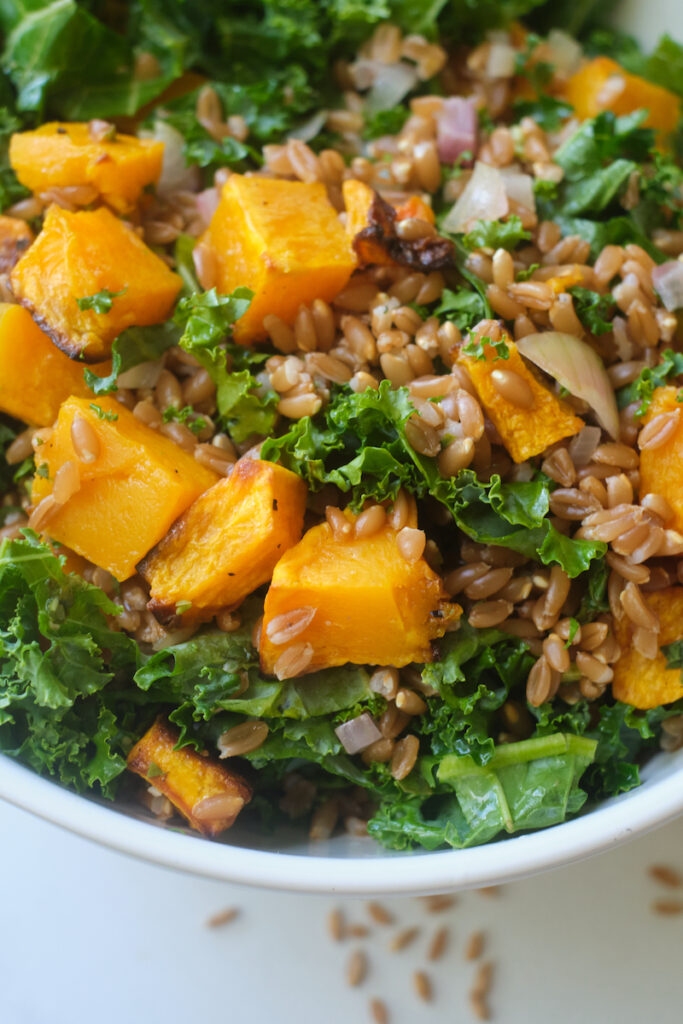 1 whole butternut squash (a medium one is perfect for this recipe)
2 tablespoons olive oil
About 4 to 5 cups of washed and chopped kale (sub baby kale if you find kale too tough for your tastes)
2 cups farro, uncooked
1/2 cup finely chopped shallots
1 to 2 cloves garlic, minced
1 tablespoon grapeseed oil
Juice from 1 lemon (about 3 tablespoons)
Freshly ground salt and pepper to taste
About 1 tablespoon each of washed and finely chopped basil and mint.
Instructions
Make sure your rack is set to the middle position, and then preheat oven to 400F
Wash, peel and cube your butternut squash, making roughly 1/2″ to 1″ cubes
In a large mixing bowl, toss the butternut squash cubes with olive oil, salt, and pepper. Mix them up so they're well coated.
Arrange the squash on a baking sheet and roast until tender, around 15 to 20 minutes. Check and turn around halfway through roasting.
While the squash cooks, cook the farro according to package directions.
Meanwhile, heat a large skillet over medium heat and add the grapeseed oil. Once it's hot, throw in the shallots and minced garlic and cook for 2 to 3 minutes, until fragrant and golden.
Add the chopped kale to the pan, letting it soften. Add the lemon juice, basil and mint, and toss to coat.
Once the kale is soft, add in the cooked farro and baked squash, mixing to coat everything.
Serve and enjoy.