As an Amazon Associate I earn from qualifying purchases. This website also participates in other affiliate programs and may earn commissions if you shop through the links used on this website. 
(This article was originally published on January 19, 2021 and was last updated on February 28, 2022)
Everyone knows Brussels sprouts are a great vegetable to add to your holiday meal, but I think they're delicious year round!
This recipe is easy and quick, so you can enjoy them on the side or as a main dish. The brussels sprouts will cook in about 30 minutes, which means they make for an ideal last-minute dish if you're hosting a holiday meal, or need something quick for an everyday meal.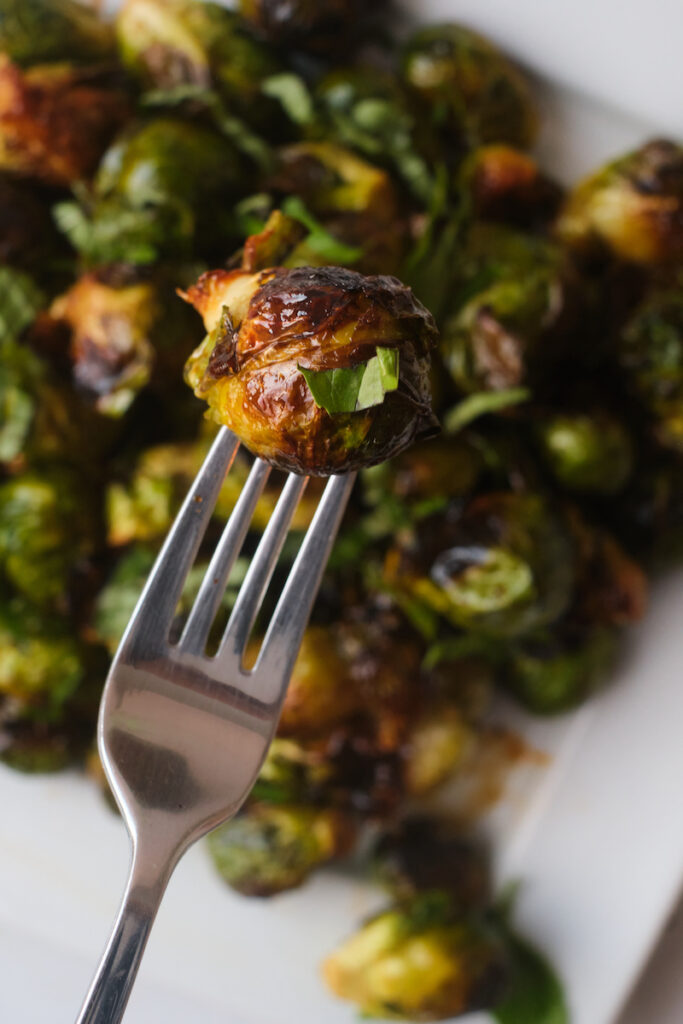 Give Brussels Sprouts a Chance
Brussel sprouts get a bad wrap. They're often at the bottom of people's vegetable list, but they are a great way to get more veggies into your diet. Brussels sprouts have many health benefits, including being high in vitamin C and folate as well as containing fiber, manganese, potassium, iron and copper.
And while lots of people boil brussel sprouts to death or gob them in bacon (which kind of takes away from the healthfulness), I like to give these little cabbages the respect the deserve, and pack them full of healthful flavor!
This recipe is a simple way to make Brussels sprouts with delicious results. These Roasted Honey Sriracha Brussels Sprouts are simple, delicious, and honestly, pretty addictive, too!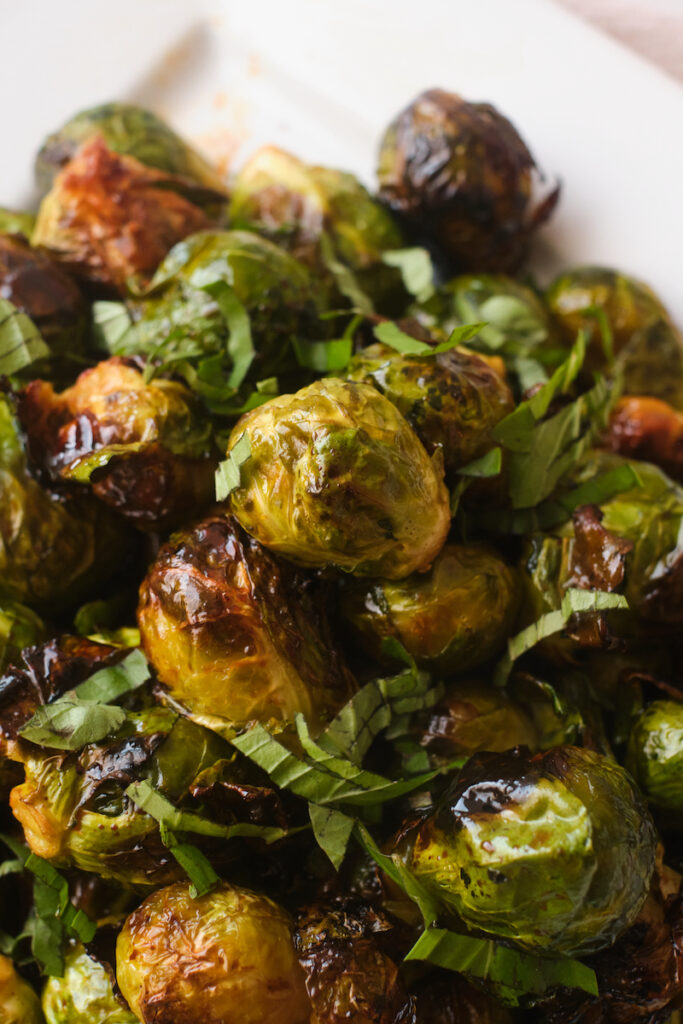 Sriracha Adds the Magic
I add sriracha to pretty much anything I can. And since I'm on such a sriracha kick lately, I'm always looking for new ways to use it.
Why not add it to my veggies, right?
This recipe is really a simple experimentation. I just added a bit of honey, sriracha, garlic salt, and olive oil to brussell sprouts, and roasted them for about 30 minutes in the oven.
Seriously – you're going to love these Roasted Honey Sriracha Brussels Sprouts!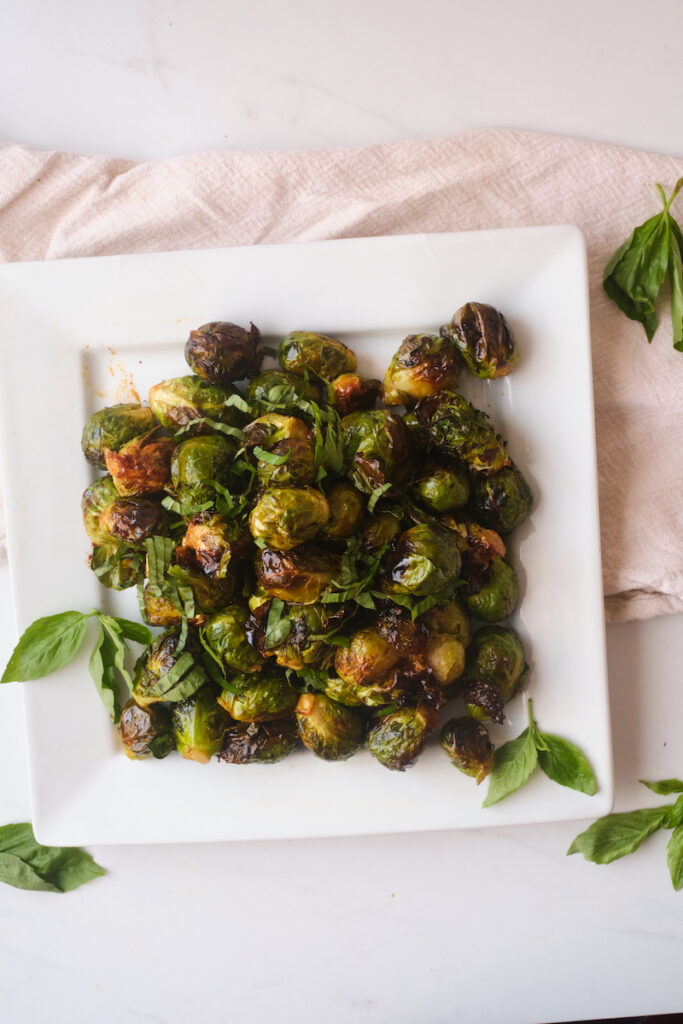 Whole Brussels Are the Secret
There are so many roasted Brussels sprouts recipes out there – what makes this recipe different and special?
My number one tip is to leave the sprouts whole – don't cut them in half, and they'll be even juicier and more delicious.
Additionally, I cook them in the sauce, rather than adding the sauce after. That lets them soak in the flavors when they're in the oven and honestly makes it so much more flavorful!
Juicy, flavorful, and healthy – what could be better?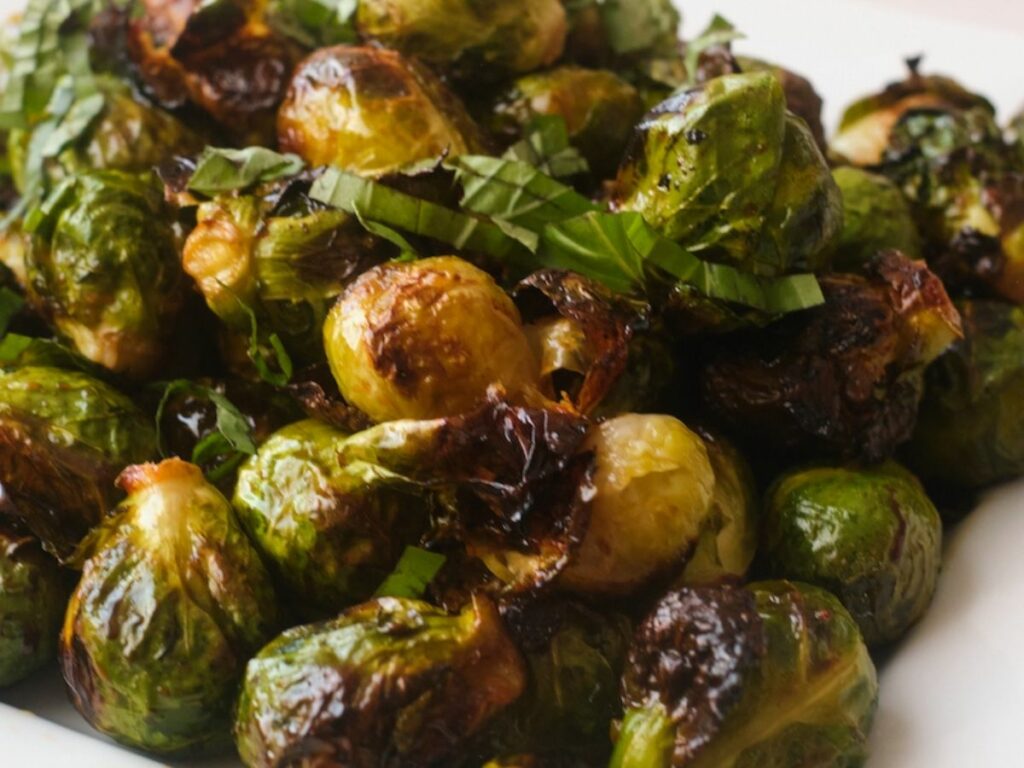 The Best Tasting Brussels Sprouts
Growing up, I didn't like Brussels Sprouts, but honestly I didn't try them either. My mother had been put off them when she was a child, so she never served them to us!
But the old way of cooking Brussels Sprouts is over friends. Now, you can make them in a way that's truly a revelation – so long as you get the right sprouts!
Brussels sprouts can taste bitter if they're not harvested to maximize flavor, which means when they're young and small, and after a few frosts have set in.
Another common objection to brussels sprouts is the smell. If your Brussels smell, it means they've been overcooked. Honestly, this is why I find roasting to be the perfect cooking method for these sprouts. It's much easier to get it right.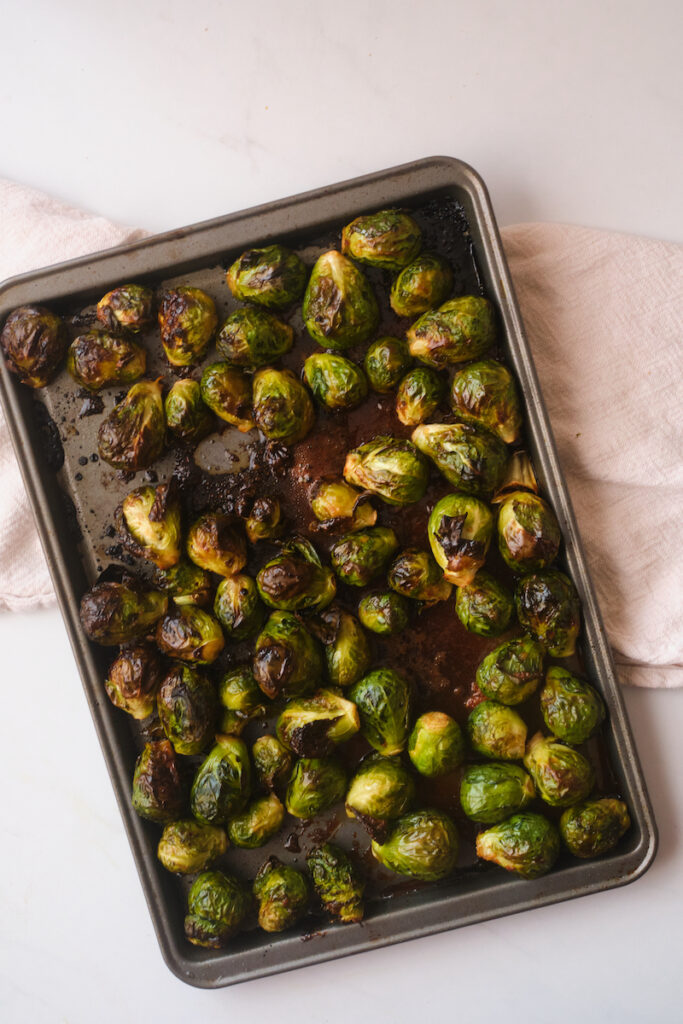 | | |
| --- | --- |
| | Prep Time: 5 mins |
| | Cook Time: 30 mins |
| | Total Time: 35 mins |
| | Yield: 4-4 |
Ingredients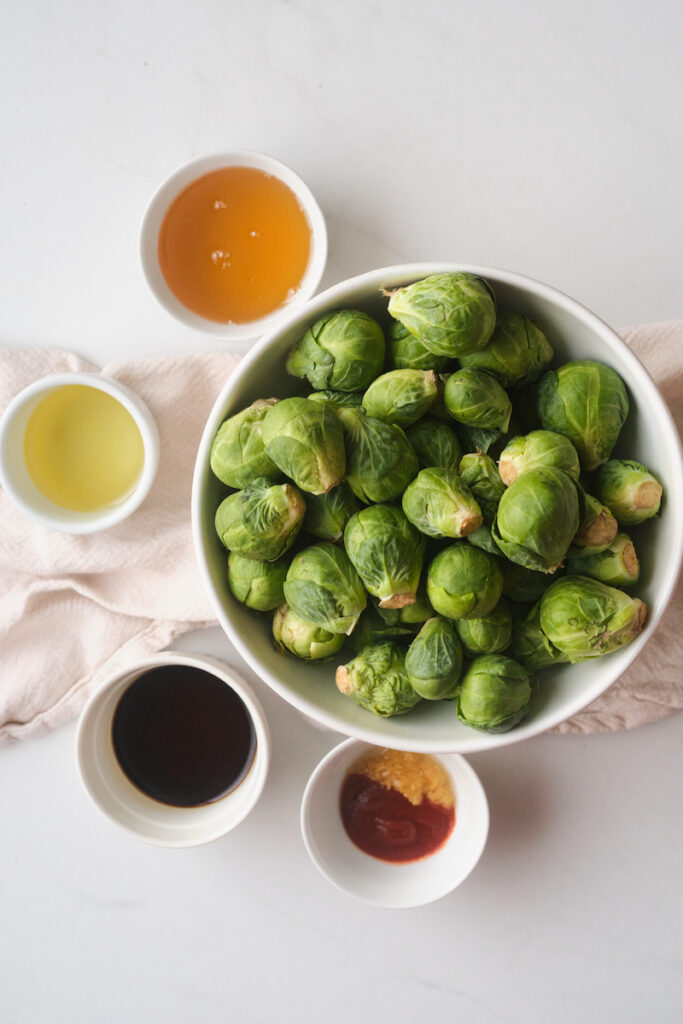 About 2 pounds Brussels sprouts, washed and ready to cook
3 tablespoons olive oil
1/2 cup honey
1/4 cup soy sauce
1.5 tablespoons Sriracha
1 to 2 cloves garlic, minced
1/2 cup basil, washed and chopped into ribbons
Instructions
Preheat your oven to 400°F and line a baking sheet with a silimat or parchment

Thoroughly wash the Brussels sprouts, and cut the ends off, leaving them whole otherwise.
In a large bowl, combine olive oil, honey, spy sauce, sriracha, and minced garlic. Whisk it together to gently emulsify.
Add the Brussels sprouts to the sauce and toss.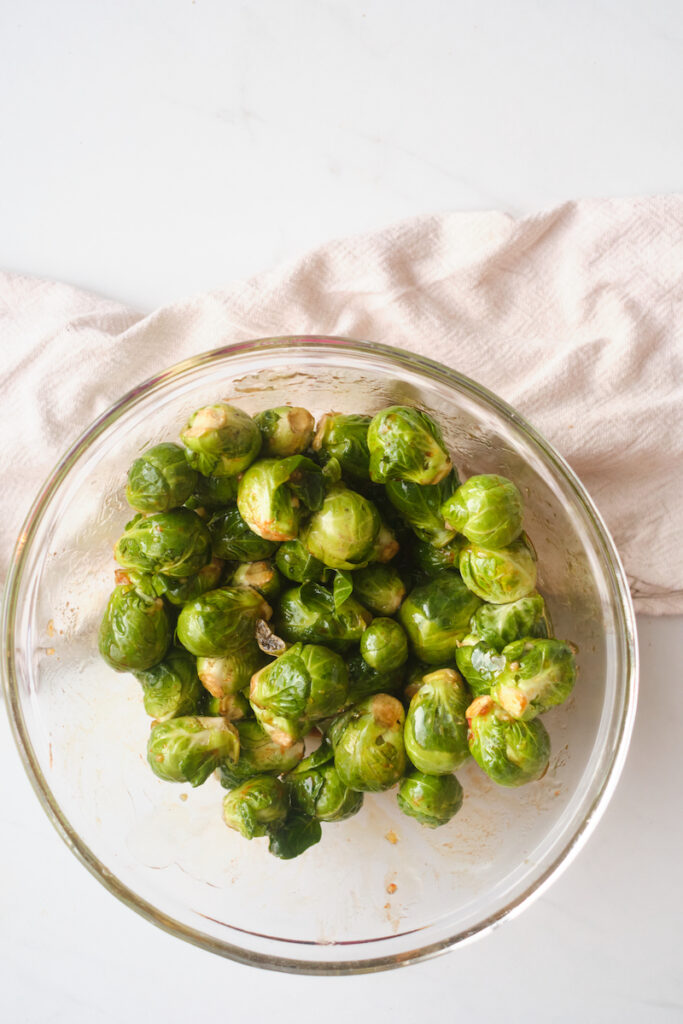 Pour the whole mixture (Brussels sprouts and sauce) on the baking sheet.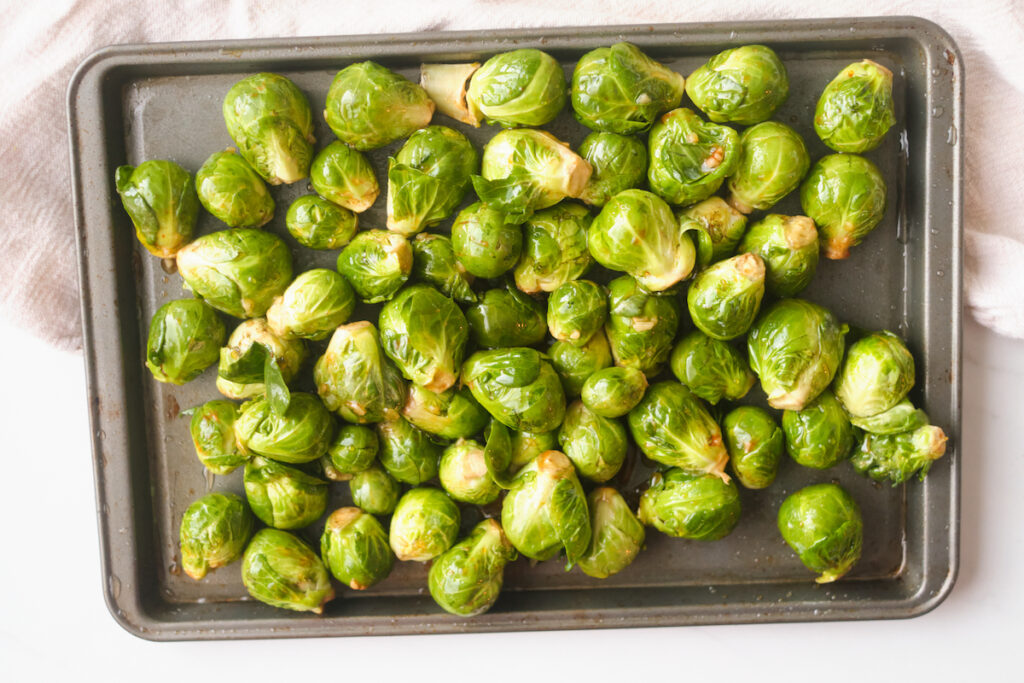 Roast in the oven until they reach a deep golden brown color, and are slightly crispy on the outside, about 30 to 35 minutes. Stir and turn once or twice, starting around halfway through the cooking time.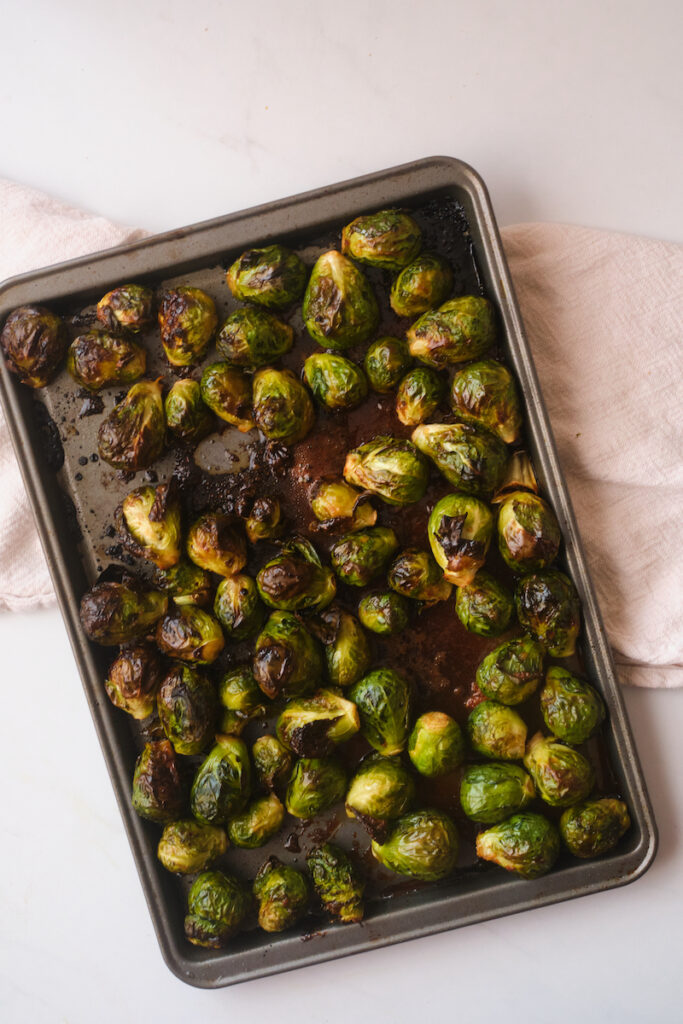 Transfer to a large serving bowl and sprinkle the basil ribbons in, mixing gently. 
Serve as a side dish.