As an Amazon Associate I earn from qualifying purchases. This website also participates in other affiliate programs and may earn commissions if you shop through the links used on this website. 
(This article was originally published on January 19, 2021 and was last updated on July 21, 2022)
Asian cuisine is well known for being a healthy option, and this Asian Sesame Salad with Sriracha Salmon and Basil recipe is no exception! The ingredients are light but at the same time very satisfying. If you're looking for something fresh and delicious to make in the summertime, then this salad might be just what you need.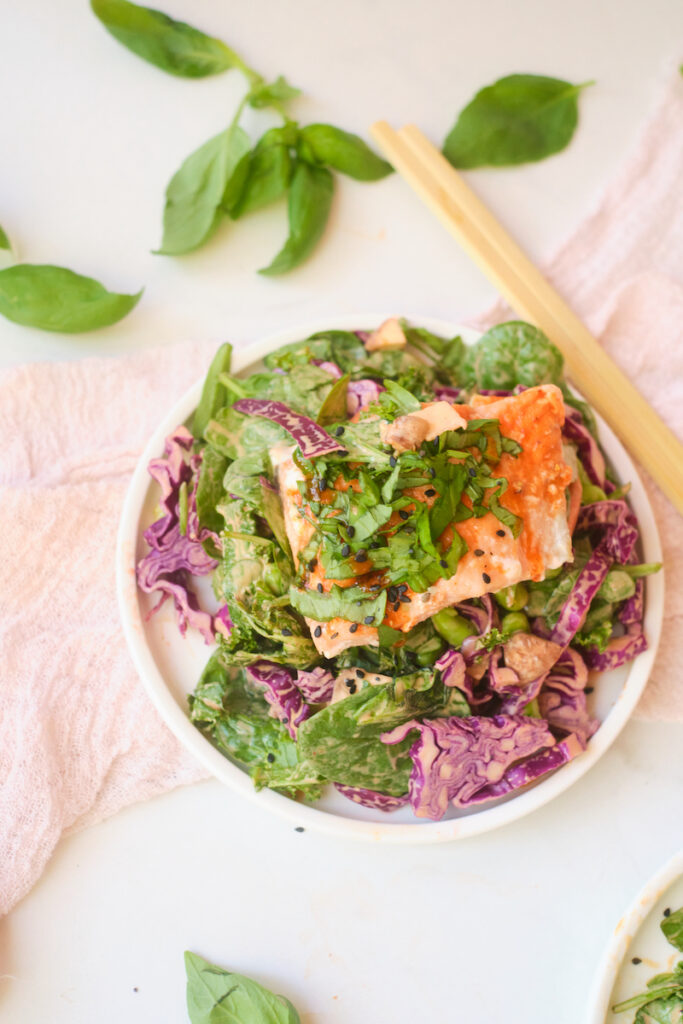 This Asian Sesame Salad with Sriracha Salmon is light and refreshing, perfect for warmer weather and dining al fresco. It also is full of flavor and different textures, making it a delight to eat!
It's packed full of veggies that pair well with basil, including carrots, cremini mushrooms, edamame, red kale, purple cabbage, spinach, and basil.
You'll definitely get along your way in terms getting your 5 a day with this salad!
And this salad could also work with basil flowers or even microgreens grown from seed indoors – just toss either in with the veggies!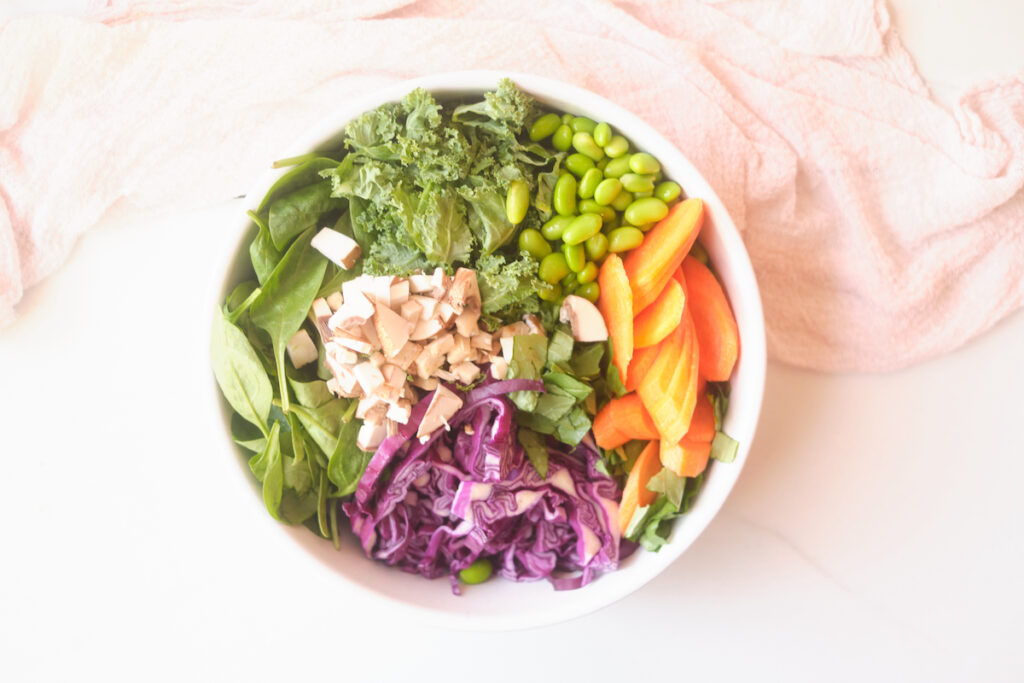 Dressing wise, I cheated and used a bottled roasted Asian sesame dressing. You can of course make your own, but going pre-made really makes this salad very quick to make!
You can of course make the salad vegetarian, but in my view, Sriracha Salmon is the perfect fit, and is a healthy and delicious protein choice that goes really well on top.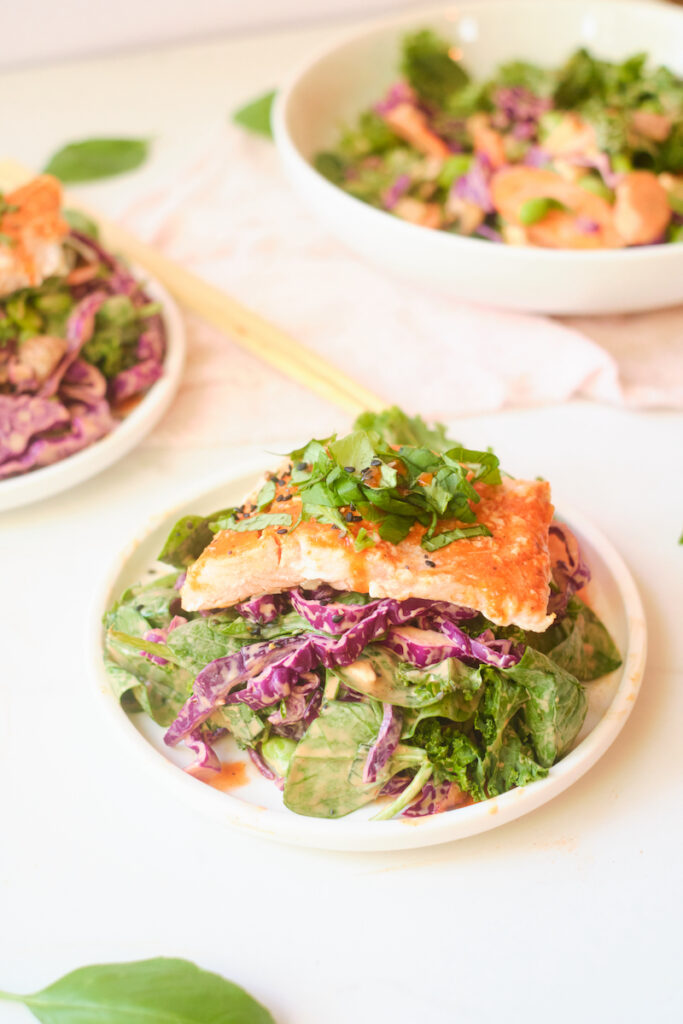 Super flavorful and honestly kind of lazy in terms of the effort required – there's a lot to like about it! Even better? It works really well the next day, as a leftover lunch or dinner. Just dress at the last minute so you don't get any sogginess in the veggies, and you'll be good to go on the second or third day.
| | |
| --- | --- |
| | Prep Time: 5 mins |
| | Cook Time: 15 mins |
| | Total Time: 20 mins |
| | Yield: 2 |
Ingredients
For the Salmon:
1 pound salmon
1 tbsp. honey
1 tbsp. sriracha
juice half a lemon (about 1 tablespoon)
Freshly grown salt & pepper to taste
A handful of fresh basil (we used sweet basil, but Thai basil, lettuce leaf basil or purple basil would also work nicely) for topping (ideally harvest your own, using strong leaves that aren't wilted, don't have holes, and aren't discolored turning yellow, white, brown or black), cut or torn into ribbons
For the Salad:
2 cups spinach, chopped
2 cups purple cabbage, chopped
1 cup red kale, chopped
handful of fresh basil, chopped
1 cup cremini mushrooms, diced
¾ cup carrots, sliced
½ cup edamame, shelled
2 tablespoons black sesame seeds
2 tablespoons store bought Asian Sesame Dressing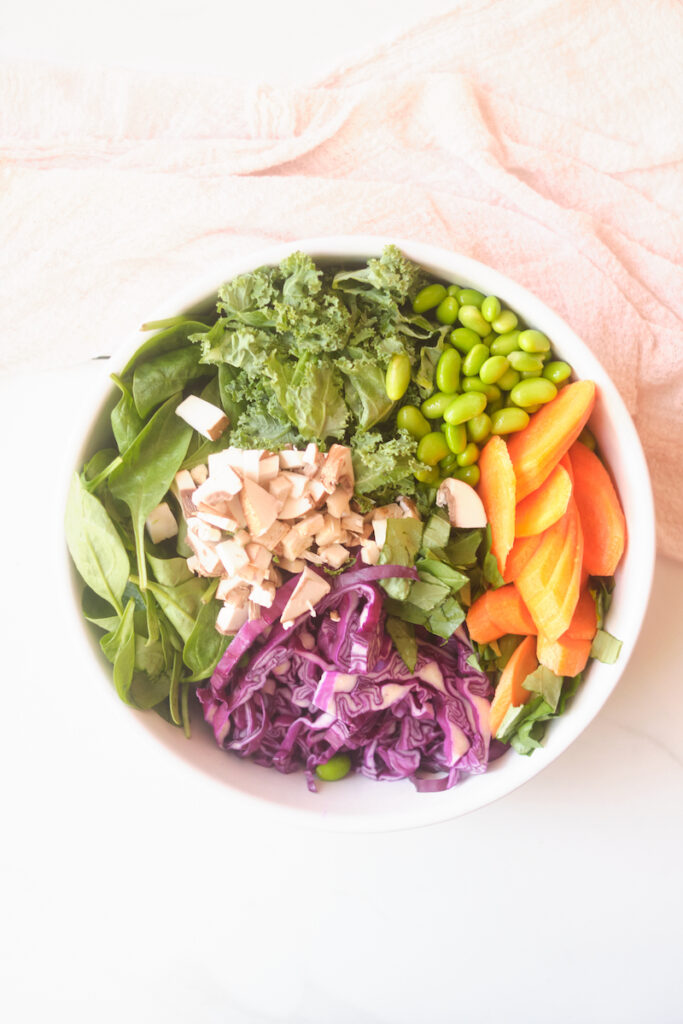 Instructions
Prepare the Salmon according to our Basil & Honey Sriracha Salmon recipe
Wash and chop all your leaf veggies, including the spinach, purple cabbage, and kale.
Wash and chop the mushrooms.
Combine leaf veggies, mushrooms, and the sliced carrots and edamame in a large bowl.
Toss with store bought Asian sesame dressing, and toss well until the salad is evenly and well coated with the dressing. If you expect leftovers, don't dress the whole salad – just dress what you plan on eating immediately.
Divide the salad evenly among 2 plates, and top with the cooked salmon (recipe here).
Sprinkle with black sesame seeds as a garnish and for some added yumminess
Enjoy!