This website contains affiliate links. If you shop through the links used on this website, I may earn commissions.
This honey sriracha salmon recipe is the sweet and spicy salmon recipe you've been looking for all your life! The salmon glaze uses just 3 recipes, plus the fresh, sweet, and lightly spicy flavors of Thai basil from your garden (or your countertop or windowsill if its winter)! With limited prep time, it's a super easy weeknight meal, and the baked glaze salmon makes a great topper for this Asian Sesame and Basil Salad.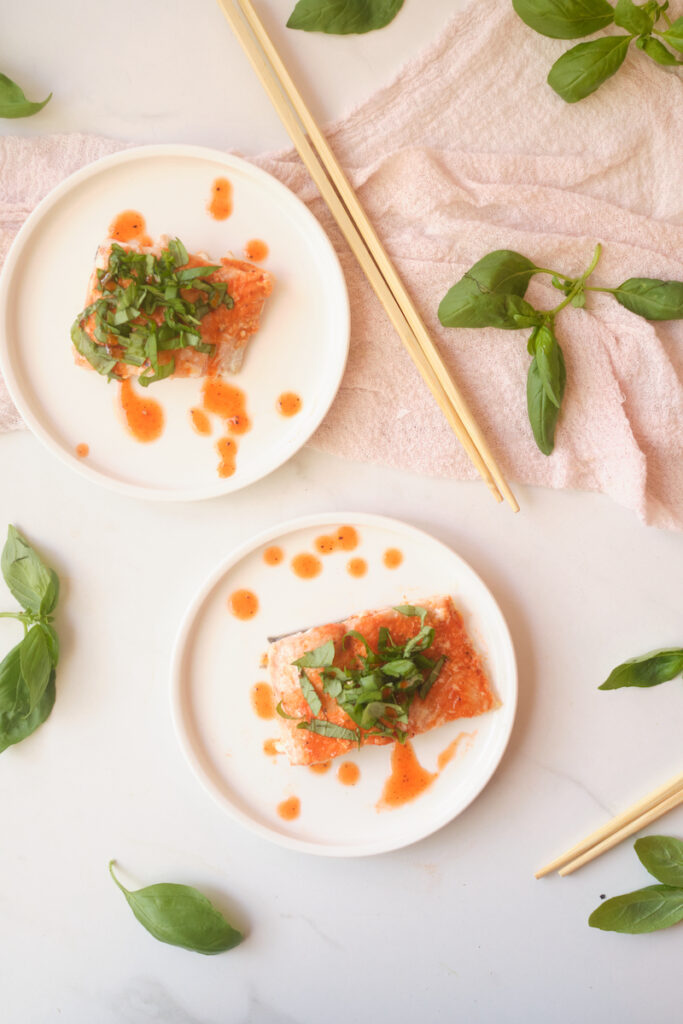 Simple Honey Sriracha Salmon
Say hello to your new favorite weeknight dinner. Using a sweet and spicy salmon glaze, this spicy salmon recipe is simple to make. And I mean really, really simple.
This is one of those rare recipes that hits just as well for a weekday salad as it does for a dinner party for friends and family.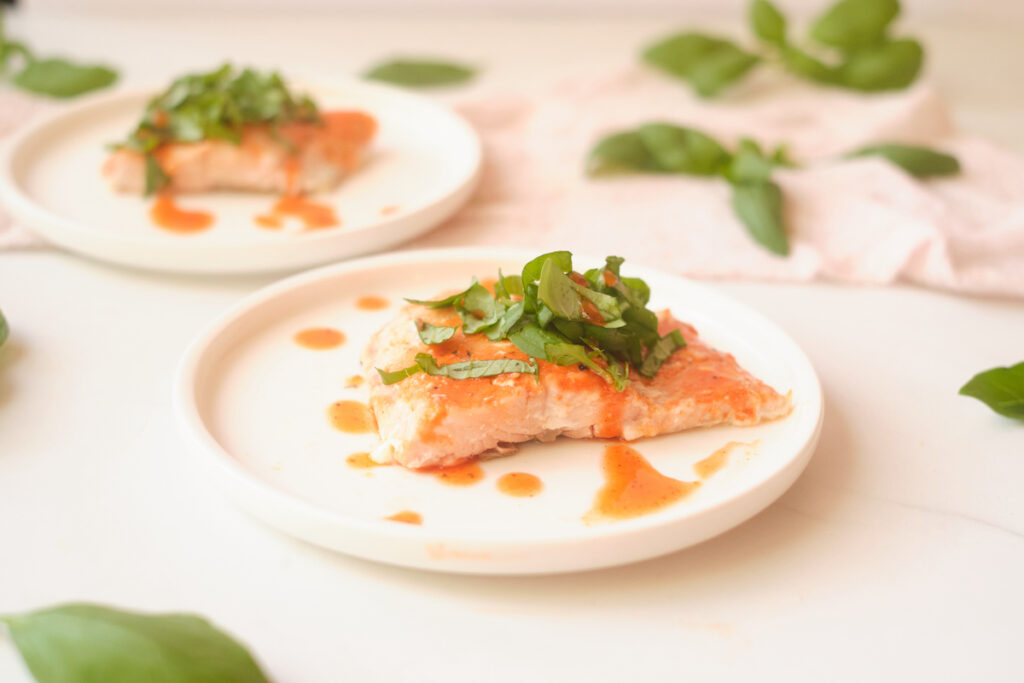 And did I mention it's healthy?
Hello, Health Benefits
Salmon is a heart healthy food, packed with healthy omega 3 fats, which humans can't produce on their own and need to get through diet.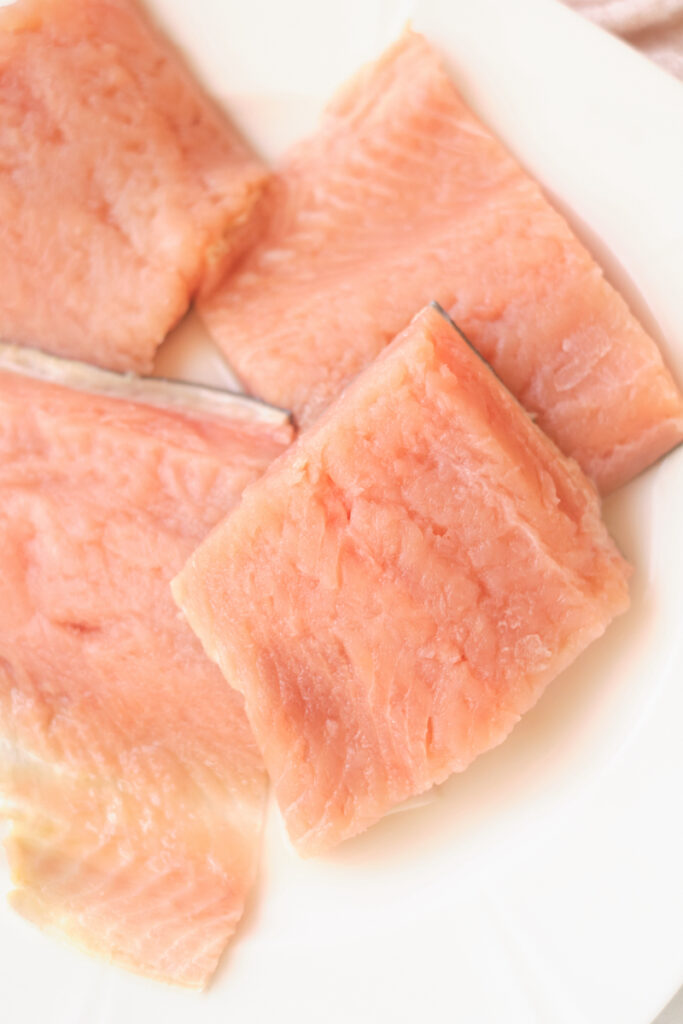 Add in basil, which is full of its own health benefits, and this is a filling, healthy meal that's easy to make.
Harvest basil from your garden, the morning after a good watering, and taking care to avoid leaves that have holes, are wilting, or are otherwise damaged and turning black or white or brown, for maximum flavor. If growing your basil from seed or growing indoors, wait for around 6 to 8 weeks before harvesting so you have nice, mature plants.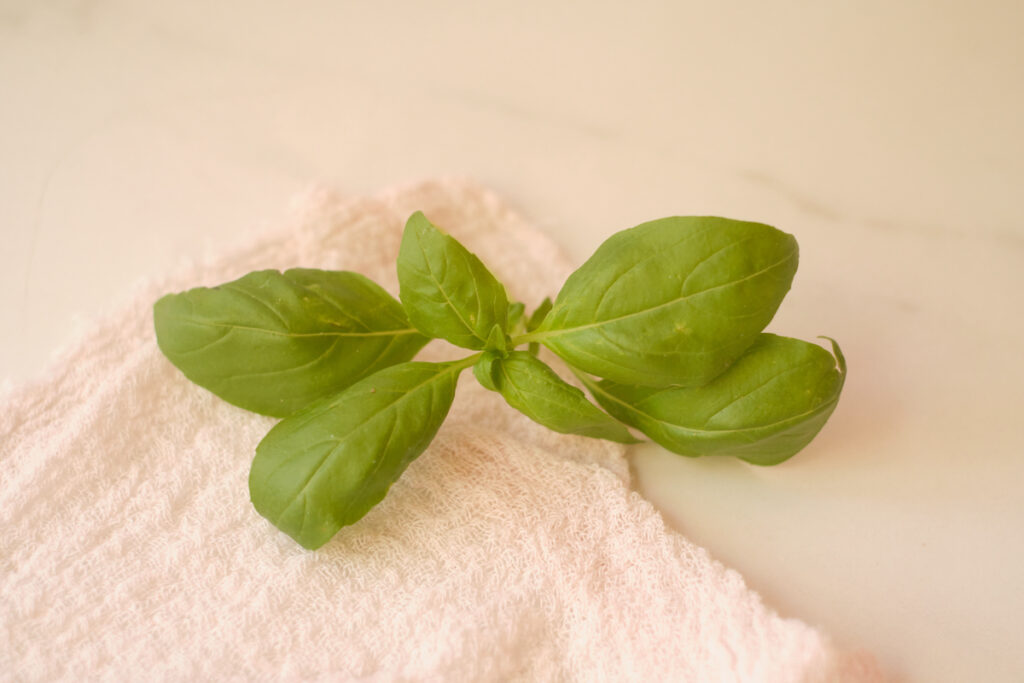 Baked Salmon Hits Different
Grilling, pan searing, or raw salmon all has its place on our plates, but I love this baked salmon because it's so easy – it has some strong "set it and forget it" vibes.
While the recipe calls for 15 minutes of baking time, I tend to trust my eyes more than I trust my timer.
And when I start to see the white stuff oozing out of the fish? That's how I know when it's cooked thoroughly.
What is that oozing white stuff, you might wonder? Protein! And once the protein is oozing out, it's time to take the salmon fillets out of the oven, and enjoy them!
Melt in your mouth good!
Why You'll Love this Honey Sriracha Salmon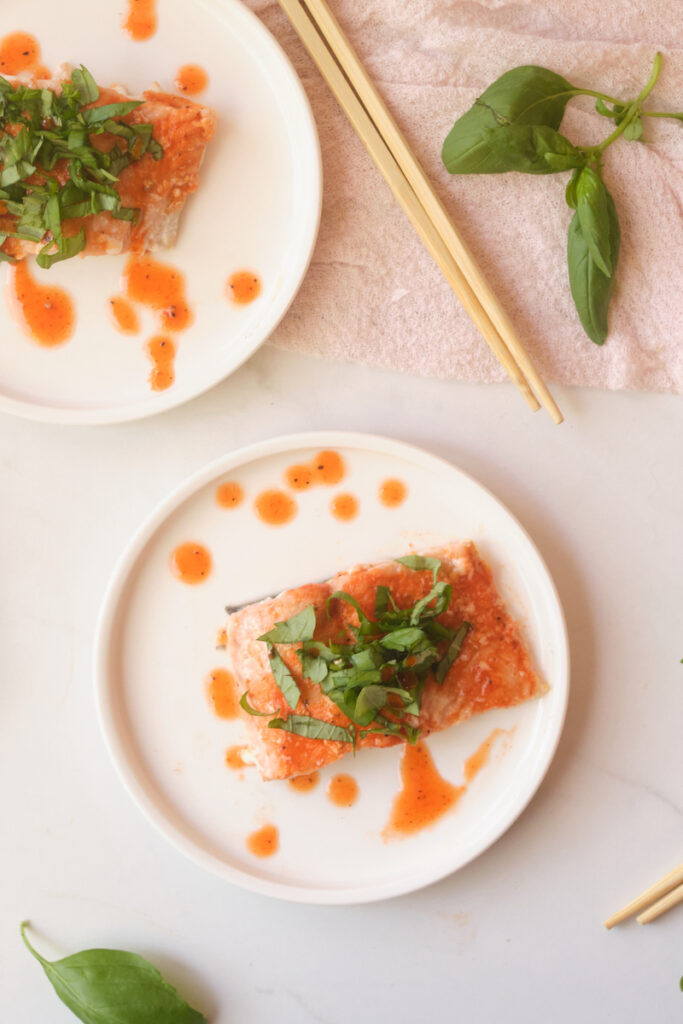 Low sodium – there's no soy sauce in the salmon glaze, which honestly is kind of amazing for glazed salmon. If you want to avoid soy, or sodium, this soy sauce free sweet and spicy salmon recipe is a great option. I typically serve this with my Asian sesame and basil salad, which does have soy sauce in the dressing, but you could swap the dressing there, too.
Healthy – Salmon is packed with omegas, so yeah for that. But it's also fairly low sugar, with just 1 tablespoon of honey.
Basil – Of course, the basil is the best part! It perfectly complements the flavors of the honey sriracha salmon glaze and the salmon, and really brings out the flavors together.
How to Make Simple Honey Sriracha Salmon Recipe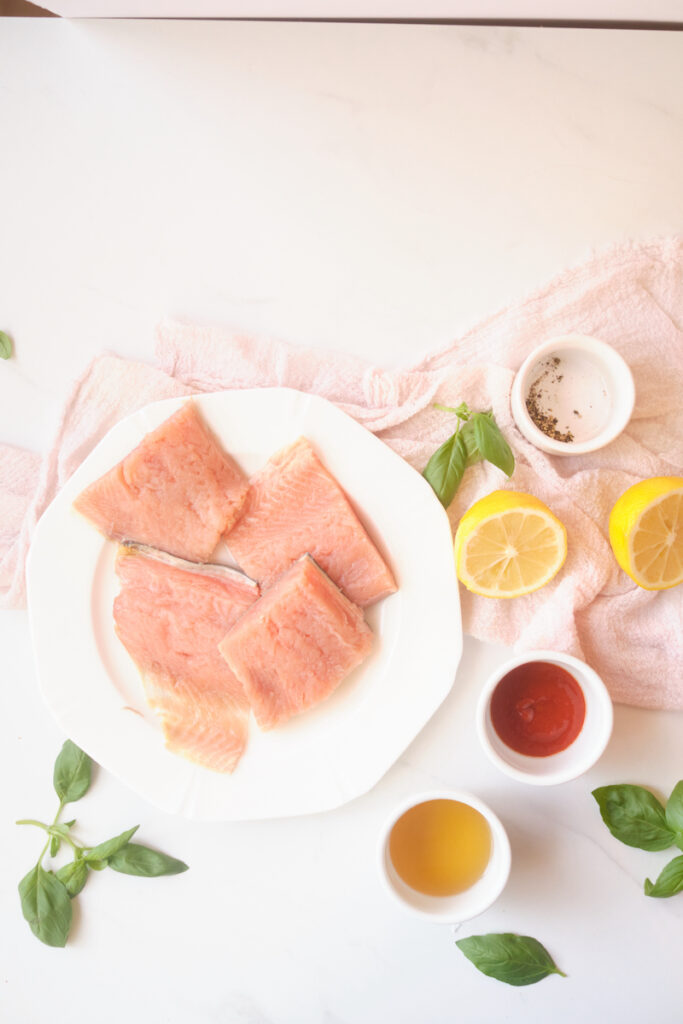 Ingredients
1 pound salmon fillets
1 tbsp. honey
1 tbsp. sriracha sauce
juice half a lemon (about 1 tablespoon – could substitute lime for a nice twist)
Freshly grown salt and pepper to taste
A handful of fresh sweet basil or Thai basil for topping, cut into ribbons. As with many recipes with Thai basil, you can sub sweet basil pretty easily, and will simply forfeit the notes of anise in the final meal.
Step-by-Step Instructions to Make this Salmon Recipe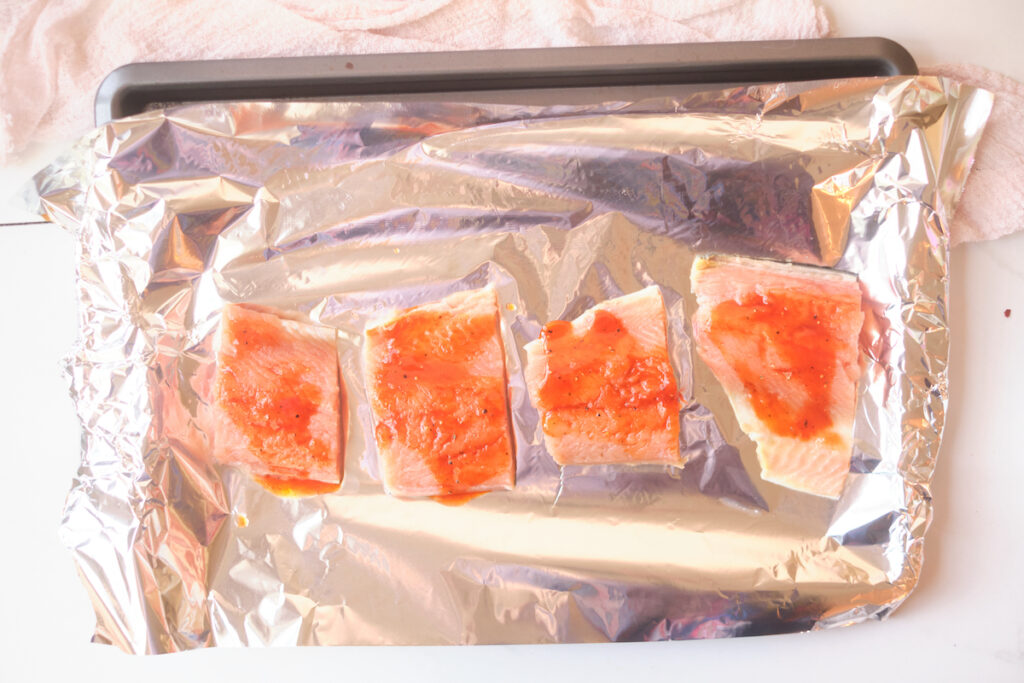 Before starting, preheat your oven to 425 degrees, and line a baking sheet with foil or parchment paper.
Make the salmon glaze. In a bowl, whisk together 1 tablespoon honey, 1 tablespoons sriracha, and 1 tablespoon fresh lemon juice (or lime, which makes a great substitute).
Place salmon fillets on baking sheet lined with foil/parchment paper, and top with most of the honey sriracha sauce. If needed, use a silicone brush to spread the salmon glaze around evenly. Hold back a bit of the honey sriracha sauce to drizzle on the salmon fillets after baking.
Bake the salmon for 15 minutes, or until the white stuff starts to ooze out a bit, which I find is a better indicator of being done than my timer.
Season salmon with salt and pepper to taste.
Serve by plating the baked salmon fillets, and drizzling the remaining honey sriracha sauce on top. Top with fresh sweet or Thai basil ribbons, or even a scattering of basil flowers, if you have them.
I also like to serve this with a bottle of sriracha on the table, so your dinner companions can add more spicy goodness if they want.
Tip – this honey sriracha salmon is also divine on top of this Asian Sesame Salad, sprinkled with sesame seeds and packed with a tone of super fresh veggies. Even better when you're in a hurry for a weeknight dinner? It uses a store-bought sesame dressing, so no need to mess around with typical dressing ingredients (sesame oil, soy sauce, rice vinegar, etc).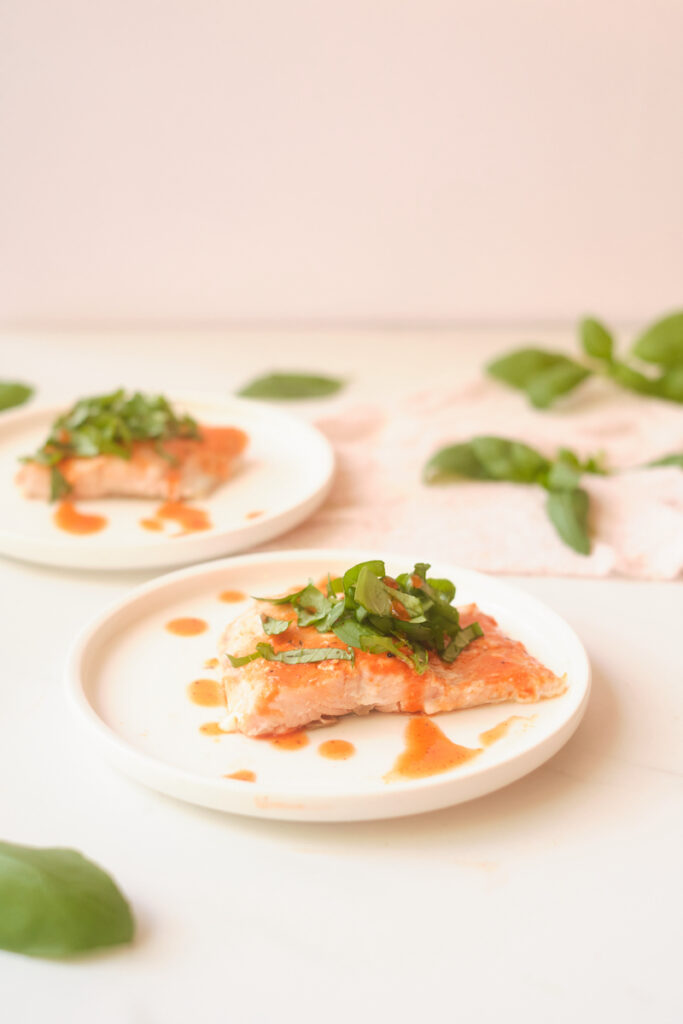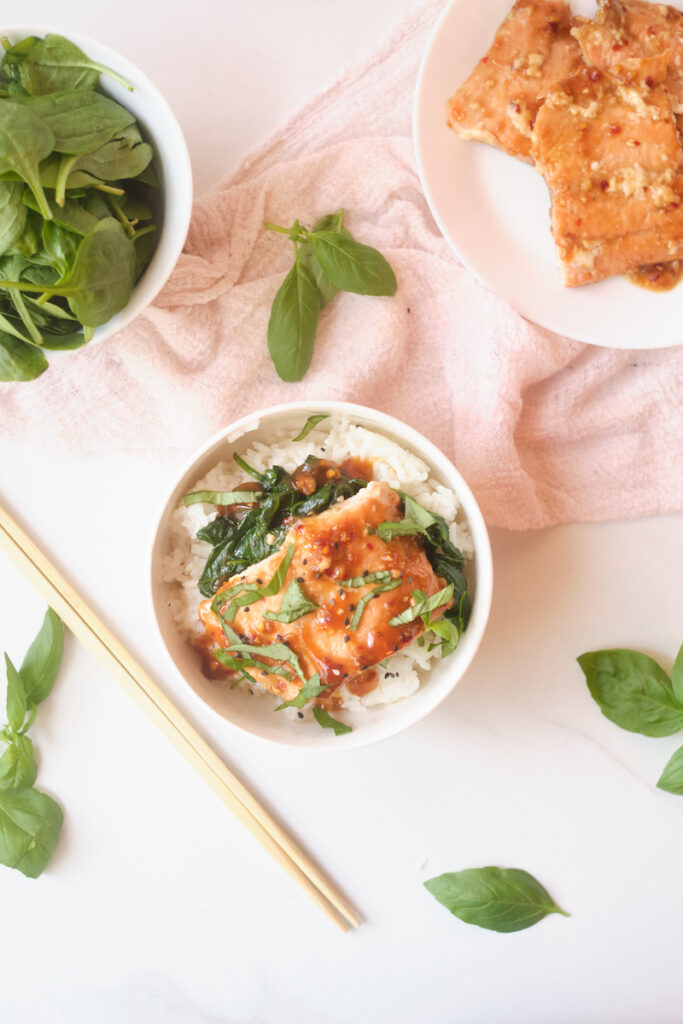 Final Thoughts About this Simple Honey Sriracha Salmon Recipe
The perfect balance of sweet and spicy, this super easy honey sriracha salmon is an especially good option for an easy weeknight dinner. Add it to the top of a salad, stir-fry, or our Asian Sesame and Basil salad, and you'll have a healthy and easy meal that's packed with flavor, including gorgeous basil.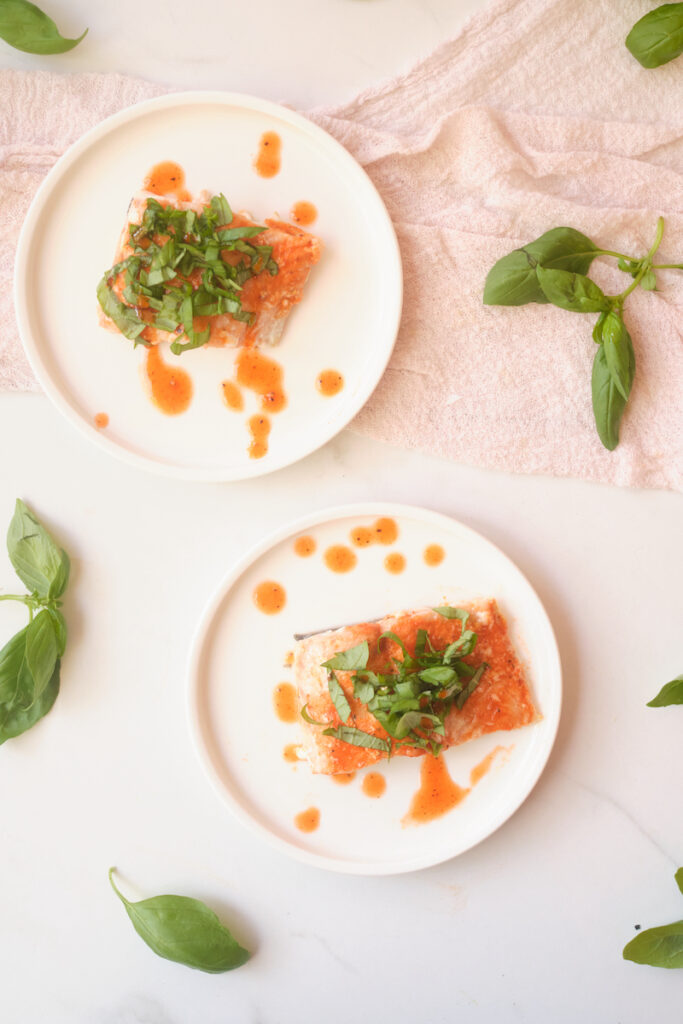 (This article was originally published on August 18, 2021 and was last updated on July 15, 2022)