This website contains affiliate links. If you shop through the links used on this website, I may earn commissions.
This 6 ingredient grapefruit salmon is ready in 20 minutes, and creates a fresh, healthy, mouthwatering dish that's packed with flavor and basil!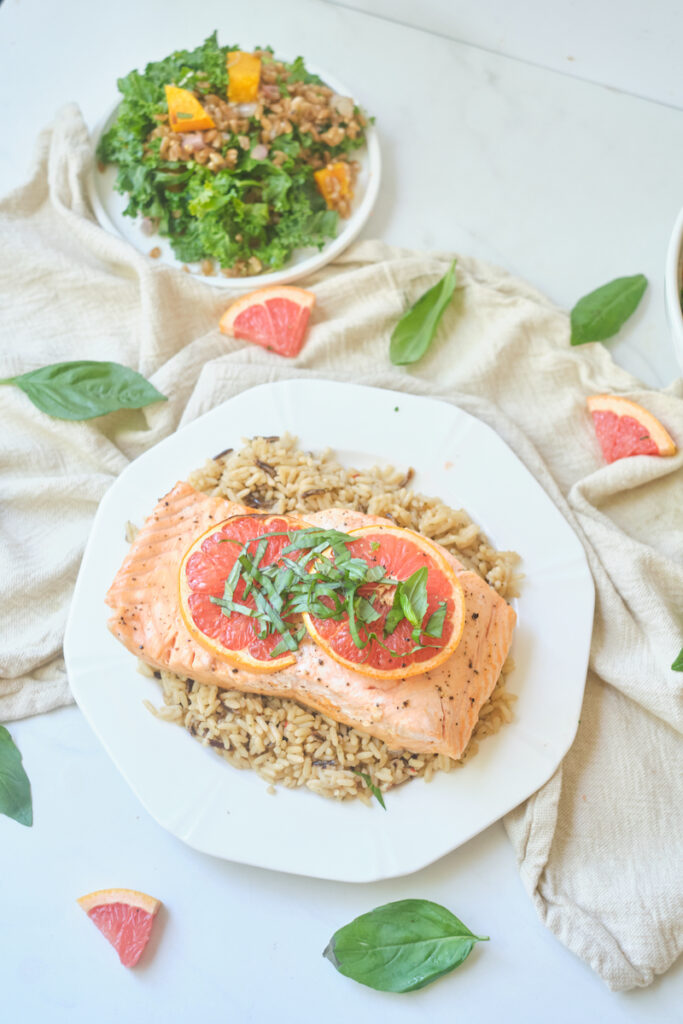 Why You'll Love this Grapefruit Salmon Recipe with Basil Chiffonade
Grapefruit + Basil are a Match Made in Heaven
Basil pairs well with a lot of different fruits, including strawberries, lemons, watermelons, and mangos.
Just as basil and mint are fabulous friends, it's also an especially good friend to grapefruit.
Basil and grapefruit is a great combo for cocktails, simple syrup, salads….and, yes, for this baked grapefruit salmon, too.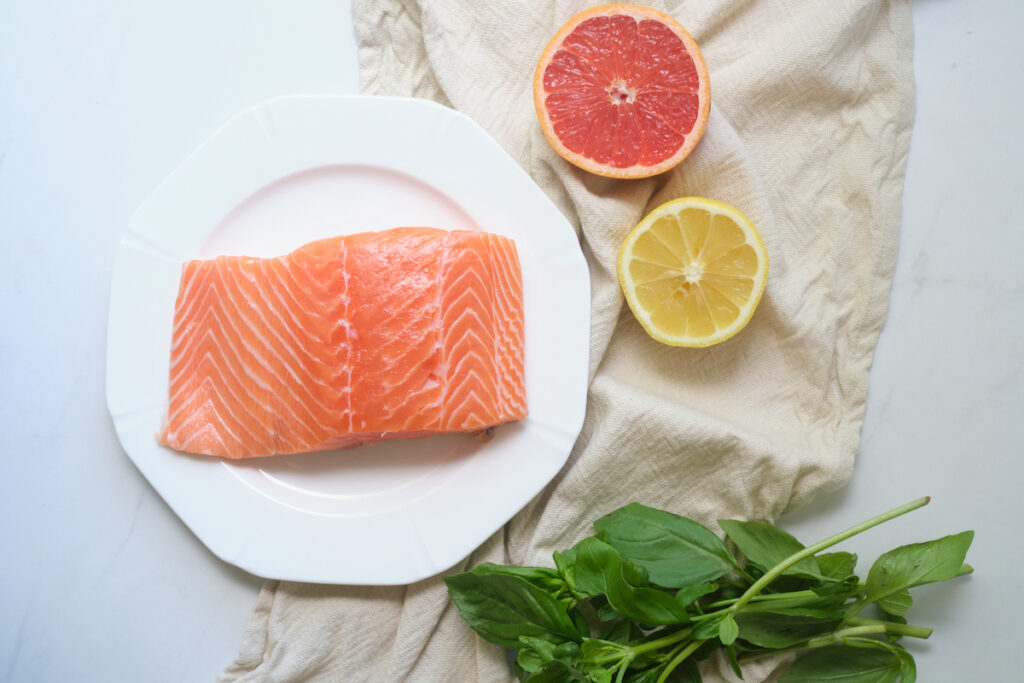 So Simple
This is a wonderful recipe when you don't have a lot of time.
The instructions are pretty fool proof, and most of the prep time is actually baking time for the salmon, which means limited work for you!
While not quite a meal in 15 minutes, you can have this one on the table in about 20 to 30 minutes, depending on how fast you are at the prep – a win, if I've ever heard of one!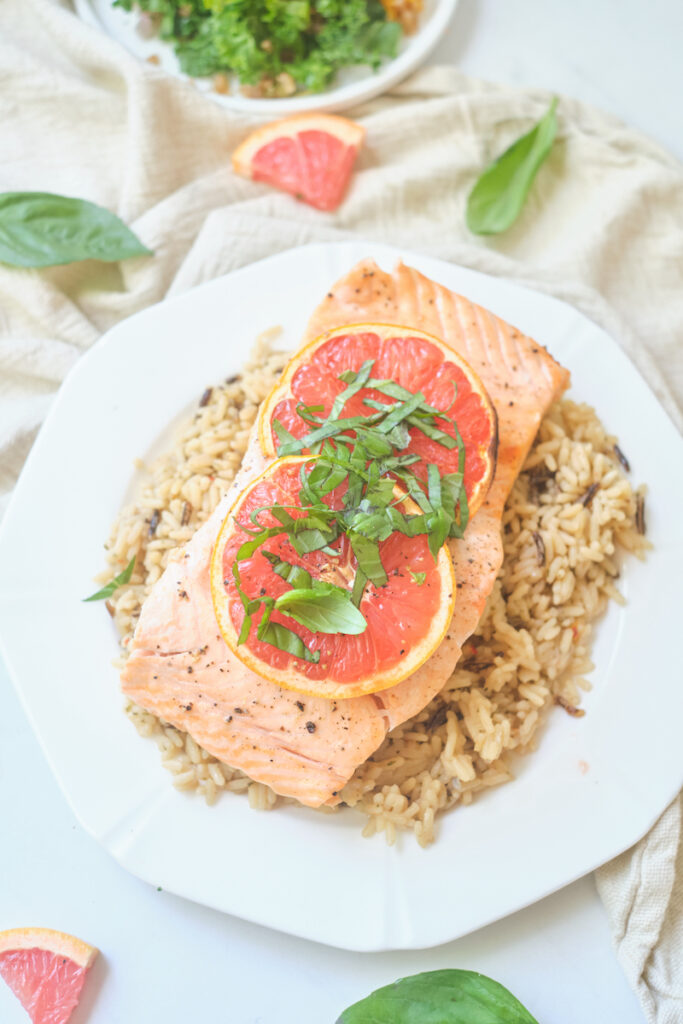 So Juicy
By baking the salmon in the grapefruit and lemon juices, and topping each piece of salmon with grapefruit slices, you get a seriously juicy piece of fish.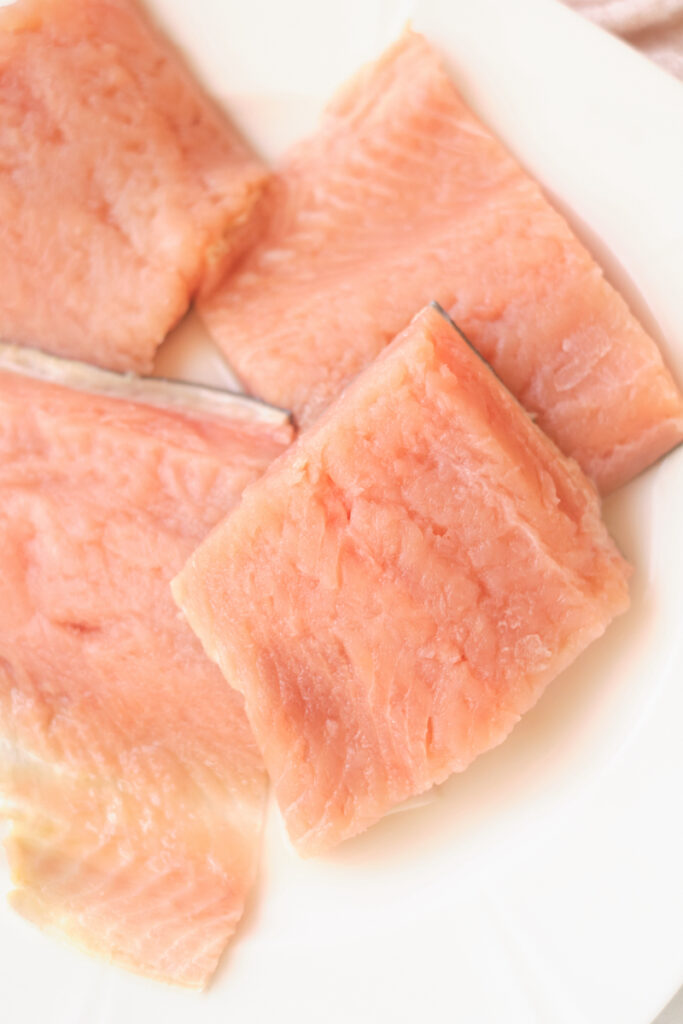 The juices from the fruits seep into the fish, creating a meal that is oh-so-juicy and mouthwatering.
I love salmon and basil as a combo (see also: sriracha and basil salmon), but the juiciness of this recipe really adds some extra yum! You could also sub normal sweet basil with lemon basil or even lime basil in this recipe, as both have zesty citrus notes that would go well with the salmon. Note, however, that these varietals tend to be harder to find, so you may have to buy seeds and grow from seed (or harvest seeds from a friend's plant towards the end of the growing season).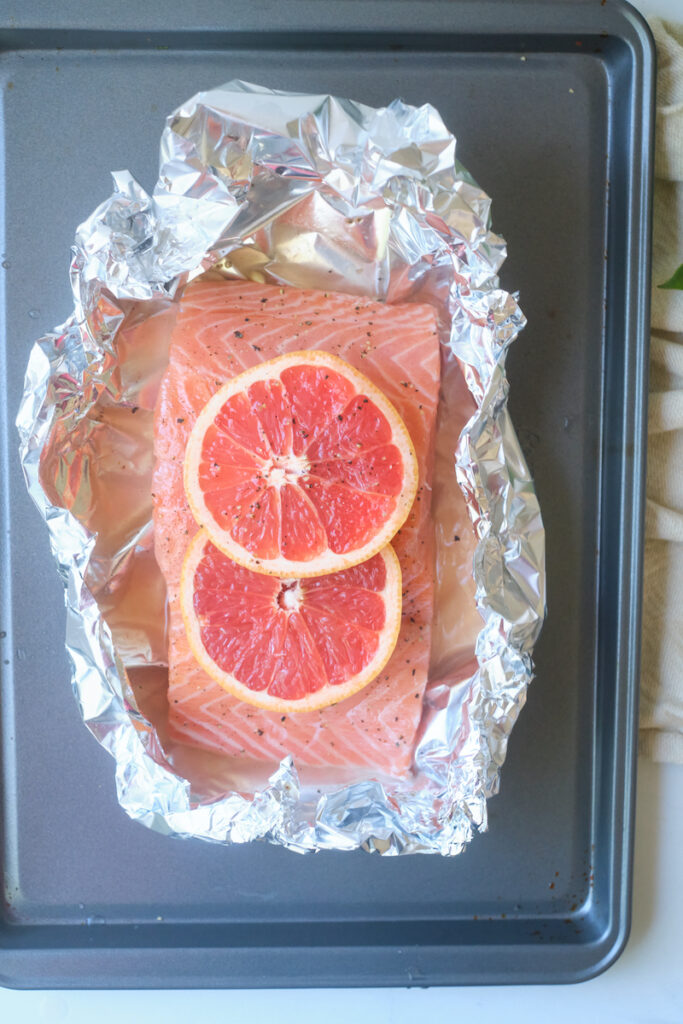 Basil Chiffonade Brings the Fresh
Add the basil chiffonade on top, and you get something that is unique, healthy, and delicious, with just the right amount of zing.
Chiffonade is more or less another word for cutting into long, thin ribbons. To chiffondae, take a bunch of fresh, washed basil leaves. Choose undamaged leaves that aren't wilted, don't have holes in them, or brown spots / black spots, etc. and harvest in the morning, after a good watering the night before. I like to grow basil indoors throughout the year, which helps minimize some of the diseases and issues you can get with outdoor basil.
Stack the basil leaves on top of one another, and roll the stack lengthwise, so they're like a pencil or cigar. Hold the roll with your fingers tucked safely away, and carefully slice across, creating thin, beautiful ribbons of basil.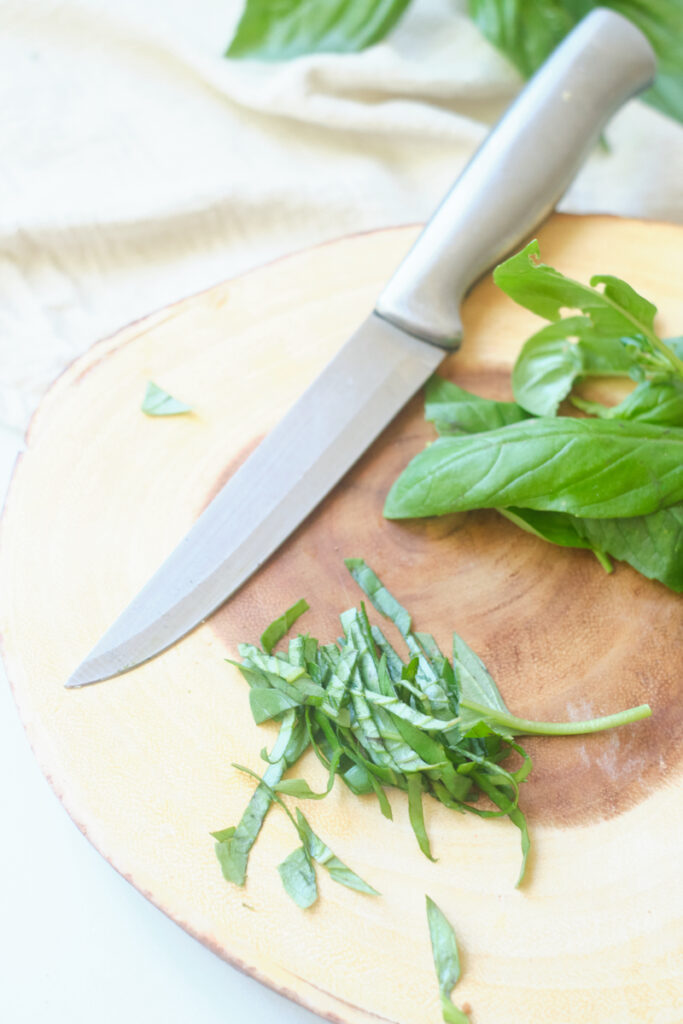 How to Make this Grapefruit Salmon Recipe with Basil Chiffonade
Ingredients
About half a pound of fresh salmon fillets
1 to 2 large pink or red grapefruit
1/2 a lemon
Freshly ground salt and pepper to taste
A large bunch of fresh basil chiffonade. If you have a few basil flowers on your plants, you could also trim them off and toss on top as a garnish! You could also harvest some basil microgreens if you are growing from seed or young basil leaves if propagating from cuttings.
Instructions
Before getting started, place your oven rack near the top and preheat oven to 350 degrees F.
Place the salmon fillets on a large sheet of foil, crinkling, rolling and rounding the corners and edges of the foil to create a makeshift bowl out of the foil, which will contain the lemon juice and grapefruit juice while baking, and ensure the salmon stays super juicy!
Season with salt and pepper, and then squeeze half the lemon and half the grapefruit over the salmon, covering them with the juices. If you find it easier and to avoid seeds, you can squeeze the lemon juice and grapefruit juice into a small bowl, stir to combine, and then spoon them onto the fillets.
With the other (un-juiced) half of the grapefruit, cut a thick slice (about 1/2″ to 1″) and place it on top of the salmon fillets. Top each fillet with its own slice of grapefruit.
Fold in the edges and corners of the foil, until the salmon is covered.
Bake for 18 to 22 minutes.
Serve the baked salmon with fresh grapefruit segments and generous sprinkling of basil chiffonade. This grapefruit salmon makes a delicious dinner when served over a bed of fresh green salad or rice.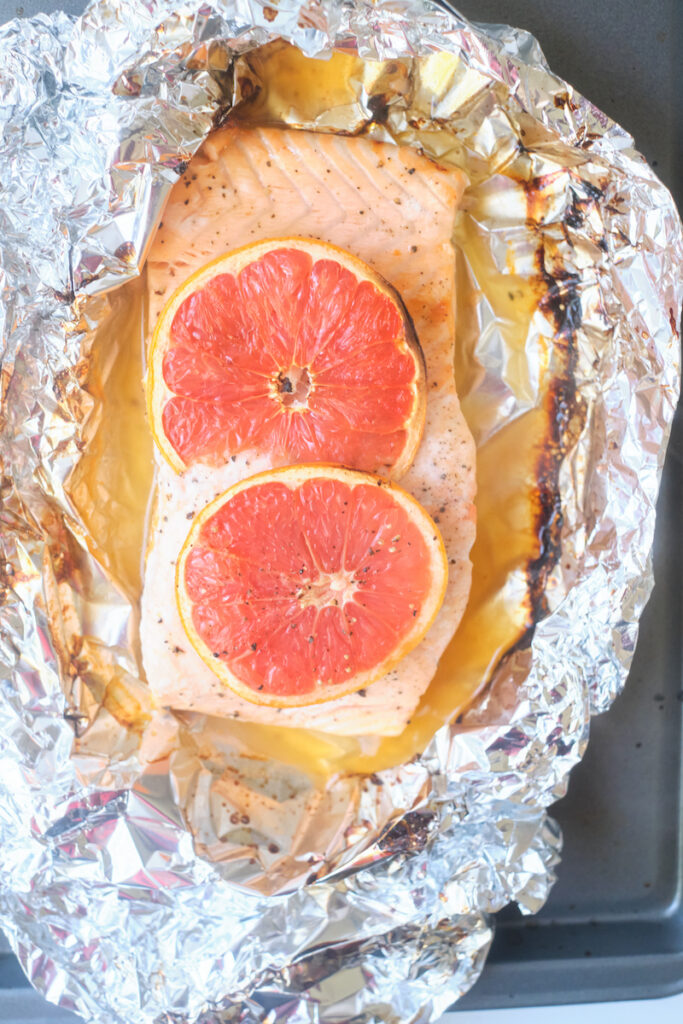 (This article was originally published on August 18, 2021 and was last updated on July 21, 2022)