This website contains affiliate links. If you shop through the links used on this website, I may earn commissions.
Spicy Sweet Potato & Avocado Rice Bowls with Avocado Basil Dressing is a delicious, healthy, and wholesome dish that can be on your dinner table in less than 30 minutes. The rice bowl has a wonderful balance of sweet and spicy flavors that will make your mouth water!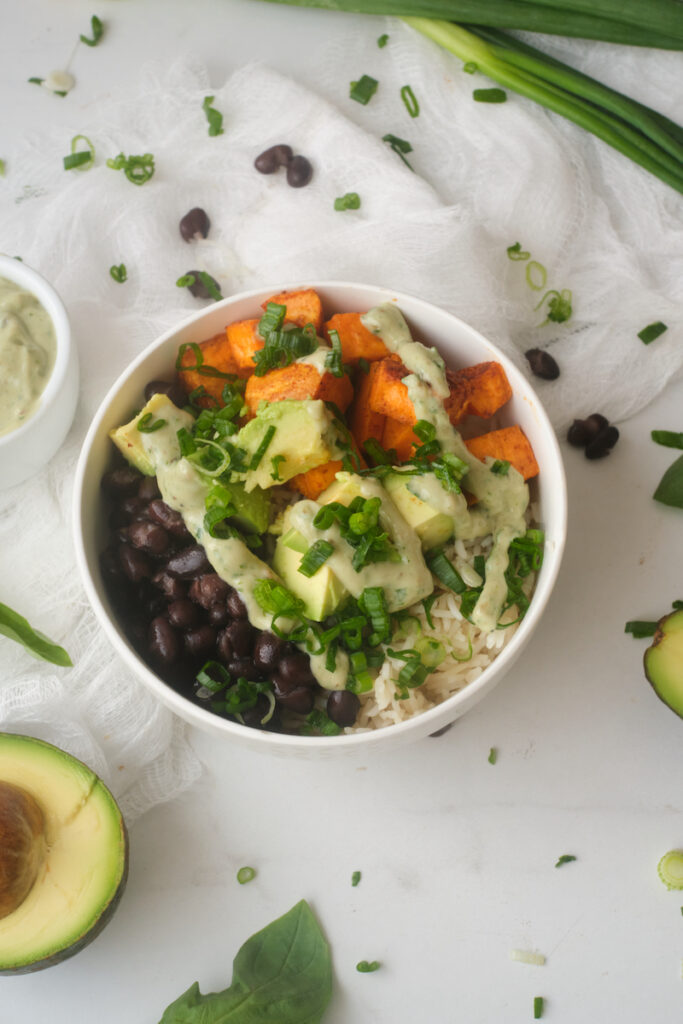 This dish is a super hearty meal that's great if you're trying to eat more vegetarian.
The sweet potato is HEARTY, and together with the rice provides a hearty satisfaction. But the bowl is also quick, healthy, and generally uses up a lot of ingredients you probably have in your house already, that end up working well together.
This is a great 'clean eating' choice if you're trying to improve your diet, without feeling like clean eating. It's healthy eating that's still satisfying – something most of us can get behind, I'm sure!
It's also packed with nutrients. Avocados, of course, are a superfood of sorts, offering us close to 20 vitamins and minerals our bodies need.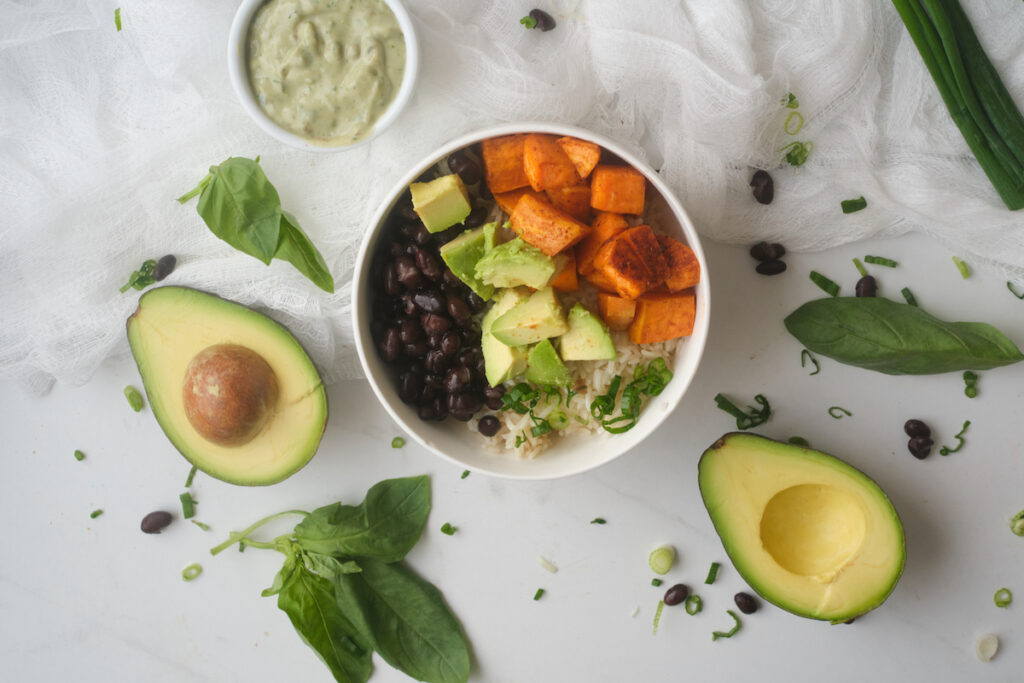 Sweet potatoes are the same! 1 large one, and you've got more than a day's worth of the eyesight vitamin (Vitamin A). Sweet potatoes are also full of fiber to keep you full, and add even more potassium (Avocado is already so full of potassium!).
And that's not even mentioning the black beans – hello, protein (and fiber)!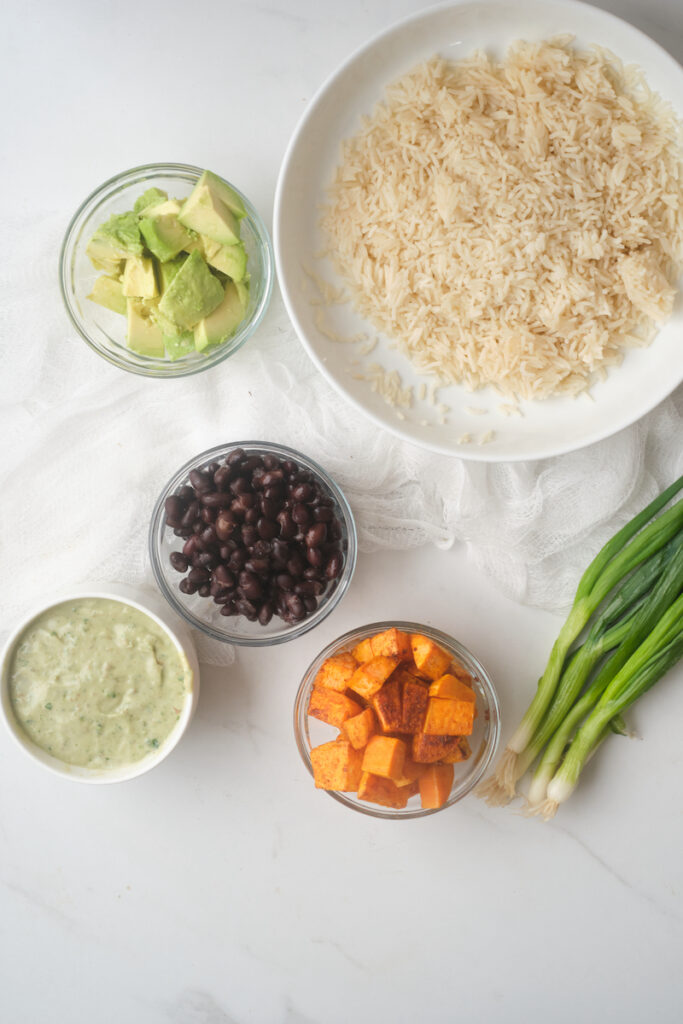 While the bowls themselves are packed with healthy goodness, the avocado basil yoghurt sauce you'll drizzle over them? Also healthy!
Made with plain Greek yogurt, avocado, a little garlic, basil, olive oil, juice of a lime, a tiny bit of pure maple syrup to sweeten it, and a sprinkle of salt and pepper…it's delicious and easy, even on a weeknight!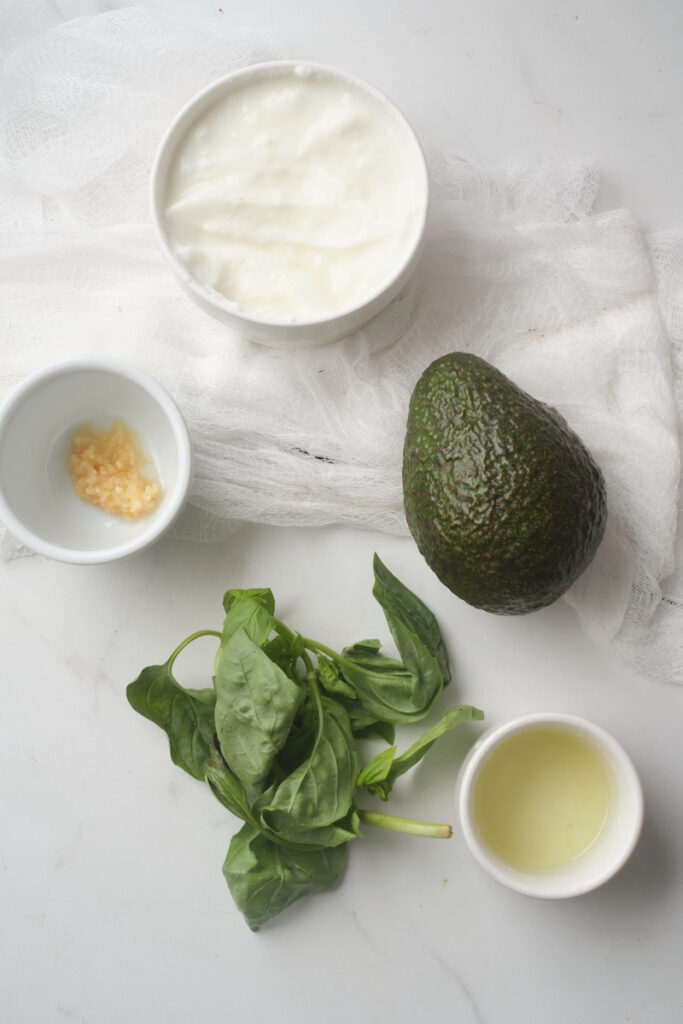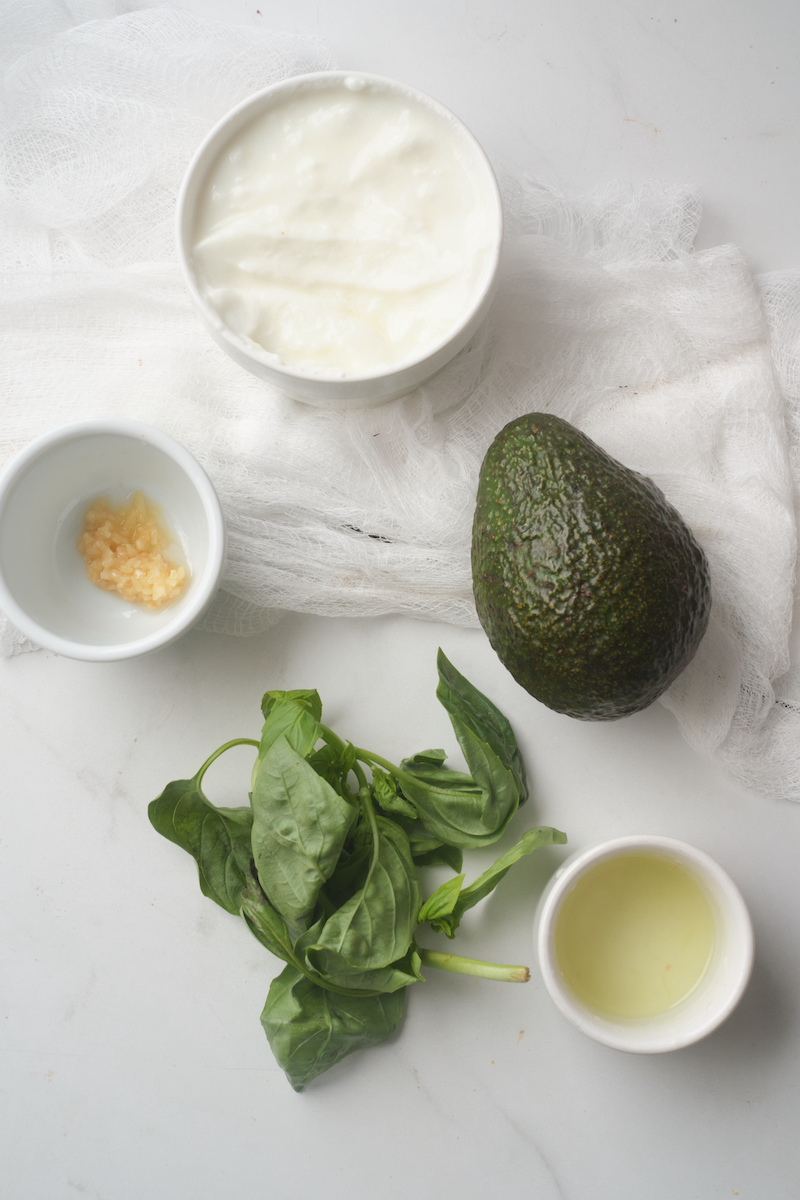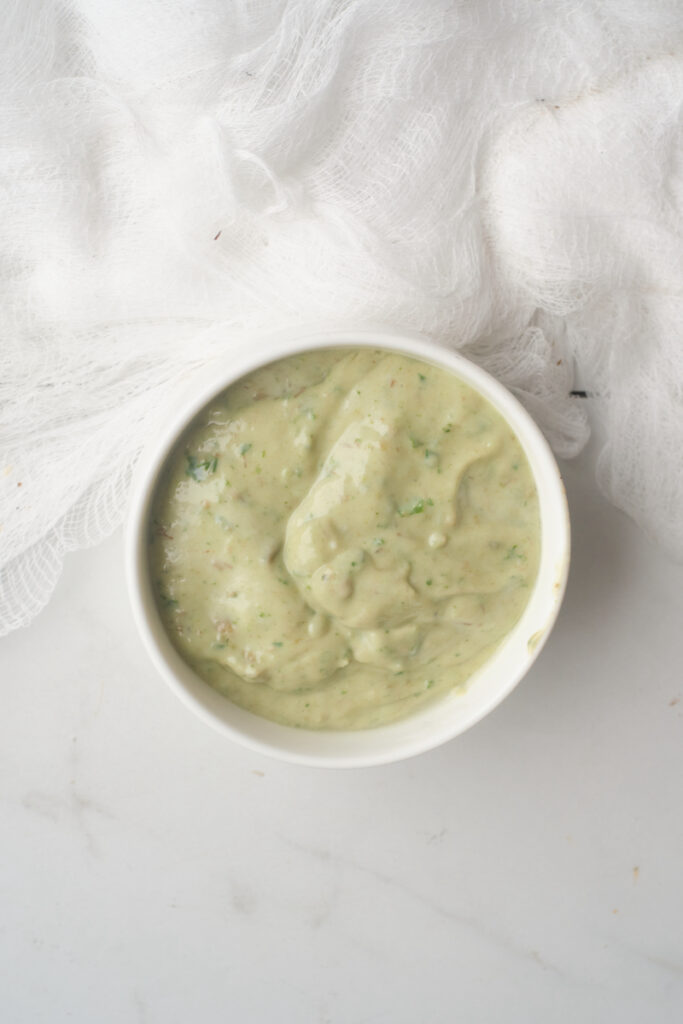 | | |
| --- | --- |
| | Prep Time: 10 mins |
| | Cook Time: 40 mins |
| | Total Time: 50 mins |
| | Yield: 4 |
Ingredients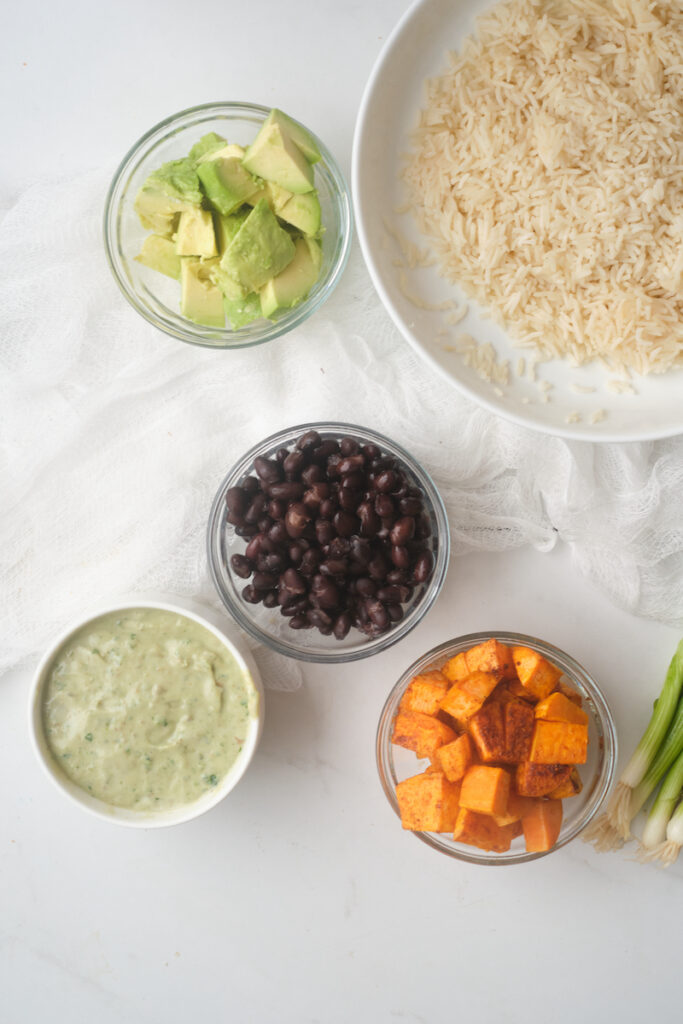 For the Bowls:
1 cup rice (brown rice and jasmine work well for this recipe)
1 medium sweet potato, scrubbed and chopped into 1 to 2″ cubes
1 cup cooked black beans
1 small avocado, diced
1 to 2 tablespoons olive oil
1 teaspoon chilli powder
salt & pepper
2 to 3 green onions, thinly sliced (for tossing on top)
For the Avocado Basil Yogurt Sauce:
½ cup greek yogurt
1 small avocado, pitted and peeled
1 cup fresh basil leaves, loosely packed
½ clove garlic
juice of 1 lime
salt & pepper
1/2 teaspoon pure maple syrup (optional)
Instructions
Cook the rice according to package directions, using your favorite method (stovetop, rice cooker, etc).
As the rice cooks, preheat oven to 400F.
In a large mixing bowl, add sweet potato cubes, olive oil, chilli powder, and freshly ground salt and pepper, and toss until the sweet potato cubes are evenly covered.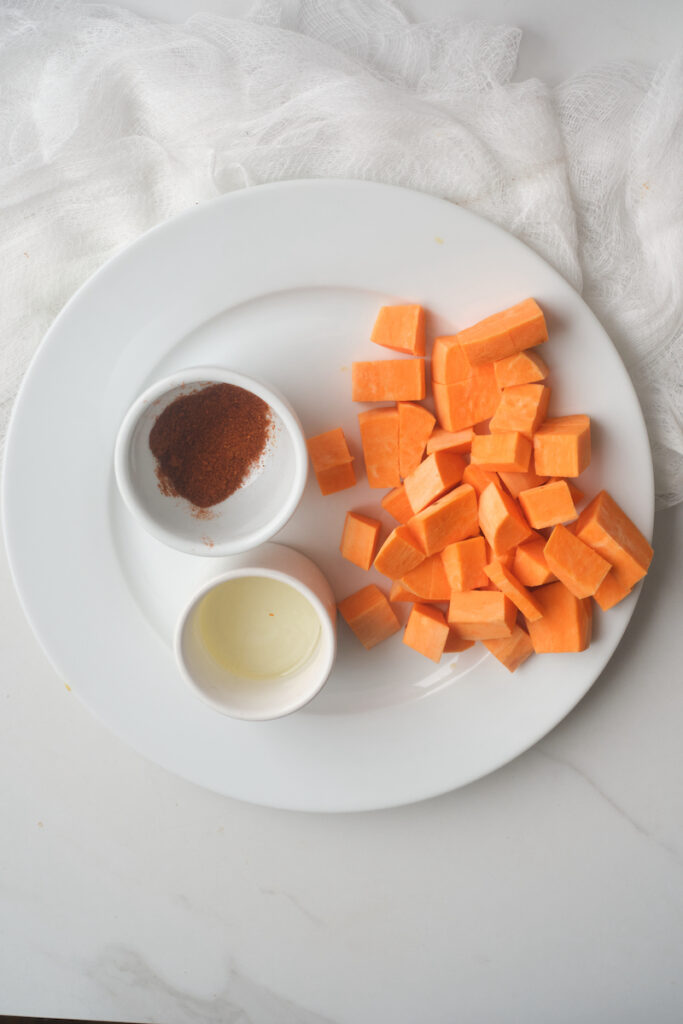 Spread the seasoned sweet potato cubes on a baking sheet, and bake in the middle rack until soft and golden brown, about 20 minutes. Remove from oven, and set aside.
While the sweet potatoes cook, prepare the other ingredients (dice the avocados, rinse, drain and cook the black beans, chop the green onions) and make the Avocado Basil Yogurt sauce.
To make the sauce, combine the ingredients in a food processor or good. Blend the yogurt, avocado, basil leaves, garlic, lime juice, salt and pepper, and maple syrup. Blend until smooth.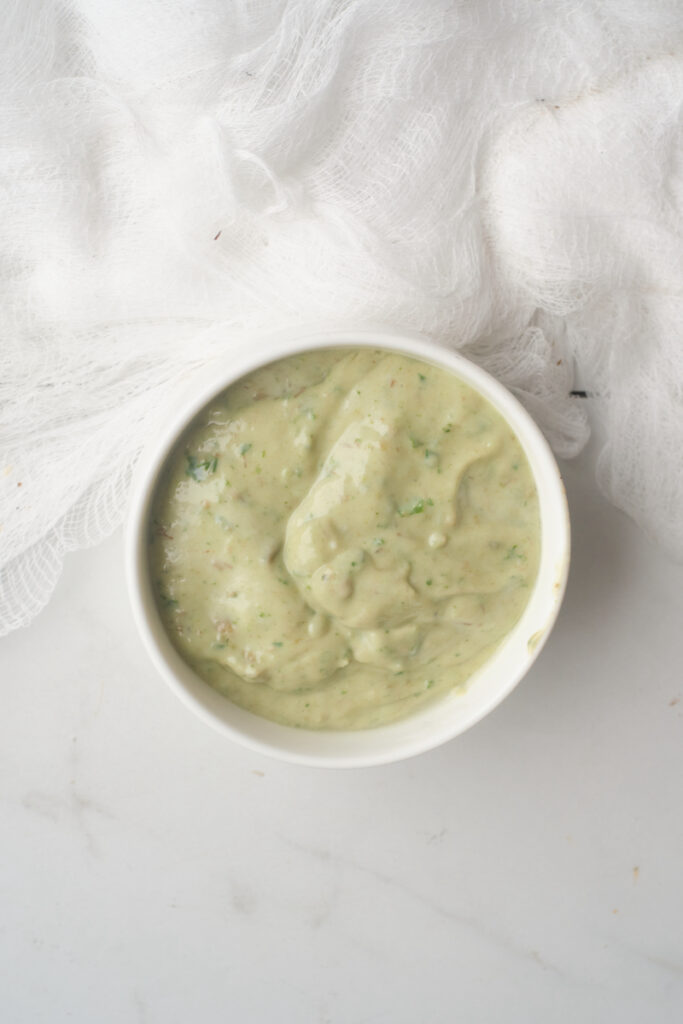 Assemble the rice bowls by evenly distributing the roasted sweet potatoes, diced avocado, black beans, and scallions among bowls. Serve with the avocado basil yogurt dressing, either in a small bowl or by drizzling it on top.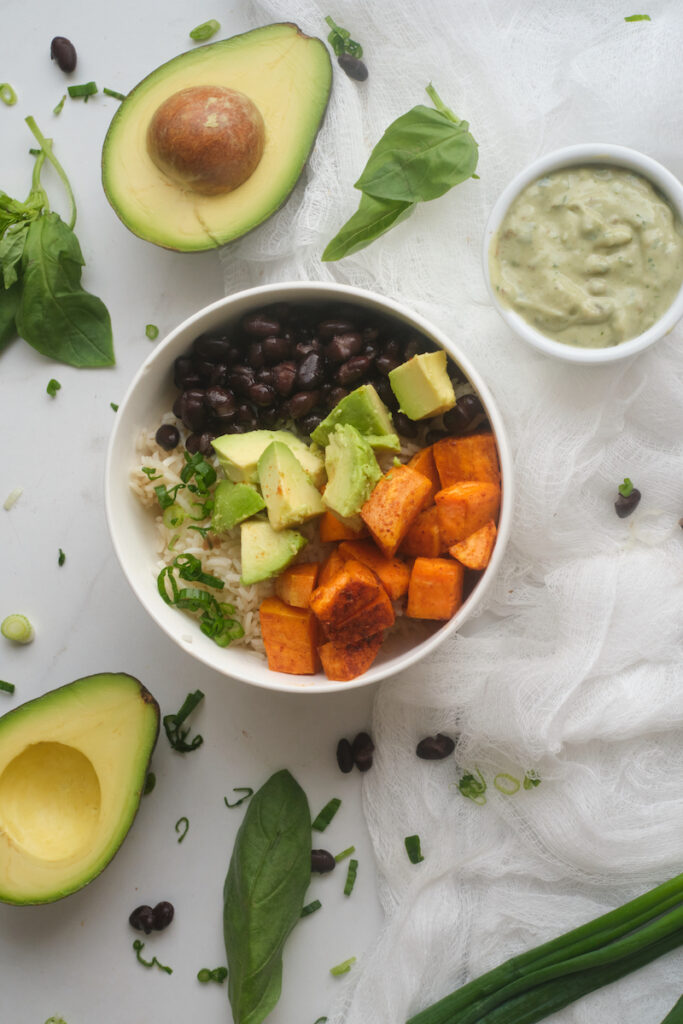 (This article was originally published on January 16, 2021 and was last updated on July 21, 2022)