This website contains affiliate links. If you shop through the links used on this website, I may earn commissions.
There is nothing like Thai cuisine to make you feel like summer has finally arrived. Thai Pineapple Basil Fried Rice is the perfect dish for this time of year because it marries Thai flavors with a lighter, more refreshing approach to fried rice. This dish's flavor profile is sweet from the pineapple, salty from soy sauce, and spicy from the garlic chilli sauce.
Thai cuisine has a long history and love affair with basil and in this Thai-inspired dish, the basil adds a fragrant herbal note that balances everything out perfectly!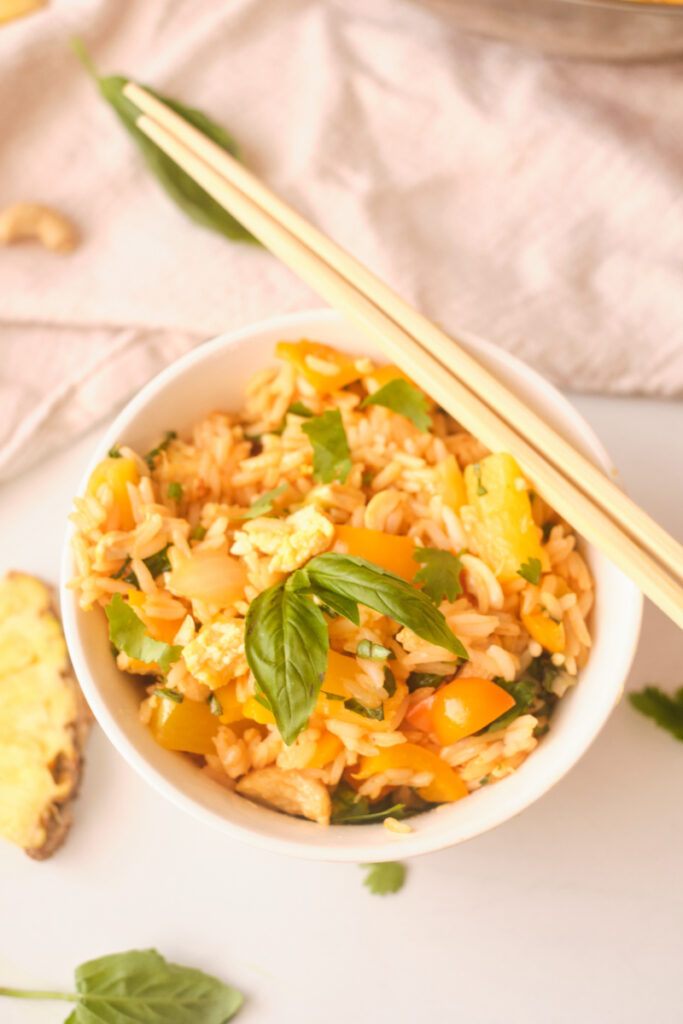 __
I love fried rice, but sometimes I need a change from the standard Chinese food version.
Enter this Thai-inspired Pineapple Fried Rice with basil and cilantro.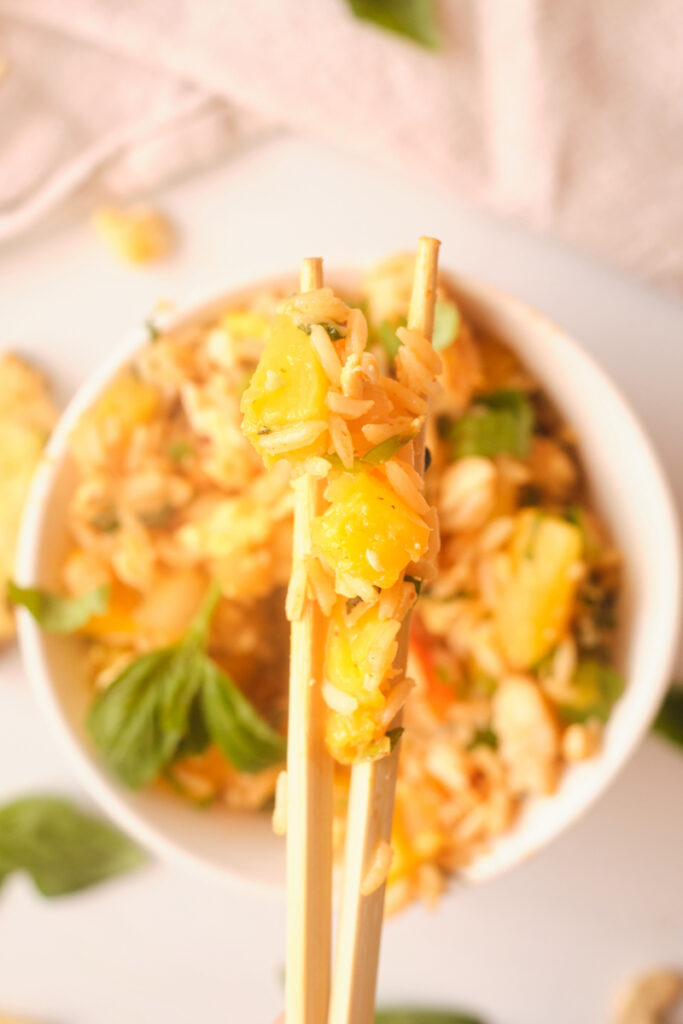 It's healthy and quick, and makes for a great weeknight dinner that's vegetarian, but you could easily add some chicken or pork, too.
The combination of the sweet pineapple with the sweet and spicy garlic chilli sauce, and the sweet spiciness of Thai basil – there's a lot to love about it.
Pack up the leftovers, and it will be just as delicious the next day for lunch!
This recipe is awesome with fresh pineapple, so if you have beautiful, in-season pineapples near you, definitely use it in this recipe! You can then serve it in a scooped out pineapple half for added pizzaz!
However, if you don't have access to fresh pineapple, don't despair because canned pineapple works too. This recipe still works in winter, and is a great way to make use of any frozen Thai basil you saved before winter frosts set in.
As a tip, I recommend making the rice the night before, and chilling it for a bit. This makes it more fryable in terms of the "fried rice" portion. If you use warm rice that hasn't been adequately chilled, you'll likely end up with soggy rice.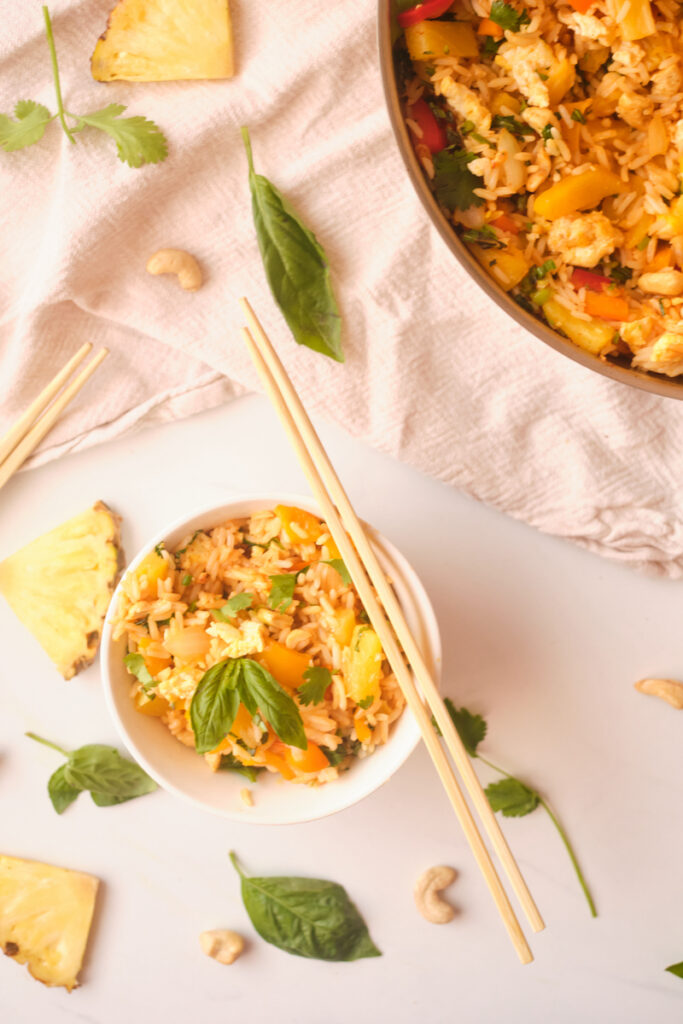 | | |
| --- | --- |
| | Prep Time: 40 mins |
| | Cook Time: 10 mins |
| | Total Time: 50 mins |
| | Yield: 2-4 |
Ingredients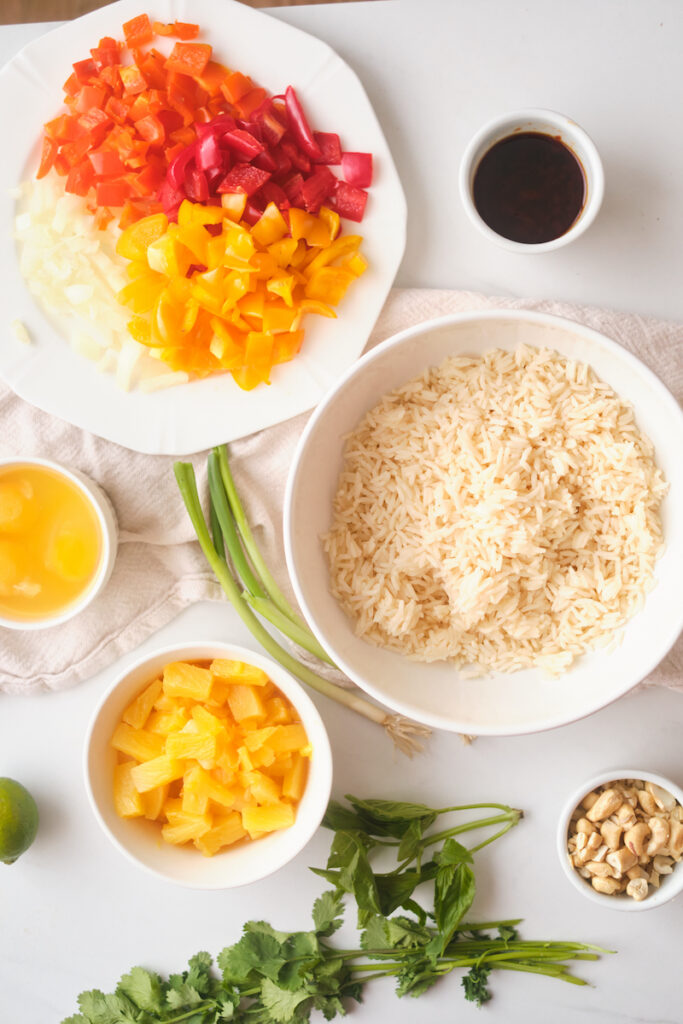 1.5 cups diced pineapple (if you use canned pineapple, this is more or less equivalent to 1 can)
1.5 cups jasmine rice, cooked and chilled overnight
2 tablespoons coconut oil
3 eggs, beaten
1 tablespoon garlic, minced
¼ cup yellow onion, minced
1 large red, orange or yellow bell pepper, diced
¼ cup green onions, thinly sliced
1 tablespoon soy sauce
2 teaspoons chilli garlic sauce or sriracha
½ cup raw unsalted cashews, rough chopped
¼ cup fresh cilantro leaves, chopped
¼ cup fresh Thai basil, chopped (can sub for sweet basil if you can't find Thai, but don't sub cinnamon basil, which sometimes gets confused with Thai basil)
1 lime, juiced
Instructions
Cook the jasmine rice according to package instructions, and then chill it in the fridge. Ideally, you'll make the rice the night before, so it can chill overnight.
In a wok or large non-stick frying pan, heat over medium-high heat and add 1 teaspoon coconut oil.
Once the oil is hot, pour the whisked eggs into the pan and scramble. Once cooked, set aside.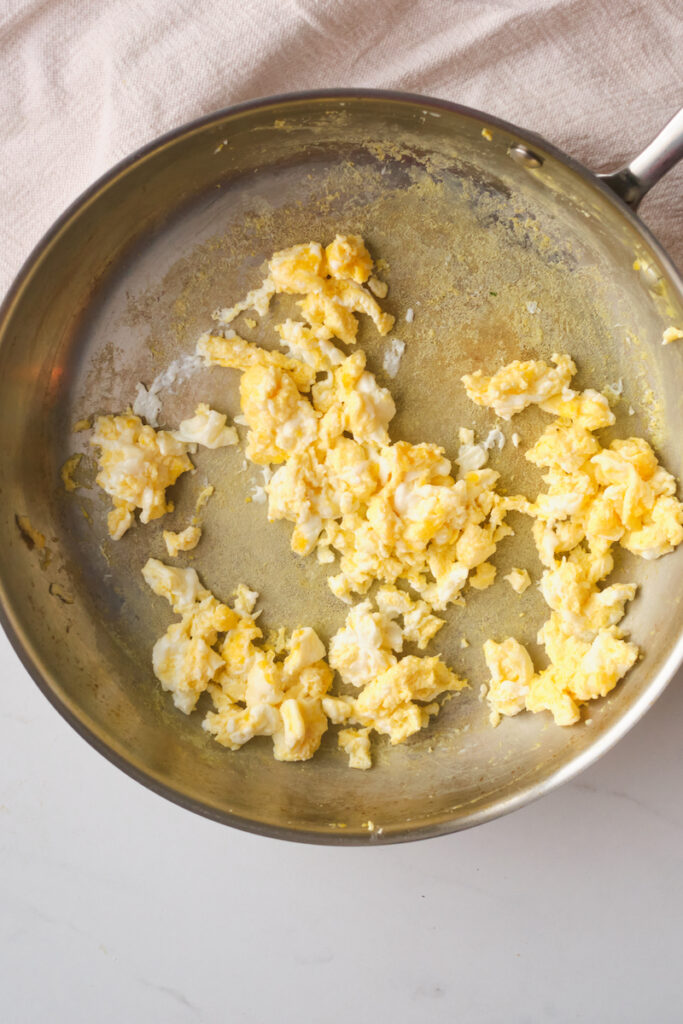 Add another teaspoon of coconut oil to the pan, and cook the cashews, onions, and minced garlic together, about 1 minute. The garlic and onions should brown lightly and the cashews will smell fragrant. Set aside.
Into the same pan, add 1 tablespoon of coconut oil, the pineapple, and the red bell pepper. Sautée until the pepper is tender, 3 to 5 minutes. Set aside.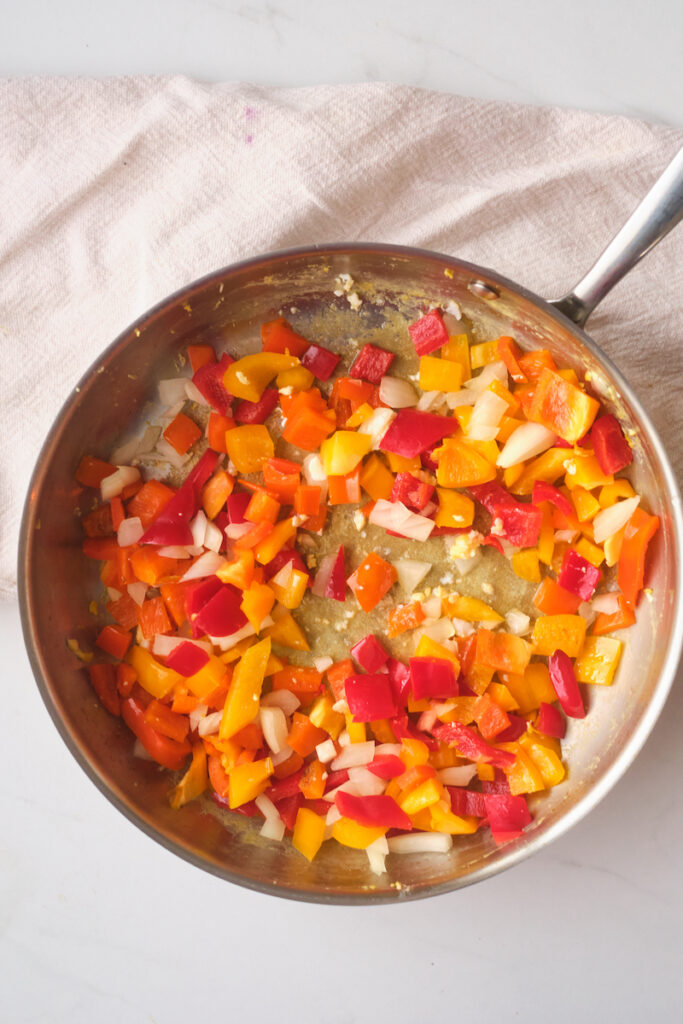 Add the remaining coconut oil (a bit more than 1/2 tablespoon should remain) to the pan, and stir in the chilled rice, chopped green onions, soy sauce and chilli garlic sauce or sriracha. Stir to mix, and cook until the rice is hot.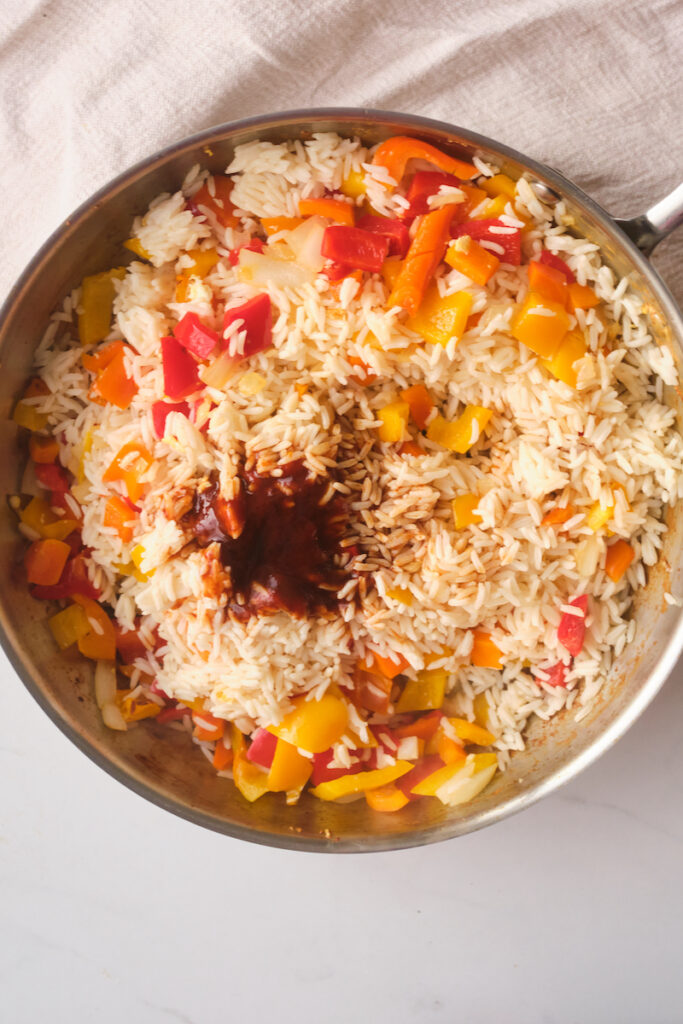 Once the rice is hot, add the cooked red bell pepper, pineapple, cashew-garlic-onion mixture, and scrambled eggs to the pan. Stir to combine all the ingredients, cooking for a few minutes to bring everything up to a consistent temperature.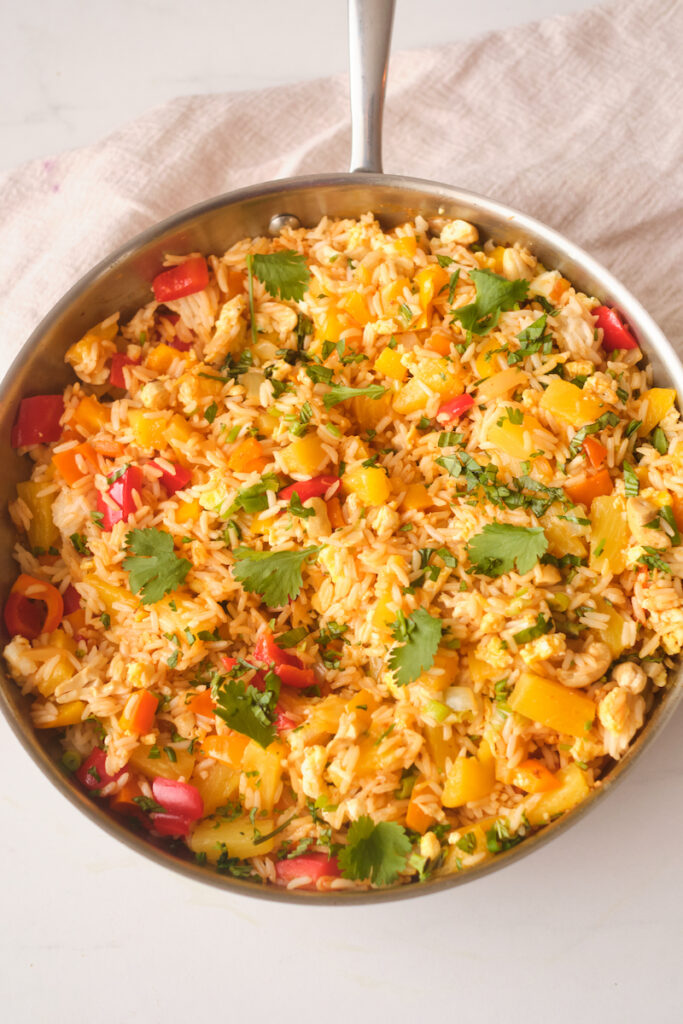 Squeeze a lime over the dish, and add in the chopped Thai basil and cilantro, holding back a bit for garnish, stirring to combine and heating the basil and cilantro slightly.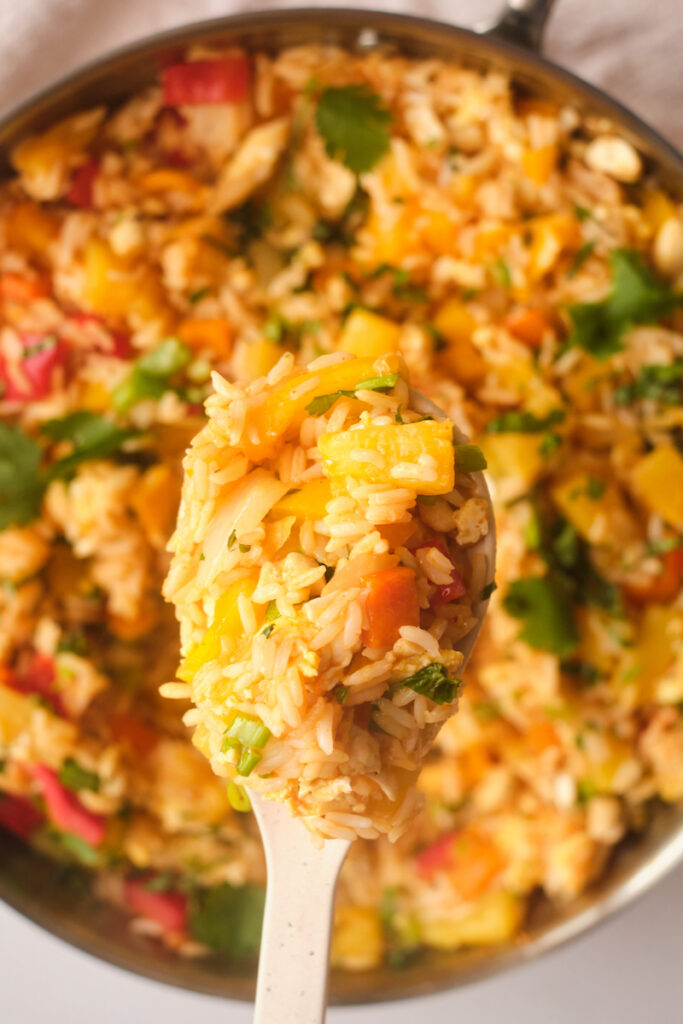 Serve immediately, garnishing with a bit of extra fresh cilantro and Thai basil.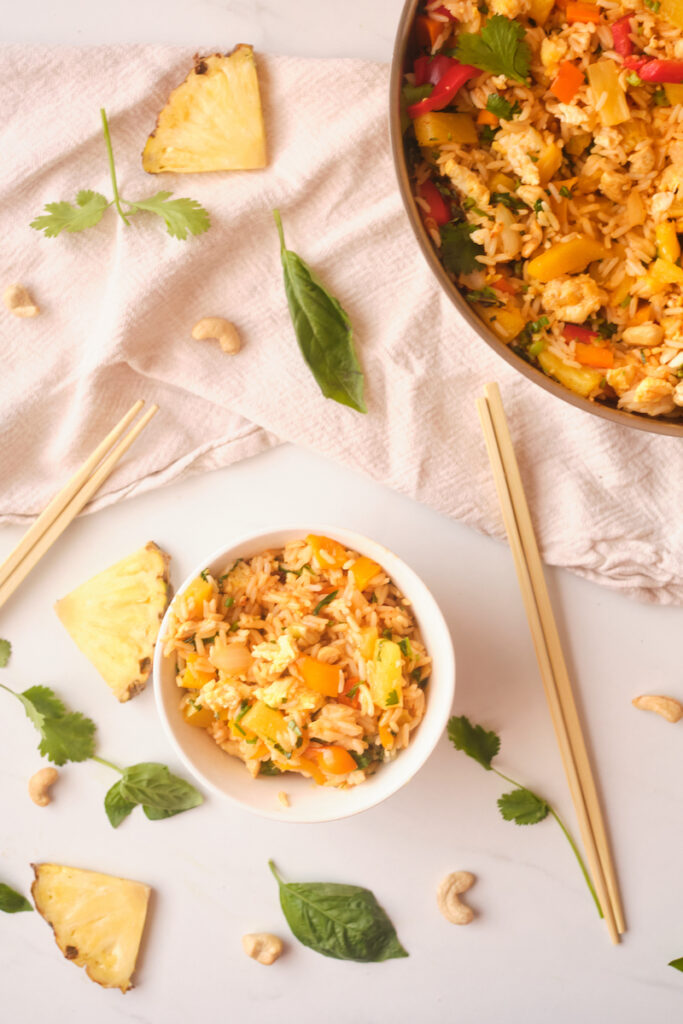 (This article was originally published on January 16, 2021 and was last updated on September 10, 2022)