This website contains affiliate links. If you shop through the links used on this website, I may earn commissions.
This fresh basil guacamole with balsamic reduction is a fresh and tangy taste on a snacking staple.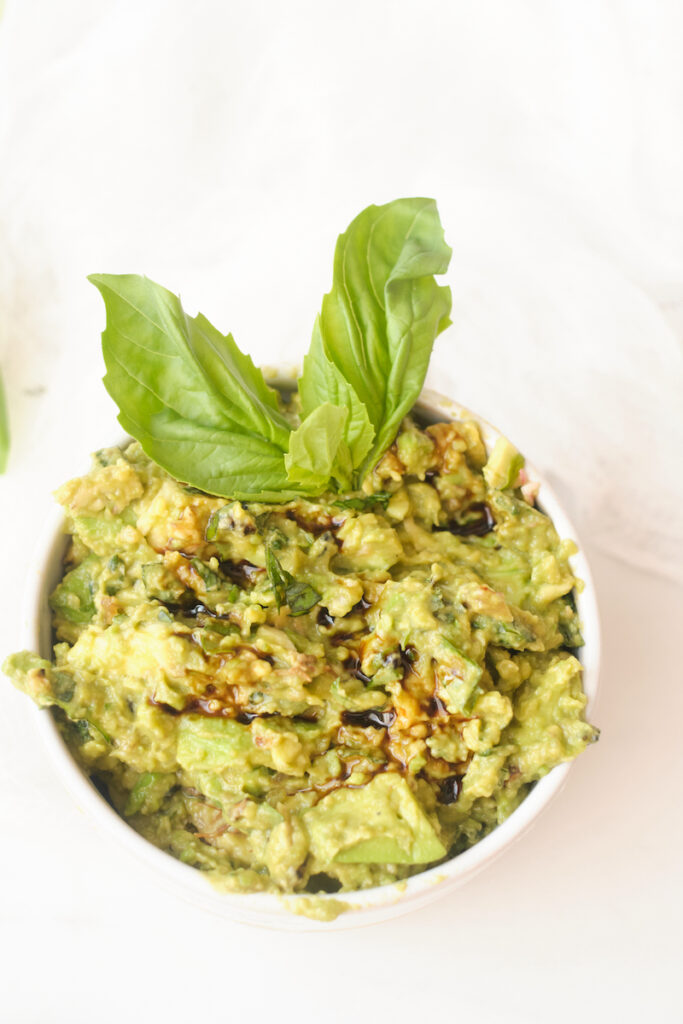 I LOVE avocados. I eat avocado every single day, in some form. They're delicious, and they always fill me up. And, of course, I love that they're full of omega 3 healthy fats and other goodness. And that they pair delightfully with basil!
Avocados are so full of the good fat, that alpha-linolenic acid (the omega 3s in avocado) make up roughly 3/4 of an avocado's calories. These are the types of fats that lower your cholesterol and improve your cardiovascular health.
Even though avocados are well known for their good fats, they also have plenty of other goodness, including high protein, low sugar, and plenty of vitamins and minerals.
And while bananas are known for having a ton of potassium, avocados actually have more potassium!
Pantothenic acid (vitamin B5), vitamin K fiber, magnesium, phosphorus, and iron are some of the other goodness you can get from avocados.
Fresh Basil + Guacamole is a Match Made in Heaven
Just as I love avocado, I love guacamole!
And while guacamole can be made to be fairly unhealthy, this version is packed with goodness.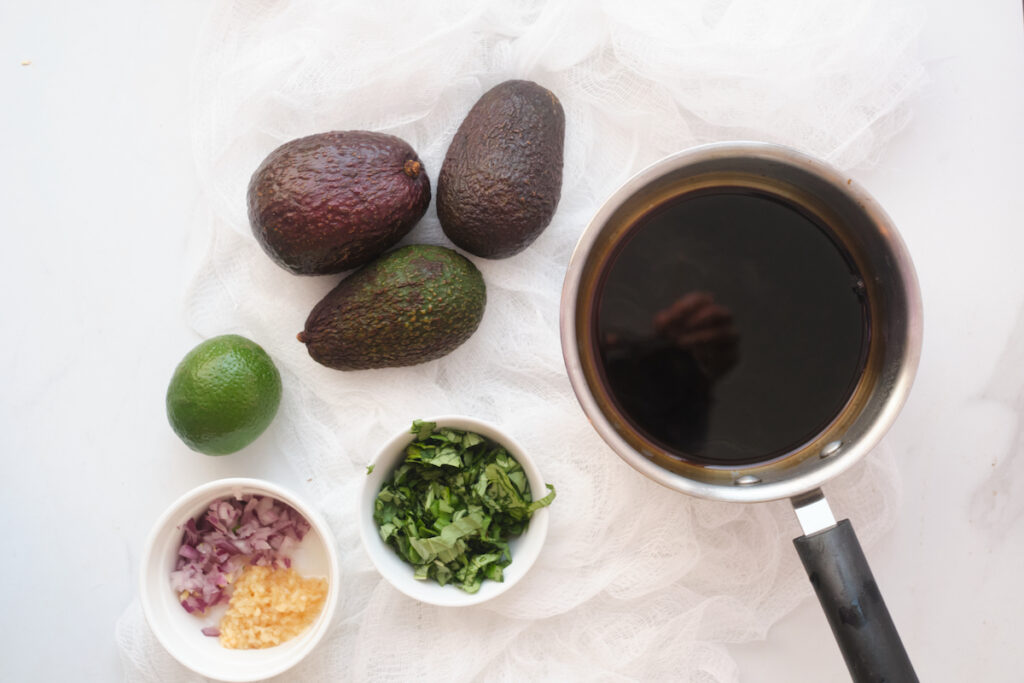 That means you can dig in without guilt when eating this basil guacamole recipe!
I make the guacamole below as is, but you can also jazz it up a bit with additional ingredients. A pinch of red pepper flakes will add some spice, and a sprinkling of fresh green onions or even a handful of pine nuts can add some crunch.
While I of course love a basic guacamole too, I must say I am pretty smitten with this twist! (And also with my basil avocado hummus recipe, which offers yet another twist on a classic recipe).
Tips for Picking the Best Fresh Basil Leaves for this Guacamole
When cooking with fresh basil leaves, I think it's worth making sure you use the very best of your crop, for maximum flavor and freshness.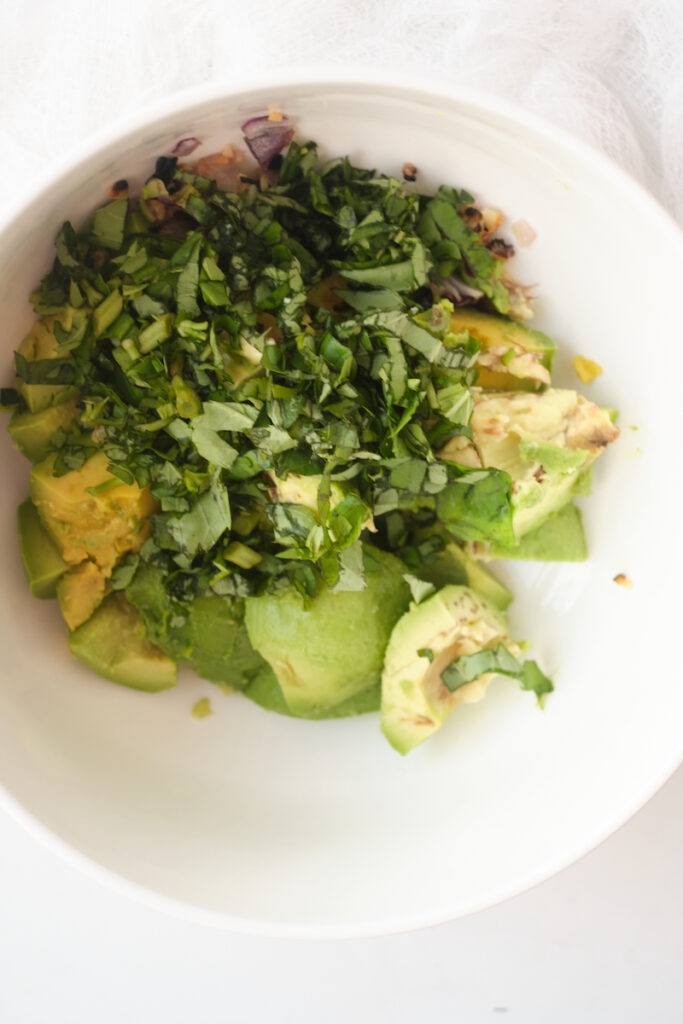 What does that mean in practice?
Be sure you only use undamaged, healthy basil leaves. If they have brown spots, black marks, are wilting, have holes in them, or are rotting from overwatering, pop them in the compost bin and stick to unblemished and healthy leaves. It's generally easier to control for disease if you grow your basil indoors, as you have fewer pests, bacteria and fungus to worry about, and can grow year round.
You can add a twist to this recipe by using young basil, if you're growing basil from seed or cuttings at home, or even throw basil flowers on top for a garnish if you need to prune any away!
How to Make this Basil Guacamole with Lime Juice and Balsamic Reduction
Prep Time: 5 mins
Cook Time: 15 mins
Total Time: 20 mins
Yield: 4-6
Ingredients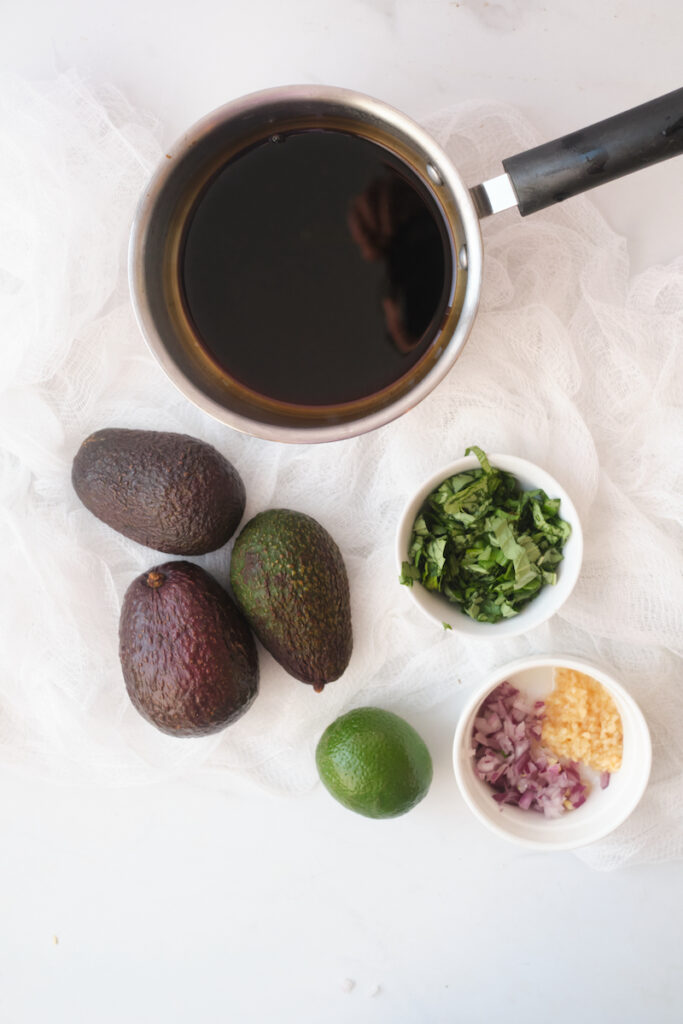 For the Basil Guacamole:
3 small-medium ripe avocados
3/4 cup basil leaves, washed and rough chopped similar to how you'd chop cilantro for guacamole
1 tablespoon garlic, minced
1 shallot, minced
1 tablespoon light extra virgin olive oil
Fresh lime juice (I use the juice from 1 lime, although you could sub for lemon juice in an absolute pinch)
Freshly ground salt and pepper to taste
For the Balsamic Reduction
¼ cup balsamic vinegar
1 teaspoon brown sugar
For Serving
Tortilla chips
Instructions for Making this Basil Guacamole Recipe
Start by making the balsamic reduction. In a small sauce pan over high heat, combine the balsamic vinegar and sugar and bring to a boil. Once it's boiling, stir and reduce the heat to low to simmer. Simmer until the mixture reduces by about half, and becomes thick and sticky similar to the consistency of honey. Remove from heat and set aside.
In a small pan, sauté minced shallots and garlic in olive oil for 2 minutes, until lightly brown, and then remove from heat and set aside.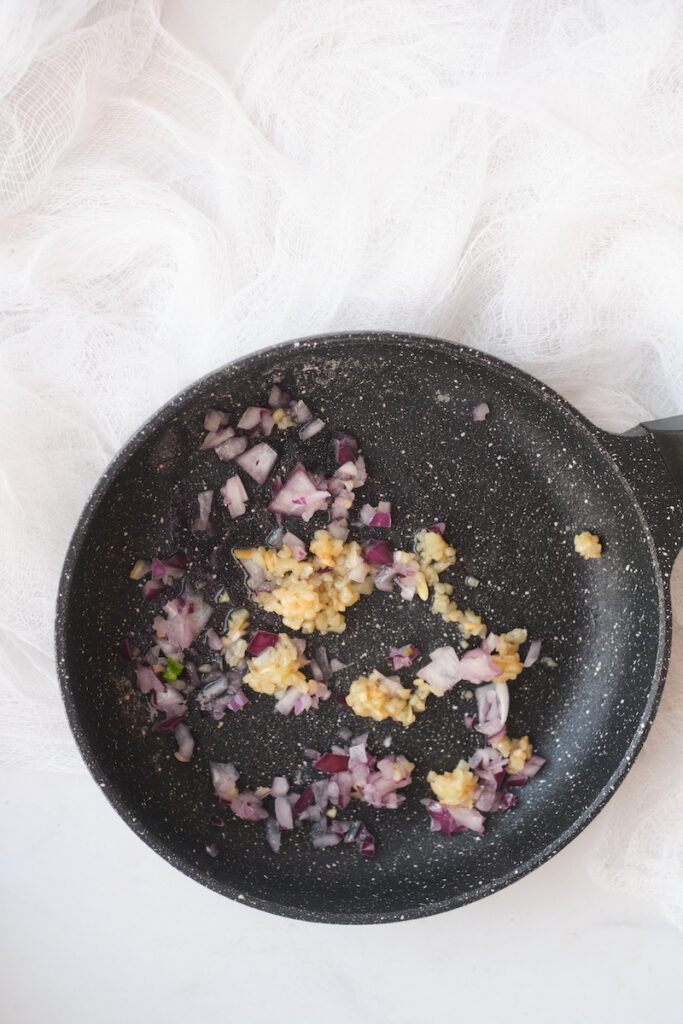 Wash and cut the avocados in half, and then score the avocado halves lengthwise and widthwise to create cubes or chunks. Using a spoon, dig the cubes out from the avocado skin and add to a medium mixing bowl. Once in the bowl, mash avocado, leaving some larger chunks and smoothing some out with the fork.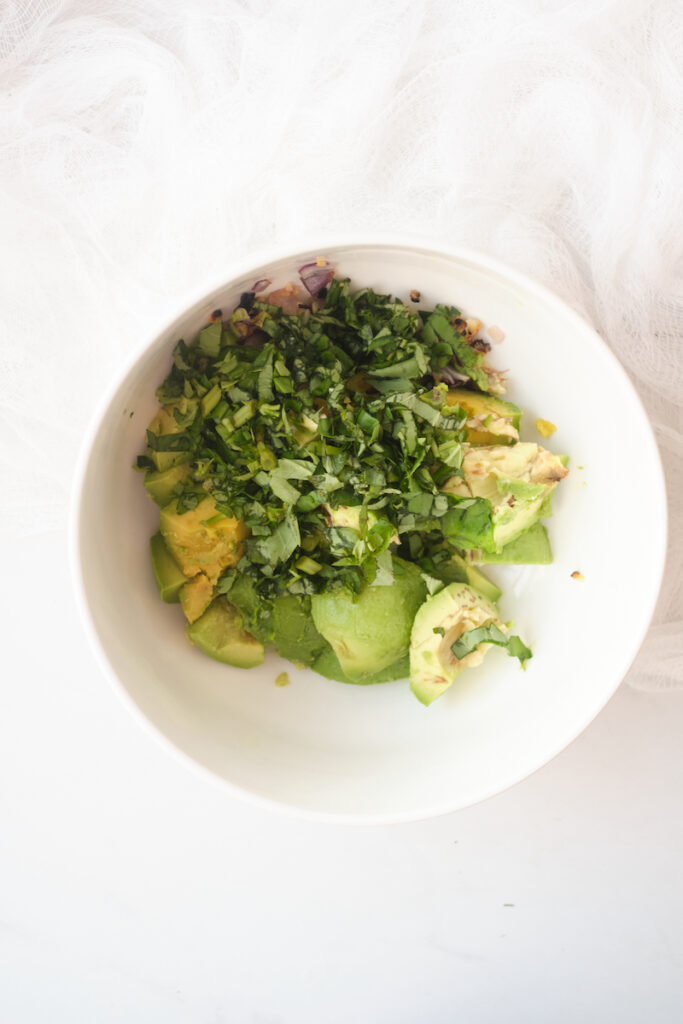 Add the sautéed shallots and garlic, fresh basil leaves, lime juice and sea salt to the avocados, and stir until well combined.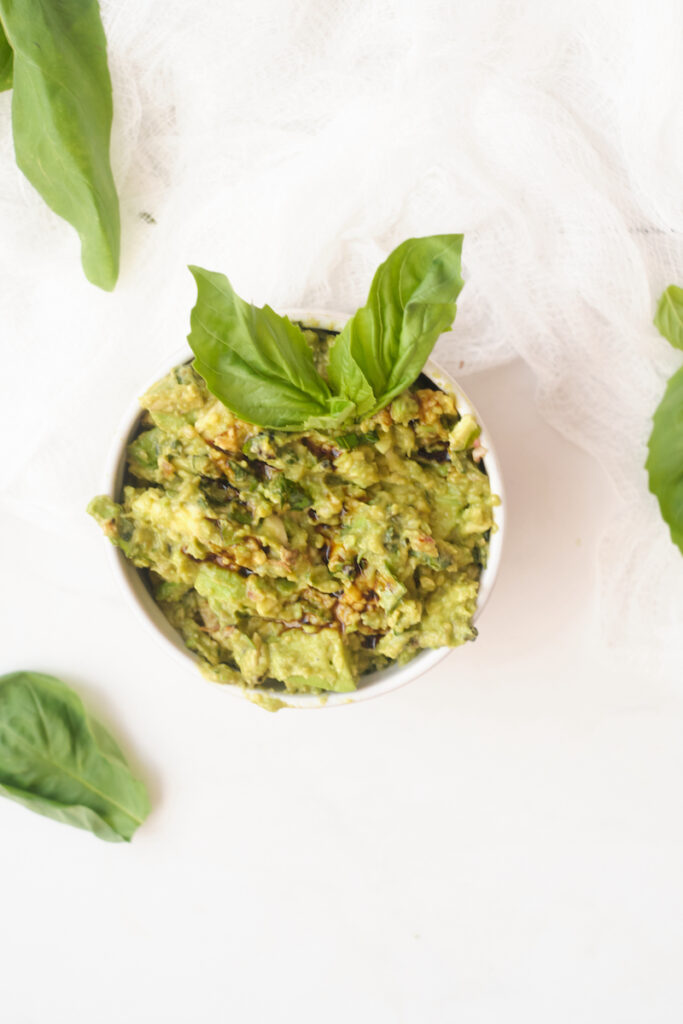 Serve immediately with tortilla chips and Enjoy!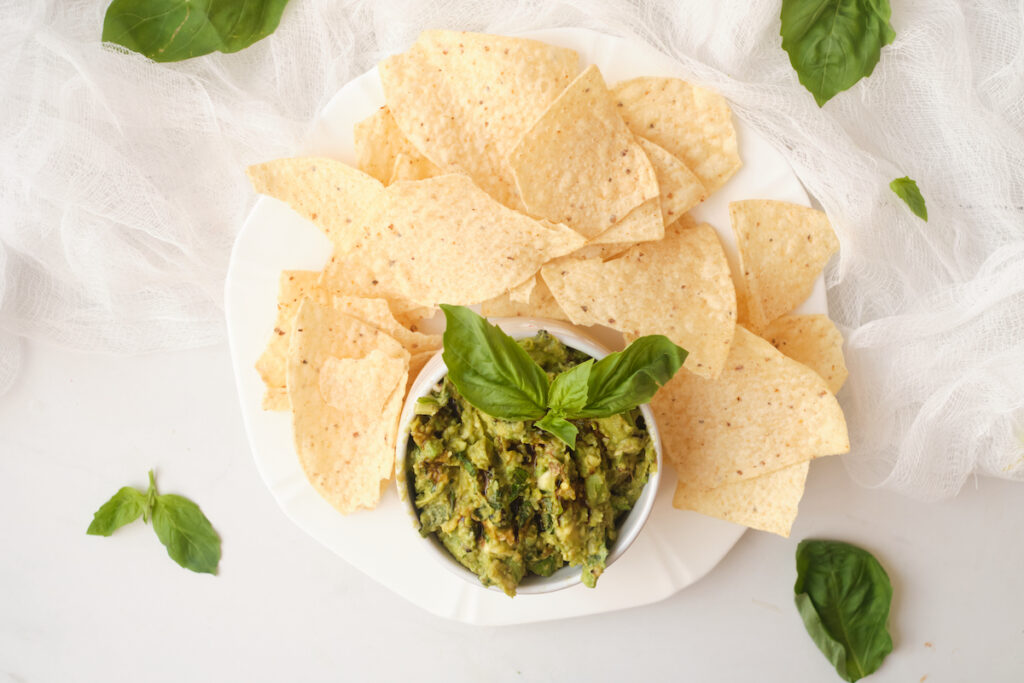 Love Guacamole? I Hope you Love This Basil Guacamole Twist!
I hope you enjoy this recipe as much as I do, and have fun making it!
(This article was originally published on January 16, 2021 and was last updated on July 21, 2022)