As an Amazon Associate I earn from qualifying purchases. This website also participates in other affiliate programs and may earn commissions if you shop through the links used on this website. 
(This article was originally published on June 11, 2020 and was last updated on July 21, 2022)
This sweet chili salmon rice bowl is packed with healthy goodness and flavor. It uses store-bought Thai sweet chili sauce for maximum easiness, and packs in the nutrition and flavor with a ton of crunchy veggies, and basil, cilantro, lime juice and sesame seeds!
If you're looking for a healthy, delicious and easy weeknight dinner idea, look no further!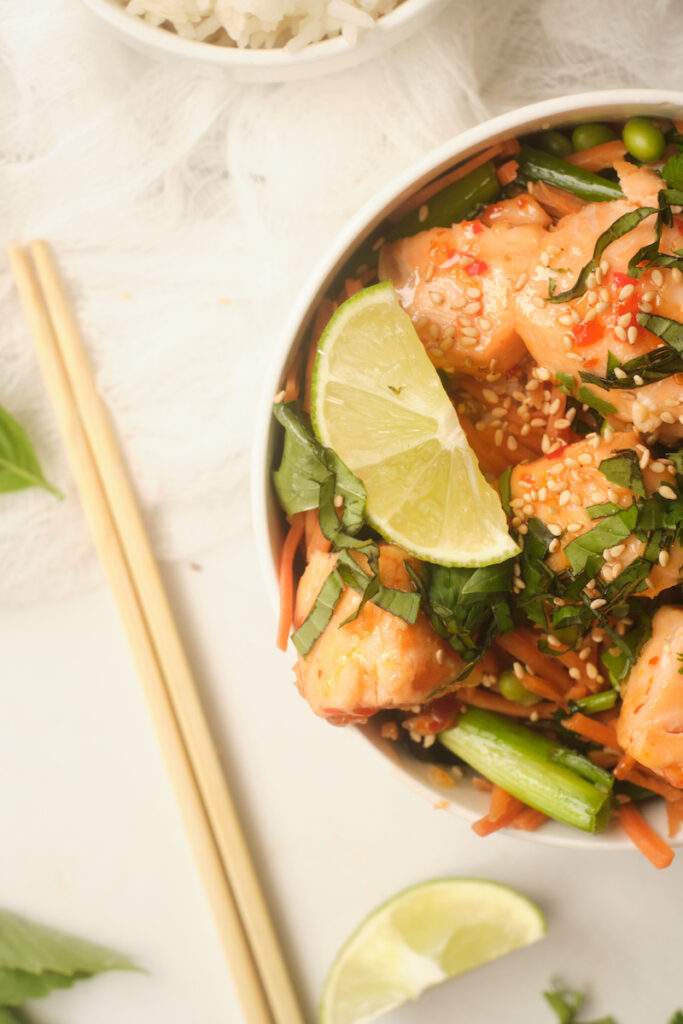 These Sweet Chilli Salmon Rice Bowls are Quick, Easy, Healthy & Yummy.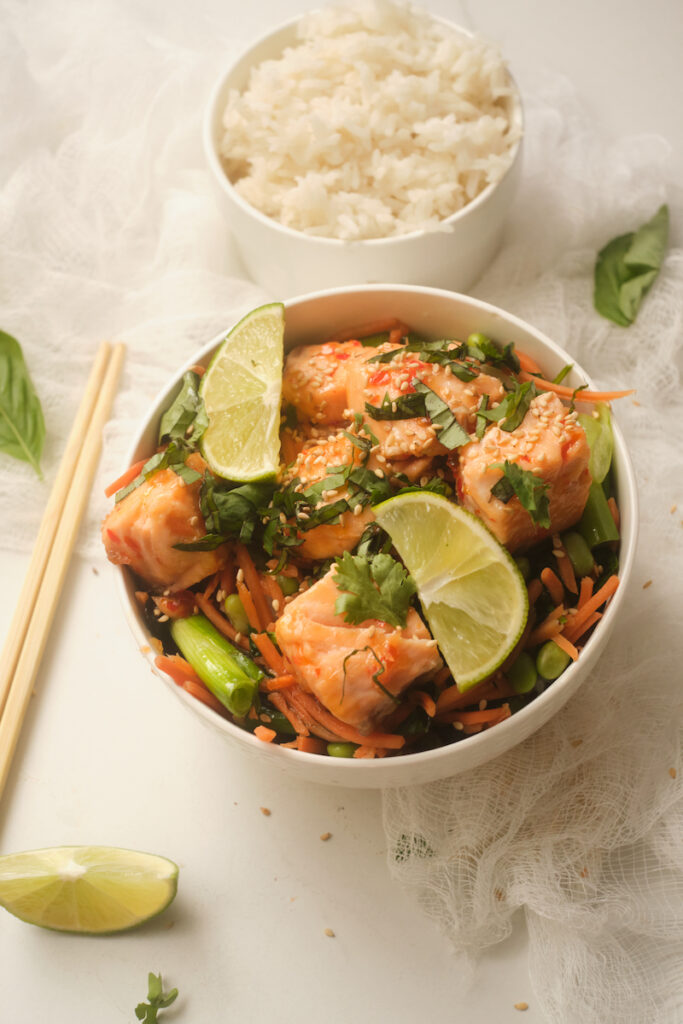 To start with, the salmon fillets that form the backbone of this sweet chili salmon are a great source of protein. That means they'll help you stay full and energized throughout the day, making them a great choice to pack for lunch on really busy days.
We tend to eat a fair amount of salmon, because it pairs so well with basil and is so healthy! For more salmon and basil inspiration, check out our Apricot Glazed Salmon, Grapefruit Salmon, Sriracha and Honey Salmon and Asian Sesame Salad.
Adding to the health benefits, this recipe is a veritable explosion of flavor and texture! If you love Thai food as much as I do, you're no stranger to sweet chili sauce. However, if you're also a salmon fan, then you're going to fall in love with these bowls!
Finally, this recipe is so very simple! Especially if you tend to have a sweet chili sauce in your kitchen, which I pretty much always do!
I can get this recipe ready in less than half an hour if I use a quick cooking white rice, like Jasmine. Using brown rice it can take a bit longer, or I make the rice then night before, but you can also whip up the brown rice the night before, to save time on the day of.
If you want a lower carb option, you could easily swap the rice for cauliflower rice. And if you have specific veggies in your fridge you want to use up, it's easy enough to swap the suggested veggies out for others. I have made this recipe with bell peppers and red cabbage, and sometimes I'll add sliced avocado to the top, too.
You can also use normal or black sesame seeds, as both taste great and gives some nice crunch to compliment the softness of the cooked salmon fillets. I usually have black sesame seeds in the house, because I use them in my Asian Salmon Spinach Rice Bowls, so sometimes I'll use them to change it up!
I'm always looking for ways to incorporate my summer basil harvest into our kitchen, and this recipe is a great use of Thai basil if you have it on hand. If not, it also works well with sweet basil.
However, it's worth noting, you should only use healthy basil leaves for this and any other recipe. If you have any signs of damage on a leaf – black spots, white spots, brown patches, holes from pests or disease, lots of wilting which indicates stress – then toss those leaves and use healthy ones instead, or stick with basil grown indoors, which is less likely to have some of these issues. If you're growing Thai basil in a temperate climate, growing inside can sometimes work better, due to its preference for tons of light and heat! In the winter, growing indoors is likely your only option in many climates.
Additionally, take precautions when you're growing basil from seed or propagating from cuttings to ensure you don't end up with a diseased plant. This means growing from certified seeds only, and using mature plants to take cuttings, so you can ensure it's healthy.
Ingredients for this Sweet Chili Salmon and Rice Bowl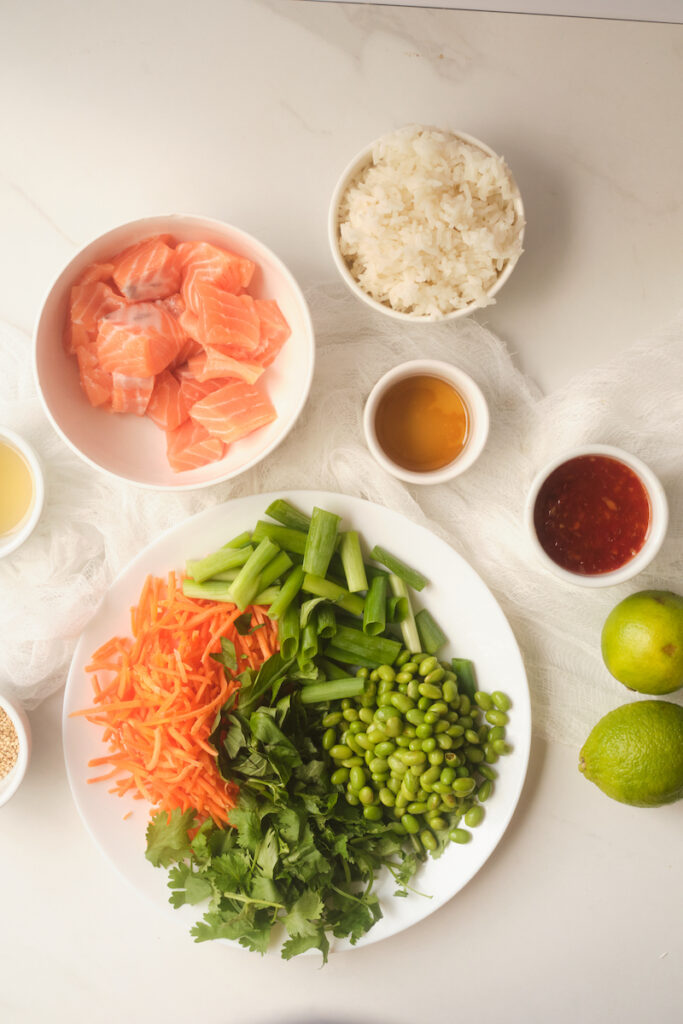 1 pound salmon filet, cut into chunk
1 cup of your favorite rice (I like Jasmine, but brown works great too if you want it to be a bit healthier)
1/2 cup carrot, grated
1/2 cup shelled edamame
1 bunch of green onions, washed and sliced into large pieces (1/2″ to 1″ long)
1/4 cup sweet chilli sauce, plus extra for topping if desired
1 tablespoon honey
1 tablespoon coconut oil
1/4 cup fresh cilantro, rough chopped
1/4 cup thai basil, rough chopped. Sweet basil will work too, and if you're harvesting your own basil, water it the night before and harvest in the morning.
1 tablespoon sesame oil
1 to 2 tablespoons sesame seeds, toasted
2 limes, sliced into wedges
Freshly ground salt and pepper, to taste
How to Make this Sweet Chilli Salmon Rice Bowl
| | |
| --- | --- |
| | Prep Time: 10 mins |
| | Cook Time: 15 mins |
| | Total Time: 25 mins |
| | Yield: 4 |
To start with, cook your choice of rice, referring to the instructions on the package.
Then, tackle the salmon. Start by skinning and cubing the salmon, and transferring the cubes into a well-sized mixing bowl. Season with salt and pepper, and then cover the cubes with 1/4 cup of the sweet chili sauce and 1 tablespoon of honey. Toss to coat well, and then set this bowl aside.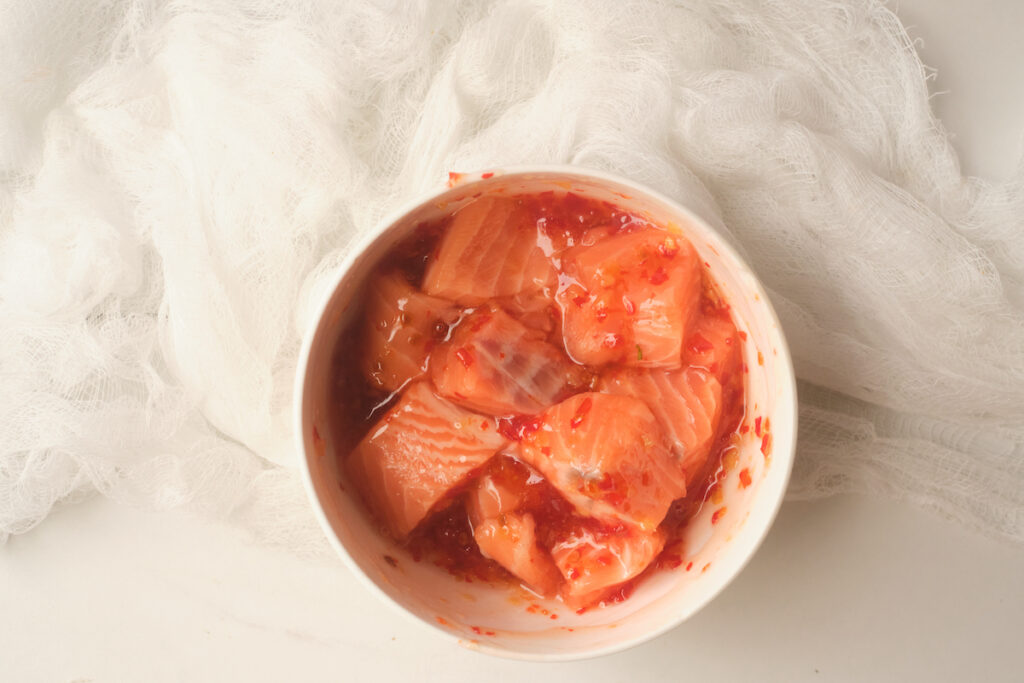 It's time for the veggies! Heat a large skillet to medium-high, and add in 1 tablespoon of sesame oil to heat up. Once it's hot, add the edamame and carrots, and cook for 3 to 4 minutes until tender. Then add in the green onions and basil and cook another 1 to 2 minutes, and then set the veggies aside, transferring to a plate.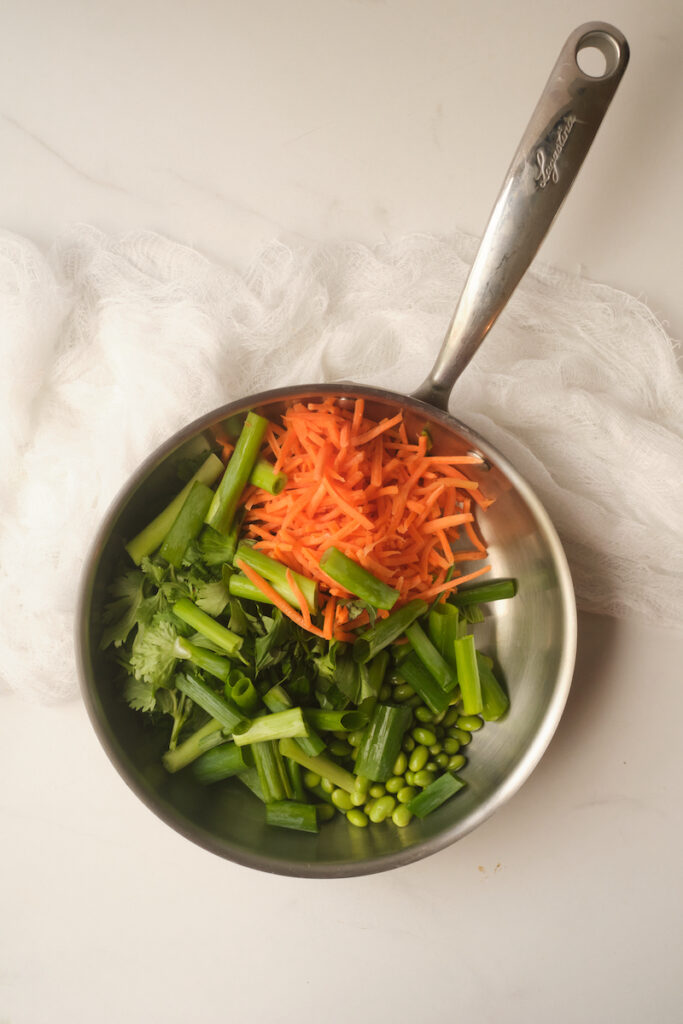 Using the same skillet you cooked the veggies in, wipe out the pan and return to the heat. Add coconut oil and then transfer the cubed and sauced salmon, cooking 1 to 2 minutes until the salmon is opaque and golden.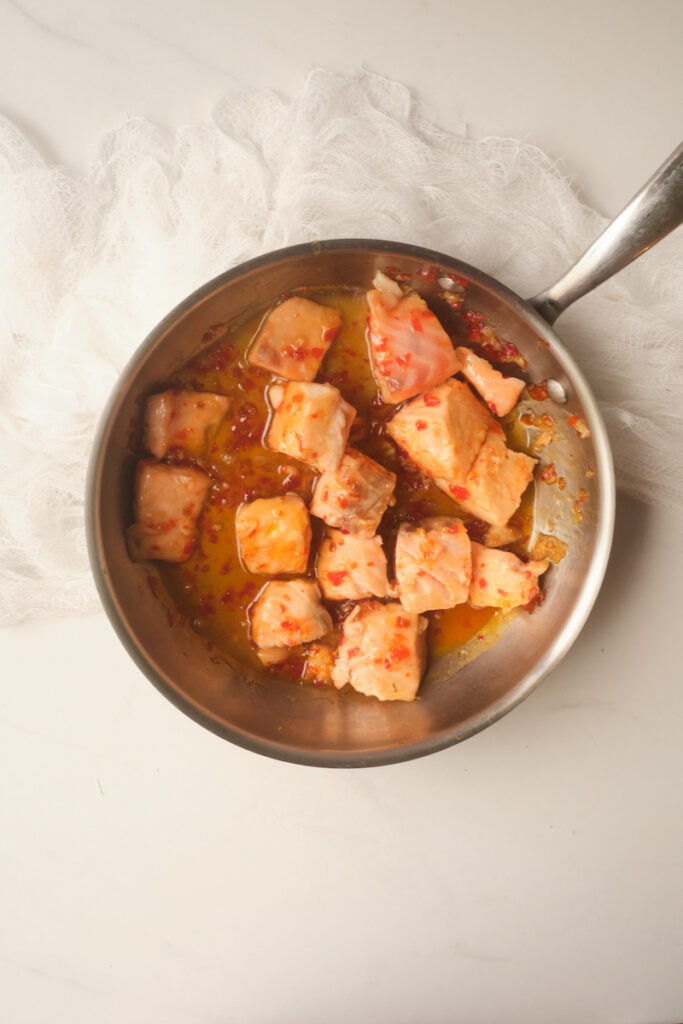 Then, plate your bowls! Divide up the rice evenly between bowls, and then add the veggies and salmon on top.
Garnish with cilantro and sesame seeds, and squeeze some fresh lime juice on top, adding fresh lime wedges to the side. If you happen to have some basil flowers on any of your plants, you can also use them as a nice and unexpected garnish!
Enjoy!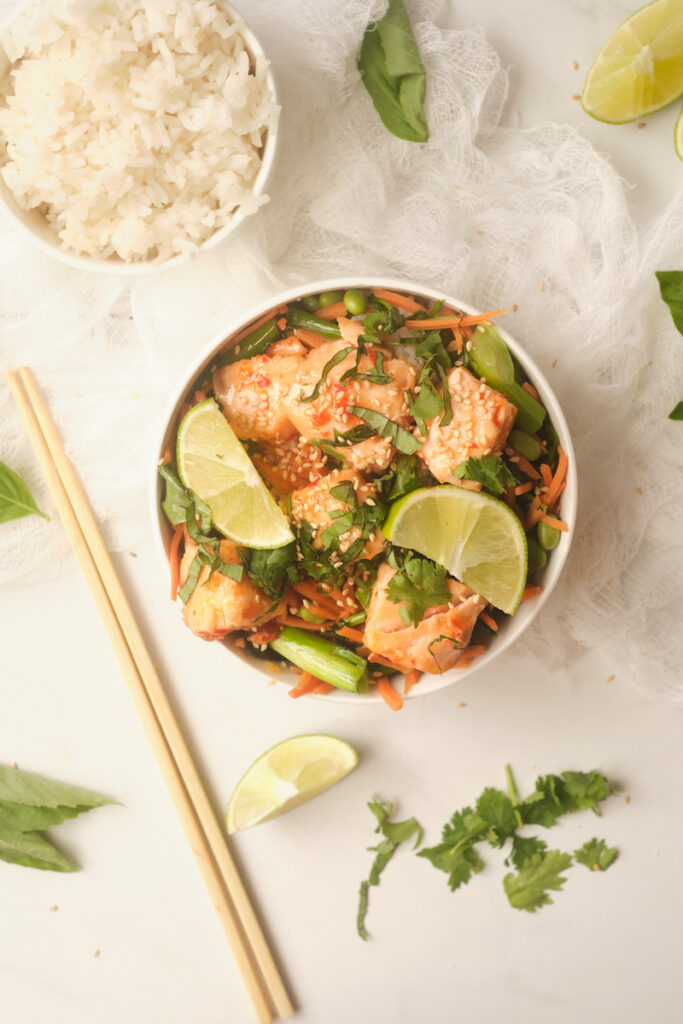 Summary of How to Make this Sweet Chili Salmon Rice Bowl Recipe
Cook the rice according to package directions.
Skin and cube the salmon, transferring the cubes to a large mixing bowl. Season with salt and pepper, and cover with 1/4 cup sweet chilli sauce and 1 tablespoon of honey. Toss well to coat all the cubes well. Set aside.
Heat a large skillet on medium-high heat, and add 1 tablespoon of sesame oil. Once the oil is hot, add edamame and grated carrots, cooking until tender (about 3 to 4 minutes). Add the green onions and basil, and cook another minute or two, and then set the veggies aside on a plate.
Wipe out the pan with a paper towel, and return to heat. Add the coconut oil, and then transfer the salmon cubes, cooking about 1 to 2 minutes on each side until the salmon is opaque, and golden on the sides.
Divide rice evenly among bowls, and then pile the veggies and salmon on top. Sprinkle fresh cilantro and sesame seeds over top, and squeeze 1 or two lime wedges, adding more wedges for garnish. If desired, drizzle some more sweet chilli sauce on top.