As an Amazon Associate I earn from qualifying purchases. This website also participates in other affiliate programs and may earn commissions if you shop through the links used on this website. 
(This article was originally published on June 27, 2022 and was last updated on September 14, 2022)
If you love common basil, branching out into cultivating some different basil varieties is a wonderful way to explore more flavors.
And lettuce leaf basil is one of the interesting options that you might consider.
Below, you'll find everything you need to know about growing and using lettuce leaf basil plants in your home garden.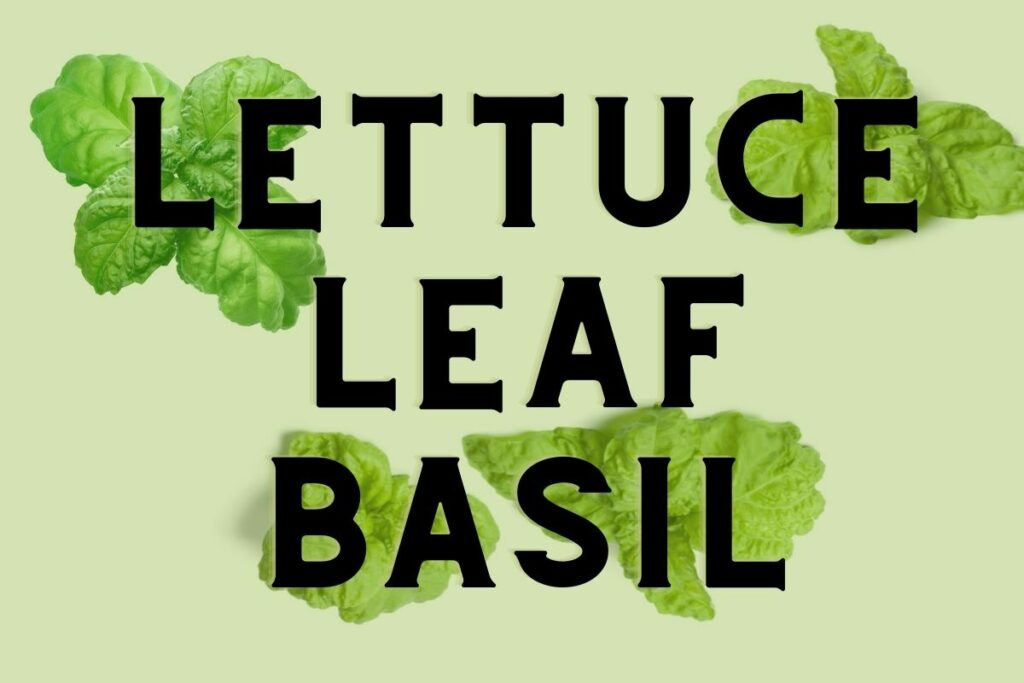 What is Lettuce Leaf Basil?
Lettuce leaf basil is a cultivar type of Ocimum basilicum (common basil, or sweet basil). It is often identified by the name Ocimum basilicum 'Crispum'.
This particular type has much larger leaves that your standard Genovese basil you'll find in your supermarket. And, as the name suggests, the large size and crinkled leaves resemble a lettuce leaf!
Lettuce leaf basil likes the same growing requirements and can be used in much the same ways as other cultivars of this basil species.
The leaves taste similar to other sweet basil types but they have a slightly more subtle or milder basil flavor. The flavor is still sweet, but not as strong as other types.
As well as searching for lettuce leaf basil, or Ocimum basilicum 'Crispum', you can also find large-leaved basils marketed under specific names, such as 'Mammoth Basil', 'Green Ruffles Basil' and 'Napoletano Basil', for example, all of which are characterized by their large leaves.
Lettuce leaf basil has been around since the late 1800s. It has larger leaves than any other Basil type. The leaves can grow up to around 15cm long!
Why Grow Lettuce Leaf Basil?
For those who love basil, the charms of growing lettuce leaf basil plants are rather obvious.
The large leaves mean that there is a far more abundant harvest produced by each of the plants, so you can grow a lot of basil in a relatively small space. This sheer size makes this a particularly productive variety of basil!
Though the taste is not as strong, many people prefer the subtlety of lettuce leaf basil in cooking. People also tend to love to use this type of basil in salads or fresh wraps, where its somewhat more subtle taste won't overwhelm other flavors in the dish and can please the palate when used raw as well as cooked.
Lettuce leaf basil can also, like other basils, be useful in the garden. Any basil works well as a companion plant for crops like tomatoes. One of the reasons why basil can be a beneficial companion crop is that it works as groundcover – helping to retain moisture in the soil and suppress weed growth.
With its large crinkled leaves, lettuce leaf basil can be particularly useful as a ground cover plant – as the giant leaves shade the soil and help with water conservation.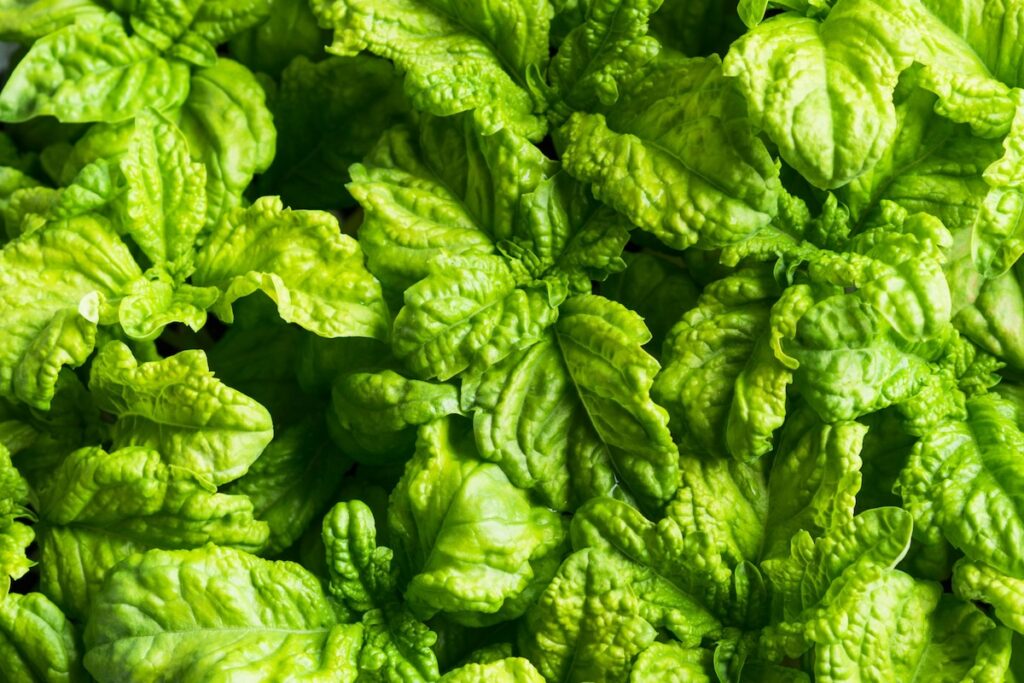 One of my top growing tips, however, is that basil with larger leaves will require plenty of nitrogen. I recommend adding a nitrogen-fixing plant to the polyculture in a vegetable bed to make sure these leafy plants get what they need. Adding nitrogen-rich mulches around these plants can also be a helpful approach.
How to Grow Lettuce Leaf Basil
Fortunately, lettuce leaf basil is no more challenging to grow than other basils with which you may be more familiar. You should not find it difficult to grow it in your garden, whether you grow it in among other edible plants, in a dedicated herb garden, or suitable containers.
Where to Grow Lettuce Leaf Basil
There are three main places where lettuce leaf basil might be grown:
Among other crops or other plants, in raised beds or the ground.
In a dedicated herb garden area (such as a herb spiral for example).
In containers. (In a compost/ potting mix, or potentially in water in a hydroponic or aquaponic system, either outdoors in a suitable area or indoors in a light, bright location.)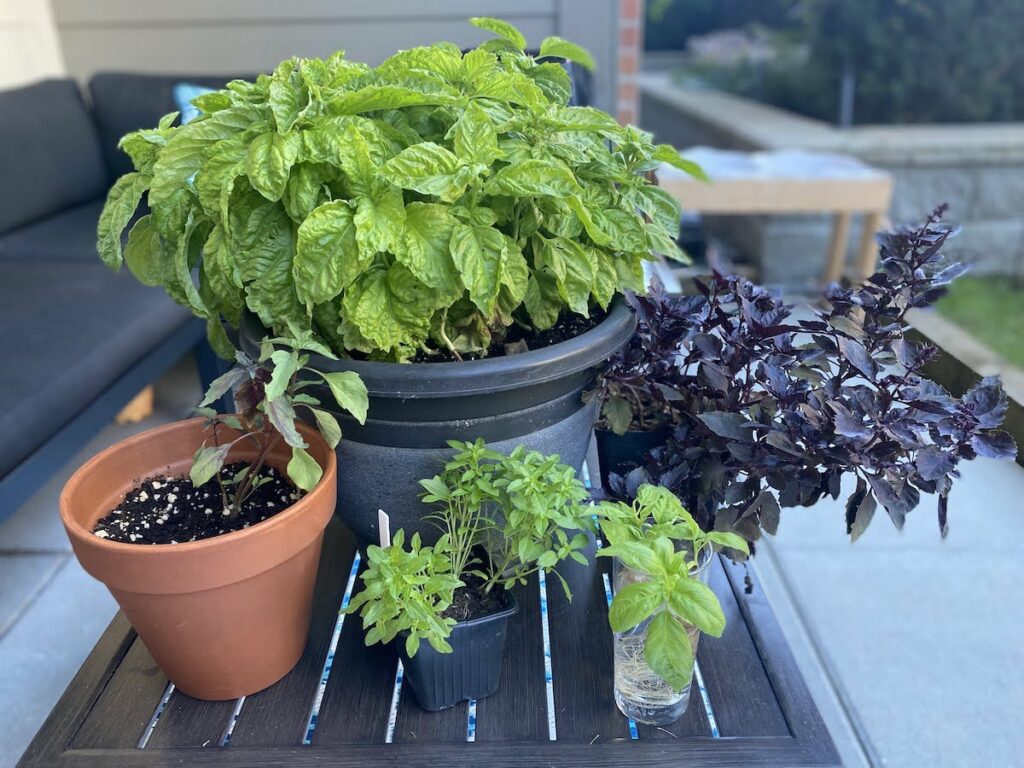 However, if you choose to grow your lettuce leaf basil, remember that it will grow best in a warm and sheltered position in full sun, ideally with 8 or more hours of sun per day. In hot areas, it may also appreciate a little shade during the hottest part of the day.
One good thing about this type of basil, however, is that in warm summer regions, it is somewhat less quick to bolt than some other varietals.
Sowing Lettuce Leaf Basil
Lettuce leaf basil seeds are, in temperate climate gardens, usually sown indoors in early spring, around 6 weeks before the last frost date in your area. The seeds should be sown into a suitable moist yet free-draining seed starting compost at a depth of around ¼ inch.
I have also found that this type of basil germinates easily, and you can direct sow where it is to grow as long as the temperatures and conditions allow. The optimal temperatures for lettuce leaf basil are between 75 and 80 degrees F, which suits early summer sowing in some regions. You should notice germination within a week or so.
These are conditions that I can provide in a sheltered bed inside my polytunnel in summer, even though these conditions are not typically available outside where I live. But if you don't have the right conditions indoors, these can be sown in an indoor garden and kept inside all summer as long as the air is not too dry.
Planting Lettuce Leaf Basil
If you do wish to plant out seedlings you have grown, wait until these have developed several sets of true leaves before transplanting, then pot them up, or harden them off and transplant them to the garden.
If you plant in a container, be sure to fill this with a growing medium that provides moist yet relatively free-draining conditions. Any peat-free compost can work well, just make sure that it is fertile, with plenty of nitrogen to aid leafy growth. This is particularly important with a basil with large leaves.
When planting into the ground or a raised bed, aim to keep seedlings around 20-25cm apart for good ground coverage without excessive competition. Or space a little further apart if growing for big leaves that are as large as possible.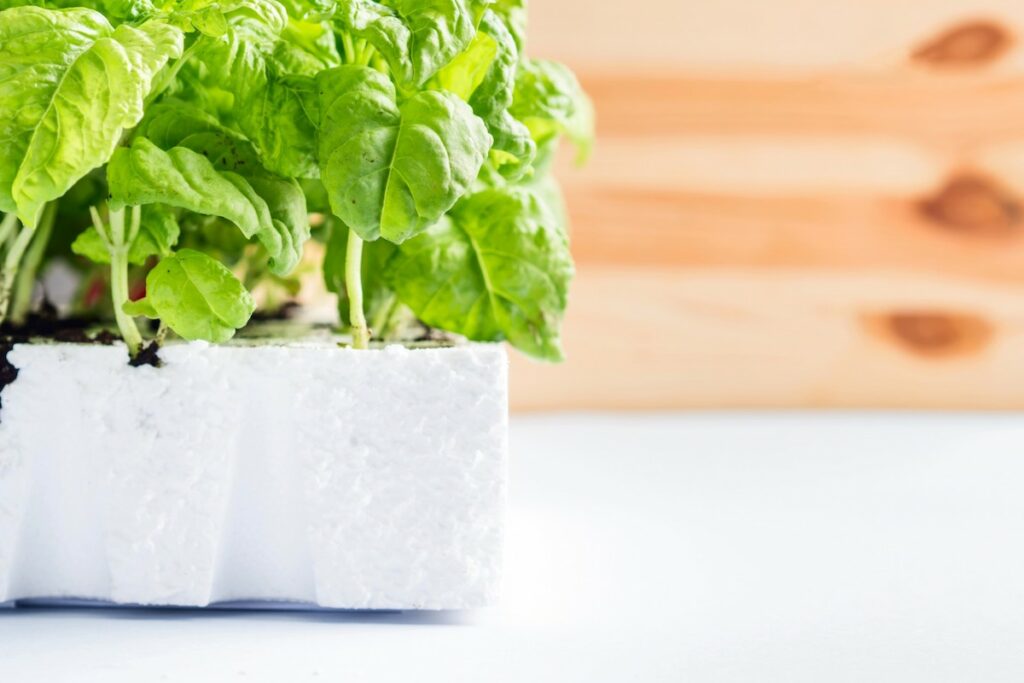 Caring for Lettuce Leaf Basil
Water well throughout the growing season, watering deeply when the top of the soil or growing medium feels dry. Make sure you water at the base of the plant and try not to wet the leaves to reduce the likelihood of fungal infections and other problems. Try to water early, rather than at the height of the day. Remember that plants in containers typically require more watering than those growing in the ground.
This large-leaved basil type will certainly thrive if you feed your plants with an organic liquid plant feed that is high in nitrogen. A nettle tea, grass-clipping feed, or compost tea could be ideal. Top dressing or mulching with compost, well-rotted manure, or other nitrogen-rich mulches will also help maintain fertility.
Though lettuce leaf basil can be very easy to grow – be warned, it can be something of a pest magnet. It is appealing, like other basils, to slugs and snails, and has also been known to be a target for Japanese beetles. Companion planting is highly recommended to reduce pest problems and encourage natural predation, as well as using physical barriers to protect your plants where required.
Harvesting Lettuce Leaf Basil
Harvest as soon as the leaves are of sufficient size, and continue to harvest leaves from the top of each plant as required through the summer. Regularly harvesting the tips will also encourage bushier growth.
As with other types of basil (purple basil, Thai basil, lemon basil, lime basil, etc.), it is recommended to harvest basil early in the morning when the essential oil content is high.
However, should you wish to harvest leaves that last for longer, harvesting later in the day might be a better policy. So when you should harvest this type of basil depends on how you want to use the big leaves in your kitchen!
As with other types of basil, you'll want to pinch off any basil flowers you see, unless you plan to collect the seeds and store them through the winter, until the next growing season.
How to Use Lettuce Leaf Basil vs Normal Sweet Basil
Like other basils, you can certainly use lettuce leaf basil to make pestos, and in a range of recipes.
The unique leaf size and mild taste mean that this type of basil also lends itself perfectly to making salads, and for making lettuce leaf basil wraps. One leaf can also fit perfectly in sandwiches or toasties or burgers.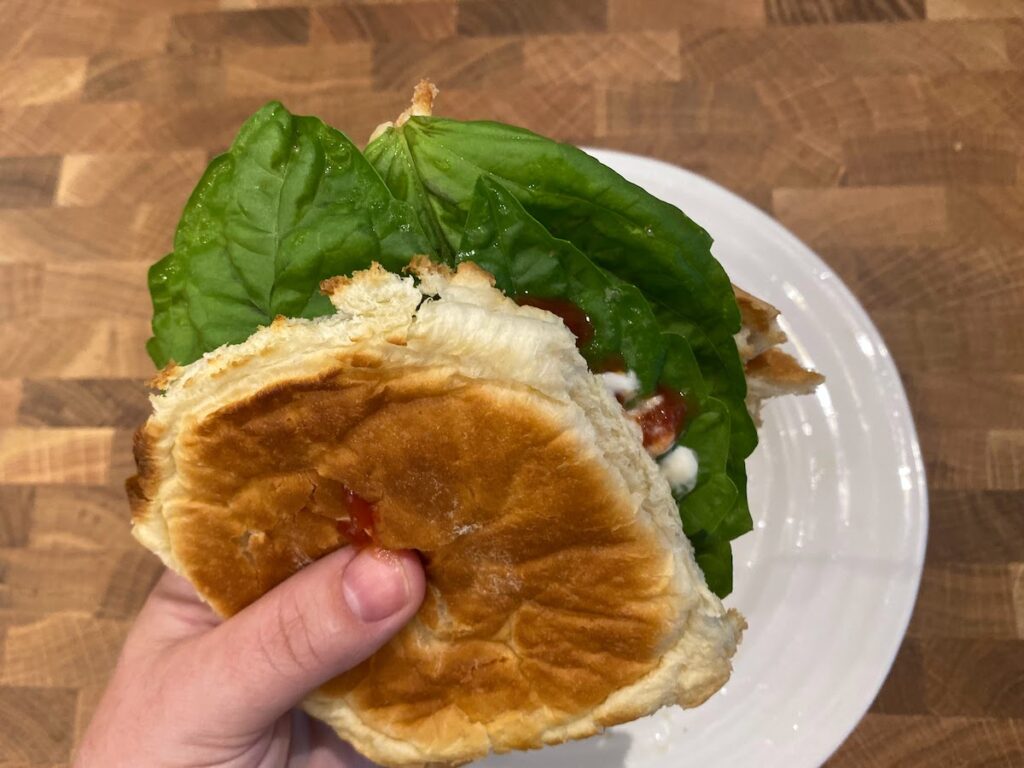 Where To Buy Lettuce Leaf Basil Seeds
If you have decided that you would like to grow lettuce leaf basil in your garden, here are some sources for lettuce leaf basil seeds for sale in the US:
This form of basil is a great option for basil lovers and could be an interesting option if you want to expand your basil-growing repertoire.
FAQs
What does lettuce leaf basil taste like?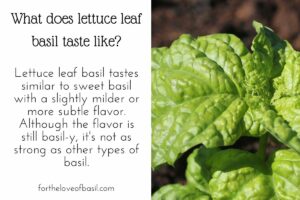 Lettuce leaf basil tastes similar to sweet basil with a slightly milder or more subtle flavor. Although the flavor is still basil-y, it's not as strong as other types of basil.
What's the difference between mammoth basil vs sweet basil vs lettuce leaf basil?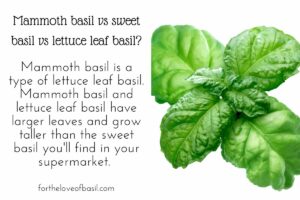 Lettuce leaf basil is a cultivar type of Ocimum basilicum (common basil, or sweet basil). It is often identified by the name Ocimum basilicum 'Crispum'. Mammoth basil is a variety of lettuce leaf basil. Both mammoth basil and lettuce leaf basil generally have much larger leaves than Genovese basil you'll find in your supermarket.
How big does mammoth basil get?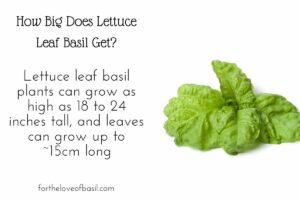 Mammoth basil plants and other lettuce leaf basil plants can grow as high as 18 to 24 inches tall. Lettuce leaf basil leaves can grow up to approximately 15cm long!
How do you eat lettuce leaf basil?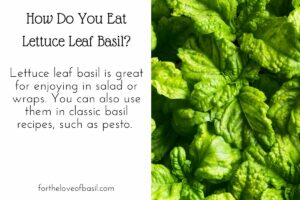 The unique leaf size and mild taste of lettuce leaf basil varieties mean they're great for enjoying in salad or wraps. You can also use them in classic basil recipes, such as pesto.
Elizabeth is a garden designer, consultancy and writer passionate about growing herbs and other edibles in a sustainable way. She works on her own 1/3 acre garden, growing basil alongside her tomatoes in her polytunnel, and indoors alongside a range of other herbs and crops. She loves inspiring others to get growing and enjoying a home grown diet, wherever they live in the world.