This website contains affiliate links. If you shop through the links used on this website, I may earn commissions.
This asparagus omelette with basil and goat cheese is easy to whip up for a hot breakfast (or lunch…or dinner) during the week. It makes an especially easy breakfast if you roast the asparagus the night before.
However, where it really shines is as a weekend brunch recipe. It's easy to make, but it looks fancy, especially if you leave the asparagus spears long, rather than chopping them into pieces.
And asparagus goes wonderfully with basil and goat cheese, making this an excellent flavor combo!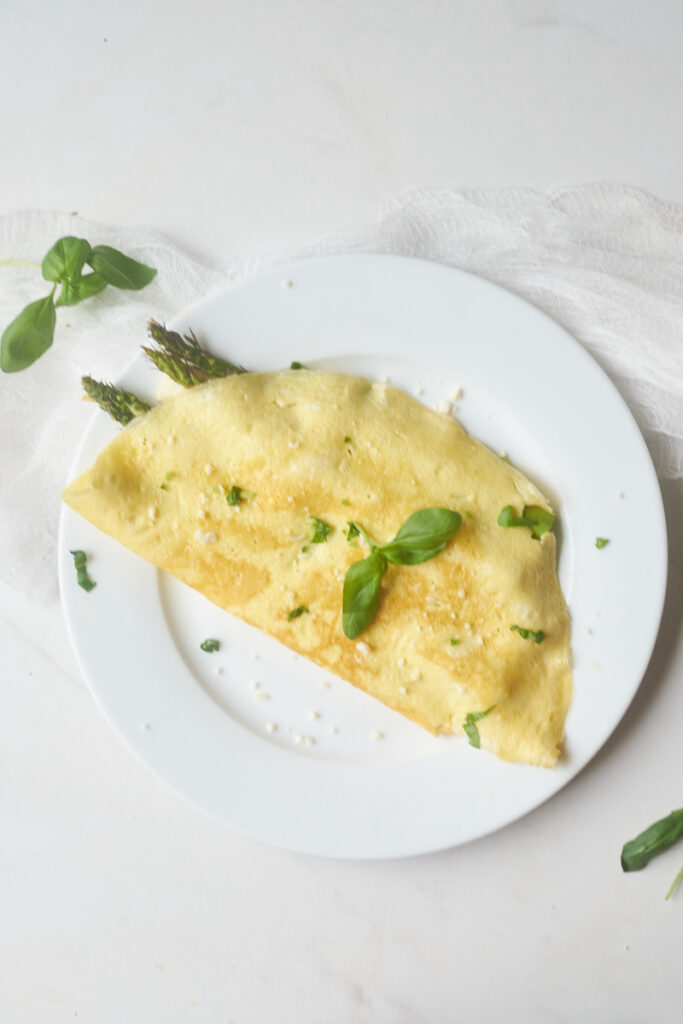 Omelet or Omelette?
There are two ways to spell this classic French egg dish, and both are correct.
'Omelet' is the standard American-English spelling.
British English speakers use the classic French spelling 'omelette'.
Whether you plan to make an asparagus omelet or an asparagus omelette, I hope you'll find this version delicious!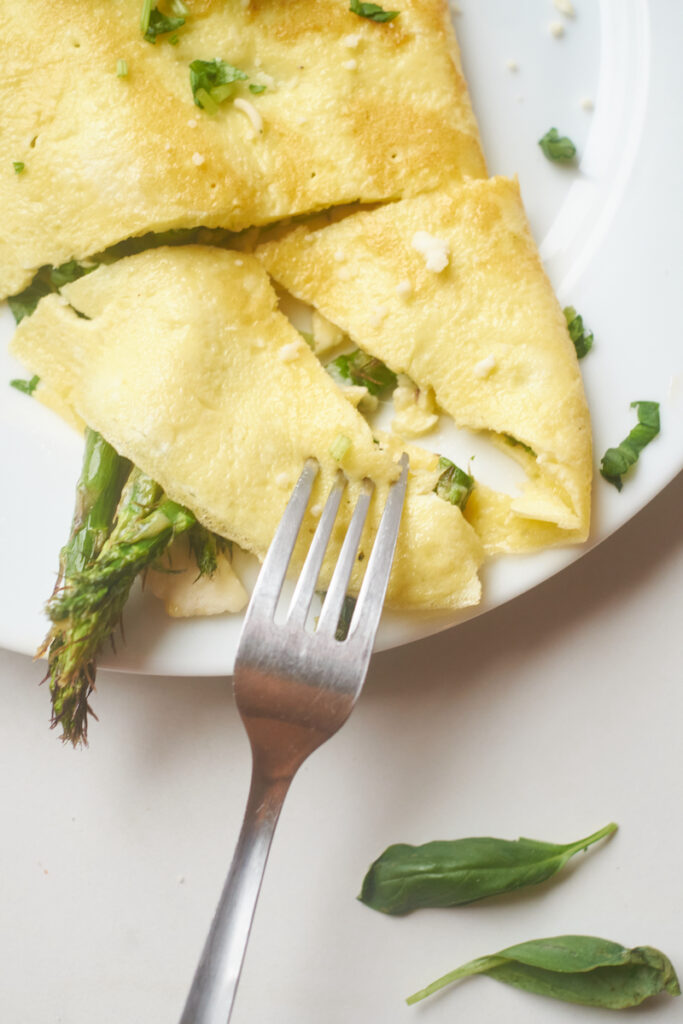 Why You'll Love This Asparagus Omelet with Basil and Goat Cheese
This omelette recipe is not only delicious, but it's also incredibly easy, versatile and a good source of protein, with around 18 grams of protein in the 3 large eggs used to make this recipe.
Nutrition facts (Estimated)
Calories 187
Fat 9 g
Carbs 6 g
Protein 18 g
What's more, the asparagus used in this recipe is high in vitamins A, C, and K, as well as fibre and folate.
Preparing The Veggies for your Asparagus Omelette
Fresh asparagus has deliciously tender tips but tough, woody ends. To remove that part, simply bend the asparagus stalk where it starts to turn white and the end should snap off easily.
Next, wash your asparagus under cold running water. Leave the stems long or cut them in half and put them to the side in a medium bowl.
Rinse your basil in a colander under cold running water and pat dry with a paper towel or clean dish towel. Instead of tearing your large basil leaves, roll them up and slice them into ribbons (chiffonade).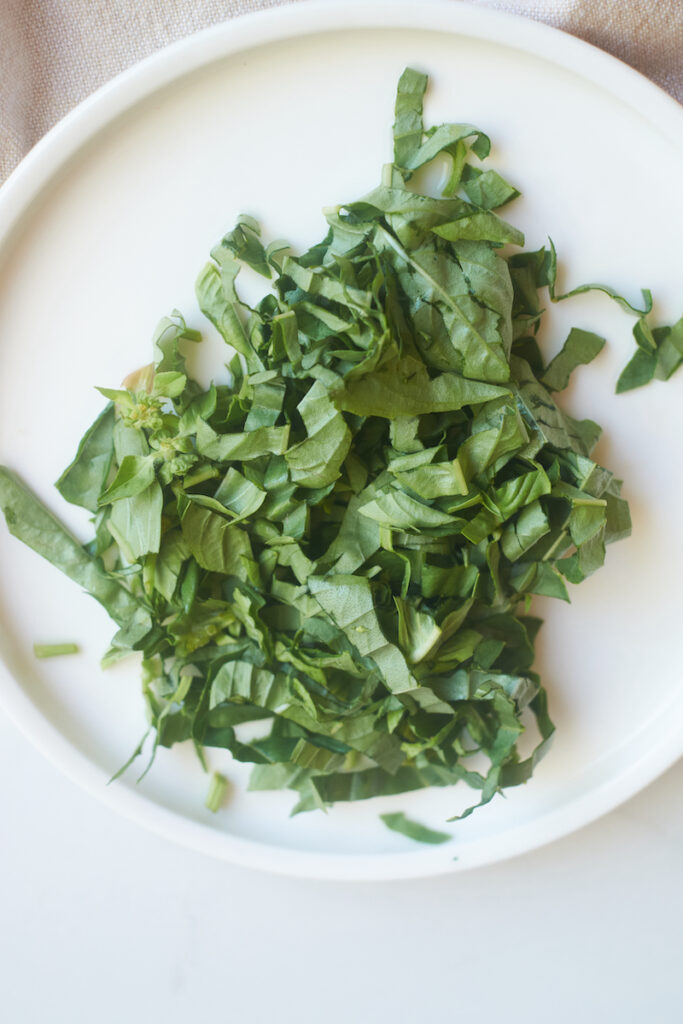 How to Cook an Omelette
An omelette is a perfect breakfast or brunch recipe. While cooking an omelette is actually pretty easy, it can be tricky to get a perfect omelet.
For an omelette that comes out evenly cooked with a fluffy centre, crispy edges, and filling that's perfectly done, here are a few things to keep in mind.
To make an omelette recipe, you're going to want to cook your filling and eggs separately. This is so everything finishes with the same consistency. Eggs can burn quite easily and don't require much cooking time, so if you start your omelette filling at the same time as your eggs, you might either burn your eggs so that your vegetables have enough time to cook, or you might make an omelette with raw, crunchy vegetables and cooked egg.
You want the omelette to slide right of the pan and onto your plate, so use plenty of oil or butter when cooking an omelette to prevent the eggs from burning or sticking to the pan.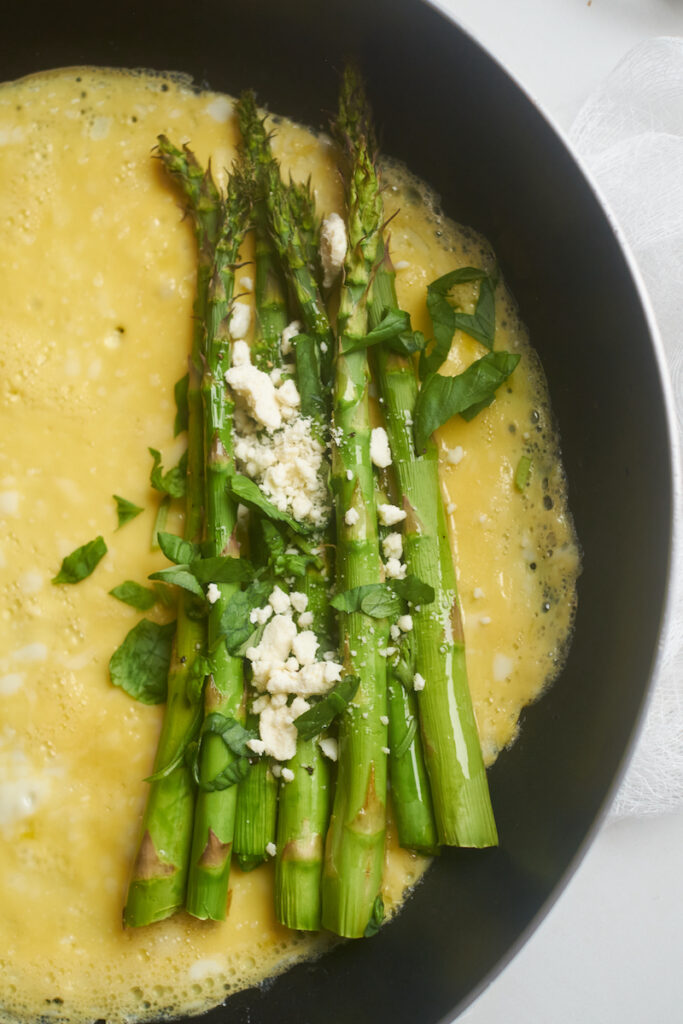 Prepare the Egg Mixture
Crack your eggs into a small bowl. The number of eggs you use obviously will depend on how many people you're feeding. Aim for 2-3 eggs per serving. Add some salt and pepper and any of your favourite spices to the bowl and whisk your eggs evenly. To make an extra fluffy omelette, you can mix in a bit of sour cream with your uncooked eggs and continue to whisk until your eggs are the desired consistency. You'll want your uncooked eggs to be slightly 'frothy' but not whipped.
Cook Your Filling
Start by cooking your omelette filling first. The best thing about omelettes is that they are extremely versatile, so you can put nearly anything in them. Over medium heat, add about half a tablespoon of melted butter or oil, then add onion and garlic. Reduce heat slightly, then add your desired veggies or meat to the skillet.
You could also roast your veggies beforehand like we're going to be doing for our asparagus omelette. In an oven-safe dish, add the filling and drizzle with olive oil, salt and pepper. Place in the oven for around 10-15 minutes, checking and stirring regularly.
Alternatively, if you wanted to cook everything in one skillet you could blanche your asparagus instead. Add asparagus to a pot of rapidly boiling water for 3-4 minutes. Drain and then add your asparagus to the skillet along with some melted butter or olive oil and stir frequently with a spatula for about 2-3 minutes. Remove the asparagus mixture to a small bowl and set aside.
Adding Your Eggs
Once your omelette filling is done, it's time to add your eggs. Turn down the heat and slowly pour your eggs into a skillet, continuing to whisk lightly as you do. Leave the pan relatively undisturbed, using a spatula to lift and poke holes in the eggs every few minutes to allow them to cook more evenly.
When the eggs are almost done, top one side of your eggs with the filling then gently fold over the other side. Alternatively, you could leave your filling in the pan and pour your eggs evenly overtop, lower the heat to the 'low' setting and then cover with a lid for about 5 minutes.
Eggs become rubbery when they're left to sit, so for the best tasting omelette, be sure to serve immediately.
Recipe Alterations
One of the reasons omelette recipes are so popular is that they are incredibly adaptable. Ingredients like herbs, cheese and vegetables can be changed to suit your taste. If you're out of a certain ingredient, replace it with whatever you have in your fridge.
A few suggestions on how to adjust this recipe include:
Substitute goat cheese with parmesan cheese for a recipe that mimics the taste of pesto.
In fact, almost any cheese will work well with this recipe. Mozarella and Gruyère melt very well, and feta will be an especially good substitute due to its bold flavour.
Add in some tomatoes, spinach or mushrooms to amp up the nutrient content of this recipe.
In addition to basil, you can add dill, parsley with chives, tarragon, or oregano.
How to Make this Delicious Asparagus, Basil and Goat Cheese Omelette
The Basics:
Prep: About 5 to 10 minutes
Cooking Time: 10 minutes
Total Time: 15 to 20 minutes
Serving Size: 1
INGREDIENTS
3 large eggs
2 to 3 tablespoons soft, unflavored goat cheese (could substitute with crumbled feta and be just as delicious)
3-4 tender asparagus spears
2 tablespoons fresh sweet basil, washed and either ripped or chopped. This recipe would also be nice with purple basil.
Freshly ground pepper to taste
Sea salt or kosher salt, to taste
High quality extra virgin olive oil
INSTRUCTIONS
Preheat your oven to 350F with the rack placed in the middle of the oven.
Thoroughly wash the fresh asparagus spears, getting rid of any dirt or sand in them, and snap off the bottoms so you're left with the bright green tender tops and upper two-thirds, with none of the duller, drier brownish green tough ends. Pat dry.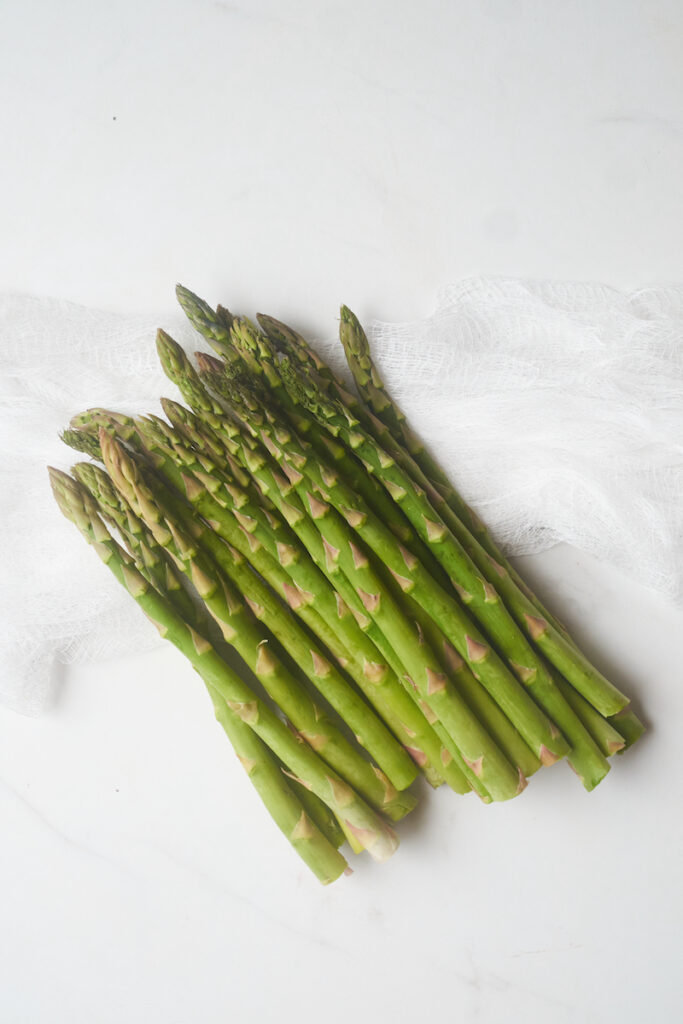 Arrange the asparagus spears on a baking sheet (you can use a silimat if you want). Drizzle with olive oil – using a bottle with a proper spout will help ensure you don't accidentally drench them! Then add freshly ground pepper and sea salt to taste.
Roast the asparagus spears for about 10 minutes, until you get a tender but al dente texture. Set aside the cooked asparagus.
As the asparagus is roasting, prepare the egg mixture. In a large bowl, crack and whisk eggs. Season with freshly ground pepper to taste.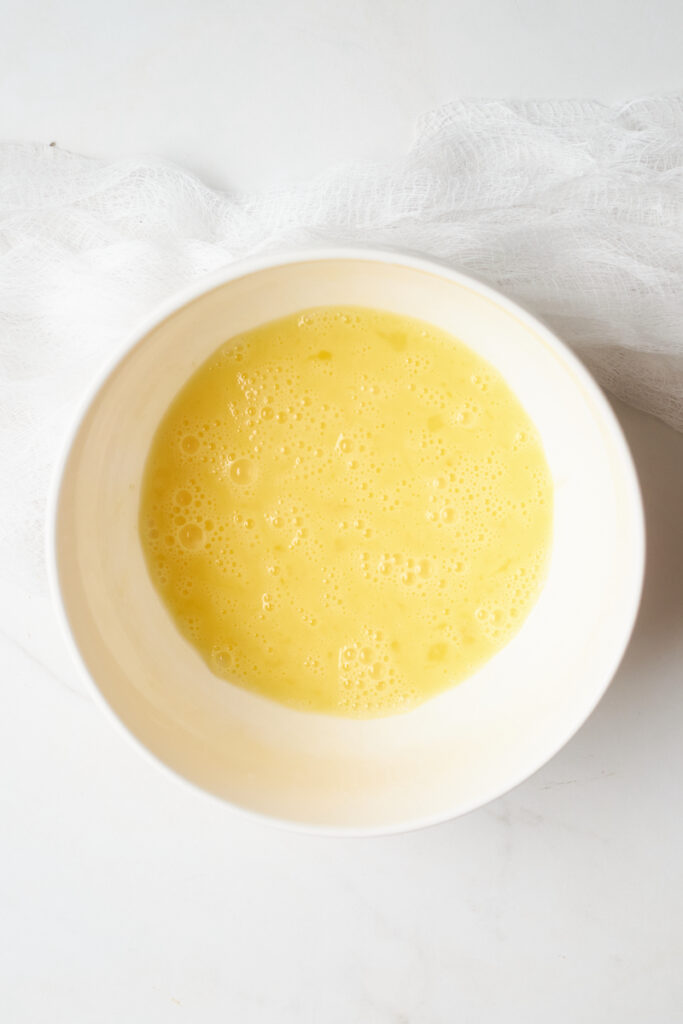 Heat a medium to large skillet over medium high heat, and add a bit of olive oil or butter to prevent sticking.
Once the pan is hot, pour the egg mixture in, and allow them to cook to almost done, using a spatula to lift the edges gently once in awhile. The eggs should be bubbly and firm, with a bit of runny liquid egg still on the surface
Arrange the roasted asparagus on one half of the top of the omelet, and then crumble/dab the goat cheese strategically around the same half. Sprinkle with the fresh ripped or chopped basil.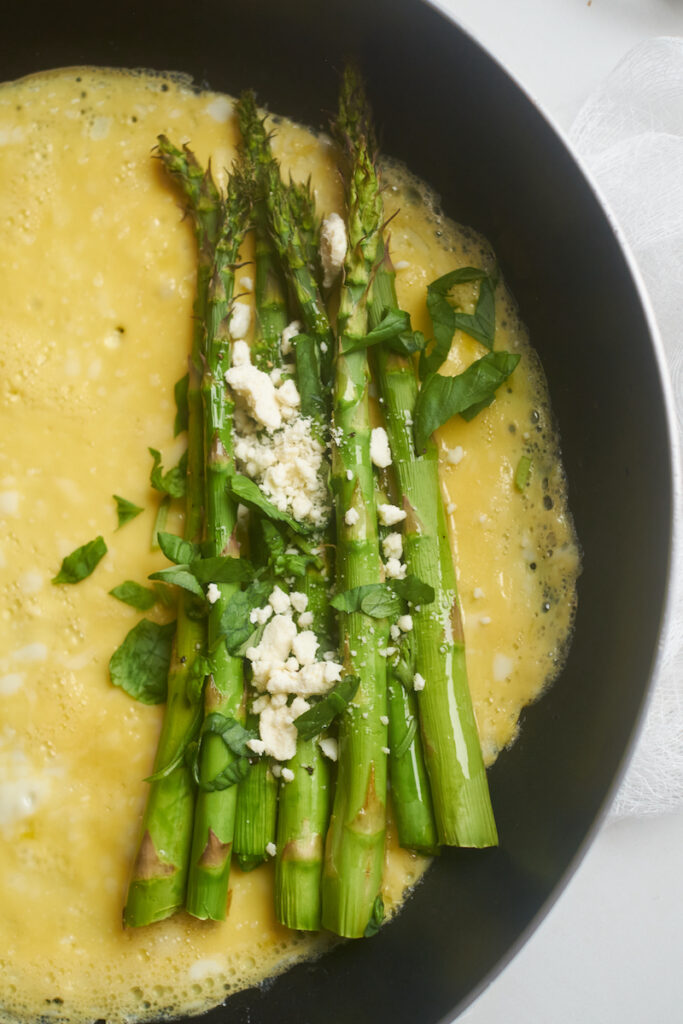 Gently lift the edges of one side of the asparagus omelet (the side that doesn't have the asparagus and cheese). Then, using a spatula, fold the omelette in half.
Plate and serve while it's still hot, adding a washed basil leaf or two on top for a nice garnish.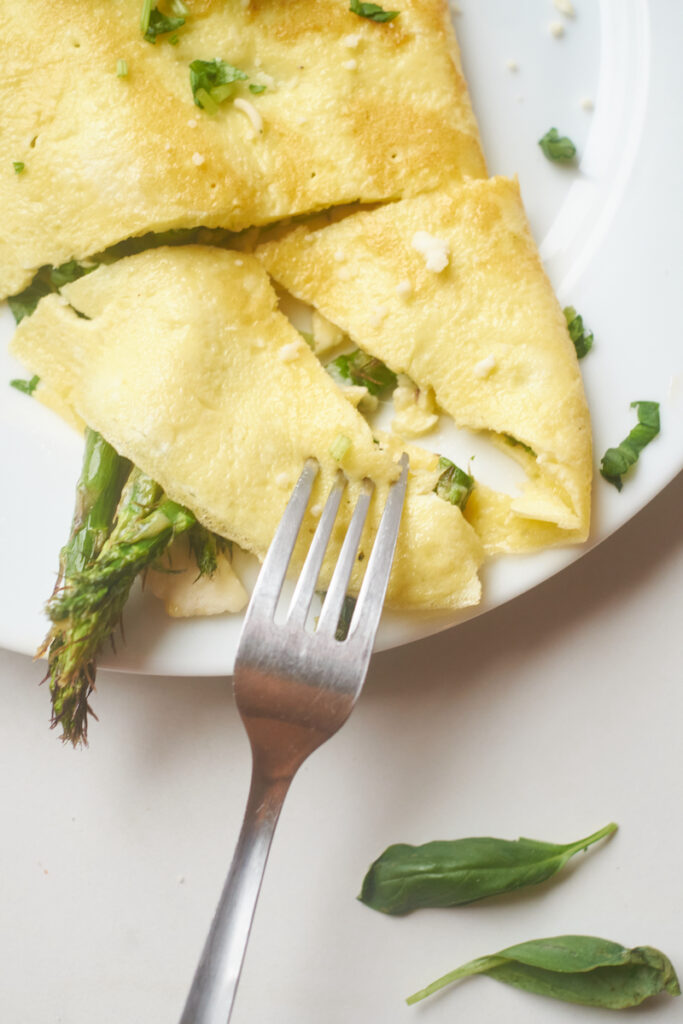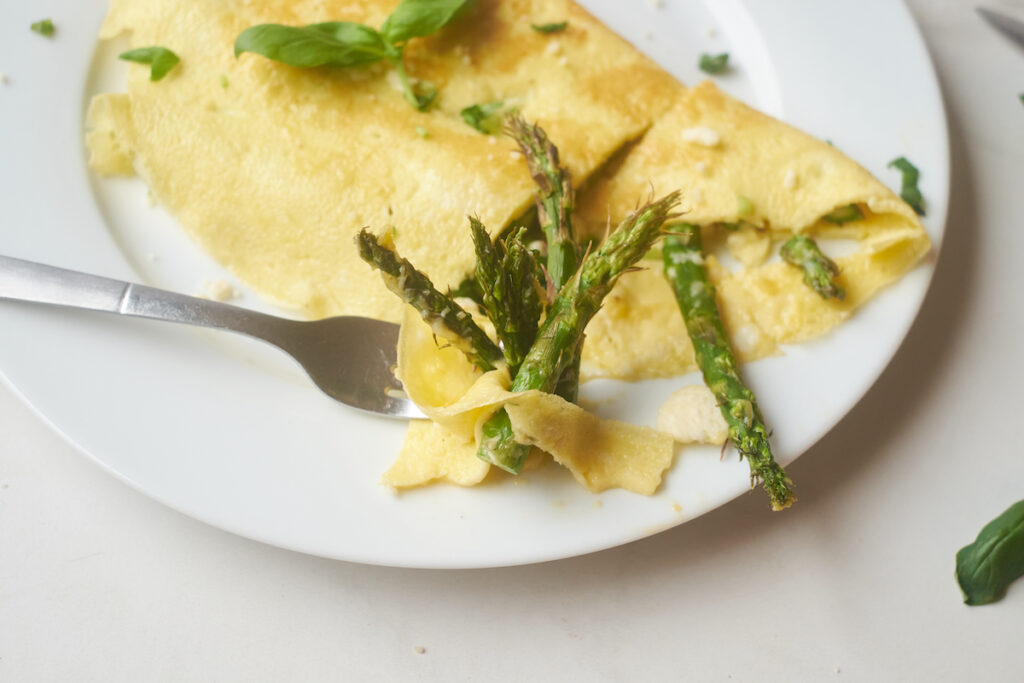 (This article was originally published on June 16, 2022 and was last updated on July 29, 2022)