As an Amazon Associate I earn from qualifying purchases. This website also participates in other affiliate programs and may earn commissions if you shop through the links used on this website. 
(This article was originally published on January 16, 2021 and was last updated on July 21, 2022)
This recipe for turkey burgers with sundried tomatoes and portobello mushrooms is one of those magical ones that fits so many different ocassions.
Summer BBQ? Check!
Date Night In? Check!
Who knew a turkey burger could strike a balance between being casual and upscale, without even trying?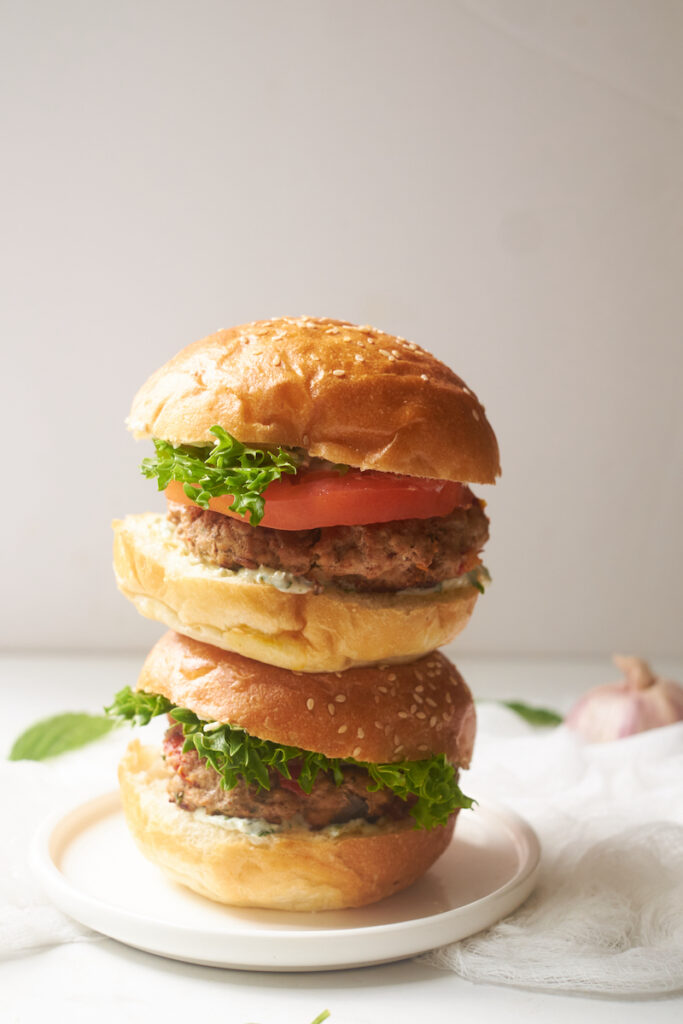 The turkey patties are juicy, and the flavor mixed into the ground turkey combined with the toppings and basil aioli makes them packed with flavors that work so well together.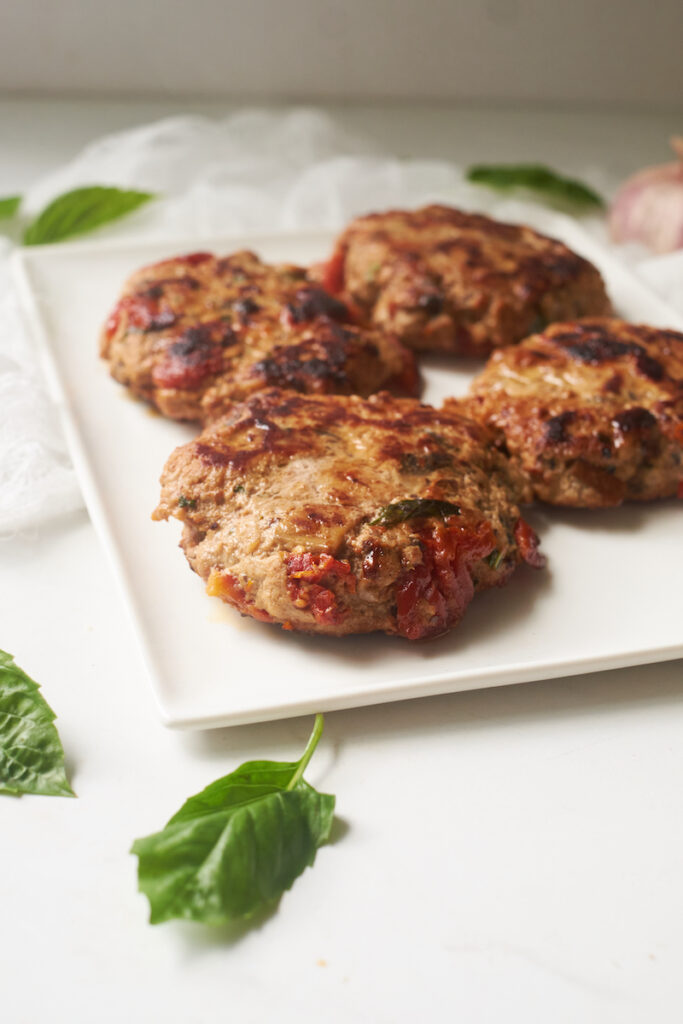 Even better than being delectable, flavorful, and juicy? It's insanely easy to make. Homemade basil pesto aioli and all!
Taking just 20 minutes or so, making them great for a weeknight dinner or last minute entertaining, for those times when friends or family stop by unexpectedly, and you don't want them to leave!
Now that I've mastered this recipe, the thought of buying pre-made turkey burger patties from the local butcher makes no sense to me!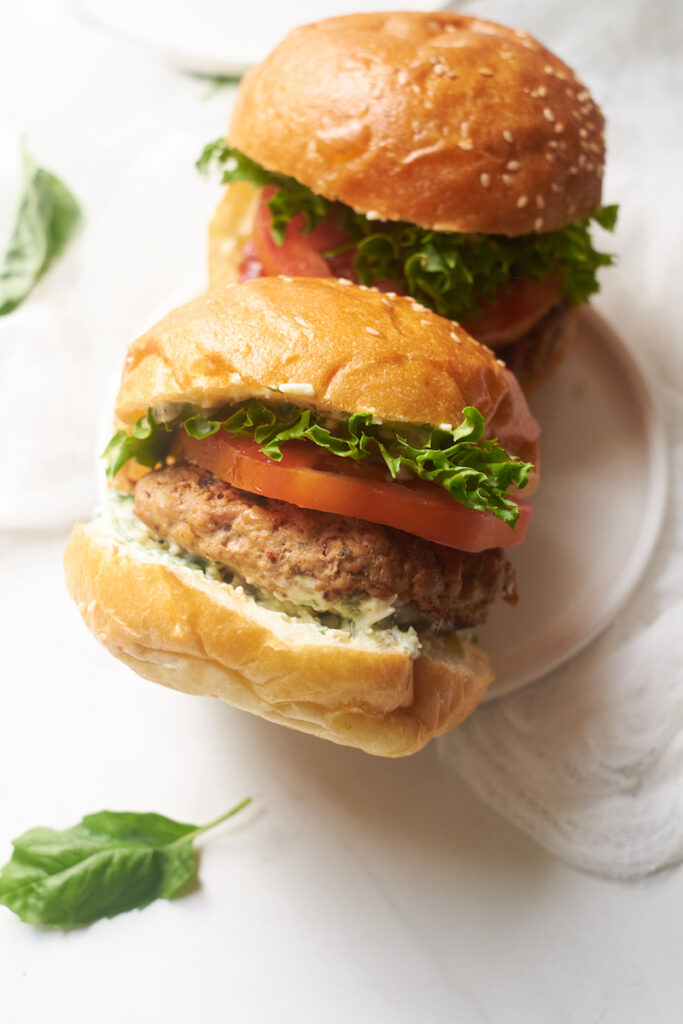 Subs and Changes
One of the things I love about a good burger mix is how easy it is to make simple changes.
Instead of making burger patties, these could easily be meatballs, served with a basil pesto pasta.
If you're eating gluten free, serve the burger patty over a bed of fresh baby spinach or other greens, dressed with the leftover oil from the sun dried tomatoes jar. Or baby spinach or kale that's been sautéed with shallots and garlic, wilted down, and squeezed with lemon.
So many possibilities!
| | |
| --- | --- |
| | Prep Time: 10 mins |
| | Cook Time: 10 mins |
| | Total Time: 20 mins |
| | Yield: 4 |
What You Need for these Best Turkey Burgers & Basil Aioli
Ingredients for the Turkey Patties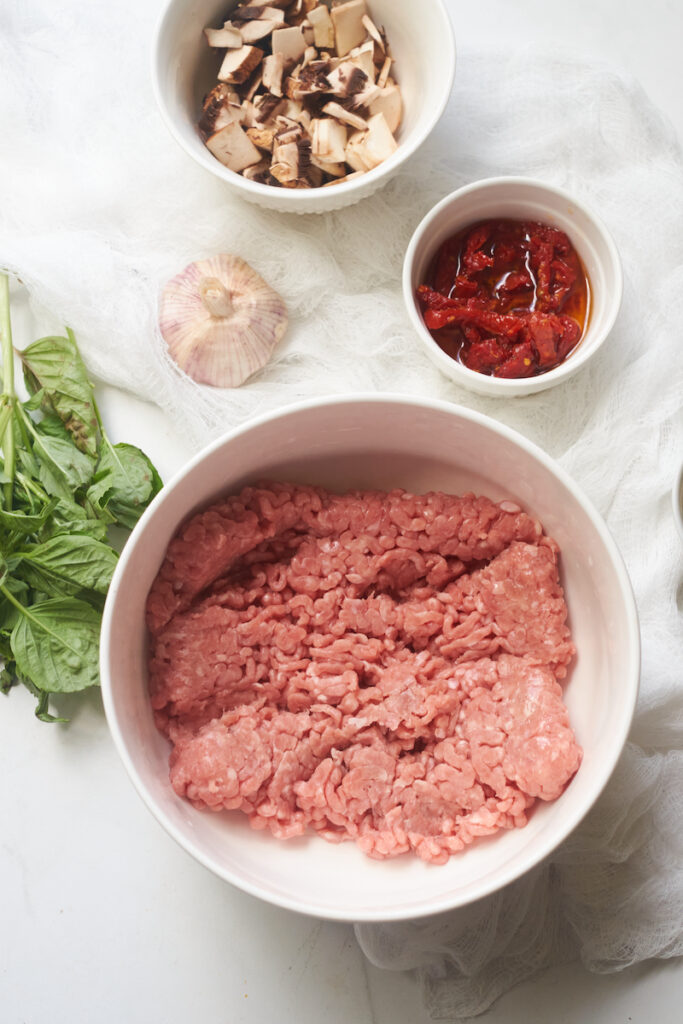 1 pound ground turkey
8 oz jar of sun dried tomatoes (stored in oil) and sliced into small pieces
4 oz baby portobello mushrooms, diced
¼ cup fresh basil basil leaves, rough chopped
½ tablespoon garlic, minced
¼ teaspoon garlic powder
¼ teaspoon freshly ground black pepper
¼ teaspoon dried thyme
Pinch of sea salt
Ingredients for the Pesto Basil Aioli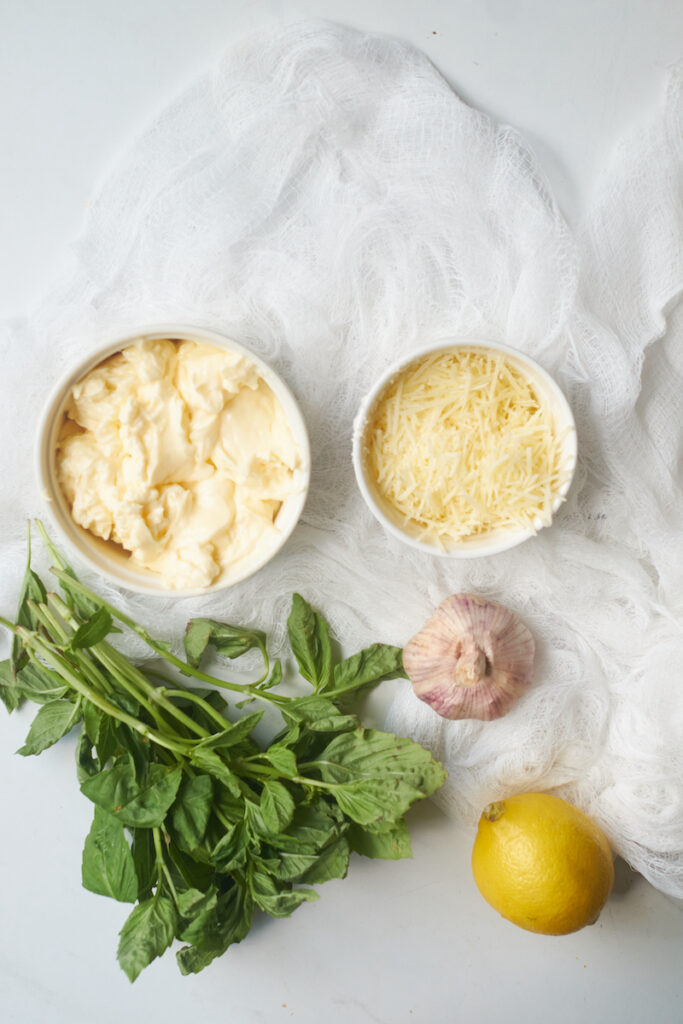 1 medium garlic clove
1 cup fresh basil, washed and loosely packed in a measuring cup. You could use purple basil in this recipe too!
1/4 to 1/2 cup freshly grated Parmesan cheese
1/2 tablespoon freshly squeezed lemon juice
A pinch of kosher or sea salt
½ cup store-bought mayonnaise
Extras For Serving
4 Hamburger Buns
Fresh Veggies, such as lettuce, sliced tomatoes, sliced red onions. If you want some extra basil oompf, you could use lettuce leaf basil as a garnish, instead of actual lettuce.
Fresh basil leaves for topping, optional pine nuts or feta crumbles
How to Make This Burger Recipe and Basil Pesto Aioli
For the Burgers:
Wash your hands with soap and warm water before beginning (and again after handling the raw turkey).
In a large mixing bowl, combine the uncooked ground turkey with diced portobello mushrooms, sliced sun dried tomatoes, minced garlic, fresh basil, and dried spices together, and mix. You can try with a fork, but I find mixing with my hands works best.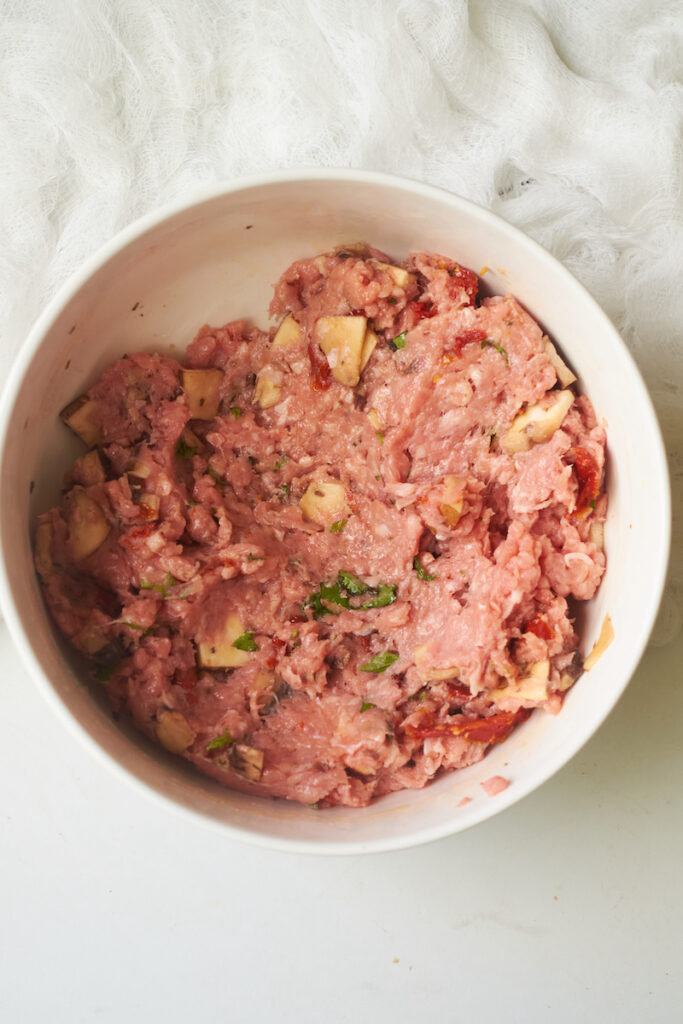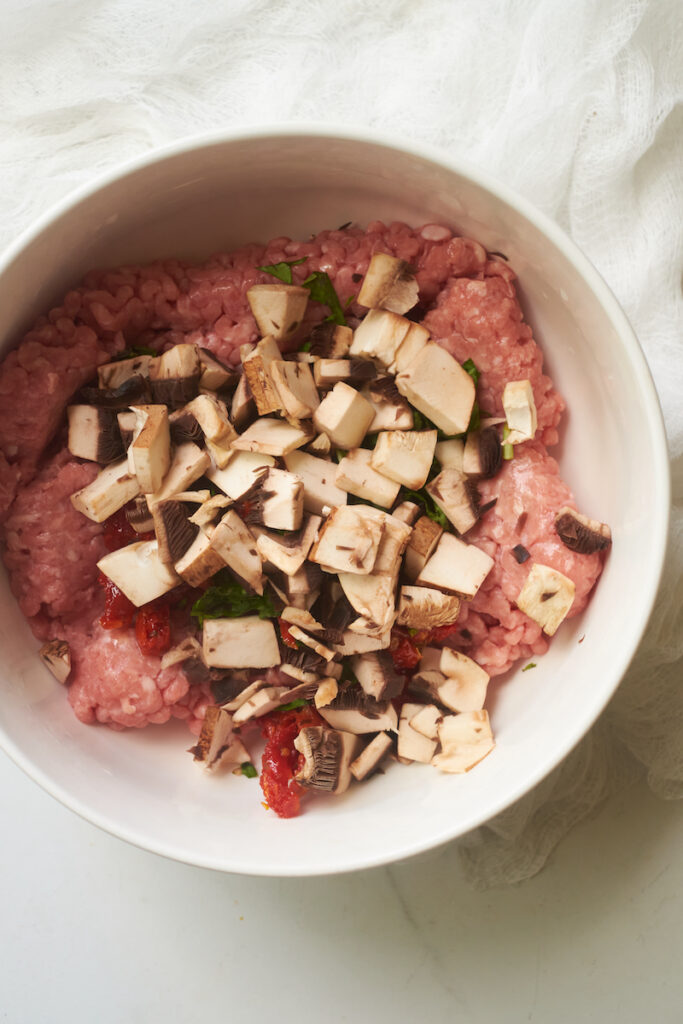 Form the turkey mixture into 4 equally sized burger patties, and place on a plate.
Heat a pan or grill to medium-high heat, and spray lightly with cooking spray.
Cook the burgers on the pan for around 5 minutes each side, or until they've reached a safe internal temperature.
For the Basil Aioli
Using a food processor, finely chop the garlic.
Once chopped/minced, add the rest of the ingredients: fresh basil, freshly grated parmesan cheese, freshly squeezed lemon juice, salt and mayonnaise. Run the food processor until the ingredients mix together, and you get a smooth sauce, with a similar consistency to ketchup.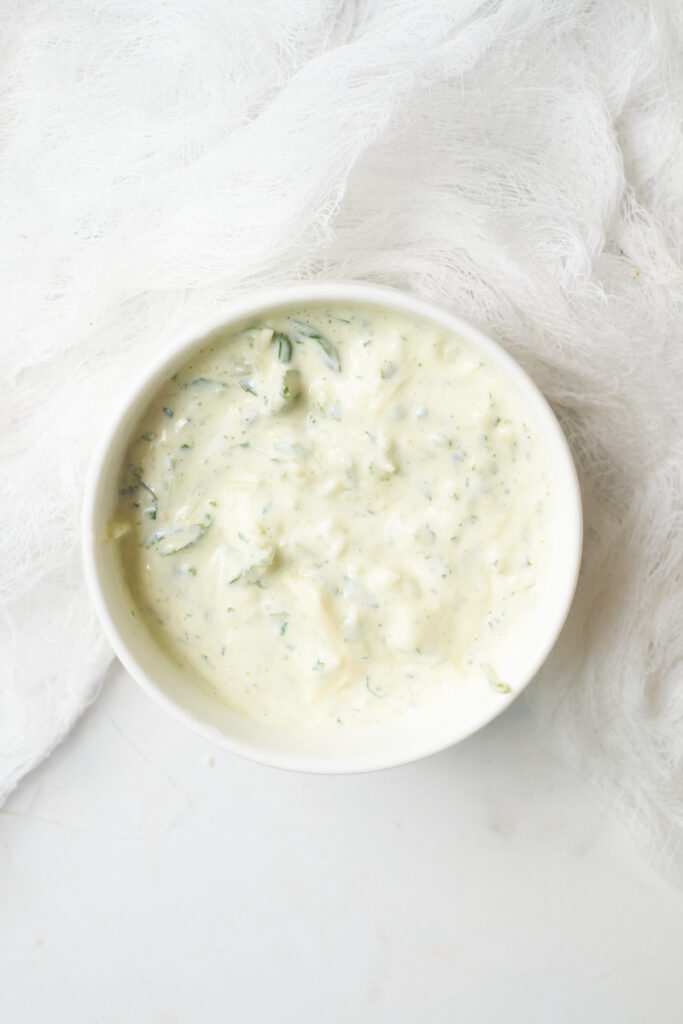 How to Serve
Lightly toast the hamburger buns, and spread with a generous slater of the basil aioli and add a turkey burger patty.
Pile with fresh veggies to taste, and an optional crumble of feta cheese and sprinkle of pine nuts on top and a leaf or two of fresh basil.