As an Amazon Associate I earn from qualifying purchases. This website also participates in other affiliate programs and may earn commissions if you shop through the links used on this website. 
(This article was originally published on August 6, 2021 and was last updated on July 21, 2022)
This wonderful recipe for apricot glazed salmon pairs two of my favorite summer flavors (apricot and sweet basil) for an easy, healthy and delicious summer salmon recipe. If you love salmon, you need to try this amazing recipe filled with heart healthy goodness and tons of flavor.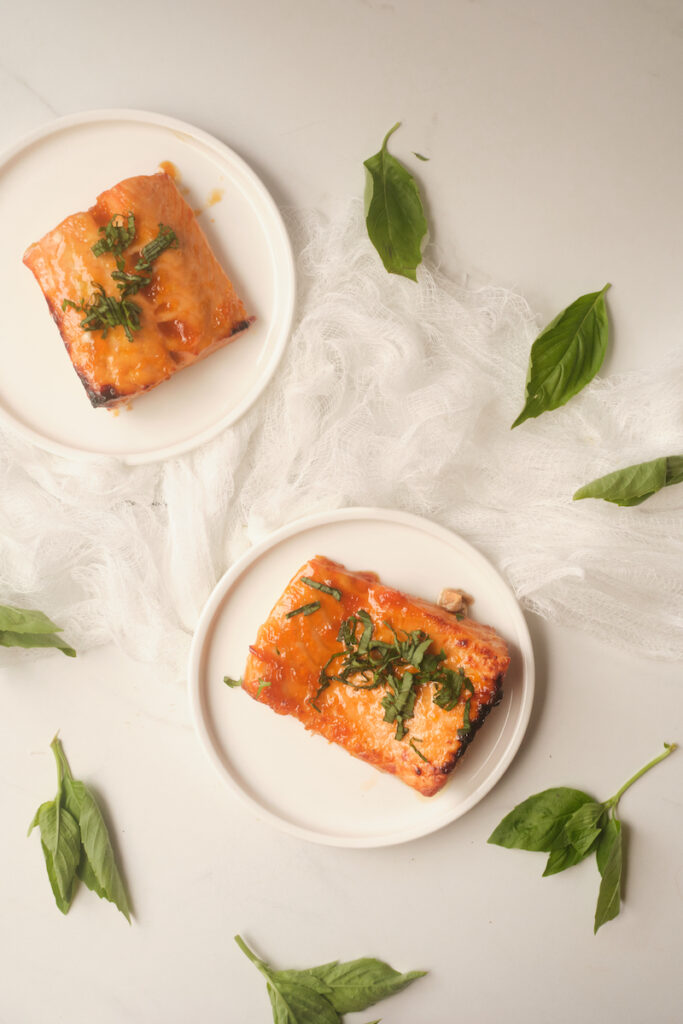 When apricot season hits, sometimes it's hard to know what to do with all the extras. There's only so many I can eat each season, and even when we give some away to friends and family, we always end up with extra. Which means apricot preserves!
Since I know apricot and basil are great friends, I thought I'd put together a sticky baked salmon with apricot basil glaze. It does not disappoint!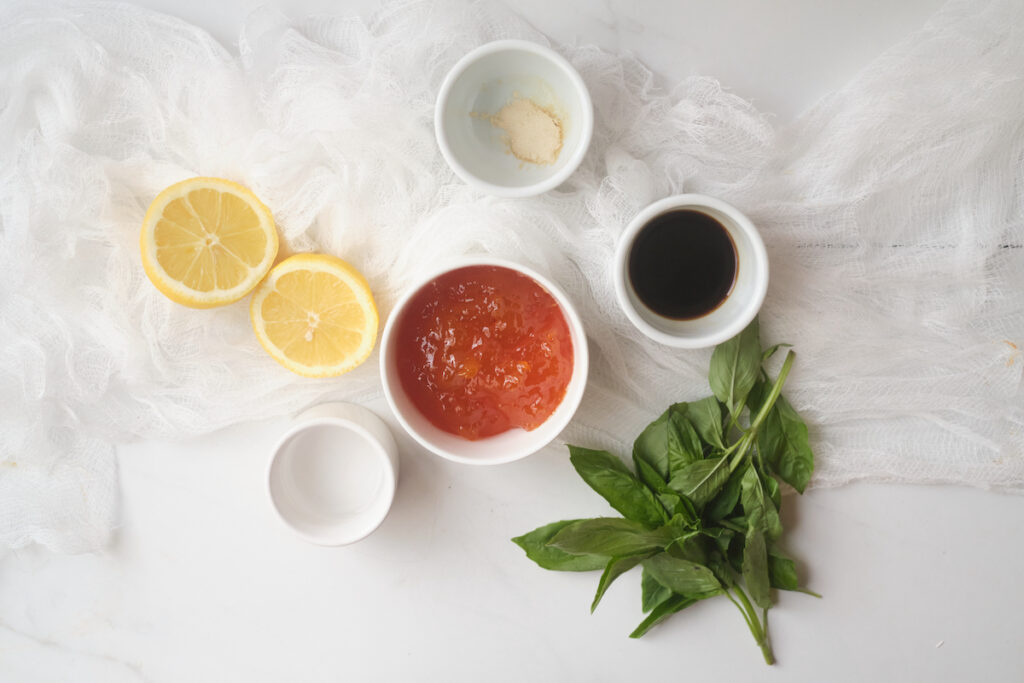 This Baked Salmon Recipe will Become a Favorite
This recipe for Apricot Basil Glazed Salmon is not only delicious, but it's also very easy to prepare.
That's one of my favorite things about salmon recipes – besides being insanely healthy, with all the omega goodness, they are usually super easy to make.
I love salmon, and could seriously eat salmon for almost every meal, both for the convenience, healthiness, and the flavours!
(In fact, we eat a ton of salmon, in the form of our Grapefruit Salmon, Honey Sriracha Salmon and Asian Sesame Salad, Sweet Chilli Salmon Rice Bowls, and Asian Salmon with Spinach and Basil Bowls)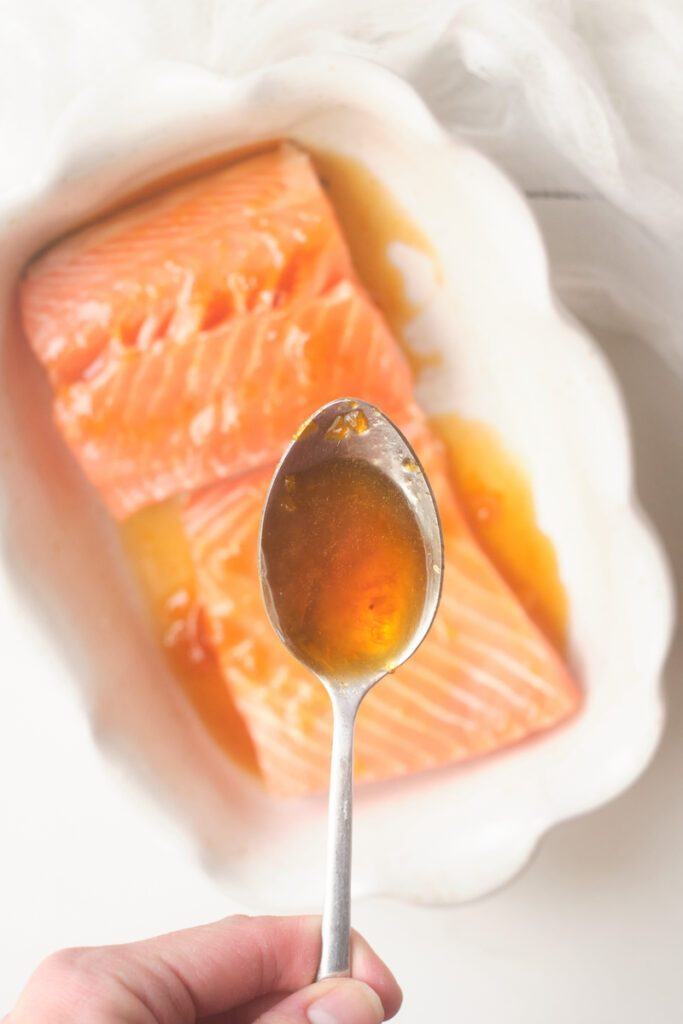 Apricot Glaze with Basil is the Secret
The glaze takes the flavour of the apricots and basil. Together, they create a wonderfully sweet and slightly spicy taste that goes well with the cooked salmon.
I tend to make this when I have apricot preserves on hand, but you could also whip up the apricot glaze using apricot jam instead, if you don't have any preserves.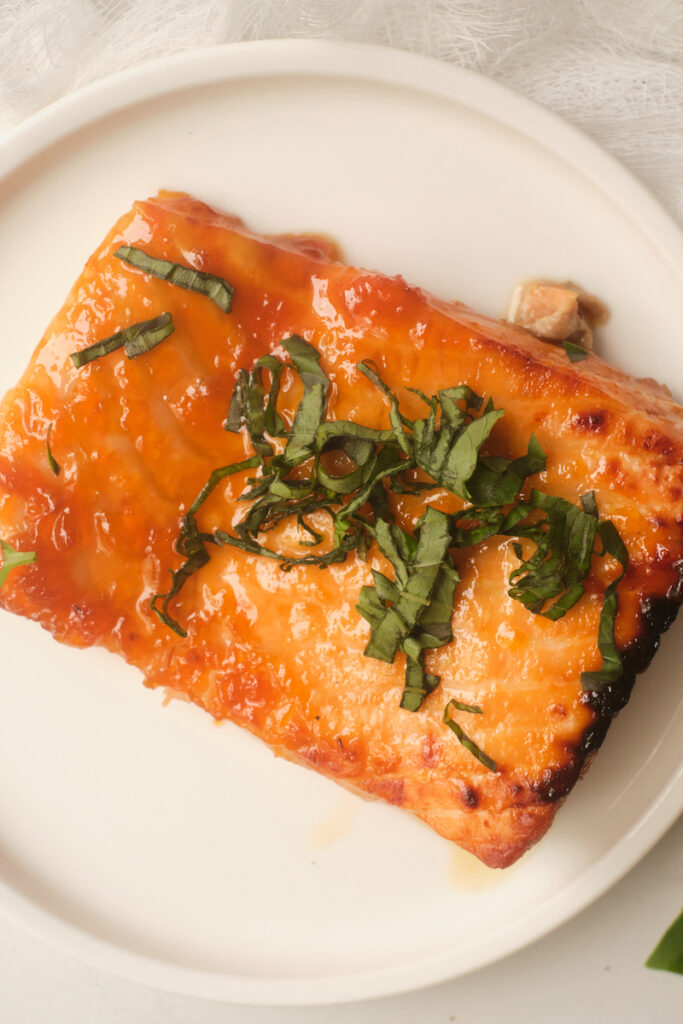 Tips for Cooking with the Basil
Whether you have fresh basil from your garden, or are using store bought basil, there are a few tips to ensure you get the best flavors.
To start with, don't use damaged basil leaves! I like to have some basil that I grow indoors, because it's easy to minimize disease. If your basil is turning black or brown, or is seriously wilted or has holes in them, simply discard those leaves and use leaves that look healthy.
When growing your own basil from seed, make sure your seeds are certified to be free of disease to minimize the chances of some of these issues. If you've harvested your own basil seeds, make sure they're stored properly and free from mould before planting the following season. Likewise, only propagate basil cuttings from healthy plants!
If you're growing your own basil, water it the night before you prune and harvest for maximum flavor. If you find yourself with a few basil flowers on your plant, trim them off and add them as a garnish!
Ingredients for this Apricot Salmon with Basil
If you're ready to whip up the perfect late summer recipe, with low effort and high flavor, here's the recipe for this apricot glazed salmon.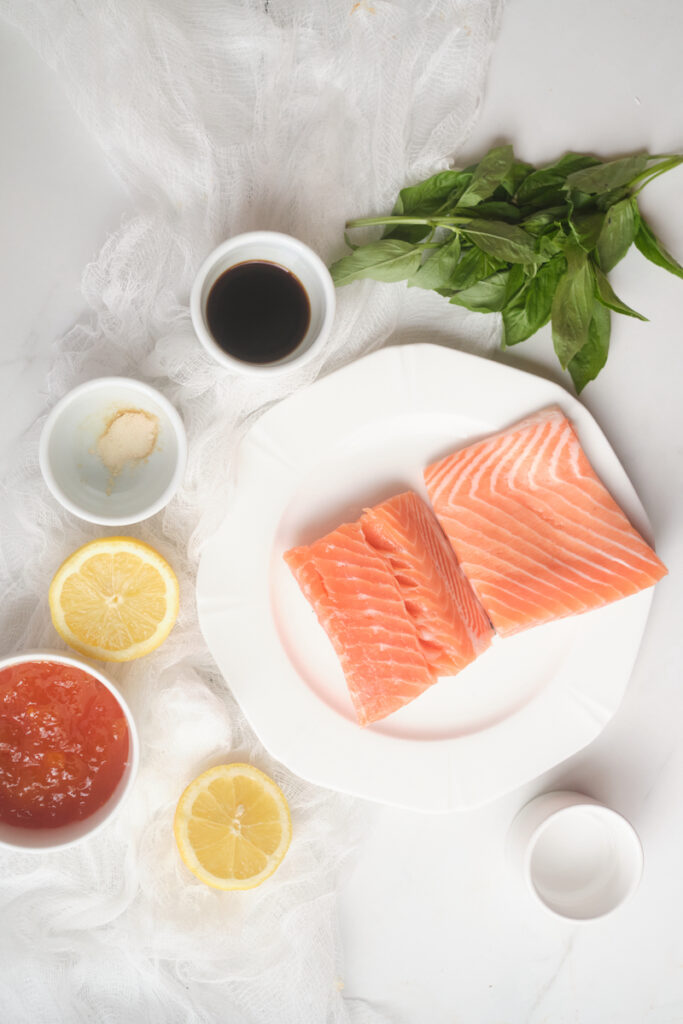 2 salmon fillets
For the Apricot Glaze
2 tablespoons low sodium soy sauce
3/4 cup apricot jam or preserves (preserves are the better choice here)
1/2 cup loosely packed basil leaves, chiffonaded. This recipe calls for sweet basil, but a citrus basil, including lime basil or lemon basil, could also work beautifully if you have some.
2 tablespoons freshly squeezed lemon juice
1/2 teaspoon garlic powder
2 tablespoons water
1/2 teaspoon sea salt or kosher salt
Instructions
Preheat oven to 400 degrees F.
While the oven heats, make the glaze.
Combine all the glaze ingredients in a saucepan on high heat, and bringing to a boil, reduce and simmer for a few minutes until the glaze thickens. Remove from heat and allow to cool slightly.
Line a baking tray with foil, and brush a bit of oil or spray light layer of cooking spray. Place the salmon fillets on the foil (skin side down).
Pour the glaze over the salmon, and use the back of a spoon or silicon brush to spread it out to get a nice layer.
Bake 10 to 15 minutes until cooked, opening the oven several times to spoon glaze over the fillets.
Serve immediately.